Best Camping Lights For Lighting Your Campsite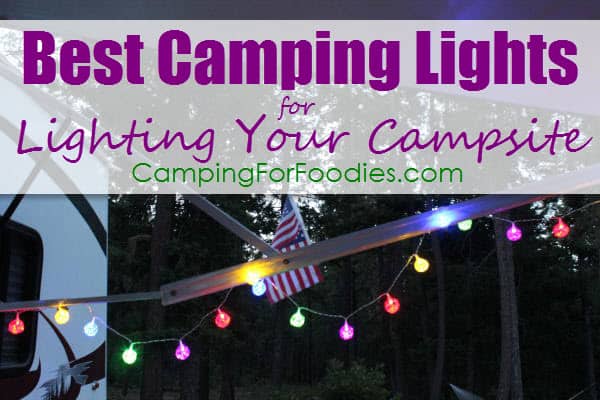 Lighting Your Campsite With The Best Camping Lights
Light pollution is a problem in many urban areas. Getting away to experience natural darkness in the wilderness is awesome BUT you still need to see. Properly lighting your campsite keeps things safe and fun. The best camping lights include solar powered, battery powered, string lights, camping lights you wear and more! Psst we're compensated…see our disclosures.
---
One best ways to enjoy the most jaw-dropping scenic light at the campsite … is to watch the setting sun from this "I'm Unplugging" Hammock With Attached Accessory And Carrying Bag which is perfect for those quiet times because the attached accessory bag allows you to stay reclined as you reach for your book, drink and sunglasses that are conveniently tucked into the attached bag within arm's reach! At the end of a relaxing weekend, just fold it up and pull the string for easy transportation and storage! Check out the video to see it in action!
&
---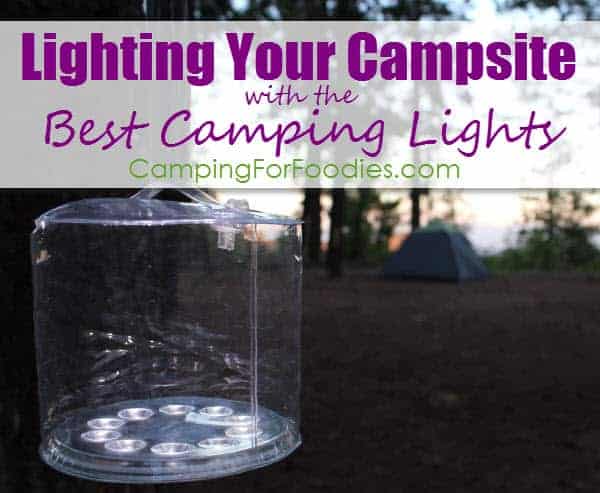 ---
Solar Powered Camping Lights
---
MPOWERD Luci Original – Inflatable Solar Light
Using the sun to power your lighting device is genius but having the unit deflate to a super small compact size for storage and transportation is even better! This MPOWERD Luci Original – Inflatable Solar Light has really bright LED lights and lasts up to 12 hours on a single charge. You blow it up (like a small beach ball), it's waterproof and lightweight!
&
---
String lights are what most people use as camping lights for awnings but we also hang our Luci solar camping lights from our RV awning too. We like how bright this light is and hang it on our awning frame next to the door into our RV. It provides the perfect amount of light to safely get up and down the steps without tripping. Find more info about tripping hazards and other camping safety precautions in our Camping Safety Tips For Families post.
&
---
MPOWERD Luci Color – Color-Changing Inflatable Solar Light
Want to add a splash of color to your campsite lighting? The MPOWERD Luci Color – Color-Changing Inflatable Solar Light has a color-cycling mode and featuring 8 awesome colors! The power button on bottom of lantern allows you to toggle through color settings. It's inflatable, lightweight, waterproof and lasts up to 6 hours on a single charge.
&
---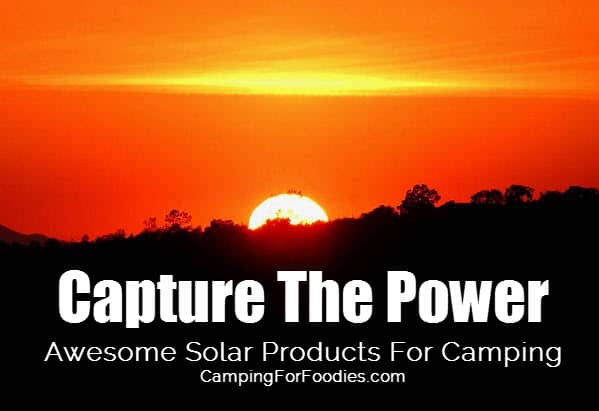 Why stop with solar lights for camping? Going solar on camping trips is easier than most people think! Our Solar Products For Camping post has great tips and cool gear if you want to get off the grid and harness the free, clean and never-ending power of the sun on your camping trips!
&
---
Multi-Powered Camping Lights
---
Outlite 300 Lumen Solar Rechargeable LED Water Resistant Collapsible Camping Lantern
The 3-Power Option Outlite 180 Lumen Collapsible LED Camping Lantern give you choices for power. It can run on: 1. Solar, 2. Rechargeable built-in battery or 3. AA batteries. It has 8 individual low powered LED bulbs. Because it is lightweight, sturdy and water resistant, it can be hung from tree branches to light your campsite as well as hung inside tents and under awnings.
&
---
Many people like the idea of using solar camping lights for eco-friendliness but they don't always camp in areas with lots of sunny days … so, the best camping lights for them need to run on multiple sources of power. That does not mean green camping is thrown out the window! Check out our How To Go Green on Camp Trips: 8 Easy Tips for Eco-Friendly Camping and Hiking post for more eco-friendly camping ideas!
&
---
Suaoki Led Camping Lantern Lights Rechargeable Battery Powered By Solar Panel and USB Charging Collapsible Water-Resistant Mini Flashlight
The Suaoki Led Camping Lantern is a mini collapsible flashlight that also doubles as a type of the hanging camping lights style. It is unique in that it can be charged by its solar panel or through its micro USB port. It has three modes: high, low or SOS blinking for emergencies. The small handle makes it convenient to hang from hooks around your campsite.
&
---
Ivation Solar And Hand Crank Rechargeable No Batteries Needed Waterproof Flashlight
The Ivation Waterproof Rechargeable Flashlight is a small waterproof flashlight that can be powered by its solar panel or by its hand crank power generator. The three modes include: 1. One LED, 2. Three LEDs, 3. Three LEDs flashing.
&
---
&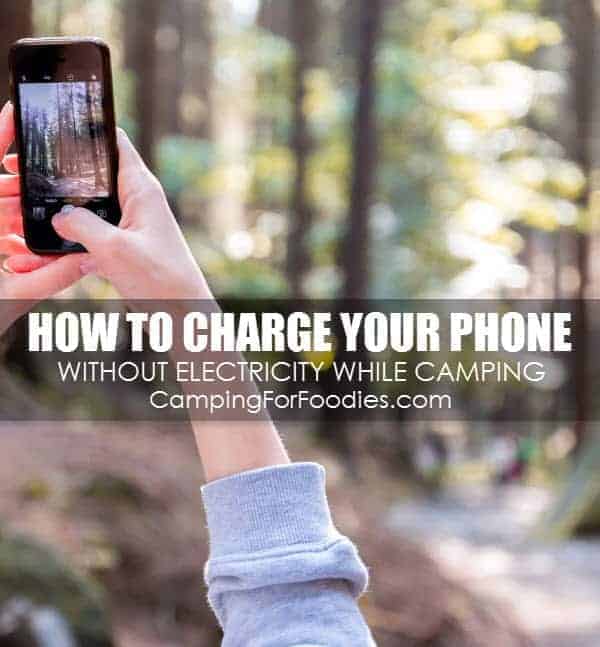 Hand cranks are not only good for flashlights and outdoor camping lights … They are good for charging your phone while out in the wilderness too! But really, who wants to crank their phone back to life when you can let your camp stove do the work for you? Check out these CRAZY COOL gadgets in our How To Charge Your Phone Without Electricity While Camping post.
&
---
Solar And Battery Powered String Lights
---
Coleman LED Lantern String Lights
These Coleman LED Lantern String Lights never go out of style because they are so cute with the mini camping lanterns hanging from the string. A string has 10 little lanterns that shine brightly with their LED lights. Each string requires 3 AA-cell batteries. We have 3 sets of these and hang them from our shade canopy and around our tent door or RV awning (whichever we happen to be camping with on a particular trip.) Did I ever mention how much we LOVE camping?!? 😍
&
---
Water Drop Multi-Color 8Mode Waterproof LED Solar Powered String Lights
The easyDecor Water Drop Outdoor Solar Powered String Lights, are awesome for gently lighting an area at the campsite with a festive multi-color mood. They are water resistant and are powered by its solar panel. You can choose from steady-on or flashing modes. Other options include single color strands.
&
---
The best string lights for camping are often decorative lights for campers that are hung from a travel trailer's awning. They can also be hung from a canopy or around the entrance to a tent. Because they have a softer light, they are often considered decorative camping lights and borderline "glam camping" which we feature in our Cute Glamping Accessories And DIY Glam Camping Ideas And Tips post!
&
---
Innoo Tech Lantern LED Warm White Fabric Ball Outdoor Globe Solar String Lights
The Innoo Tech Solar Outdoor Globe String Lights have a unique look but they are fabric balls which may not be the best choice for all camping situations. My personal preference: when we are camping in remote "boondocking" destinations, I use our more rugged gear but when in improved campgrounds and RV parks, we use our more stylish gear because the roads are paved and our gear stays cleaner.
&
---
Innoo Tech Solar Powered Outdoor Globe String Lights
The Innoo Tech Solar Powered White Crystal Ball Globe String Lights provide 8-10 hours of a stylish lighting feel. This set has a built-in rechargeable NI-MH battery which is powered by a small solar panel which is attached to a stake and adjustable for efficient absorption and conversion of direct summer and winter sunlight.
&
---
The combination of solar camping string lights + camping lights for awnings = RV boondocking (in most cases). Never done it before? No worries, we'll show you how! Check out our Go Dispersed Camping post for helpful tips and a VIDEO! If you are like us, you will never want to visit a regular campground again!
&
---
CYLAPEX Multicolor Dragonfly LED Waterproof Outdoor Solar String Lights
In keeping with a camping theme, these Multicolor Dragonfly Cylapex LED Solar String Lights are a cute way to capture the feeling of insects in nature. With 20 LEDs and 8 modes, these fun colorful lights last about 8 hours after charging with the small solar panel that attaches to a garden stake. Lots of people like to use these colorful critters as camping awning lights.
&
---
LED RV Camping Lights
---
Incandescent light bulbs are inefficient. They take lots of energy to run … which is a real bummer if you are not hooked up to shore power! They also emit tons of heat which is fine in the winter, but really horrible in the summer! The solution: replace factory installed light fixtures and bulbs with LEDs. You can replace factory light fixtures with LED Ceiling Dome Light Fixtures on the interior of your RV as well as swapping out exterior fixtures with more efficient ones like this LED RV Exterior Porch Utility Light. If you don't want to replace entire fixtures, you can just replace your bulbs with RV Replacement LED Lights Bulbs, just make sure you get the correct type of socket to bulb match.
LED Ceiling Dome Light Fixtures
LED RV Exterior Porch Utility Light
RV Replacement LED Lights Bulbs
&
---
Rechargeable Battery Powered Camping Lights
---
Albrillo LED Pure White Ultra Bright Camping Lantern With Rechargeable Battery
The Albrillo Rechargeable Battery Powered Camping LED Lantern can be easily hung from a tent by its hook. The built-in 1800mAh rechargeable battery can act as a mini "power bank" for charging your mobile device at the campsite. There are 3 modes including: high, low and flashing which can be used as an SOS signal. Hanging camping lights that are lightweight enough to hang from almost anything are great because you don't want to go searching for a tree branch that is sturdy enough to hold a 300 pound gorilla! 🤣LOL
&
---
Spotlights Work Lights , 15W 24LED, Built-In Rechargeable Lithium Batteries With USB Ports To Charge Mobile Devices
The Hallomall 15W 24LED Work Light And Mobile Device Charger includes a stand and handle which is convenient to set the work light on the ground, tables or hang from trees and awnings at the campsite. Just plug the included charger into an electric outlet to recharge the built-in lithium ion battery. This unit also has 2 USB ports so you can charge your mobile devices during your camping trips too.
&
---
If you are using a heavy duty work light on your camping trips, you are most likely camping in an RV with access to shore power or a generator. We have a handy calculator and chart with standard RV and camping gear average power requirements in our Best Quiet Generators For Camping post.
&
---
Battery Powered Camping Lanterns And Lights
---
Coleman Quad LED Battery Powered Lantern
This Coleman Quad LED Lantern is a great tool for lighting your campsite with a lantern runtime of 75 HOURS and 190 extra-bright lumens! The panel runtime is 1.5 hours and 47.5 bright lumens each; four individual light panels snap onto a single lantern. It is powered using 8 D-cell batteries and the lights recharge on the base.
&
---
Etekcity 2 Pack Portable Outdoor LED Camping Lantern with 6 AA Batteries (Black, Collapsible)
The Etekcity Portable Outdoor LED Collapsible Camping Lantern runs up to 12 hours on 3 AA batteries powering 30 individual low powered LED bulbs. The design provides omnidirectional fill lighting for visibility no matter which direction you turn. Fold-out handles make portability and hanging easy; the entire lantern collapses for storage.
&
---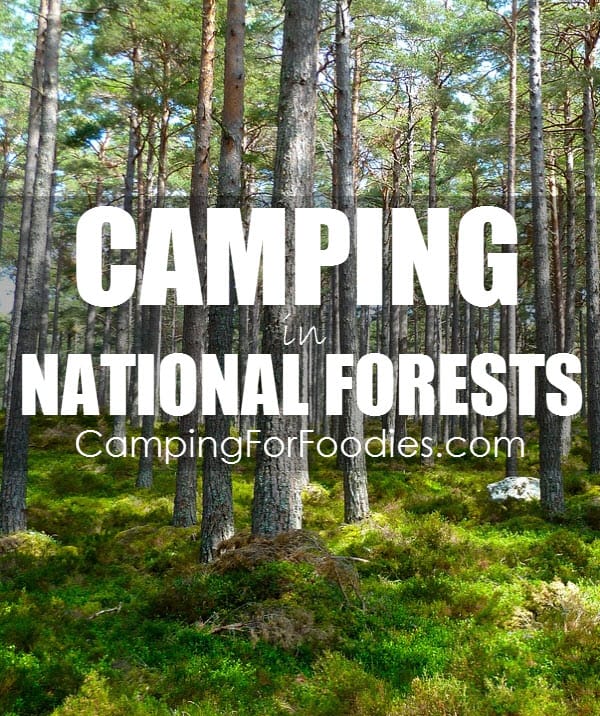 Camping with small, portable, lightweight campsite lights is the only way to go when you are dispersed camping on public lands. Our family prefers National Forest camping and our post has lots of tips to help newbies navigate the rules for camping in National Forests and the differences between Camping In National Forests vs National Parks.
&
---
E-TRENDS Portable LED Lantern Light Bulb Battery Powered
E-TRENDS Battery Powered Portable LED Lantern Light Bulb has a hanging hook design and is water resistant. The dimmer control feature is designed to save energy and maintain long battery life; it is easily adjusted with a button allowing you to choose from these settings: On-bright (150 lumens), on-dim, SOS blinking and off. Each lantern light bulb runs on 3 AAA batteries.
&
---
If you are planning a camping trip to a National Park, be prepared to supply your own campsite lights and the power to operate them. Most Park campsites don't have power or water available. If you are visiting a National Park and don't really like people … good luck! LOL 🤣But seriously, you can totally enjoy your National Park camping trip with help from our 12 Tips To Avoid Crowds In National Parks So You Don't Go Crazy! post.
&
---
LE Outdoor 3 Mode Battery Powered Water Resistant LED Lantern

The LE 300lm Battery Powered Outdoor LED Lantern is water resistant and has 3 modes: low, high, flashing. With 300 lumens, this lantern is one of the brightest we are featuring. It runs on 3 D batteries which will provide run times of up to: 3 days on full brightness, 6 days on half brightness and 10 days on flashing mode. Outdoor camping lights that are this bright are really nice to have especially on nights with very dim moonlight.
&
---
Using Stakes With LED Lights prevents tripping hazards at night. Even when we are camping with our RV, we have gear we need to stake down. No matter how careful we were, it seems someone was always tripping over a stake or some type of line/cord attached to a stake. That does not happen anymore! 😊 Each stake can run up to 10 hours on one AAA battery!
LED Light Tent Stakes With Emergency Strobe
17 Lumens Of Light For Up To 10 Hours
Uses 1 AAA Battery Per Stake
&
---
Camping Lights You Wear
---
If you "wear" your lights on your head, you will always have the light with you and it will be pointing in the direction you are looking! These styles of camping lights come in Baseball Cap styles as well as Beanie Cap styles. The LED lights are super bright and you can find all sorts of colors in these caps to fit your personal style! 😎
LED Headlamp Hat
LED Beanie Cap
&
---
Have you ever thought about wearing LED Shoe Lights at the campsite? If not, you should! These lights fasten securely to most shoelaces, are weatherproof, fast-charging and have 2 ultra-light LED lights that produce 360 degrees of visibility! The lithium ion battery charges via micro USB and retains power for 2.5 hours on high setting and 5 hours on low. These lights were made popular with night runners but are all the rage now with campers too!
&
---
LE Battery Powered Headlamp LED
If you have ever set-up or torn-down your campsite in the dark, you know the importance of hands-free lighting. The LE Battery Powered LED Headlamp/Helmet Light is lightweight with an easily adjustable elastic headband. It has 4 modes including 3 levels of brightness using white light and a flashing red mode. This headlamp is IP44 WEATERPROOF rated; it is protected against splashing water from all angles. It runs on 3 AAA batteries.
&
---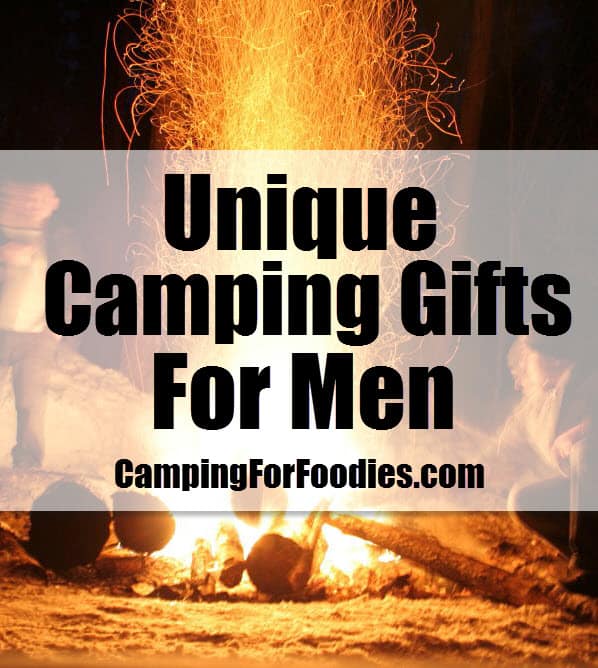 My husband swears by his headlamp … so much so … when I asked him to come up with his camping gift wish list I was going to share in our Outrageously Unique Camping Gifts For Men post he included this headlamp! I was like … you're kidding, right? Nope, he was not kidding…He loves this thing! 😎
&
---
Battery Powered Camping Lights
---
Coghlan's Inside Cooler Lid Light
We think that one of the best camping lights doesn't light up the campsite at all … It lights up the inside of a cooler! When the cooler lid is lifted, this light turns on and automatically turns off after the lid is closed. This Cooler Light is simple, smart, super popular and runs on three LR44 1.5 volt button cell batteries. It was one of the most popular items in our Christmas Gifts For Campers And RV Owners: 100+ Ideas For This Holiday Season post for 2017. We'll see if it holds its position in 2018!
&
---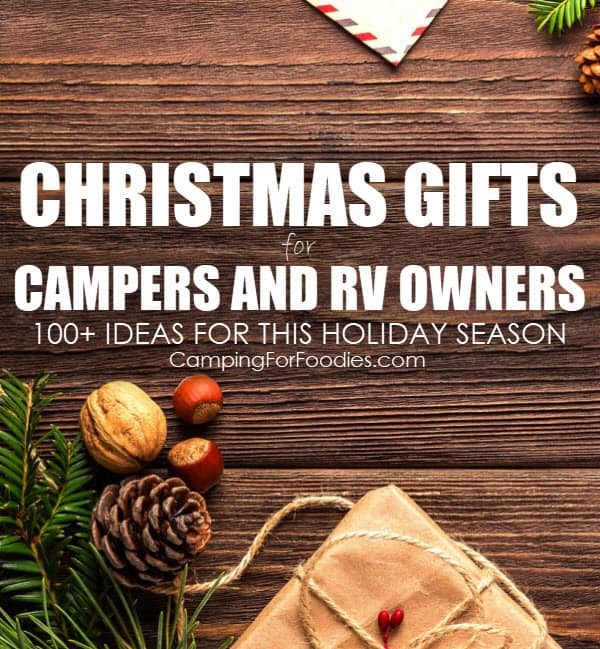 If you are looking for totally unique camping gifts during the holiday season, we keep a running tally of the TOP SELLERS and update our post DAILY! Check out our Christmas Gifts For Campers And RV Owners: 100+ Ideas For This Holiday Season post to see what is hot for camping gifts during the holiday season! 🎁
&
---
Ultra-Bright Flood Light, Battery Powered LED Work Light/Flashlight
Want a new generation shop light? Here it is! This LED Work Light can be used as a typical flashlight or a flood light. It can hang from almost anything by its 360° rotatable hook or can be magnetically attached to any metallic surface with its 2 base magnets. The pivoting design allows you to focus the light exactly where you need it. It runs on 3 AA batteries which are included.
&
---
Image Portable LED Camping Lantern With Ceiling Fan
When you need a little light and airflow in your tent, the Image Portable LED Camping Lantern With Ceiling Fan is a great piece of gear! It is weather resistant and runs on 2 D batteries. A set of batteries can provide up to 37 hours of light through its 18 LED bulbs, up to 50 hours low-speed fan hours or up to 30 high-speed fan hours. The design allows it to stand as a fan or hang as a fan or lamp from the hook on the built-in handle.
&
---
BYB Super Bright 9 LED Mini Aluminum Battery Powered Flashlight with Lanyard
Mini flashlights are convenient to have throughout your campsite … in your tent, RV and automobile. BYB Super Bright 9 LED Mini Aluminum Flashlights have lanyards for easy hanging and handling. A simple push button turns the flashlight on and off. Each flashlight is powered using 3 AAA Batteries. We love these things so much we got a stack of them for home! 🙂
&
---
ZEEFO Retro LED Night Light Wireless PIR Motion Sensor Battery Operated Light
The ZEEFO Retro LED Wireless Motion Sensor Battery Operated Night Light is an awesome gadget for RV camping … especially when you have guests who get up to use the bathroom in the middle of the night. The light automatically turns on when someone passes within 6 feet of the sensor and automatically turns off after 15-20 seconds. It is lightweight with a stylish retro design and runs on 3
AAA batteries.
&
---
Camping Tip: Illuminate your reading! RVs are notorious for bad reading light and tents have zero … so, remember to pack a clip on light if you plan to catch up on some reading during your quieter camping nights.
&
---
Mighty Bright 40511 XtraFlex2 Battery Powered Book Light
Catching up on reading is a favorite activity for many campers. Unfortunately, after the sun goes down it can be difficult to see printed books. This Mighty Bright 40511 XtraFlex2 Book Light can be clipped to almost anything or used free-standing while sitting on its base. It is powered by 3 AAA batteries and has an AC adapter which is sold separately, Mighty Bright AC Adapter-100V & 240V.
&
---
Glow In The Dark Light Sticks
---
6″ Premium Glow In The Dark Light Sticks
Glow In The Dark Light Sticks And Necklace Strings are a fun way of lighting your campsite with color splashes just about anywhere. These sticks glow for 8 – 12 hours, come in 5 bright colors and are lightweight enough to hang from tents, awnings, tree branches etc.
&
---
If you ask kids, they will tell you glow sticks are the best camping lights! So, if you decide to use them on your camping trip, you better get a few extras for the little ones because playing with glow sticks is one of the top after-dark Fun Camping Activities Kids Love!
&
---
No time to look for recipes, create a menu and write a grocery list? No Problem! Get our 3-Day Dutch Oven Camp Menu Plan here!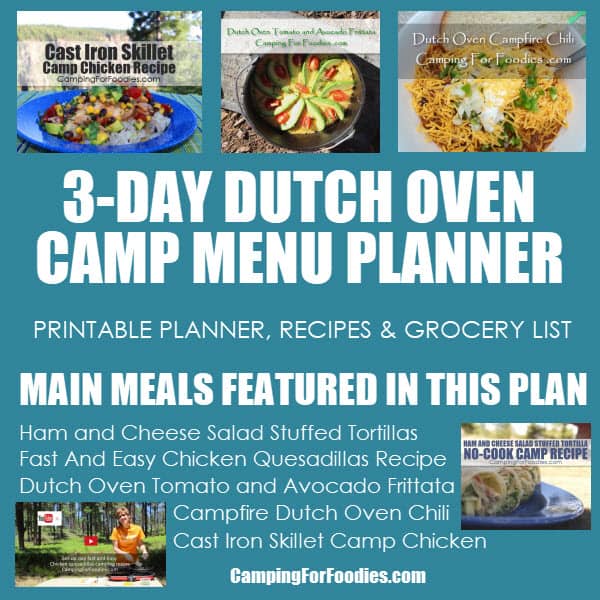 ---
Our Cool Camping Products Make Great Gifts!
Tote
Cutting Mat
Mat Set
Shaker Set
Apron
Hammock
Women's Tee
&
---
If you need camping recipes and menu ideas, you can find them here at the Camping For Foodies Camping Recipes list.
Don't miss a thing…sign up for Camping For Foodies email updates!
Your purchase of our products will help support World Vision ® Building a better world for children.