Best Fall Camping In Arizona: How To Find Fall Colors
There are amazing sights and temperatures during the autumn season in the Sonoran Desert surrounding the metro areas of Phoenix and Tucson. But, the best fall camping in Arizona for viewing fall colors happens in this sunny state's high country region.
Psst we're compensated…see our disclosures.
Discover Autumn Colors While Camping In Arizona
The northeastern part of the U.S. is the location that typically comes to mind when people think about spotting fall foliage. Most people think Arizona is thousands of miles away from spectacular colors, literally and figuratively. That is just plain WRONG.
Range Of Elevations For Arizona Camping Spots
Take your time! The window is wide open. Because Arizona has a wide range of elevations and types of terrain, the window of opportunity for seeing the colors of fall are spread over longer periods of time.
In the higher elevations you can catch a glimpse of color as early as September and in the lower elevations it is not uncommon to see spectacular colors as late as Thanksgiving or even in the month of December!
Camping and RV Tip: Remember to verify your desired camping location is open for your planned trip dates. Many campgrounds and public lands in AZ are seasonal and close during the colder months.
---
Visit These High Elevation Destinations Early
Head for the mountains if you are searching for fall colors earlier in the season. Flagstaff and the White Mountains are some of the most popular places to go but there are even more so check out this list.
Grand Canyon
Elevation: Approximately 8,000 feet MSL
As one of the seven natural wonders of the world, people tend to think of the Grand Canyon National Park as a massive canyon, formed by erosion, wind, rain and the Colorado River. There are not many pictures of trees in those visions. That's because most people visit the South Rim which is open year-round, is easier to travel to from major towns and freeways, and sits at an elevation approximately 1,000 feet lower than the North Rim. In addition to those differences, the North Rim has a vastly different landscape from its southern counterpart.
The North Rim of the Grand Canyon has evergreen trees mingled with white-barked Aspen trees. Some time between late September and early October, the Aspen's leaves turn various shades of golden-yellow colors. The viewing window is typically short and the North Rim is usually closed by the middle of October.
The North Rim Campground is inside the national park and is open from mid May to mid October.
The Kiabab National Forest is a great destination for leaf-peepers.
The North Kaibab District of the Kaibab National Forest borders the North Rim of the Grand Canyon.
The Tusayan District borders the South Rim of the Grand Canyon.
The Williams District is near the city of Williams.
Each district reports on current conditions and provides viewing routes for driving on their Experience Fall Colors on the Kaibab National Forest page.
You can find dispersed camping, developed campgrounds and cabin rentals in KNF so if the North Rim Campground is closed, consider the camping options within Kaibab National Forest.
---
Williams
Elevation: Approximately 6,770 feet MSL
The Williams area is fun to visit for the colorful trees but it's also a cute little town that has held on to its Route 66 history. You'll find the most eye-popping colors on the tops of mountains and knolls while driving or hiking.
There are several campgrounds and RV parks in this area, but, when we stay near Williams, we camp for FREE on national forest land in the Williams Ranger District. In addition to our typical camping activities, and leaf-peeping, we LOVE visiting the Bearizona Wildlife Park.
---
Flagstaff
Elevation: Approximately 6,900 feet MSL
The Flagstaff area is filled with pine trees but it also has tons of aspen trees and other foliage that turn different shades of reds and purples. We like the free dispersed camping options throughout the Coconino National Forest with tons of dispersed campsites available for boondockers.
When we camp in the area, we visit Arizona Snowbowl and take the scenic gondola ride which offers staggering views of Arizona from 11,500 feet. This snow ski destination sits on the western slope of Mount Humphreys, the most recognizable point on the San Francisco Peaks and the tallest point in the Grand Canyon State. There are tons of hiking trails in the area and they even have webcams to help you find the right time to go.
While you're in the area, be sure to visit the Sycamore Canyon Wilderness area. It is located between Sedona and Oak Creek Canyon and Flagstaff. It is managed by various ranger district offices because its 50,000 acres straddle the borders of the Coconino, Kaibab and Prescott National Forests.
Rim Road along the Mogollon Rim – the most popular are Forest Roads 300 (p.s. FR 300 is my favorite forest road of all time for dispersed camping and hiking in any season but let's keep that our little secret so it does not turn into the 'New York City' of National Forest dispersed camping), 321 and 95
---
Greer
Elevation: Approximately 9,200 feet MSL
There are so many White Mountain Arizona camping options and we really enjoy visiting during the summer months. But, you are not limited to summertime activities because the Sunrise Ski Resort is a popular year-round destination. The base elevation is over 9,000 feet but the summit is over 11,000 feet MSL. The Sunrise Park Campground and RV Park offers dry camping spots for tents and RVs. If you have family or friends who are not into camping, they can stay in one of the cabins at the Greer Lodge.
---
Pinetop-Lakeside
Elevation: Approximately 6,800 feet MSL
The sister communities of Pinetop-Lakeside offer a great centralized location for a fall colors experience in the White Mountains. When we're here, we camp for FREE in the Apache-Sitgreaves National Forests in the Lakeside Ranger District. It's a short drive to Show Low which is at a slightly lower elevation with minimal color viewing. A little longer drive will take you to Greens Peak where you'll find more colors on a landscape of rounded knolls, meadows, forests and distant mountain views.
---
Alpine
Elevation: Approximately 8,000 feet MSL
There is a fabulous stretch of wilderness in the high country on Highway 191 between Springerville and Morenci. Years ago my husband and I rode our motorcycles down this breathtaking route during the summer. The highway climbs up and down starting at about 7,000 feet, climbing to about 8,000 feet, then descending down to below 5,000 feet meandering through small towns and the Apache-Sitgreaves National Forests. You'll find the Hannagan Meadow Recreation Area about 22 miles south of Alpine. The Hannagan Campground and KP Cienega Campground and open seasonally and can only accommodate small trailers, but, there is a lot of dispersed camping options available in the area.
---
Heber-Overgaard
Elevation: Approximately 6,600 feet MSL
At a slightly lower elevation, you'll find the colors appear a little later in Heber-Overgaard than in the other high country locations. Here the Apache-Sitgreaves National Forests offer tons of camping opportunities within the Clifton Ranger District. These locations sit about halfway between Payson and Show Low on Highway 260.
---
Visit These Low Elevation Destinations Later
A little later in the season, try visiting these locations for viewing fall colors.
Willcox
Elevation: Approximately 4,200 feet MSL
The Chiricahua National Monument is known as the "Wonderland of Rocks" but the canyons are also filled with trees. In the lower canyon you'll find lots of Arizona Sycamore trees that have leaves that look similar to a maple leaf. The Sycamore trees turn yellow in early autumn then turn a reddish color during the prime of the fall season.
Make sure you hike the South Fork Trail #243 and make a stop at Maple Camp (about 1.5 miles from trailhead). In the fall, typically in October, the leaves of Rocky Mountain Maples turn into vibrant shades of gold and scarlet. If you are there late enough in the season, you can watch the leaves fall from the trees into a stream as they cover the small stream bed in a blanket of yellow and red leaves.
The Bonita Canyon Campground is located in the Chiricahua National Monument. Visitors love the area's stunning rock columns called hoodoos, hiking trails, pools of water and bird watching. Be sure to take the scenic drive but be aware that vehicles longer than 24 feet (RV or vehicle + trailer) are NOT permitted to drive beyond the campground.
---
Payson
Elevation: Approximately 5,000 feet MSL
The town of Payson is a great place for spring and fall camping because of the mild climate. You'll see small pockets of colorful trees standing alongside evergreens. There is no camping at the Tonto Natural Bridge State Park, but, it is a must-see destination in this area because of the brilliant aspen, cottonwood and elder trees. Stop by the Tonto Creek Fish Hatchery for a self-guided experience to see where over 500,000 fish are produced to fill Arizona's lakes. When we're in this area we like to stay in the Payson Ranger District of the Tonto National Forest. If your RV is under 22 feet, the Christopher Creek Campground is a nice option. If you are traveling to this area from Tucson, make sure you stop at the Aravaipa Canyon Wilderness Area where the large sycamore, ash, cottonwood and willow trees put on a colorful show along the stream in the fall.
---
Cottonwood
Elevation: Approximately 3,300 feet MSL
You may not expect to find beautiful yellow and red leaves in the high-desert, but, you will if you visit trees near the creeks and along the banks of the Verde River in Cottonwood, Sedona and Camp Verde. When we are in this area we camp for FREE along the Forest Road FR525 in the Coconino National Forest. This is a great spot to take the Verde Canyon Railroad to see the magnificent red rocks, spectacular flora and fauna of the gorgeous Verde Valley. While we're in this area we like to take a day trip to Prescott to experience the town and hiking trials.
---
Phoenix Metro Area
You won't find much color when it comes to leaf-peeping in the desert of Phoenix. But, if you're staying there, take a drive Superior to experience the Boyce Thompson Arboretum. It's about an hour drive from central Phoenix, and only about 30 minutes from Apache Junction in the east valley. The colors don't usually explode until mid-November and run into early December so you'll have plenty of time to get there during the transition from fall to winter.
---
FREE Tools For Finding Fall Colors
It's helpful to use these FREE tools when you need a fall colors finder to help you plan your trip.
---
Camping In Fall Colors Across The U.S.
Leaf-peeping is a popular activity for many RV owners. If you want to travel outside of Arizona, here are our recommendations for National Parks, Forests & State Parks to experience the best camping for fall foliage RV trips.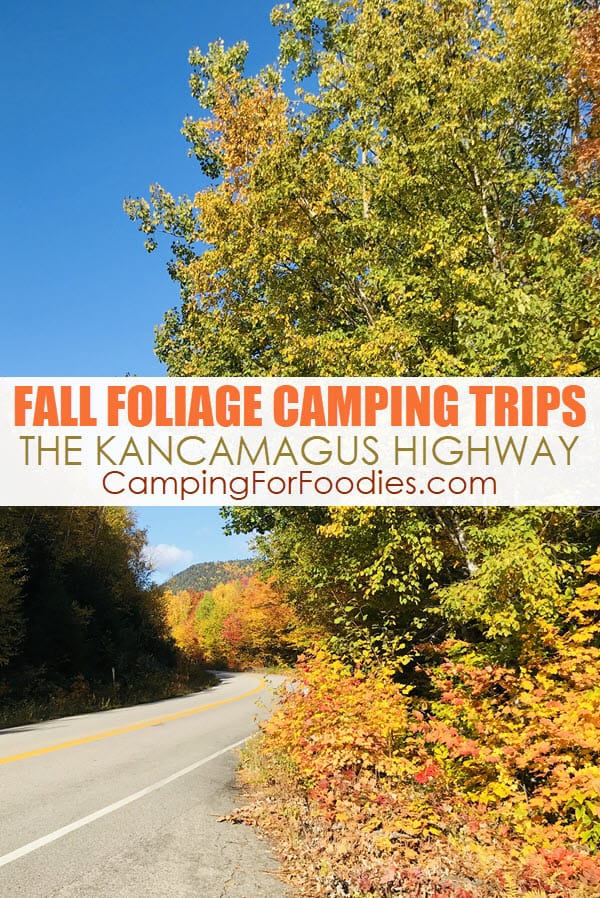 ---
Warm Camp Recipes For Cool Weather
There is no doubt that a warm camp meal is satisfying after hiking and exploring nature in cooler weather. I say magic can happen when cooking with a Dutch oven over a roaring campfire! Try these awesome winter camping recipes!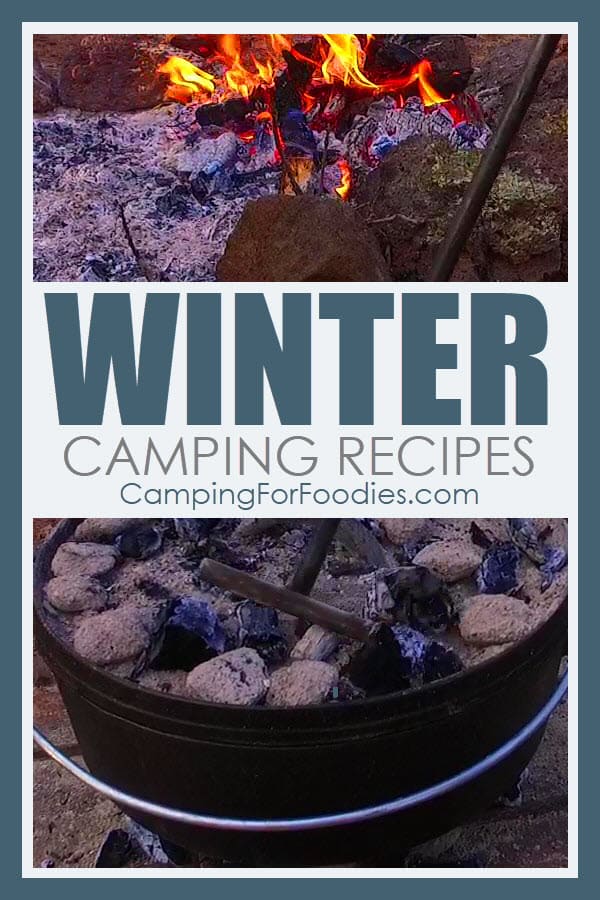 ---
FREE Printable Trip Planner
Make your next trip stress-free with a little pre-planning. Get your copy of our FREE printable camping trip planner template!