How to find fall colors for your Arizona camp and RV trips
Discover autumn colors while camping in Arizona
The northeastern part of the U.S. is the location that typically comes to mind when people think about spotting fall foliage. Most people think Arizona is thousands of miles away from spectacular colors…literally and figuratively. That is just plain WRONG. Psst we're compensated…see our disclosures.
---
Top 3 Picks This Week!
 Coffee Mug
 Lounge Pants
 Cutting Mat
&
Take your time! The window is wide open
Arizona is a laid-back kind of place…so…take your time! Because Arizona has a wide range of elevations and types of terrain, the window of opportunity for seeing the colors of fall are spread over longer periods of time. In the higher elevations you can catch a glimpse of color as early as September and in the lower elevations it is not uncommon to see a color works spectacular as late as Thanksgiving or even in the month of December!
Camping and RV Tip: Remember to verify your desired camping location is open for your planned trip dates.  Many campgrounds and public lands are seasonal and close during the cooler months.
Go high early
Head for the mountains if you are searching for fall colors earlier in the season. Flagstaff and the White Mountains are some of the most popular places to go but there are even more so check out this list:
A little later in the season, try visiting these locations for viewing fall colors:
Cool temps call for warm camp recipes
There is no doubt that a warm camp meal is satisfying after hiking and exploring nature in cooler weather.  I say magic can happen when cooking with a Dutch oven over a roaring campfire!
Don't forget to check out my Dutch oven camp cooking tips too!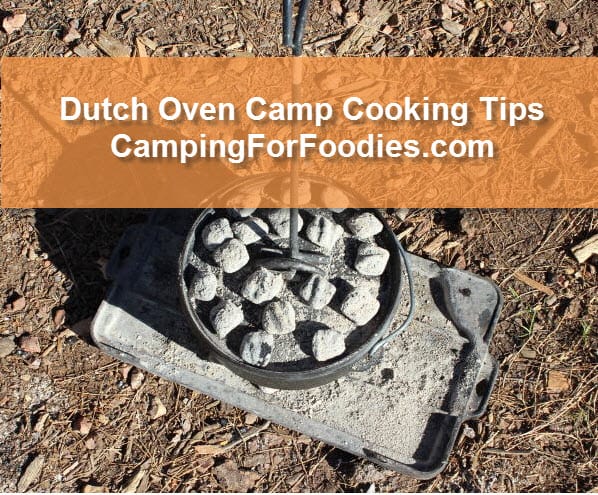 You might also find useful information in my recent blog post about predictive and interactive weather tools.
Here are a few awesome tools help you experience fall foliage on RV and camping trips
What do you think? Leave me a comment…I'd love to hear from you!
I love sharing my recipes and tips for enjoying the great outdoors while camping, RV adventuring and relaxing in your own backyard. I'd love to hear what you think and if you'd like to share some of your secrets, I'd love to hear them too! Please leave a comment below and let's chat.
If you need camping recipes and menu ideas, you can find them here at the Camping For Foodies Camping Recipes list.
Don't miss a thing…sign up for Camping For Foodies email updates!
Your purchase of our products will help support World Vision ® Building a better world for children.