Awesome Tools Help You Experience Fall Foliage On RV And Camping Trips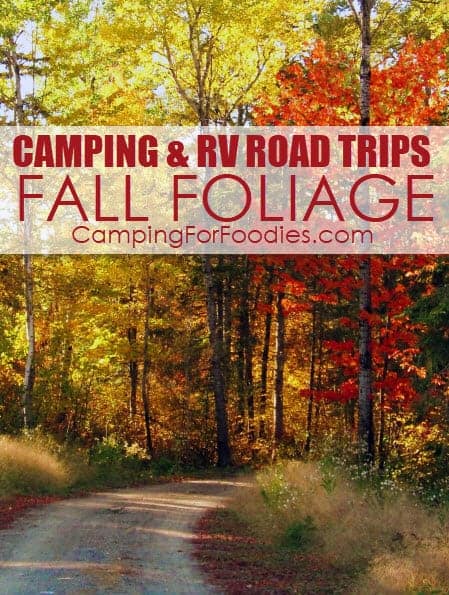 Experience Fall Foliage On Camping And RV Road Trips
The color explosion that comes from fall foliage is jaw-dropping! What makes it even more special is the finite window of time surrounding the whole thing … I mean, "Limited Edition" anything creates a sense of importance and urgency.  Right? If you want to experience the most breathtaking autumn leaves, you have to employ a bit of science as well as a bit of art and spontaneity.  These tools make fall foliage camping and RV road trips an absolute breeze. Psst we're compensated…see our disclosures.
Stages Of Fall Foliage Camping Colors
When you order a steak, you have to decide if you want it cooked to rare, medium or well doneness. Similarly, colors in leaves have stages: beginning to turn color (rare), peak colors (medium) and past peak but some color still remains (well).  In other words, the timing for seeing the most vibrant colors during your fall foliage camping and RV road trips is critical.
&
Nationwide Interactive Fall Foliage Prediction Map
The Smoky Mountains have a super-cool Nationwide Interactive Fall Foliage Prediction Map that allows you to scroll through a date timeline and predicts when the leaves are likely to change colors across the entire country. This is a great tool to help you determine the general timing for your trip. Because this tool is predictive, you will need to get more specific information from other sources to be more accurate with your specific trip timing. The tool is totally free too!
The Best Fall Foliage Drives & Road Trips
In the United States, the most popular area to enjoy fall foliage camping and RV road trips is the New England region. They typically experience foliage color change beginning in early September and have finished by early October. We like using a full-color travel guide for trip planning because they include tips from local experts on the prettiest routes as well as must-see attractions, restaurant recommendations, maps, full color photos and more.
&
The U.S. Forest Service produces a report Fall Colors–Current Forest Information. The reports are regional and are updated periodically. These web pages have specific information about each forest and they allow you to send in photos to share on the Forest Service's social media pages. That way you can see the fall foliage colors in a timely manner too!
&
Hand, Toe And Peel N' Stick Body Warmers
It can get chilly when you experience fall foliage camping on RV road trips. I like to dress in layers so I can shed clothing if I am getting warm while hiking through the leaves. Using Hand, Toe And Peel N' Stick Body Warmers is a great way to add instant warmth when you are getting too cold.
&
Farmers' Almanac Peak Fall Foliage Dates
The Farmers' Almanac has been around since 1818! In addition to their year-ahead weather outlook and historical weather records, they produce a list of Peak Fall Foliage Dates by state which includes the probable dates for peak fall colors.
&
The Weather Channel U.S. Fall Foliage Report
In early September The Weather Channel collects information from foliage reporting locations from around the U.S. and compiles a report … it's The Weather Channel U.S. Fall Foliage report.
&
Arizona Highways Hiking Guide By Robert Stieve. 52 Of Arizona's Best Day Hikes For Winter, Spring, Summer And Fall.
One of my favorite ways to experience the fall foliage on camping trips is on beautiful hiking trails with different types of trees that have wide-ranging colors. One of my favorite hiking trail books is actually organized by seasons: Winter, Spring, Summer and Fall! It is the Arizona Highways Hiking Guide by Robert Stieve. The book contains beautiful pictures of the trails as well as in-depth trail guides, warnings and GPS coordinates. Robert really knows his stuff about Arizona … he has been the editor in chief of the famed Arizona Highways Magazine since 2007!
&
Recipes For Fall Foliage Camping And RV Road Trips
You will probably want warm and hearty camp recipes for your fall camp trips too.  Here are a few of my favorites:
Breakfast – Hearty and warm camp recipes
Dinner – Hearty and warm camp recipes
Snacks – Hearty and warm camp recipes
Dessert – Hearty and warm camp recipes
No time to look for recipes, create a menu and write a grocery list? No Problem! Get our 3-Day Dutch Oven Camp Menu Plan here!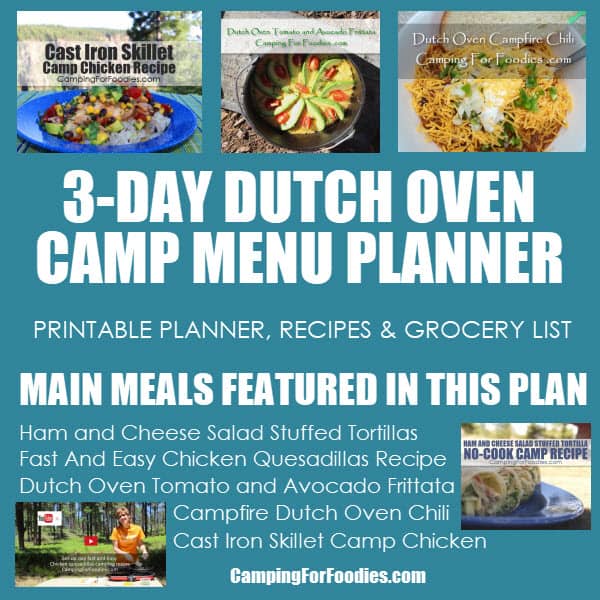 Stainless Steel Cast Iron Cleaner
Cast Iron Oil
Rapidfire Chimney Starter
&
Don't forget to check out my Dutch oven camp cooking tips too!
Top National Parks For Fall Foliage Camping And RV Road Trips
If you are interested in experiencing fall foliage at a National Park, I have created a list of the Top National Parks for viewing fall foliage along with interactive maps. This will help make your trip planning easy and fun.
What do you think? Leave me a comment…I'd love to hear from you!
I love sharing my recipes and tips for enjoying the great outdoors while camping, RV adventuring and relaxing in your own backyard. I'd love to hear what you think and if you'd like to share some of your secrets, I'd love to hear them too! Please leave a comment below and let's chat.
If you need camping recipes and menu ideas, you can find them here at the Camping For Foodies Camping Recipes list.
Don't miss a thing…sign up for Camping For Foodies email updates!
Your purchase of our products will help support World Vision ® Building a better world for children.