Experience Fall Foliage Camping With These Awesome FREE Tools!
If you want to experience the most breathtaking autumn leaves, you have to employ a bit of science as well as a bit of art and spontaneity and some awesome camping tips!
These tools make fall foliage camping and RV road trips an absolute breeze.
The color explosion that comes from fall foliage is jaw-dropping!
What makes it even more special is the finite window of time surrounding the whole thing … I mean, "Limited Edition" anything creates a sense of importance and urgency. Right? Psst we're compensated…see our disclosures.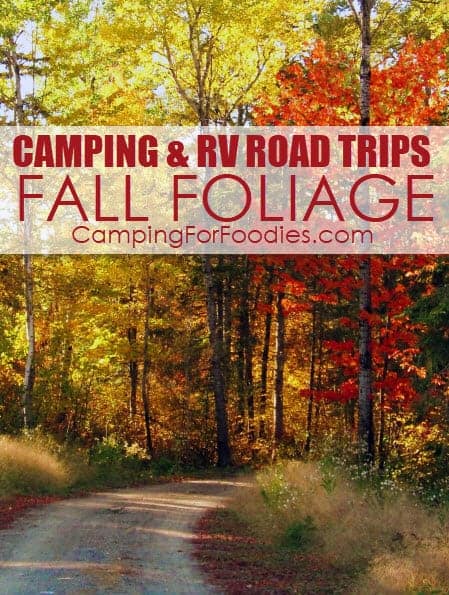 Experience Fall Foliage On Camping And RV Road Trips
---
Stages Of Fall Foliage Camping Colors
When you order a steak, you have to decide if you want it cooked to rare, medium or well doneness.
Similarly, colors in leaves have stages: beginning to turn color (rare), peak colors (medium) and past peak but some color still remains (well). In other words, the timing for seeing the most vibrant colors during your fall foliage camping and RV road trips is critical.
&
---
Tools To Help You Plan Your Foliage Camp Trips
Doing a bit of pre-planning is crucial to enjoy the maximum amount of color during your fall foliage viewing camp adventure.
There are prediction tools you can use well in advance of your trip.
As you get closer to your foliage camp trip dates, you can use the current conditions reports/live tools for fine tuning your route, timing and other aspects of your trip.
---
Nationwide Interactive Fall Foliage Prediction Map
The Smoky Mountains have a super-cool Nationwide Interactive Fall Foliage Prediction Map that allows you to scroll through a date timeline and predicts when the leaves are likely to change colors across the entire country.
This is a great tool to help you determine the general timing for your fall foliage road trips.
Because this tool is predictive, you will need to get more specific information from other sources to be more accurate with your specific trip timing.
The tool is totally FREE too!
---
Farmers' Almanac Peak Fall Foliage Dates
The Farmers' Almanac has been around since 1818!
In addition to their year-ahead weather outlook and historical weather records, they produce a list of Peak Fall Foliage Dates by state which includes the probable dates for peak fall colors.
This is a great FREE tool to use in the beginning planning stages of your fall foliage road trips.
&
---
The Weather Channel U.S. Fall Foliage Report
In early September The Weather Channel collects information from foliage reporting locations from around the U.S. and compiles a report … it's The Weather Channel U.S. Fall Foliage report.
This is an awesome FREE tool because it gives you current conditions around the country.
The nice thing about doing fall RV camping road trips (rather than doing fall foilage tours with an organized group) is that you have flexibility with your timing and route.
The Weather Channel's Fall Foliage Report is updated regularly and provides 4 stages of colors:
Patchy
Near Peak
Peak
Past Peak
If you start with a plan that includes a general area and timing, you can adjust your exact route on the spur of the moment in order to experience the best leaf peeping on your foliage camp trip!
&
---
Fodor's New England: With The Best Fall Foliage Drives & Scenic Road Trips
In the United States, the most popular area to enjoy fall foliage camping colors and RV road trips is the New England region.
They typically experience foliage color change beginning in mid September and have finished by mid/late October.
We like using a full-color travel guide for trip planning because they include tips from local experts on the prettiest routes as well as must-see attractions, restaurant recommendations, maps, full color photos and more.
&
---
The U.S. Forest Service produces a report Fall Colors–Current Forest Information. The reports are regional and are updated periodically.
These web pages have specific information about each forest and they allow you to send in photos to share on the Forest Service's social media pages.
That way you can see the fall foliage colors in a timely manner too!
&
---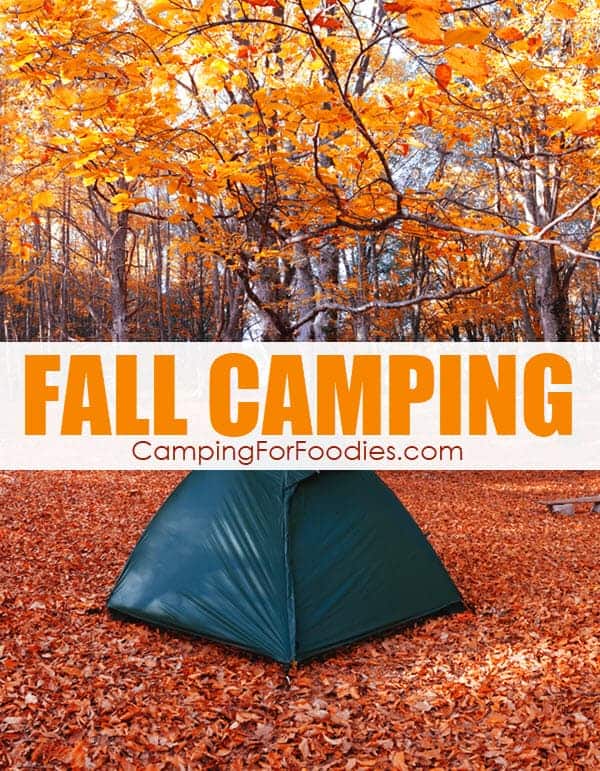 I recommend using these tools to plan your foliage camp trip for the general area where you will be camping as well as the timing.
We have another post entirely dedicated to fall camping that includes fun activities, destinations, autumn camping safety tips, how to stay warm whether you are camping in a tent or doing fall RV camping … and what to pack for your leaf peeping camping colors adventure!
&
---
If you are not sure where you want to camp to see the fall colors, you may want to consider some of the best National Parks to visit in fall that are known for their spectacular scenery during the foliage camp season!
&
---
Hand, Toe And Peel N' Stick Body Warmers
It can get chilly when you experience fall foliage camping on RV road trips. I like to dress in layers so I can shed clothing if I am getting warm while hiking through the leaves.
Using Hand, Toe And Peel N' Stick Body Warmers is a great way to add instant warmth when you are getting too cold.
&
---
Arizona Highways Hiking Guide By Robert Stieve. 52 Of Arizona's Best Day Hikes For Winter, Spring, Summer And Fall.
One of my favorite ways to experience fall foliage on camping trips is on beautiful hiking trails with different types of trees that have wide-ranging colors.
One of my favorite Arizona hiking trail books is actually organized by seasons: Winter, Spring, Summer and Fall!
It is the Arizona Highways Hiking Guide by Robert Stieve. The book contains beautiful pictures of the trails as well as in-depth trail guides, warnings and GPS coordinates.
Robert really knows his stuff about Arizona … he has been the editor in chief of the famed Arizona Highways Magazine since 2007!
&
---
Recipes For Fall Foliage Camping And RV Road Trips
You will probably want warm and hearty fall camping recipes for your fall camp trips too. Here are a few of my favorites:
Breakfast – Hearty and warm camp recipes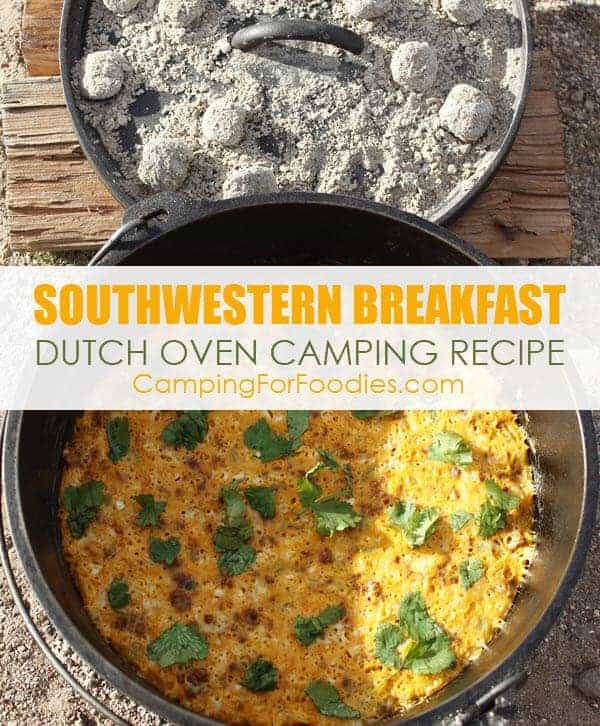 Southwestern Dutch Oven Breakfast Casserole Camping Recipe
&
---
Dutch Oven Tomato and Avocado Frittata Camp Recipe
&
---
Bacon and Cheese Quiche Camp Dutch Oven Recipe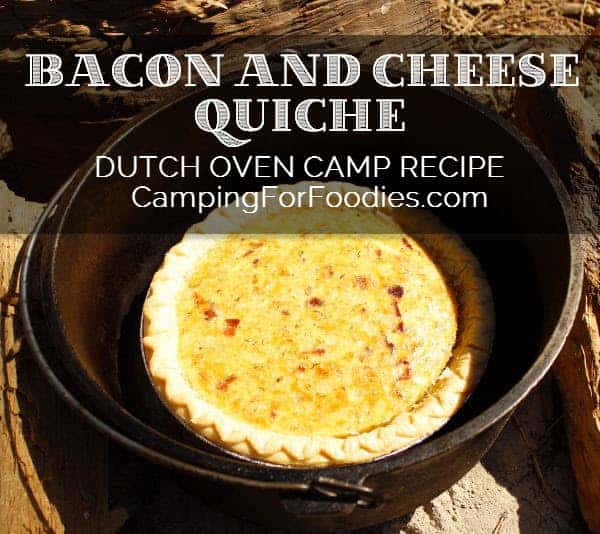 &
---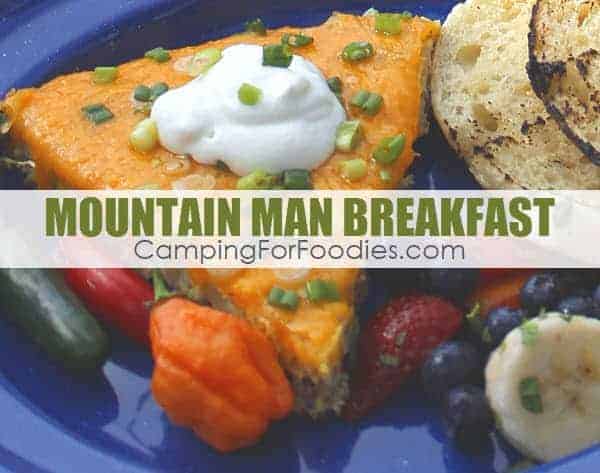 Mountain Man Breakfast Dutch Oven Camping Recipe
&
---
Muffin Tin Eggs Campfire Recipe
&
---
Dinner – Hearty and warm camp recipes
Campfire Dutch Oven Gumbo Recipe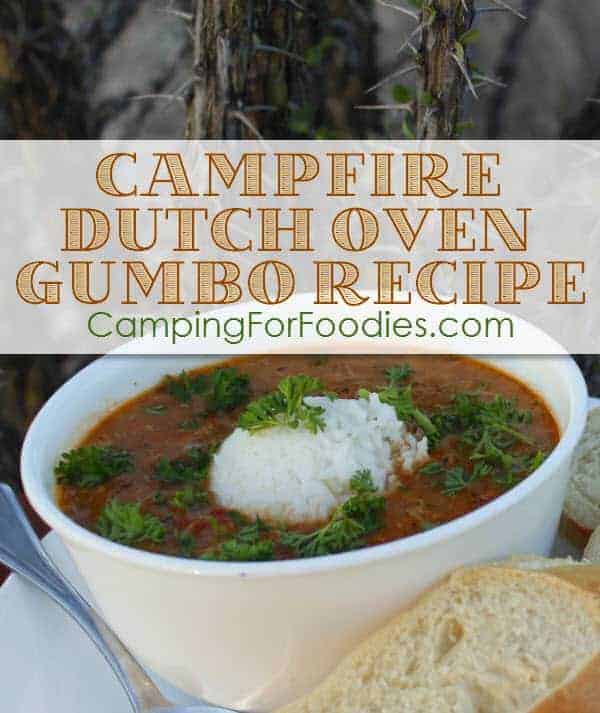 &
---
&
---
Dutch Oven Pizza Camping Recipe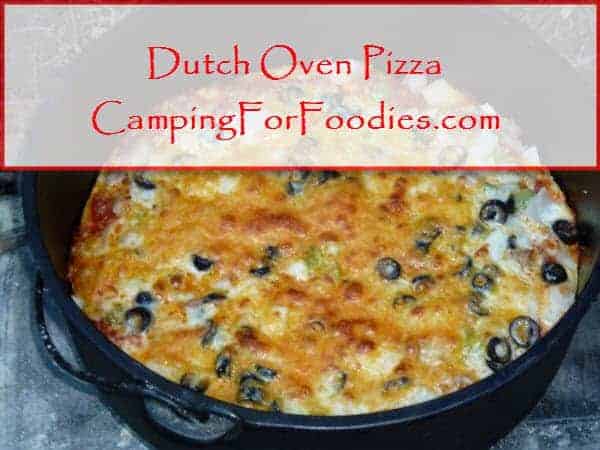 &
---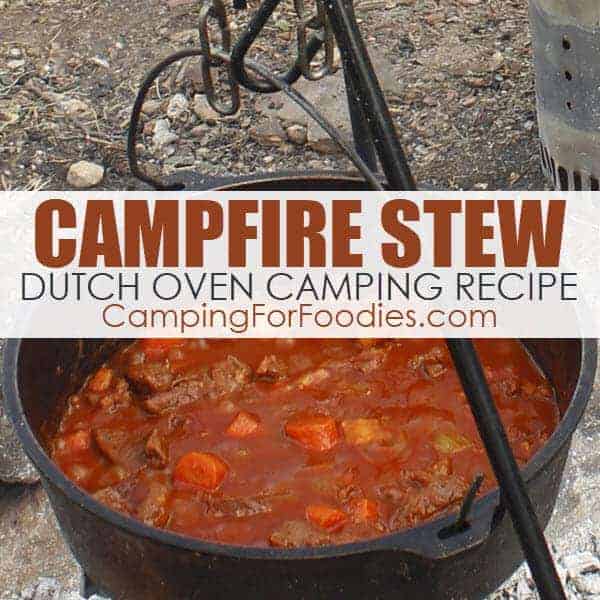 Campfire Stew Dutch Oven Camping Recipe
&
---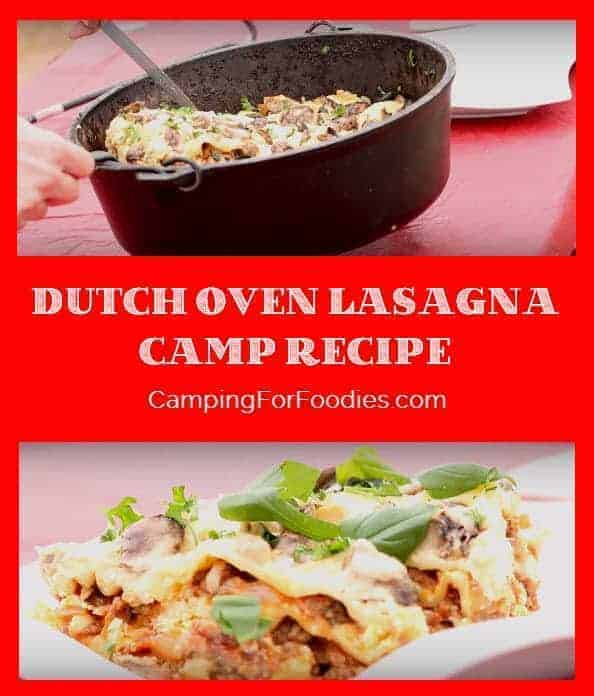 Dutch Oven Lasagna Camping Recipe
&
---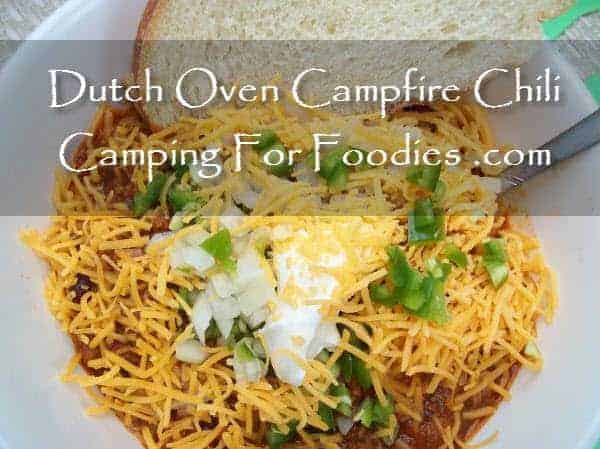 Campfire Dutch Oven Chili Recipe
&
&
---
Hot Italian Sausage Soup Campfire Recipe
&
---
Snacks – Hearty and warm camp recipes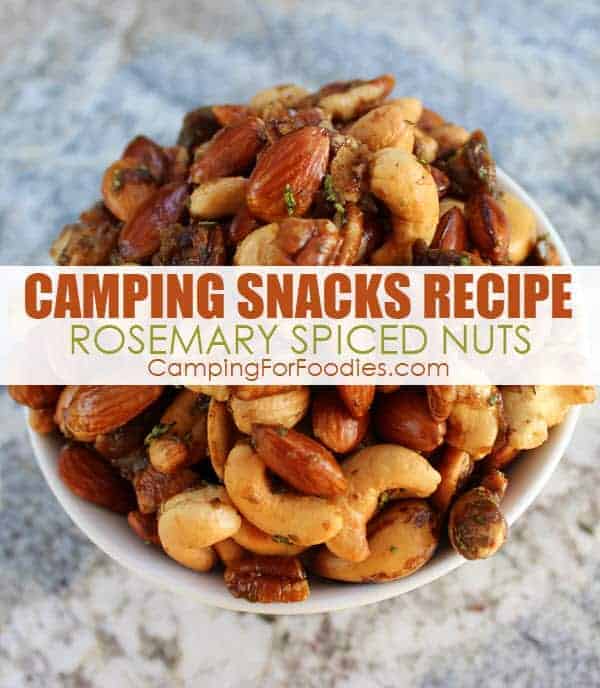 Rosemary Spiced Nuts Camping Snacks Recipe
&
---
Drinks – Hearty and warm camp recipes
&
&
---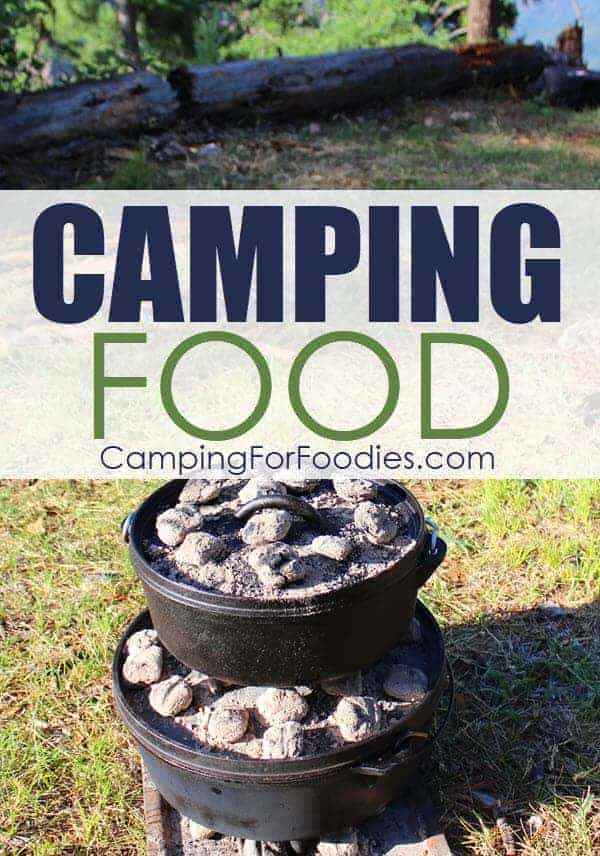 We have so many more ideas for enjoying awesome camping food on your fall foliage camping trip … there are way too many to list here … so … check out the other easy and yummy fall camping recipes as you do the menu planning for your trip!
&
---
If you will be cooking your fall camping recipes over a campfire, make sure you are prepared for wet and cold conditions.
That means, starting your campfire may not be as easy as it is during summer camping trips.
The best way to guard against those sorts of troubles is having fire starters camping experts recommend when you are trying to start your fires in challenging conditions.
If you will be using a camp stove to cook your meals, you may want to refill 1lb propane cylinders instead of just throwing them away after one single use.
&
---
Don't forget to check out my Dutch oven camp cooking tips too!
&
---
No time to look for recipes, create a menu and write a grocery list? No Problem! Get our 3-Day Dutch Oven Camp Menu Plan here!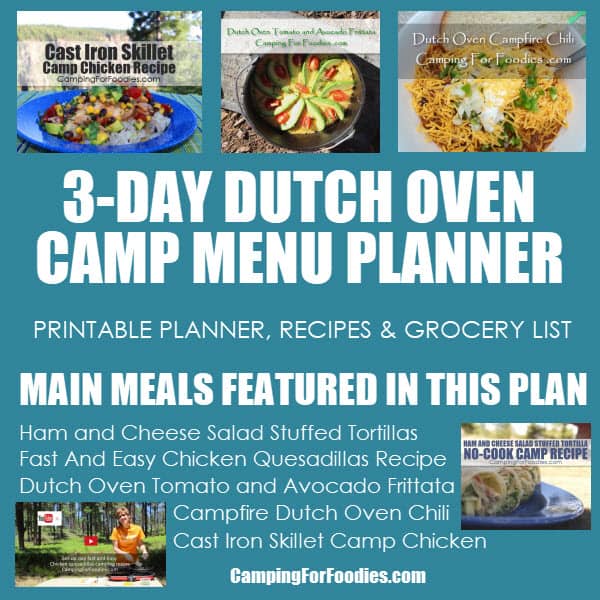 ---
Our Cool Camping Products Make Great Gifts!
Cutting Mat
Mat Set
Shaker Set
Hammock
&
---
If you need camping recipes and menu ideas, you can find them here at the Camping For Foodies Camping Recipes list.
&
Don't miss a thing…sign up for Camping For Foodies email updates!
&
Your purchase of our products will help support World Vision ® Building a better world for children.