Best Free RV And Tent Camping Sites Near Sedona Arizona Are On Forest Road FR525
The Best Free RV And Tent Camping Sites Near Sedona Arizona Are On Forest Road FR525
Need cheap camping ideas that will fit your budget? Go dispersed camping for free! Our favorite family activity is taking a road trip to Sedona Arizona where there are so many things to do, hiking trials galore, jaw-dropping beautiful places to see and on one visit A HOT AIR BALLOON LANDED AT OUR CAMPSITE! If you are camping with kids, they will love watching the jeep tours buzzing by and balloons floating overhead! There is a 14 day limit on camping sites along Forest Road FR525 for RV boondocking and tent camping. We think these are the best camping spots near Sedona's attractions, stunning red rocks and fun activities … and, you can't get any cheaper than free! Psst we're compensated…see our disclosures.
---
VIDEO: Camping For Foodies Visits The Best Free RV And Tent Camping Sites Near Sedona Arizona On Forest Road FR525
---
Camping Near Sedona AZ
The town of Sedona, Arizona is filled with resorts, gift shops, spas and tourist attractions so you won't find much camping in Sedona proper but within a short drive, you can find tons of options for dispersed free camping near Sedona within the Coconino National Forest. Here is a pdf from the National Forest Service with rules and maps so you are legally camping: Dispersed Camping on the Coconino National Forest.
---
Directions To Forest Road FR525 Sedona AZ Camping
We live in Phoenix so we take I-17 northbound and exit Route 260 toward Cottonwood; then intersect 89A northbound until reaching the turnoff for Forest Road FR525. This intersection is a little tricky to find the first time so I've included a Google map for you. 🙂

---
One of my favorite resources for dispersed camping in National Forests is my Arizona Road And Recreation Guide atlas. It helps me know where we are and the borders of the different types of land we visit on our National Forest Camping trips! It identifies the major Forest Roads and has information on cool things to see and do on Public Lands. They also publish these for other states. 🙂
Arizona Benchmark Road & Recreation Atlas
&
---
Sedona Arizona Elevation And Weather
We are blessed with great weather year round in Arizona. You may have heard me say, we have an elevation for every season so we can camp in mild weather all year long. Because Sedona is filled with breathtaking views of magnificent mountains, the elevation depends on where you are standing in this little slice of heaven, you'll be around 4,300 feet above sea level … give or take a few thousand feet LOL 😉 Our favorite time to visit Sedona is in the spring and fall. You'll understand why when you check out the average high and low temperatures!
JAN 57°F High / 32°F Low
FEB 61°F High / 34°F Low
MAR 66°F High / 38°F Low
APR 73°F High / 43°F Low
MAY 83°F High / 51°F Low
JUN 94°F High / 59°F Low
JUL 96°F High / 66°F Low
AUG 94°F High / 65°F Low
SEP 88°F High / 59°F Low
OCT 77°F High / 49°F Low
NOV 65°F High / 38°F Low
DEC 56°F High / 32°F Low
---
Top Things To Do In Sedona AZ: Sightseeing
There are so many attractions and fun activities in Sedona that will cost you a few bucks but you can also have just as much fun sightseeing that won't cost you a penny! If you are lucky enough to be camping along Forest Road FR525 when the hot air balloon tours are flying, you might have an unexpected neighbor at your campsite! Yes, we actually had a hot air balloon land at our campsite on one of our trips! WHOA, those things are much bigger when you are standing next to them on the ground than they look drifting through the brilliant blue sky above your head!
Sedona Hikes Will Take Your Breath Away
How many hiking trails have you been on that take your breath away, literally and figuratively? Well, be prepared because that is a normal occurrence no matter which hiking trail you conquer in Sedona. The Coconino National Forest Red Rock Ranger District has some great resources for hiking trails throughout the area. There are too many to list so they split the group in two! Here are the links: Red Rock Trails (A-J) and Red Rock Trails (L – Z). We've personally done lots of hiking throughout Sedona and will be sharing these cool experiences in future blog posts!
---
Never Been Dispersed Camping Along National Forest Roads?
Don't worry if dispersed camping is new to you. We have a few posts that will help you get started! Check out our Camping In National Forests post and our Go Dispersed Camping For The Memorial Day Holiday Weekend post.
---
No time to look for recipes, create a menu and write a grocery list? No Problem! Get our 3-Day Dutch Oven Camp Menu Plan here!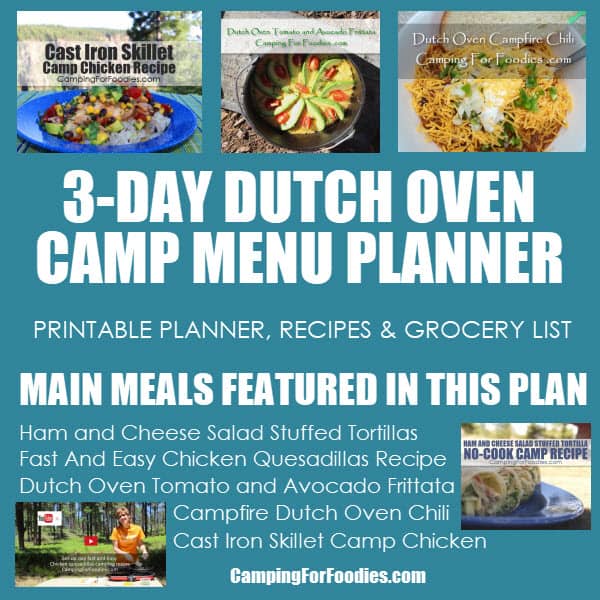 If you need camping recipes and menu ideas, you can find them here at the Camping For Foodies Camping Recipes list.
Don't miss a thing…sign up for Camping For Foodies email updates!
Your purchase of our products will help support World Vision ® Building a better world for children.
---