How To Heat A Camper Without Electricity: Easy & Safe Methods
There are many winter RV camping tips that will help prevent your pipes and tanks from freezing and keep your vehicle's engine starting on demand. Knowing how to heat a camper without electricity is important when you want to enjoy pleasant temps even if you don't have an electricity hookup at your favorite RV park.
Psst we're compensated…see our disclosures.
Heat Sources For RV Camping In Winter Weather
You have to think outside the box a little bit to find the best way to stay warm in your camper during colder months. We're sharing our camping tips to show you what we do when we're boondocking in cold temperatures.
Whether you're living full time in your RV or just using it on a camping themed Christmas trip, this info will help you stay cozy.
---
RV Propane Furnace
Our main source of heat is our on-board, manufacturer-installed RV heater. Some people refer to these as electric RV furnaces because DC battery power is required to run the control panel, the electronic ignition and the fan motor so there is a demand on your DC electrical system (via your RV batteries), but no external AC power (electric plug hookup) is required.
A propane furnace produces the heat. You set your desired temperature on the thermostat, the vented furnace heats the air, then, a fan routes the hot air through the RV's heater duct system.
This is the most popular choice to heat travel trailers and bigger RVs. But, on a cold night, that may not be enough to keep you at your desired comfort level so augmenting the main system will be necessary.
---
Space Heaters: Electric vs. Propane
Portable heaters are usually operated by propane or electricity (some actually use diesel fuel.)
Electric portable heaters produce "DRY" heat but DO require electricity. Lasko Ceramic Tower Space Heaters are popular.
Lasko Ceramic Tower Space Heater with Logic Center Digital Remote Control-Features Built-in Timer and Oscillation, 7.3″L x 9.2″W x 29.75″H
Propane portable gas heaters produce "WET" heat but DON'T require electricity. Mr. Buddy portable propane heaters are popular. They come in different sizes, the small size unit is designed to heat small spaces (like tents) and the larger units are designed to heat more square feet (like RVs).
Mr. Heater Buddy Grey Indoor-Safe Portable RV Radiant Heater (4,000-9,000-BTU)
The reason you should care about the difference between wet and dry heat is because moisture can condense on your RV's interior surfaces leading to mold and mildew. Learn how to keep moisture out of RV in winter regardless of which type of portable space heater you use.
Ceramic electric heaters and electric radiant heaters are great if you have access to AC power via a standard electrical hookup or a large enough generator. They can easily keep a small area warm without producing moisture into the air. Some RV owners have huge solar panels with extremely large battery banks to provide a massive amount of power to operate air conditioners and electric heaters, but, that is not common and not an option for most people.
Combustion/radiant propane heaters are great when you don't have access to AC power but do have an ample supply of camping propane fuel in your propane tanks. Familiarize yourself with the unit's safety features, keep the oxygen levels at a safe level with ample airflow to eliminate the possibility of carbon monoxide poisoning. For safety reasons, it is a good idea to have a Carbon Monoxide Alarm too.
Kidde Worry-Free Carbon Monoxide Detector Alarm with 10 Year Sealed Battery
---
Diesel Air Heater
Diesel Air Heaters have been popular in the trucking industry for years because they work so well. You don't have to worry about dangerous exhaust because the heat exchanger works by having the combustion occur outside of the vehicle and then a blower forces the heated air inside the vehicle through ducting.
This heater uses about 1/2 gallon of diesel fuel to operate through the night.
5KW Diesel Air Heater 12V Diesel Parking Heater Double Mufflers Diesel Heater 5000W with Knob Switch for RV Bus Car Motorhome Boats
BATTERY REQUIRED: This unit uses a lot of electricity (from a car-type battery) to get the glow plug started. But, after the diesel is burning, it doesn't require much power at all because the battery only needs to power the fuel pump (for flow into the combustion chamber) and the fan (for airflow.)
This unit must be mounted inside some type of box to stay out of the elements.
---
Mini Wood Stove
RV owners who are willing to modify their roof have the ability to add mini wood stoves to the inside of their rig. The installation of these heaters includes vent pipes that route the smoke to the outside of the camper.
Personally, we would not be willing to cut a hole in our roof but this is a popular option for lots of people who travel in small campers and vans and those who do complete remodels of older rigs.
---
Methods Of Spot-Heating
There is a HUGE difference between ambient heat and concentrated heat. It is much easier to concentrate heat around your body rather than heating all the air and surfaces in your camper. Here are a few ideas for localized heat.
---
Warm Blankets & Bedding
I wouldn't think of camping in the winter without flannel sheets, warm wool camp blankets and heavy quilts. The only bad thing about using them is how hard it is to get out of bed the next morning.
RV Flannel Sheets
If you don't have a traditional-sized bed, make sure you get sheets that are specifically sized for RV beds.
100% Cotton Flannel Camper Sheet Set – Available In RV Full, Queen & King Sizes
---
Mylar Blankets
Did you know that a Mylar blanket DOES NOT provide insulation but it DOES reflect heat?
A heat-producing object (like your body) can use space blankets to do one of two things: reflect heat AWAY from it … or … back TOWARD it. A great way to use them to keep your body warm would be wrapping in this order:
Your body (being the heat generator)
A wool blanket (being the insulator)
A Mylar blanket (being the reflector, bouncing the heat back to you)
Swiss Safe Emergency Mylar Thermal Blankets + Bonus Gold Foil Space Blanket. Designed for NASA, Outdoors, Survival, First Aid
---
Electric Blankets & Mattress Pads
For campers with access to 12-volt power, an electric 12-volt blanket is a good option to provide heat. These blankets plug into a cigarette lighter but they will quickly drain car batteries because they use quite a bit of power so you won't want to use your vehicle's battery … you'll want to carry a spare.
Stalwart – Electric Car Blanket- Heated 12 Volt Fleece Travel Throw for Car and RV-Great for Cold Weather, Tailgating, and Emergency Kits by Stalwart-BLACK/WHITE 59" (L) x 43" (W)
---
Hot Water Bottles
Hot water bottles have not gone out of style! Use your stove or campfire to heat water, then, carefully pour the water into your hot water bottle. You can place the heated bottle in your bed to pre-heat it or use it during the day when you snuggle up on the couch to read a good book.
Samply Hot Water Bottle- 2 Liter Water Bag with Knitted Cover
---
Heated Rocks
Hot rocks function the same way as hot water bottles but the rocks hold heat for a much longer period of time. Most people heat rocks by placing them near a campfire. Choose rocks that are dense, smooth and dry, like cobblestones.
After they are hot you'll want to wrap them in something like towels, wool socks, leather bags etc. Then, place them in the area you want warmed, the heat will slowly release from the rock providing hours of warmth. Hot rocks are one of the most popular methods for heating a sleeping bag when tent campers are heating a tent without electricity.
---
Camping Location Options
Cold days are relative. The location of your winter camping adventure plays a big role in how challenging it is to overcome the frigid the temperatures. Check out our list of the best winter camping destinations in the U.S. that include winter wonderlands as well as sunny hot spots.
---
Mild Climate
If you have the opportunity to choose a camping destination with mild winter temperatures, go for it! If not, there are other considerations you should keep in mind when setting up camp.
---
Sunny Location
A campsite that is exposed to direct sunlight is helpful. Even though the actual ambient air temperature is the same in sun or shade, the heat index value can be up to 15 F degrees warmer in direct sunlight as opposed to a shady location. Choose a campsite that has the most hours of direct sunlight. Be conscious of the pattern of the sun and avoid shady spots, if possible.
---
Sheltered from wind
Windy conditions can make cold temperatures even more uncomfortable. Avoid setting up camp in windy locations like open fields, mountainside locations and areas where the geography creates "wind tunnels" with regular patterns of windy conditions.
---
Keeping Warmth Inside Your RV
Creating heat inside your RV is great, but you've got to keep it there too.
---
Seal Camper Openings
RVs are not tightly-sealed structures. As they travel down the road, they tend to have increasingly loose seals that allow cold air to easily enter. Sealing the vulnerable areas will help to keep moisture and cold air out while trapping warm air inside your living area.
---
RV Flexible Sealant
Most RVs have single pane windows which don't provide much protection from the cold outside air. But, you can help the situation by sealing the areas around your window frames, vents, hatches and access doors.
Geocel Pro Flex Crystal Clear RV Flexible Sealant
---
RV Vent Insulator
Roof vents are another area that should be sealed by inserting thermal vent insulators into the openings. The are made with almost 3-inches of foam and come with or without an outer reflective insulation surface. This is one of my favorite RV tips and hacks for summer too!
Camco RV Vent Insulator And Skylight Cover with Reflective Surface, Fits Standard 14
---
RV Air Conditioner Cover
Roof-mounted air conditioning units are another source of heat loss. They should be covered when they are not in use.
Camco Vinyl Air Conditioner Cover. Fits Dometic Brisk Air Models
---
Bubble Pack Insulation
If you don't mind not being able to see out of your windows, you can cover them with styrofoam or bubble pack insulation. Some campers remove the coverings during the day when they are inside their rig and replace it at night or when they leave during the day.
Reflectix Double Pack Insulation, 48 in. x 10 ft
---
RV Skirting
If you are stationary in a location for a longer period of time, you may want to add skirting to your RV. The air under your RV has a big influence on the temperature of your floor as well as the plumbing (air and water) that is ducted beneath your floor. The goal is to enclose the space under your RV to trap the warmer air and prevent wind from displacing it.
---
Layered Clothing
Dressing in layers is the key to choosing your winter camping clothes. You'll want to wear the proper clothing inside and outside of your camper.
---
Warm Food & Drinks
Studies have shown thermogenesis (the process of the body converting calories to heat) increases after carb-rich meals which is why you should prepare some of these awesome winter camping recipes.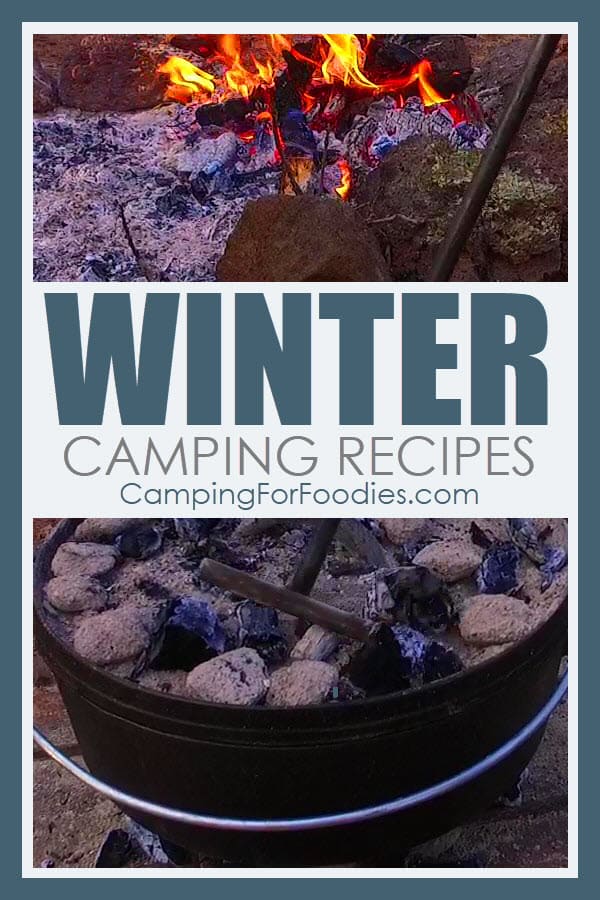 ---
FREE Camping Trip Planner
Make your next trip stress-free with a little pre-planning. Get your copy of our FREE printable camping trip planner template!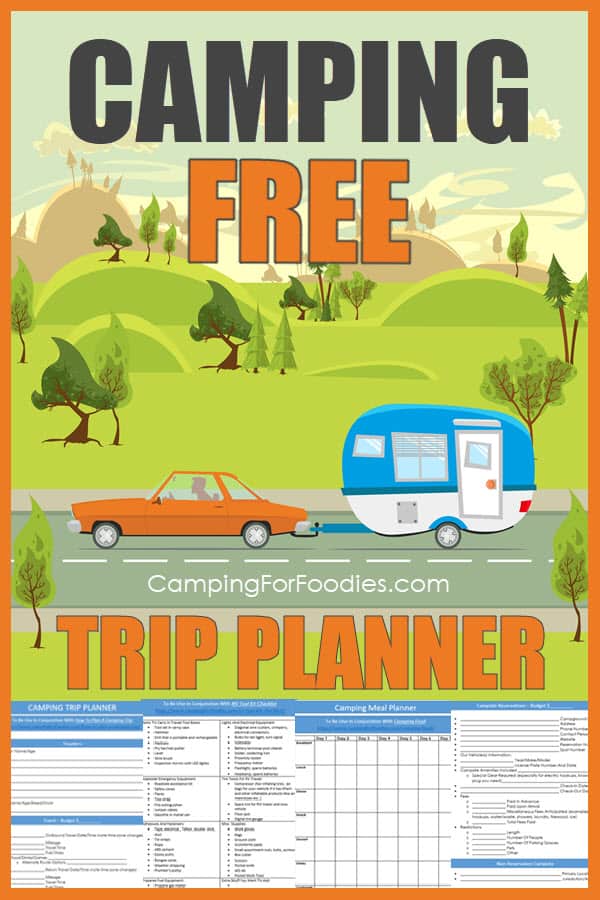 ---
More Camping Recipes
You can never have enough options for your camp menu! Try something new on your next trip!