Winter Camping Clothes Keep You Toasty!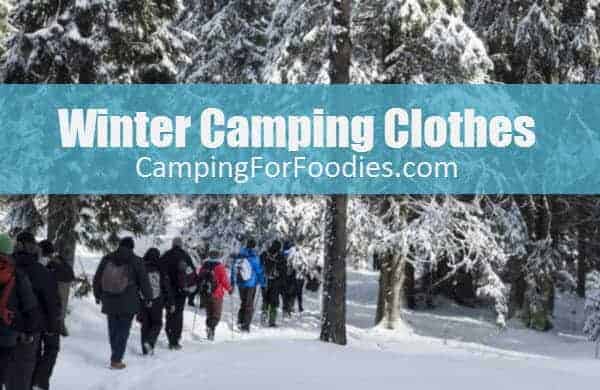 Proper Winter Camping Clothes Keep You Warm!
It's all about the layers! When camping in cold weather your body goes through cycles of heat generation and heat loss. When you are hiking or chopping wood, for example, you are more active and your body is creating heat and moisture but while you are sitting or sleeping, you are losing heat. Wearing the right winter camping clothes will keep you comfortable in a wide range of conditions. Psst we're compensated…see our disclosures.
The Science Behind Winter Camping Clothes
There is a purpose to each of the three layers of winter camping clothing:
Wicking – This is the Inner layer worn next to your body.
Warmth – This is the Middle layer worn between the Inner (Wicking) and Outer (Wind And Waterproofing) layers.
Wind And Waterproofing – This is the Outer layer worn over the Middle (Warmth) layer.
Wicking/Inner Clothing Layer: Should keep your body dry by drawing moisture (like body sweat) away from your skin and transferring it to the Warmth/Middle layer where it should evaporate. You actually want this layer to be made of a thin non-plant based fabric that fits relatively snugly. DO NOT use cotton or other plant-based materials for this layer; DO use synthetic materials like polyester or animal-based materials like wool for your Wicking/Inner layer. Like the plant, cotton material absorbs water which is exactly the opposite thing you want to accomplish here so avoid cotton as your base layer. Think long johns and liner socks. It is a good idea to have 2 sets of Wicking/Inner Clothing layers so you can change them out and be sure you stay dry.
G.I. Extreme Cold Weather Polyester Underwear
Carhartt Men's Cold Weather Socks
First Outdoor Women's Thermal Set
Carhartt Women's Crew Socks
&
Warmth/Middle Clothing Layer: Should keep you insulated and warm. This clothing should be made of fleece, wool, down or synthetic insulation. Think pullovers, jackets and boot liners/inserts. Wool can be itchy and dries slowly if it gets wet while most synthetic materials hold less water and dry faster.
Colorado Timberline Fleece Pullover
Patagonia Women's Pullover
Boot Liners 85% Pressed Wool
Unisex Winter Fleece Liners
&
Wind And Waterproofing/Outer Clothing Layer: Should repel wind and water while keeping you warm. It is the bulkiest layer and the first to be removed. Think jackets and pants. If you are camping in gently cold conditions, you may only need a windbreaker type of outer layer but extreme conditions will required a thicker hooded parka and snow pants-type of layer.
Caterpillar Men's Heavy Insulated Parka
Arctix Men's SnowSports Cargo Pants
Alpinetek Women's Mid Length Parka
Arctix Women's Insulated Snow Pants
&
Protect Body Extremities With Winter Camping Clothing
Gloves And Mittens: Cold heads and hands are a quick path to an overall cold body. Use mittens or gloves to protect your hands and fingers from the elements; just make sure they are waterproof.
Carhartt Men's Waterproof Gloves
Unisex Quilted Waterproof Mittens
&
Hats And Balaclavas: Wearing a hat with earflaps will prevent heat loss especially if you cover that with the hood of a coat. Many people don't consider covering their face and neck but in more extreme temperatures, it is critical to cover as much skin as possible. Use a face mask or balaclava to cover your face and neck.
Carhartt Men's Akron Hat, One Size
Fleece Windproof Face Mask Balaclavas Hood
&
Neck Gaiters And Scarves: Scarfs and neck gaiters are great pieces to add to your winter camping clothing wardrobe to cover your neck and chin area from exposure to cold temperatures during daytime activities as well as overnight while you sleep. By the way, I have a slight confession … because I live in Phoenix and my body is used to 100+ degree temperatures in the summer, I pull out my winter camping clothes in the fall which happens to be the same time many visitors from back east show up in flip flops and shorts. 😉 LOL
Columbia Thermarator Neck Gaiter
Columbia Women's Fast Trek Scarf, Hyper Purple/Oceanic, One Size
Columbia Men's Fast Trek Scarf, Black, One Size
&
Adhesive Body Warmers: In addition to wearing the right winter camping clothes, warmer packets are convenient to keep you warm. They are adhesive and will quickly warm your hands, toes and body especially when you keep them inside your gloves, boots etc. When you want a little dose of warmth, just open the outer package and expose the packet to air. They use all-natural, non-combustible ingredients that are non-toxic and odorless!
HotHands Adhesive Toe Warmer 6 Pair Value Pack
Peel N' Stick Hand, Toe And Body Warmers, Multi-Pack Box
&
Food And Drinks And More For Winter Camping
A nice warm meal and hot drink will help you stay toasty! Try my Campfire Hot Cocoa and Campfire Dutch Oven Chili Recipe to start your winter camp menu. We have awesome tips for Staying Warm Camping In A Tent! 
What do you think? Leave me a comment…I'd love to hear from you!
I love sharing my recipes and tips for enjoying the great outdoors while camping, RV adventuring and relaxing in your own backyard. I'd love to hear what you think and if you'd like to share some of your secrets, I'd love to hear them too! Please leave a comment below and let's chat.
If you need camping recipes and menu ideas, you can find them here at the Camping For Foodies Camping Recipes list.
Don't miss a thing…sign up for Camping For Foodies email updates!
Your purchase of our products will help support World Vision ® Building a better world for children.