Best Wool Blankets For Camping: Top Picks To Fit Your Budget
Clothing and footwear are not the only important gear you can pack for winter camping trips in cold weather. The best wool blankets for camping can keep you warm during daytime activities as well as while you are sleeping at night. You have various options when it comes to price, size and quality of these popular chilly temperature camping accessories.
Psst we're compensated…see our disclosures.
Are wool blankets good for camping?
If you camp in colder temperatures, you'll love using soft warm wool throw blankets.
Backpackers may choose a more compact emergency blanket … but, if you camp in an RV or in a tent that is close to your vehicle, wool material makes the best blanket for winter camping. Here's why:
Wool is an animal-based material that is good for wicking away moisture.
This fiber is breathable, odor-resistant and naturally fire-resistant.
Wool's properties keep you insulated and warm.
The drawbacks to all wool blankets: it dries slowly if it gets wet and wool can be itchy, especially for people with sensitive skin.
---
Can you wash a wool blanket?
Each manufacturer has recommended care instructions.
Some styles require dry cleaning and others are machine washable.
When machine washing is recommended for cleaning, the manufacturer usually suggests using a gentle detergent, washing on a gentle cycle and laying the blanket flat to dry.
---
What are the best wool blankets?
Not all wool camp blankets are actually 100 % wool, some are actually fabric blends.
You'll often find a ratio of 80 wool and 20 synthetic fibers in many styles of these popular cold weather soft wool blankets.
It is beneficial to understand a few terms to describe the best outdoor wool blanket and the differences between:
Wool Fleece
Wool Fleece Fabric
Wool
Fleece
The terms "Wool Fleece" and "Wool Fleece Fabric" are particularly confusing when you are considering fleece vs wool blankets.
"Wool Fleece" refers to hair-like animal fur that covers sheep and other mammals. It is a natural fiber in an unprocessed condition.
Once the "Wool Fleece" is shaved from the animal, it is processed into the fabric we call "Wool".
Some people use the word "Fleece" when referring to an entire coat of "Wool Fleece" being removed from sheep during the shearing process.
"Wool Fleece Fabric" generally refers to a fabric that is made using a blend of polyester and wool that is brushed to compact the fabric creating a deep soft pile which is loftier than straight wool. This process builds air pockets for insulation producing a fabric that is lighter weight and less bulky than 100 percent wool.
---
Popular Outdoor Camping Blankets Made With Wool
There are so many designs of wool and wool-blend blankets, you're bound to find one that fits your style.
We're going to start with the highest quality (and highest price point) and work our way down to the lower quality but good value cozy wool blankets.
---
Filson Mackinaw Blanket
Plaid camping blankets are all the rage.
This Filson Mackinaw wool blanket is made from 100% virgin wool and boasts a trendy but classic red and black buffalo plaid design.
The attention to detail in this high-quality blanket is apparent including the serged edges that prevent fraying.
Filson Mackinaw Blanket With Red And Black Plaid
---
Pendleton's National Parks Edition Blankets
A 150+ year old family business has been making some of the most beautiful American made blankets beloved by outdoor enthusiasts.
Many of the Pendleton wool camp blankets are inspired by Native American designs.
They even have a collection of National Parks Edition blankets that help support restoration projects in the National Parks.
Each blanket features a unique color scheme and a Pendleton Woolen Mills label demonstrating authenticity that includes the Park's name and an image of a significant characteristic.
Pendleton National Parks Blanket, Grand Canyon
Pendleton National Parks Blanket, Grand Canyon Label
Pendleton National Parks Blanket, Yosemite
Pendleton National Parks Blanket, Yellowstone
Pendleton National Parks Blanket, Crater Lake
Pendleton National Park Blanket, Olympic
---
Pendleton Roll Up Camp Blankets With Carriers
The best Pendleton blankets for limited space includes rollable camp blankets with a leather carrier strap. The rollup style has different options including all wool, wool blends and nylon-backed blankets.
The camping wool blankets made with a nylon back offer a great value at an affordable price from this iconic company located in the pacific northwest. The wool side provides a warm blanket with moisture-wicking properties while the nylon back reduces the cost making this an excellent choice to own a Pendleton blanket while staying on a budget.
The Ombre Stripe and Rob Roy styles are well-liked.
Pendleton Twin Camp Blanket With Leather Strap Carrier
Pendleton Roll Up Wool Blanket With Nylon Back
---

Pendleton Yakima Camp Thick Warm Wool Striped Throw Blanket
There is no such thing as cheap Pendleton blankets because of their superior quality. But, some styles are more affordable than others. This Pendleton Yakima Camp Blanket is one of the most inexpensive blankets offered by this iconic company. Don't let the great price fool you. This high-quality wool blanket is made of a wool blend and Pure Virgin Wool.
It is specifically designed for camping with durability in mind. The indoor and outdoor use makes it a great option to add layers with a sleeping bag to maintain body heat on cold nights. It's also the perfect addition to camping gear used as an outdoor blanket during colder months on outdoor adventures in extreme conditions.
It's available in different colors and comes in different sizes: Twin size 66 x 84 inches and Queen size 90 x 90 inches.
Pendleton Yakima Camp Thick Warm Wool Indoor Outdoor Striped Throw Blanket
Twin And Queen Sizes In Various Colors
---
Affordable Wool Blankets For Camping
If your budget hovers around 100 bucks, you can still find really nice wool blankets.
---
Soft Natural Wool Blanket Queen Size
This pretty Soft Natural Wool Blanket features a simple, classic design and neutral color combination.
It is made with 100% virgin, natural wool, measures approximately 83" x 60" and is machine washable.
---
Alpaca Wool Camping Blanket
As a blended fabric, this Alpaca Wool Camping Blanket uses only 30% alpaca wool and 70% ultra-soft acrylic material with recycled content keeping the price on the lower end and reducing the weight of the blanket.
Its Queen size measures approximately 90″ x 78".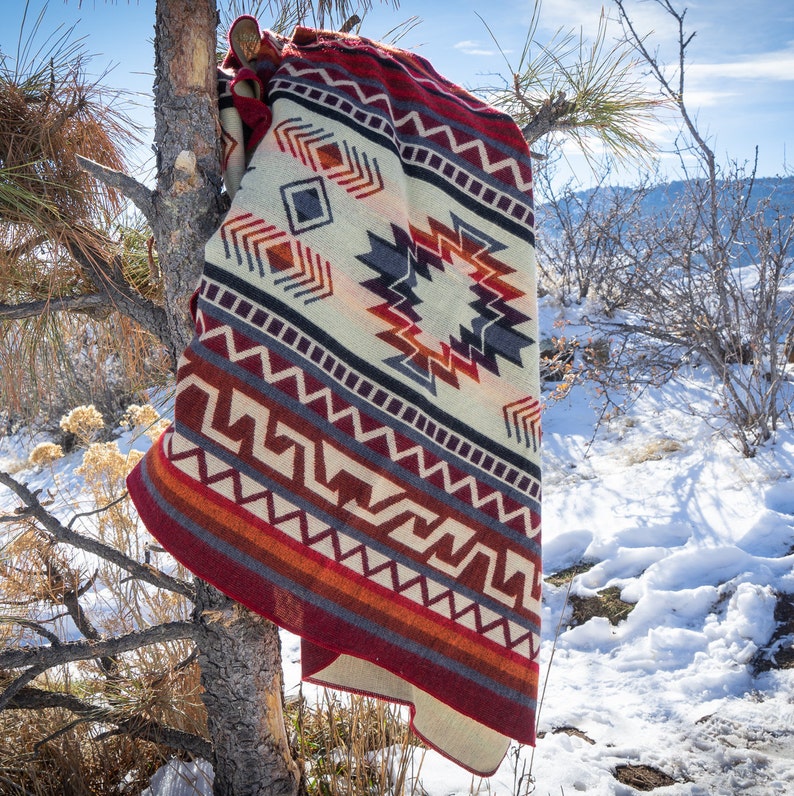 Alpaca Wool Camping Blanket From Ecuador Boho Geometric Design

---
Vintage Wool Camp Blankets
If you want a little bit of history in your camp blankets, you might want to get antique throws with personality.
It will take extra effort to find the perfect one-of-a-kind blanket. Wool army blankets and retro designs are always in demand.
Vintage Pendelton Buffalo Hunt Wool Blanket

Wool Camp Blanket Star Pattern

Vintage 40's Orralskan 100% Wool 3 Point Blanket, Hudson Bay Style

Vintage Original Swiss Army Wool Blanket

Vintage Italian Military Wool Blanket

Vintage 40s/'50s Wool Military Blanket In Army Green

---
Wool Blankets Cheaper Than $100
If you have a lower budget, these blankets are for you.
You get the benefit of the extra warmth of wool but there is a tradeoff when you get a wool blanket cheaper than the average price point.
They usually don't last as long as higher priced blankets, many go through a manufacturing process that produces a chemical smell in the blanket and some of them shed when used in normal conditions.
That being said, these bargain-priced wool and wool-blend blankets range from $25 – $99 so they won't break the bank when it comes to your winter camp gear.
---
Woolly Mammoth Woolen Co. Extra Large Merino Wool Camp Blanket
Using a blend of premium virgin Merino wool and acrylic, this wooly blanket is very popular and affordable.
It measures approximately 66″ x 90″ and is on the heavier side featuring edging that is double-stitched with a thick polyester thread.
The Merino wool blankets in the Explorer Collection have inter-fiber felting and fabric consolidation creating a denser blanket with a milled finish.
Woolly Mammoth Woolen Company Explorer Collection Wool Blanket
---
EKTOS Outdoor Camping 100% Wool Blanket
Weighing in at approximately 5 pounds, this EKTOS blanket is one of the heaviest blankets in this price range.
It measures approximately 66″ x 90″ and can be thrown into a washing machine or cleaned by hand.
EKTOS 100% Wool Blanket, Warm & Heavy, Washable
---
Arcturus Military Wool Blanket
With a blend of wool and hypoallergenic synthetic materials, this Arcturus Military Wool Blanket gives you a big bang for your buck. It weighs approximately 4 pounds, measures approximately 64″ x 88″ and is machine washable.
This is one of the best camping blankets for car camping because it is lightweight and doesn't have to be dry cleaned. It's a good idea to permanently keep one of these in the trunk of your car so you're ready for the worst-case scenario in cold temperatures.
Arcturus Military Wool Blanket
---
Ever Ready First Aid Olive Drab Green Warm Wool Fire Retardant Blanket
As the cheapest wool blanket on our list, this Ever Ready First Aid Drab Olive Green Warm Wool Fire Retardant Blanket is extremely popular.
It uses a blend of wool and synthetic fabrics and is treated with a fire retardant.
It measures approximately 66″ x 90″ and is machine washable.
Ever Ready First Aid Warm Wool Fire Retardant Blanket
---
How To Wear A Wool Blanket
To get the most out of your wool camping blankets, you can use them day and night. Here's a quick VIDEO: How To Wear A Wool Blanket without any clips, pins or accessories.
---
More Tips To Keep Warm While Camping
Hovering around campfires and using wool blankets to camp in cold weather are not the only options for staying warm on the best winter camping trips.
Food is a great way to warm up during cold weather camping trips. Try these hearty comfort food recipes the next time you are camping in the winter.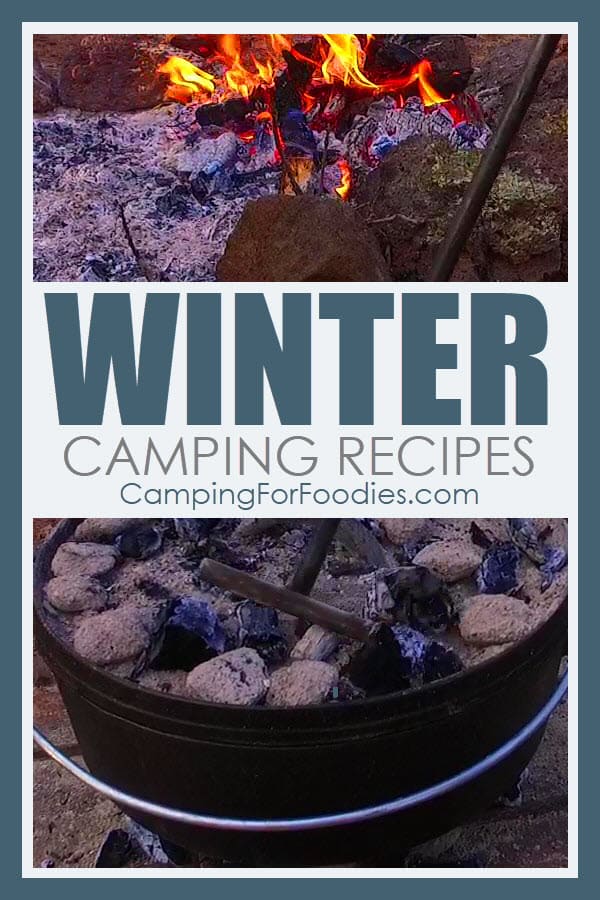 ---
Wearing the right clothing will keep you safe in frigid temperatures. It is just as important to know what NOT to wear!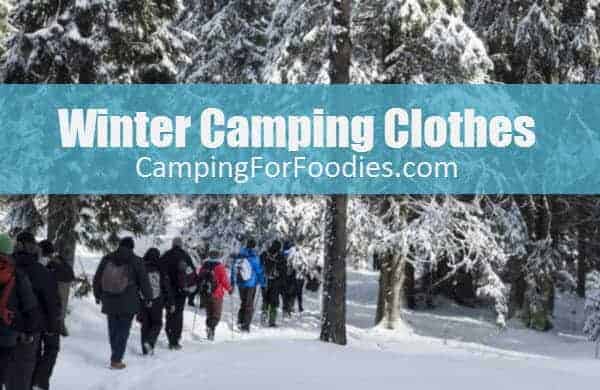 ---
Did you know that if you wrap yourself in a wool blanket and then a Mylar blanket, you can heat your body more efficiently than just using one or the other? The combination of the wool's insulation and the reflective properties of the Mylar blanket provide an excellent option for staying warm without heating your tent with electricity.
---
Just because you're camping in an RV, doesn't mean you can use electric heaters during the winter months. If you're boondocking or at a campsite without electric hookups, you'll want these tips for staying warm in your rig.
---
Get these brilliant tips to stay warm while camping in a tent during your winter trips!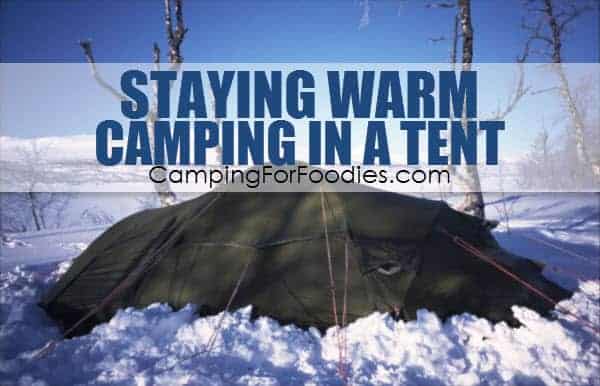 ---
Freezing pipes, dead vehicle batteries, window drafts and interior condensation can all be avoided when you are RV camping in the winter!
---
Wool blankets don't absorb moisture. Keeping wet gear out of RVs is just one way to keep the humidity level down. Preventing condensation from forming is important for your health, safety and comfort … as well as your rig's.
---
FREE Printable Camping Trip Planner
The best way to have a great time on cold weather trips is to be prepared for your experience.
Make your next trip stress-free with a little pre-planning. Get your copy of our FREE printable camping trip planner template!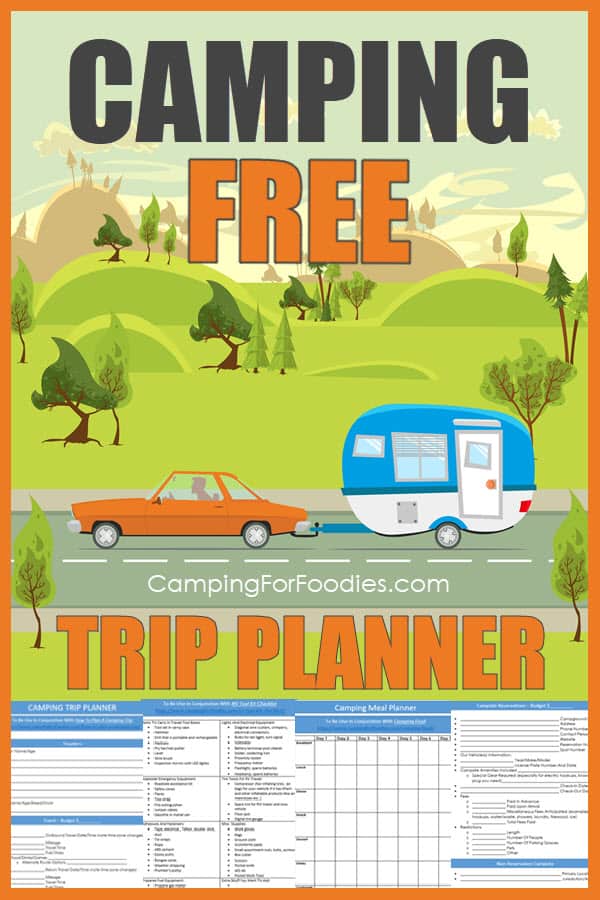 ---