How To Make Homemade Fire Starters Using Dryer Lint Easy DIY Camping Project
Cute projects can add to your camping fun! Our version of DIY dryer lint fire starters obviously uses dryer lint stuffed inside empty toilet paper rolls … but that's not all … our outer wrapping has fun trivia questions about Smokey Bear which makes our DIY fire starters cute and inexpensive gifts too! 
Psst we're compensated…see our disclosures.
The Benefits Of Using Fire Starters
There are many ways to start your fire using just kindling and some sort of spark to create the flame to get everything rolling. But, you can accelerate the time it takes to get your campfire to a robust stage if you use a good fire starter.
---
Kid-Friendly Project
We decided to create unique starters that feature entertaining trivia questions about our favorite bear … Smokey!
If you have kids, these types of camping crafts projects are cool to do at the campsite or at home in advance of your camping trip. And, because our firewood starters don't use melted wax and messy sawdust, they are safe and clean for kids to help!
---
Tips For Collecting The Recycled Materials
It can take a while to accumulate enough dryer lint and empty toilet paper rolls to make these firestarters … especially if you are making a big batch to give away as gifts … so … use a container to store the lint and rolls until you are ready to do the project.
The lint can get a little messy so I like to use a freezer bag to collect it and place it in a location I don't forget about. LOL
---
Easy DIY Camping Project How To Make Homemade Fire Starters Using Dryer Lint
I was going to create a video to show you how to make these fire starters but the process is so easy … I didn't think it was necessary!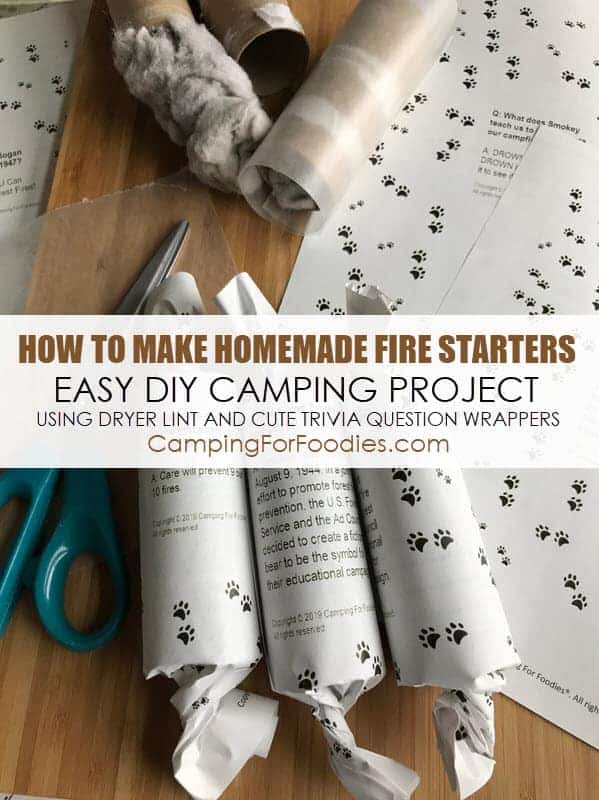 Things You'll Need For Making Fire Starters
Dryer lint
Empty toilet paper tubes
Wax paper
Outer paper (you can just use regular paper or get our patterns with the fun trivia questions about Smokey Bear)
Scissors (optional)
---
Process To Make Dryer Lint Fire Starters
Stuff the wad of dryer lint lint inside the tube … pack it full but don't over-stuff it because the starter needs enough oxygen for ignition.
Print the Camping For Foodies fire starter outer wrapper patterns or just use plain 8.5″x 11″ paper. If you just use plain paper the fire starters will still work but won't be nearly as much fun!
Cut (or tear if you don't have scissors) a piece of wax paper to approximately 6" x 7" and roll the stuffed tube inside the wax paper.
Now roll that in my cute little DIY fire starter wrappers with trivia questions about our favorite bear … Smokey! Make sure the long end of the roll is set on the long end of the paper so after you roll it, the trivia question is visible on the finished fire starter. (Or, you can just use boring plain paper LOL)
Twist the ends to hold everything together (like a wrapped piece of hard candy).
You're done!
If you are giving these cute homemade fire starters as a gift: Just make a bunch of them and put them in a fun decorative gift bag or a gift basket with a DIY jar of hot cocoa mix and boom … you've got a gift to give to your favorite campfire-loving friends!
---
Camping For Foodies DIY Homemade Fire Starters Patterns And Printable Instructions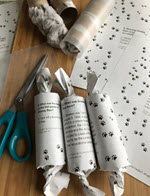 This kit contains 5 patterns with Smokey Bear trivia questions and printable instructions to create cute DIY homemade fire starters that make awesome inexpensive gifts for your camping friends!

&
---
Make Them In Bulk
Once you get things set up, you can almost create a mini assembly line to create a bundle of these great fire starters for every camping family you know … but don't rush too much or it might begin to feel like work! LOL
These homemade fire starters make awesome little gifts on their own … or … they can be combined with more substantial camping gifts too!
---
Other DIY Fire Starter Ideas
DIY homemade fire starters can be made with different combinations of pine cones, egg cartons, cotton balls, shredded paper, melted paraffin wax, petroleum jelly or just about anything else that is highly flammable. 
Pre-Made Camping Fire Starters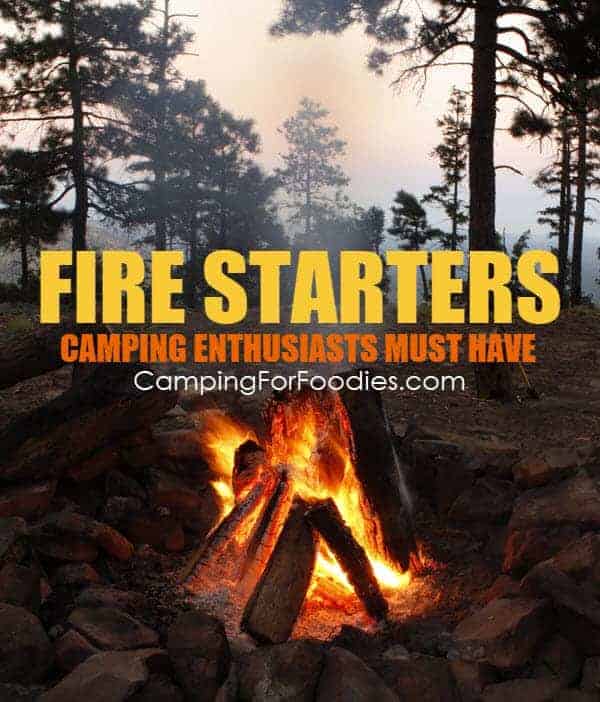 We've used lots of different methods to get our camping fires going.
If you're more interested in checking out the scenic views at your campsite than making your own fire starters … and … want commercially produced fire starters camping products, check out our Fire Starters Camping Enthusiasts Must Have post for some really cool options!
---
What Comes Next?
Having an awesome fire starter is just one step in creating your campfire. Learn how to start a campfire no matter where you are camping and what kind of weather conditions exist.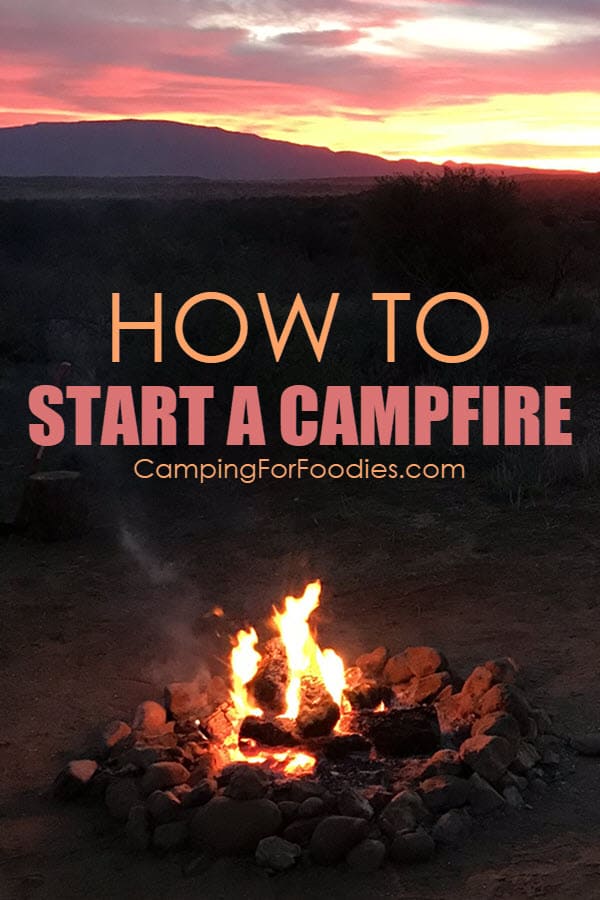 ---
More Campfire Activities For Kids
Once the kids are finished making fire starters and have used them to start your campfire, they might get a little bored unless you have more activities lined up.
Check out our 10 Fun Activities And Campfire Games For Families With Kids post for ideas to keep everyone smiling around the fire!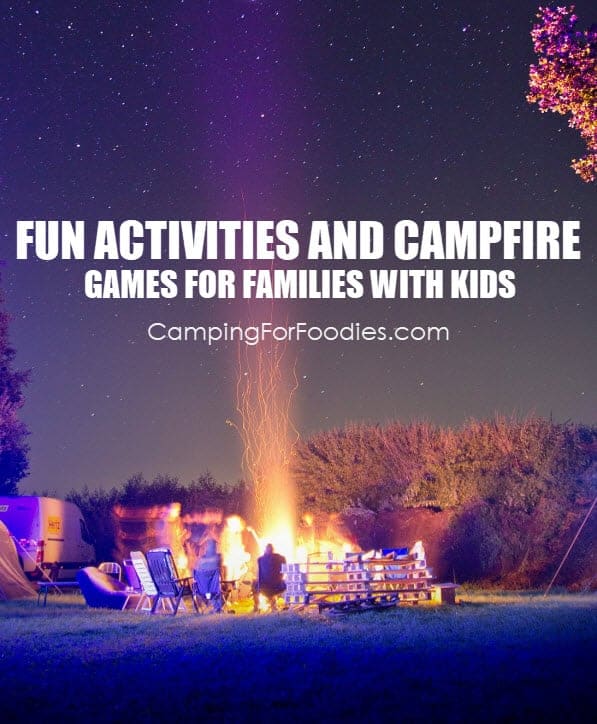 ---
First: Make Fire Starters DIY. Second: Start Fire. Third: Get Campfire Cooking Equipment Ready.
I know, you are probably thinking … does she always think of food when it comes to campfires? Well, yes … I certainly do!
I also think about "how" I am going to be cooking over the campfire and what special campfire cooking equipment I will need to finish creating our meals.
By the way, cooking over a campfire is one of my favorite RV tips and hacks to keep my rig's kitchen clean!
---
Making Fire Starters Is The Beginning To A Great Camp Meal
Find new and exciting recipes for your next meal plan.
If you're looking for awesome ideas for yummy camping food, you're in the right place!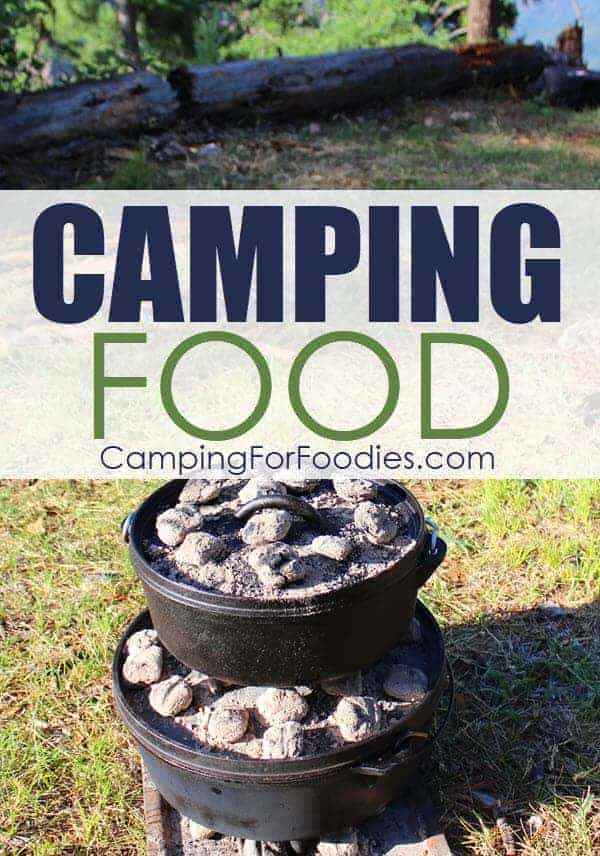 Here's our entire camping recipes list.
Get FREE camping tips and recipes emailed to you!
Our Camping Products Make Great Gifts!
Flexible Cutting Mat
Cutting Mat Set
Stainless Steel Cocktail Shaker Set