10 Fun Activities And Campfire Games For Families With Kids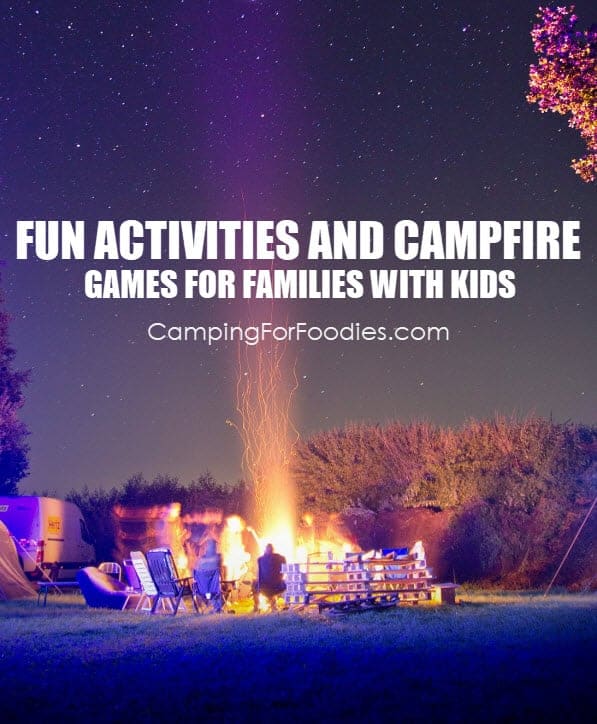 10 Fun Activities And Campfire Games For Families With Kids
After the Dutch oven camping dinner has been devoured and the sun is setting, what's next? Families with kids won't have to hear, "I'm bored" again! These 10 fun campfire activities and games for families keep the kid-friendly entertainment going until the last campfire log has turned into ashes! Psst we're compensated…see our disclosures.
---
Cool Things To Do Around A Campfire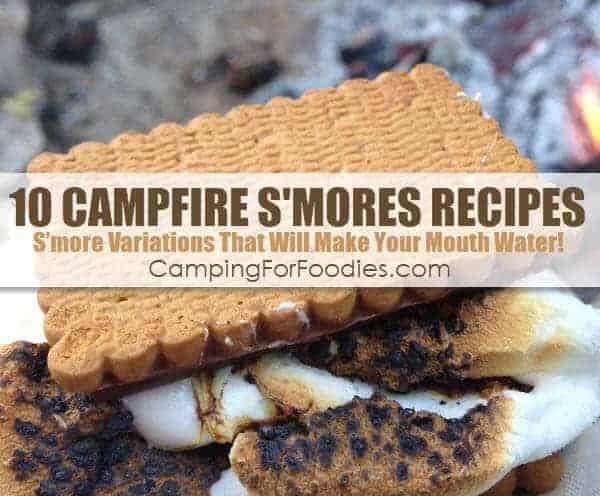 Campfire Activity #1 – Campfire Cooking. 
You've probably noticed my blog name is Camping For Foodies so it won't surprise you that cooking is my personal favorite campfire activity. 😉 Roasting marshmallows for s'mores is only the beginning of campfire cooking activities kids enjoy. Consider popping some popcorn or making pie iron campfire pies for an after-dinner snack or dessert. Check out my post for inspiration to elevate your s'mores: Campfire Smores Recipes: 10 Mouth-Watering Smore Variations!
&
---
Telescoping Roasting Sticks
Pie Iron Cooker
Open Fire Popcorn Popper
&
---
Campfire Activity #2 – Color Your Campfire Flames.
I asked a few kids … "What are your favorite cool things to do with a campfire?" By far, coloring the flames was at the top of the list! It is mesmerizing to watch campfire flames dance throughout the night but sometimes kids get bored with that … BUT … as soon as you add color to the flames, the excitement continues. You can do this as simply as throwing a little table salt in the fire for a quick burst of bright glow or using fire colorant bags for a bigger array of long-lasting colors.
Fire Flame Colorant
Fire Flame Colorant
Fire Flame Colorant
&
---
Campfire Songs: Lyrics And Chords To More Than 100 Sing-Along Favorites
Campfire Activity #3 – Campfire Songs.
Everybody has their favorite tune when it comes to sing-along songs. You can do this campfire activity acapella or add a guitar, harmonica or whatever else is nearby. The families we hang out with tend to turn our coolers into drums. It's a good thing we like boondocking in the middle of nowhere! LOL 😉
&
---
---
Child's Introduction To The Night Sky: The Story Of The Stars, Planets, Constellations And How To Find Them
Campfire Activity #4 – Gaze Upon The Stars.
With the soft glow of the campfire being the only light around, tell the kids to look up and give them the opportunity to appreciate the expanse of the universe. Some camping activities can quickly turn into fun learning experiences for kids too! Teach them how to find the North Star by finding the Big Dipper, leading them to the Little Dipper with the North Star being the last star in its handle.
&
---
Scout Jokes: A Collection Of Clean Jokes And Stories Related To Scouting, Camping And Hiking
Campfire Activity #5 – Tell Camping Stories & Jokes.
Keep it clean for the kids and let the camping jokes rip. The Scout Jokes Collection of camping jokes and stories might be a little corny but it is good wholesome fun fit for families with kids of all ages. Campfire activities that bring families together with a good "from-the-soul belly laugh" are awesome!
&
---
Campfire Activities #6 – #10 – Play Fun Games Around The Campfire. Our favorite campfire games complete our list of 10 Fun Campfire Activities For Families With Kids. We don't have one favorite game because it really depends on who is in the crowd! Let the friendly competition begin!
---
Campfire Activity #6 – Camping For Foodies® Super Hero Camper Game (yes, it is our very own invention)!
---
Directions: Each person around the campfire fills in one blank of the story. Sarcasm is encouraged. Keep it clean. No crying allowed. Have fun and laugh a lot … it's good for you!
EXTRA BONUS: Share your story with us and if we publish it on CampingForFoodies.com we'll send you one of our cool camping products as a gift!
When I arrived to the campsite, I was thankful for ___________. Shortly after that, __________ asked me if I remembered to pack ______________. It was at that moment the image of ___________ raced through my mind and panic set in when I realized _________. I knew 'real campers' are always ready to improvise and it was time for me to show my skills! Out of the corner of my eye I saw _________. I grabbed it and modified it by ___________ so I could use it as a ____________. I turned from zero to hero immediately! In order to leverage my new Super Hero Camper status, I announced I would not be doing _________for the rest of the weekend. It was at that time that I received the Super Hero nickname of _____________. Upon that undesirable distinction I ___________ and vowed to never forget to pack any necessary camping item ever again.
The moral of the story is ________. The End.
©2015 Kim Hanna's Camping For Foodies, Inc.
---
National Lampoon's Christmas Vacation (Special Edition)
Campfire Activity #7 – Next Line Please.
This is one of those uber fun campfire games for families who have a favorite movie or TV show. Pick one movie or TV show episode everyone is familiar with and go around the campfire with everyone adding a line from memory until someone can't think of a line. Our go-to choice is Christmas Vacation with Chevy Chase. Some of our favorite lines are…
"I love it here. You don't gotta put on your coat to go to the bathroom, and your house is always parked in the same place!"
"You serious Clark?"
"If I woke up tomorrow morning with my head sewn to the carpet, I wouldn't be more surprised than I am right now."
"I think that it would be best for everybody if they all just went home … before things get any worse."
&
---
Bluetooth Boombox, CD Player, FM Radio
Campfire Activity #8 – Name That Tune.
Don't all families have "camping playlists"? I know we do. We don't always agree which playlist is our favorite but we do love music around the campfire! For this game, we let one person control the music player; they play a song while everyone else tries to guess the name and artist of the song. The first person to get it right wins the authority to "thumbs up or down" the song. So, if it is your favorite song and you want to listen to the entire thing, you better be fast with your imaginary buzzer! Oh, and if everyone is stumped, the player gives clues until someone answers correctly.
&
---
Campfire Activity #9 – Twenty Questions.
Personally speaking, this is one of my favorite campfire games! I like the strategy of coming up with unique questions that provide lots of information. With this game one person is designated as the "thinker" and thinks of a subject (person, place or thing); the rest of the players ask one "yes or no" question at a time. After the thinker answers with a "yes" or "no", the "guesser" has one chance to guess the subject. Each player around the campfire takes a turn until someone guesses correctly or 20 questions have been exhausted.
---
Campfire Activity #10 – Two Truths And A Lie.
This game is played as one person announces two facts and one lie about themselves. Everyone sitting around the campfire has a chance to guess which one is the lie. This is one of those campfire games that can get a little dicey (if you know what I mean), so make sure the families playing it are on the same page … especially if you have a mix of younger and older kids. This is NOT intended to be a "How to buy beer with a fake ID" (or other illegal/undesirable event) training session! As long as it is kept clean, this campfire game is fun and causes people to get to know each other better. 🙂
---
Here are a few other posts you may be interested in…
---
No time to look for recipes, create a menu and write a grocery list? No Problem! Get our 3-Day Dutch Oven Camp Menu Plan here!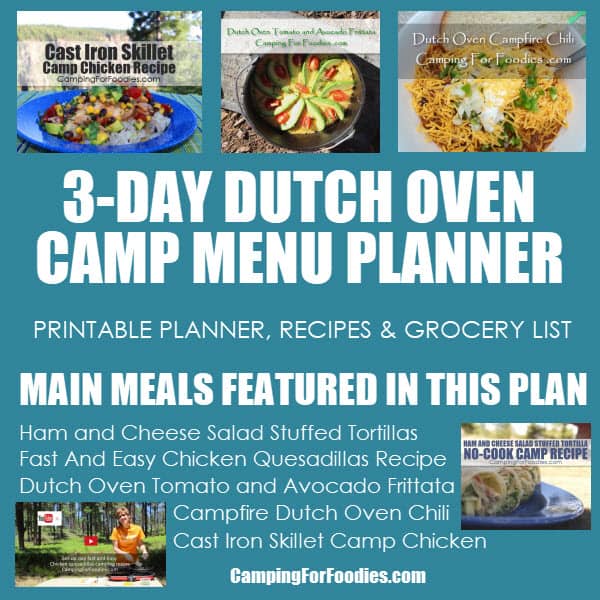 If you need camping recipes and menu ideas, you can find them here at the Camping For Foodies Camping Recipes list.
Don't miss a thing…sign up for Camping For Foodies email updates!
Your purchase of our products will help support World Vision ® Building a better world for children.