Some of our favorite camping tips are about campfires because we love cooking with them, hovering around them and tending them so they produce those magical dancing flames that are so relaxing to watch!
Check out these simple tips to learn how to start a campfire at any campsite in any weather condition you experience on your camp trips.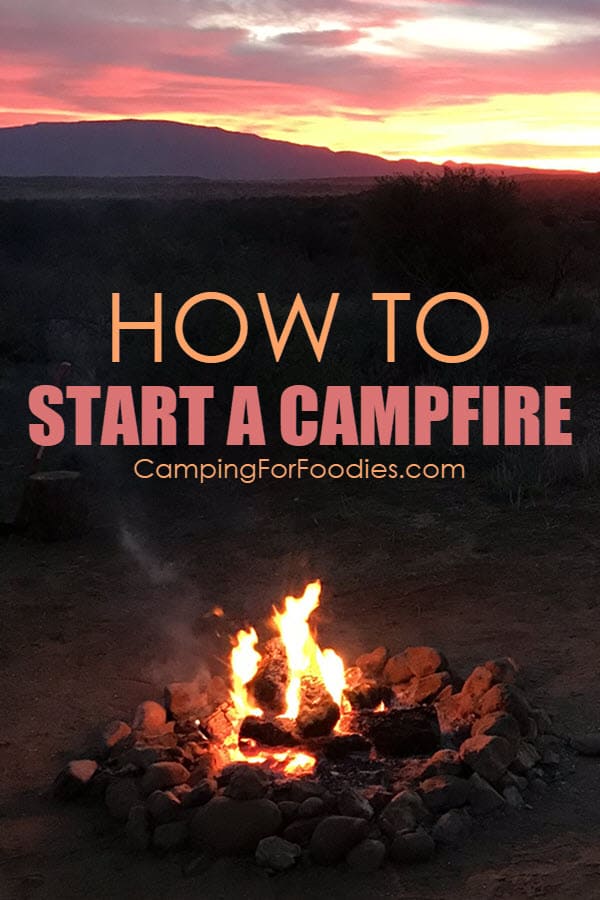 Psst we're compensated…see our disclosures.
---
Easiest Way To Start A Campfire
The type of camp fire you build depends on what you are using it for.
If you are cooking with your fire, you want a nice bed of coals with an ample supply of fuel from burning logs on the side to keep the cooking heat constant. Get more campfire cooking tips for this type of fire.
On the other hand, if you want a fire for warmth and relaxation, you want a robust fire with lots of flames and heat.
No matter which type of campfire you build, the best campfire starter depends on the gear you have and how easy you want the process to be.
---
Step 1 – Determine a suitable location to start your campfire.
How do you start a campfire safely?
Verify campfires are allowed and obtain a permit if one is required.
If it is too dry and campfires are prohibited, here's how you go camping without fire to stay safe, legal and still have tons of fun!
Use the designated fire ring at your campsite or create a new one, if necessary.
Clear a 10-foot area free of tree limbs, grass, leaves, firewood or any other flammable materials.

If you are camping in a dispersed location that does not have a fire ring, create a fire pit to build a fire and keep it contained. Consider these campfire safety matters when you create a pit …

Choose a site that does not have lots of brush, dry grass or low-hanging branches.

Select a location away from flammable objects and vehicles (like canopies, tents and RVs).

Dig a 1-foot deep hole for your campfire.

Create a circle of rocks around the campfire zone to prevent the fire from spreading outside to the surrounding area.
---
Step 2 – Collect your burning materials.
You'll need three sizes of wood products to start your campfire and to keep it going.
From smallest to largest, you'll need to gather: tinder, kindling and firewood.
Tinder: Is the smallest-sized material that is usually tiny twigs, dead leaves, dried up needles etc.
Kindling: Is the middle-sized material that is usually dried sticks that are less than 1-inch around but can also be the thin wood pieces that result from splitting logs with an axe or maul.
Firewood: Is the largest-sized material that consists of dried pieces of wood that fit inside the fire ring.
Campfire Safety Tip: Keep your firewood stacked away from the fire on the upwind side.
NOTE: There is one camping fire starter we used that does not require tinder or kindling AND it lights wet wood. We did a review of Pull Start Fire that includes a VIDEO that will show you why we think this is one of the easiest ways to start a campfire!
---
Step 3 – Build your campfire.
Remember, fire needs oxygen to burn so when you build your campfire you need to avoid tightly packing the burning materials … instead … loosely stack them to enable airflow and ignition.
Place some tinder in the center of the fire pit … two or three handfuls is usually good.
Stack some kindling on top of the tinder leaving room for airflow.
---
Step 4 – Start your campfire.
There are so many cool camping fire starters available … you can use one of those or just a regular lighter or matches to light the tinder.
The tinder and kindling should catch fire but you may need to continue adding dry leaves and small twigs to get it going well enough before you begin adding pieces of firewood.
---
Step 5 – Continue building your campfire.
When you are first starting a fire, you'll need to build up to large pieces of wood.
Once you have the tinder and kindling well underway, continue by adding smaller pieces of your firewood until you eventually have a large enough fire to ignite a larger piece of wood and ultimately the largest logs on top.
If you don't have a campfire log grabber, you can use a long piece of kindling to stoke up your fire.
---
Step 6 – Maintain your campfire.
Add larger pieces of your firewood to keep your fire burning.
Practice campfire safety by …
Maintaining your fire to a manageable size.
Planning to let the wood totally burn down to ash with plenty of time before you go to bed.
Always attend your fire … Don't ever leave it unattended.
Always supervise kids and pets around your campfire.
---
Step 7 – Extinguish your campfire.
As Smokey Bear teaches, "If it's too hot to touch, it's too hot to leave."
Drown ALL embers by pouring water on them … you are not done until the hissing sound stops.
Use dirt or sand if you don't have water … you are going to bury the fire if you use this method.
If you have sticks and logs that have not burned to the point of ashes, use a shovel to scrape off remaining embers … if embers still exist or the wood is still smoldering … you are not done yet. 😉
Continue to stir until all the material in your campfire pit is cool … add more water, dirt or sand as necessary.
---
Campfire Styles
Cooking Campfires
If you are doing some campfire cooking, you will want to build your campfire in a teepee or lean-to style.
Check out these easy campfire recipes for new menu ideas.
And don't forget to pack your favorite campfire cooking equipment you'll need to create your meal.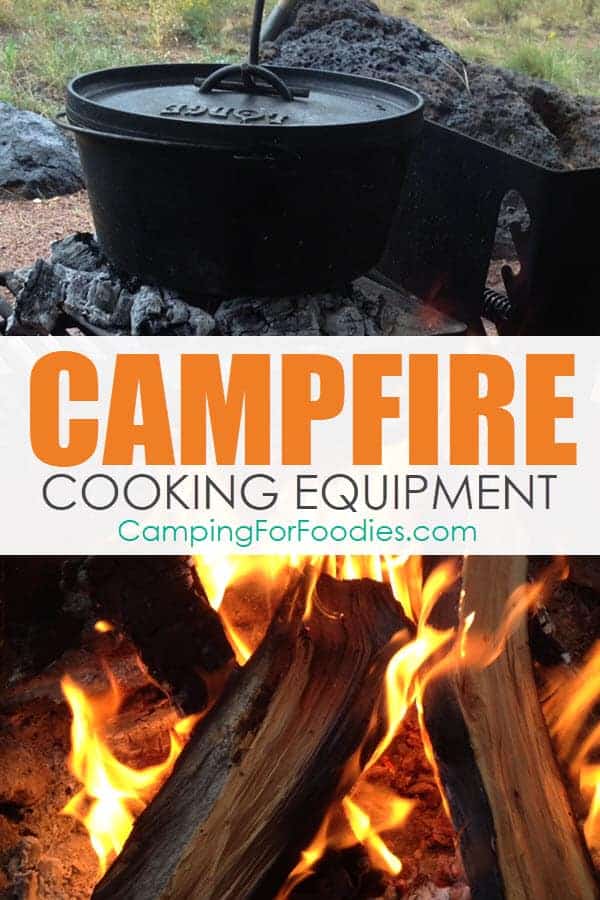 ---
Activity Campfires
If you want to enjoy campfire activities and games, you will want to build your campfire in a crisscross or log cabin style … both create long-lasting campfires.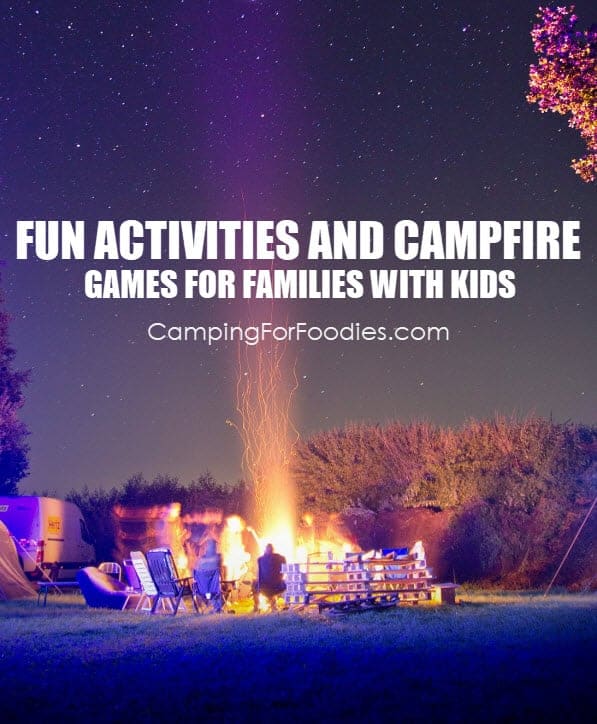 The extended burn time of these campfire styles ensures you'll have enough heat to stay warm, make some yummy smores camping variations as well as a nice warm cup of campfire hot cocoa.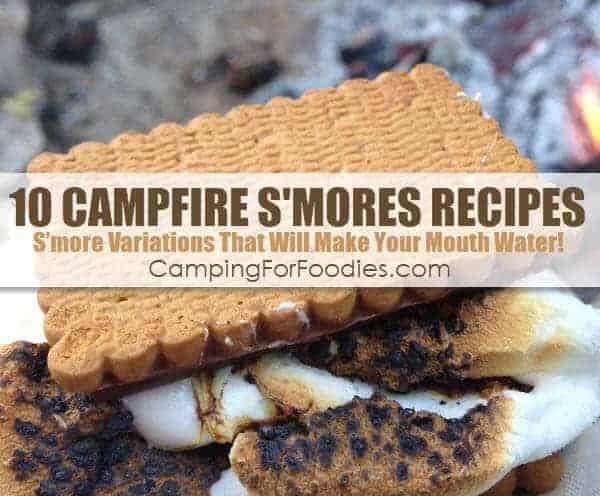 ---
DIY Dryer Lint Fire Starters
Making dryer lint fire starters is a fun project that makes economical gifts too!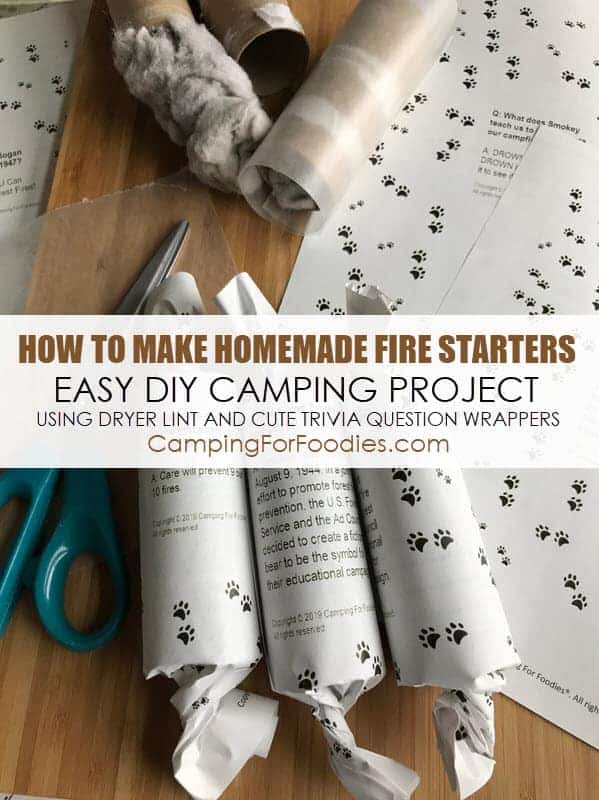 ---
Our Cool Camping Products Make Great Gifts!
---