Hungry Man Breakfast: Easy full-sized meal under 30 minutes
This is one of my favorite camping breakfast ideas that creates delicious food to prepare you for a hard day of hiking strenuous trails. Enjoy this easy Hungry Man Breakfast on your next camping trip.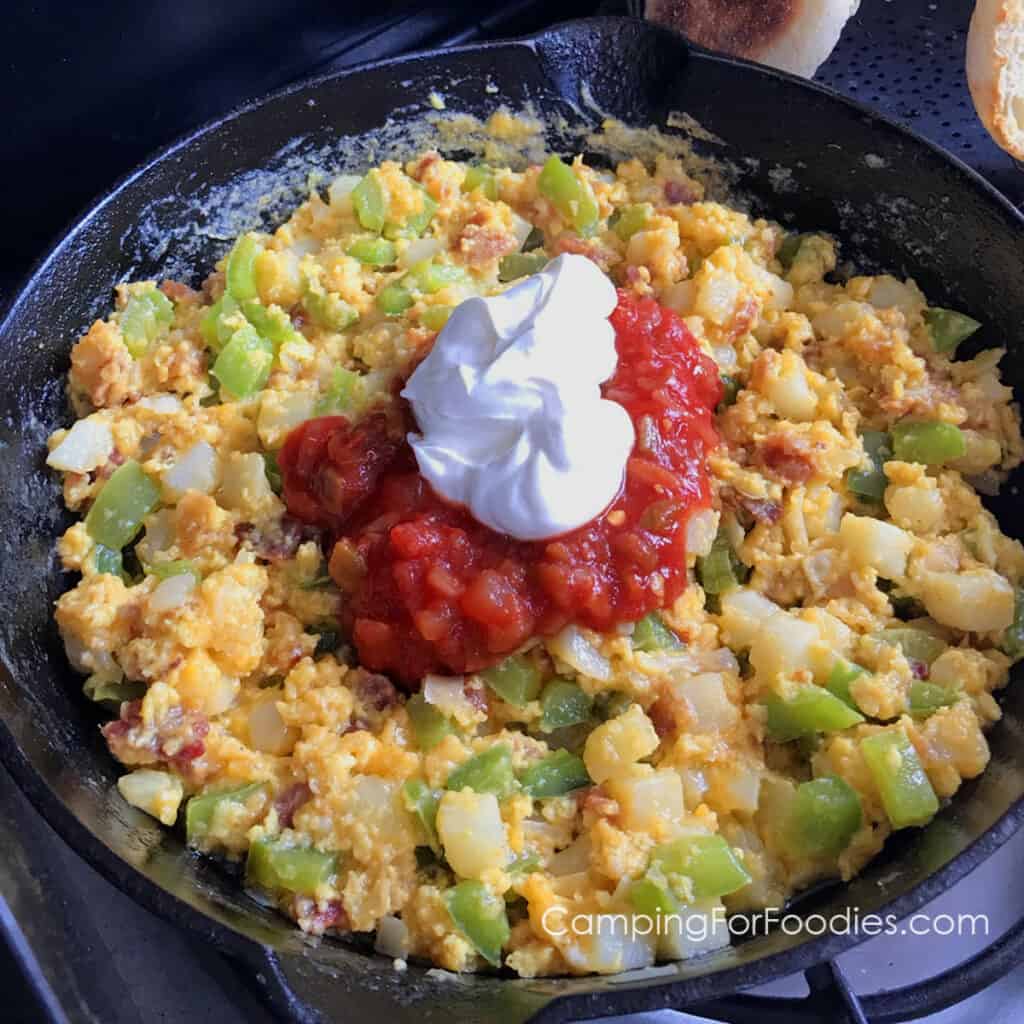 Psst we're compensated…see our disclosures.
Recipe Prep
When you are making one pot camping meals, it is important that you have all of your ingredients prepped before you start cooking. For this recipe you'll need to chop a green bell pepper and a bit of onion. You'll also want to beat your eggs in a separate bowl and set them aside.
---
Cooking Methods & Equipment
I like making this as one of my camp stove recipes so we can turn the flame off, eat and hit the trail. You'll want to get your stove ready for cooking on a level surface. An RV stovetop would be fine too.
If you are not worried about putting out a morning campfire because you are hanging out at camp for the day, you can also make this as one of our easy campfire recipes, you'll need to get your fire going in order to cook over a nice bed of coals.
---
Recipe Steps
Step 1. Prepare your ingredients, heat source and equipment as directed. This is one of my easy camping meals that uses bottom-only heat so you don't have to worry about maintaining a specific temperature like you do when you're baking.
Step 2. Heat a medium-sized deep skillet over medium-high heat. If you are scaling this recipe to feed more people, you will need a large skillet.
Step 3. Fry the bacon. You'll cook the bacon all of the way before you remove it from the pan. Let it get crispy before you set it aside. Leave the bacon grease in the skillet.
Step 4. Cook veggies in bacon fat. You'll add the hash brown potatoes, onion and green pepper to the pan, scraping up the brown bits from the bottom of the pan. Cook until the vegetables are softened.
Step 5. Crumble bacon and add back to pot. Now that the bacon is slightly cooled, crumble it into small pieces and add it back into the pot with the potato mixture.
Step 6. Cook eggs. Reduce to med heat and stir eggs into the pot. You want to gently stir them and cook until they are almost set.
Step 7. Add cheese then finish with salsa and sour cream. Sprinkle cheese over the dish and cover so the cheese begins to melt. Remove from heat and top with salsa and sour cream just before serving hot.
---
What To Serve With This Recipe
With the entire meal in one pot, this is a great gluten free camping food option and you don't need to serve anything on the side except for a morning beverage. We like coffee and orange juice.
A simple of side of fresh fruit is always a nice way to add a little sweetness to a savory breakfast. Slices of cantaloupe or fresh orange segments are my go-to because they don't need to be refrigerated and are readily available.
Even though there is plenty of starch in this recipe (from the potatoes) my husband doesn't think an "egg breakfast" is complete without toasted English muffins or wheat toast, so, I add those too.
---
Similar Recipes
When I have more people to feed, I make my Mountain Man Breakfast, we call it our hungry man's breakfast casserole. It is a large breakfast casserole made in a 12-inch cast iron Dutch oven that will feed a lot of hungry cowboys. You fry sausage (like hot sausage Jimmy Deen breakfast style) till it's almost done then soften some onion, garlic, green chilies and shredded hash brown potatoes. Pour mixture of beaten eggs over the top of the potatoes and sausage mixture, cover and bake till a toothpick inserted in the center of the casserole comes out clean. Just before the end cook time, sprinkle on a bit of cheese, top with a few chopped green onions, sour cream and hot sauce before serving.
My Cowboy Breakfast Skillet is a great feast fit for two! The reason I really like it is that you can make sunny side up and scrambled eggs in the same pan at the same time! You place sausage in a cast iron skillet over a morning campfire. Crumble sausage as it cooks and then add some butter, red bell pepper, onion and cubed potatoes. Flatten the ingredients then use a spoon to create "wells" for cooking the eggs. Add a little cheese and green onions for serving. See more of my camping meals for two.
In the mood for a sweet casserole? Try my Camping Dutch Oven French Toast Campfire Recipe. It is one of the best breakfast foods that is an alternative to making individual servings of French toast or pancakes. The warm flavor profile features cinnamon, sugar, nutmeg and cloves then is topped with a slightly sweet powdered sugar glaze. See all of my Dutch oven camping recipes!
---
Print This Recipe
Hungry Man Breakfast
Camping For Foodies Breakfast Camping Recipes: Hungry Man Breakfast is a full-sized meal, quick to prep and cook.
Ingredients
4

slices

thick bacon

2

cups

frozen Southern Style Hash Browns Diced Potatoes

defrosted

1

green bell pepper

seeded and chopped

1/2

small onion

chopped

4

eggs

beaten

1

cup

shredded sharp or mild cheddar cheese

1/2

cup

prepared salsa

1/4

cup

sour cream

Salt and black pepper

to taste
Instructions
Heat a medium sized cast iron deep skillet over medium-high heat of campfire, RV stovetop or camp stove.

Add bacon and cook until it is crispy, then remove it from the pan. Do not drain the bacon grease from the skillet.

Add the hash brown potatoes, onion and green pepper to the pan, cook until the veggies are softened, scraping up brown bits from the bottom of the pan.

Now, crumble the bacon into small pieces and add it to the potato mixture.

Reduce to medium heat, then, stir in the eggs and cook until they are almost fully set.

Sprinkle the cheese over the top of the mixture, cover with lid and let eggs finish cooking and the cheese to melt, about 2 minutes.

Top with salsa and sour cream. Serve hot.
Nutrition Information
Serving:
4
g
Calories:
462
kcal
Carbohydrates:
25
g
Protein:
20
g
Fat:
31
g
Saturated Fat:
14
g
Polyunsaturated Fat:
4
g
Monounsaturated Fat:
11
g
Trans Fat:
1
g
Cholesterol:
225
mg
Sodium:
741
mg
Potassium:
644
mg
Fiber:
3
g
Sugar:
3
g
Vitamin A:
890
IU
Vitamin C:
34
mg
Calcium:
272
mg
Iron:
2
mg
---
More Yummy Meal Ideas
Make every meal fresh and fabulous on your next campout.