Mountain Man Breakfast: Easy Dutch Oven Camping Recipe
It's fun to try new and exciting camping breakfast ideas! This Mountain Man Breakfast Dutch oven camping recipe is fast, easy and hearty! We've tried so many recipes that just didn't hit the mark because they were too dry or potato-heavy so we created our unique version that is cheesy, meaty, more moist and has a slightly spicy touch of the southwest. Serve it with a toasted English muffin and some fresh fruit and you won't be hungry till tomorrow!
Psst we're compensated…see our disclosures.
How To Make The Mountain Man Dutch Oven Breakfast Meal
We enjoy this breakfast all year round but as one of our winter camping recipes, it is really nice because it is so hearty and warm.
Step 1. Prep your veggies. The first thing you want to do to start cooking this mountain man recipe is to get your food prepped before you start cooking.
You only have to chop some onions and mince garlic for this fast and simple recipe. I like using my Camping Flexible Cutting Mats so I can easily funnel food directly into my camp cast iron Dutch oven.
Step 2. Prepare your coals. Now get your coals ready for cooking. You can either use hot coals from a campfire or charcoal briquettes which are easier to control when you want a precise temperature for baking. I love using my Rapid Fire Chimney Starter because it is fast and efficient for lighting charcoal without lighter fluid!
Weber Rapidfire Chimney Starter
Check out our VIDEO to see how to use a charcoal chimney.
Camp Cooking Tip: Don't start your charcoal too early before you are ready to cook or you will end up doing two batches to finish baking this hungry man's breakfast recipe.
The entire recipe should finish cooking in about 50 minutes so you should be able to complete the cooking with one set of coals but if you drag your feet … you'll be lighting a second set.
Step 3. Fry the meat and veggies. The next step in making this mountain man breakfast, is to fry the sausage till golden brown, then add the veggies, brown hash browns, pour egg mixture over the top of the sausage mixture and bake.
Camp Cooking Tip: To ensure even baking in your Dutch oven camping recipes, rotate the camp oven throughout the cooking time so everything cooks evenly. 1/4 turn for the bottom (say clockwise) then 1/4 turn in the opposite direction for the lid (this would be counterclockwise.)
I like using a Dutch Oven Lid Lifter for this process but you can also use heat-resistant gloves or another favorite flameproof tool.
Step 4. Pre-heat your oven and bake. You are going to bake this mountain man breakfast casserole in ovens at a temperature of 350 degrees till eggs are almost set then sprinkle cheese on top.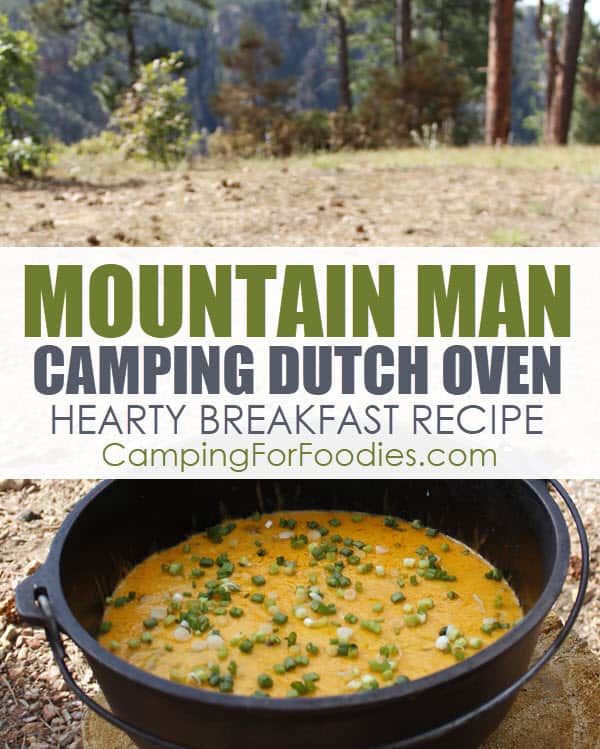 If you use a 12-inch cast iron Dutch oven, you will need approximately 25 coals total (17 on top of the lid / 8 on bottom), if you are using a different sized oven, check our Dutch oven temperature chart to see how many coals you need.
Camp Cooking Tip: If you prefer to cook with propane, you can just set your camp Dutch oven in a regular oven (like in your RV) or you can use it on a propane stove top if you have a Dutch oven dome and heat diffuser plate that will circulate the heat up the sides and over the top of your Dutch oven during the baking process.
Step 5. Add the toppings and serve. After the cheese melts, you will top with green onions and serve with sour cream and a few dashes of hot sauce.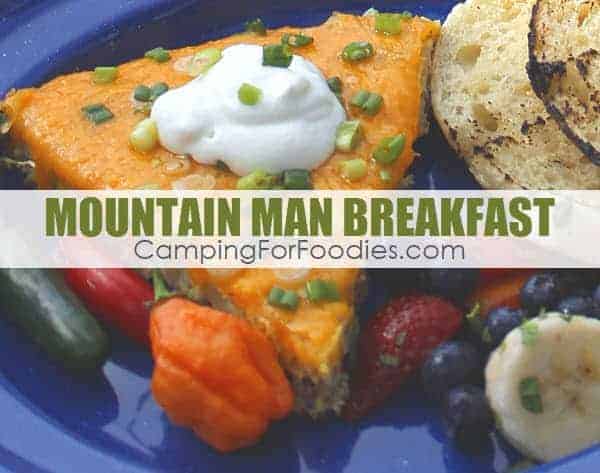 ---
Substitutions
We like food with a little heat so I use hot breakfast sausage, but, if you want to reduce the spice level you can use a mild or sweet sausage. For the heat-lovers in your crowd, serve a spicy condiment like red pepper flakes or fresh jalapeno or poblano pepper slices.
To make it vegetarian, use a plant-based ingredient instead of sausage. Tofu, mushrooms, cauliflower and tomatoes are good choices. Just make sure you drain those ingredients well because they add extra moisture to the pan. You may need to increase baking time too.
---
Pairings For Mountain Man Breakfast Recipes
I like serving some fresh fruit on the side of this Dutch oven breakfast recipe. If you want to get a little fancy with your fruit, try our Fresh Summer Fruit Tossed In Honey Mint Syrup Camp Recipe! It is AMAZING!!!
Believe me, I think this is crazy too, but because my husband is such a bacon freak he will cook bacon and serve it on the side with his mountain man breakfast casseroles!
As written, this recipe serves 6 adults. This is one of my easy camping meals for large groups. If you are serving this to a big crowd on a large family camping trip, double stack your Dutch ovens to bake this Camp Coffee Cake at the same time.
Get your FREE printable camping trip & menu planner before you create your next meal plan!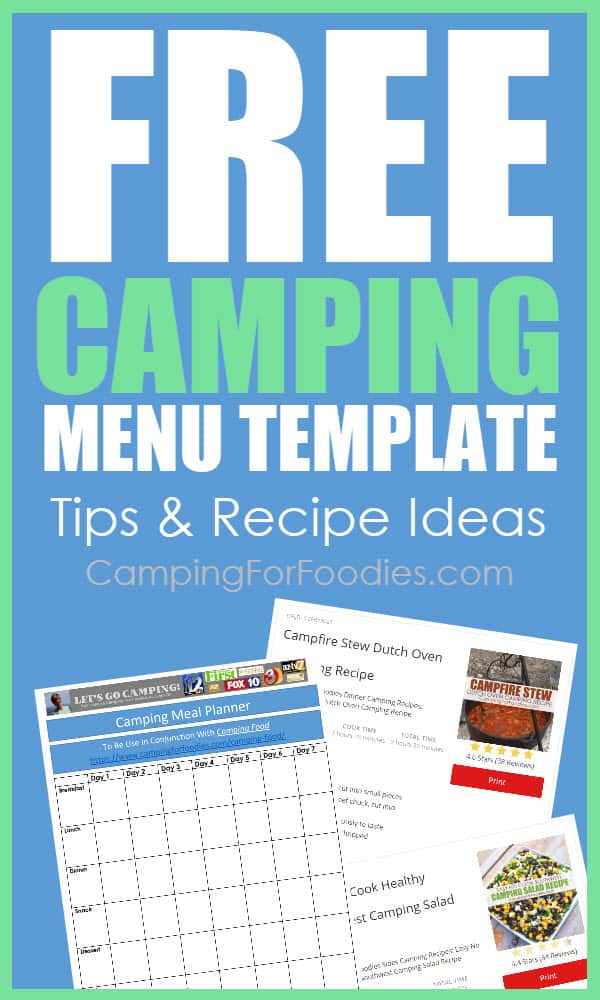 ---
Recipes Similar To Mountain Man Casserole
This is just one of my awesome one pot camping meals!
This recipe feeds a LOT of people with "normal" appetites so if you have a smaller crowd but still want the flavors of a mountain man meal with fewer number of servings, try this Cowboy Breakfast Skillet that includes some red bell pepper and cubed potatoes rather than hash browns … plus you can scramble eggs or crack eggs and drop them on top of the potatoes and breakfast meat mixture to make them sunny side up … all in one pot!
Want a breakfast casserole that is sweet instead of savory? Try this yummy Dutch Oven French Toast with the warmth of cinnamon and the sweetness of a powdered sugar glaze.
This Hungry Man Breakfast recipe is a one-skillet meal that can be scaled down to feed two. Bacon and Southern style hashbrowns are the base, the addition of green bell pepper, onion, beaten eggs, cheddar cheese, salsa and sour cream finish it off nicely.
For a meatier handheld meal, try this Breakfast Burrito that has a similar spicy flavor profile all wrapped up in a tortilla.
If you're looking for gluten free camping food ideas, this Mountain Man breakfast is a great meal. Another awesome option is to enjoy ham, eggs, potatoes, cheese and green onions in less than 30 minutes when you make this Camping Breakfast Skillet.
---
Print This Recipe
Mountain Man Breakfast Dutch Oven Camping Recipe
Camping For Foodies Breakfast Camping Recipes: Mountain Man Breakfast Dutch Oven Camping Recipe
Ingredients
1

pound

ground pork hot breakfast sausage

crumbled (substitute mild breakfast sausage for less spicy flavor)

1

small onion

chopped (or 1/2 large onion)

2

cloves

garlic

minced

1

(4 oz)

can green chilies

(substitute chopped green pepper for milder flavor)

1/2

pound

frozen shredded hash brown potatoes

defrosted

8

large

eggs

beaten

Salt and pepper

to taste

1

(8 oz)

package shredded sharp cheddar cheese

(if shredding from a block, this is 2 cups)

3

green onions

chopped

6

tablespoons

sour cream

Few drops of hot sauce
Instructions
Start campfire and get cooking coals ready for breakfast!

In 12-inch camp Dutch, oven over medium-high heat, brown sausage till almost done. Make sure you crumble sausage into small pieces as it cooks.

Camp Cooking Tip:

Depending on how lean your sausage is, you might not need to drain the sausage drippings because it adds extra flavor to the dish. If the pot is swimming in grease, remove the sausage from the bottom of Dutch oven to drain on paper towels and use another paper towel to remove most of the fat from the bottom of the Dutch oven.

Add onion, garlic and green chilies to the partially cooked sausage. Continue cooking and stirring until sausage is no longer pink and vegetables are tender.

Stir in hash browns and cook till heated through. Thoroughly mix meat and veggies then spread evenly across the bottom of the camp Dutch oven.

Using a whisk or fork, beat eggs, salt and pepper in a separate bowl, then pour eggs over the top of hash browns and sausage layer.

Cover and bake at 350 degrees (25 coals total with 17 top/8 bottom) till eggs are almost set, about 30 minutes.

Sprinkle top with cheese, cover and continue cooking till eggs are fully cooked and cheese is melted, about 5 minutes.

Top with green onions, sour cream and hot sauce for serving.

Let cool slightly before slicing.
Notes
Camp Cooking Tip: This Mountain Man Breakfast Dutch Oven Camping Recipe is easy enough to make in a camp Dutch oven but it can also be made in an RV oven, solar oven or camp stove-top oven.
Camp Cooking Tip: To ensure even baking in your Dutch oven camping recipes, rotate the camp oven throughout the cooking time so everything cooks evenly. 1/4 turn for the bottom (say clockwise) then 1/4 turn in the opposite direction for the lid (this would be counterclockwise.) I like using a lid-lifter for this process but you can also use heat-resistant gloves or another favorite flameproof tool.
Here are a few more useful links:
Dutch Oven Temperature Chart
https://www.campingforfoodies.com/dutch-oven-temperature-chart/
Camping For Foodies Recipes List
https://www.campingforfoodies.com/camping-recipes-list/
Our Products
https://www.campingforfoodies.com/shop/
Nutrition Information
Serving:
1
g
Calories:
852
kcal
Carbohydrates:
19
g
Protein:
59
g
Fat:
59
g
Saturated Fat:
26
g
Polyunsaturated Fat:
27
g
Trans Fat:
1
g
Cholesterol:
556
mg
Sodium:
990
mg
Fiber:
2
g
Sugar:
4
g
---
More Unique Camping Recipes
Don't stop at breakfast, make yummy food for every meal at camp.