Kansas City Dry Rub: Amazing Flavor For KC Style BBQ Recipes
Prepare mind-blowing camping smoker recipes at your favorite campsites. This Kansas City Dry Rub pays tribute to the famous city's award-winning BBQ scene with a flavor profile featuring a little sweet, a little heat and a touch of tang.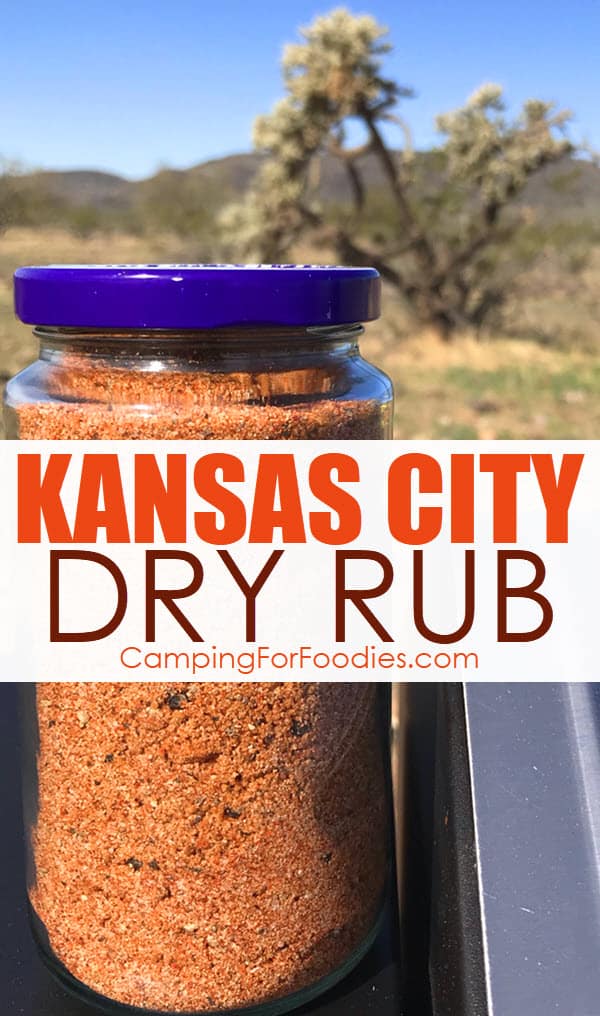 Psst we're compensated…see our disclosures.
---
Tips For Making Your Own BBQ Dry Rubs
Making homemade BBQ rubs allows me to use spices I have in my kitchen ensuring I keep a swift rotation and consume all of them before they get old and go stale.
Spice purveyors recommend using jarred dry spices within 1 – 3 years and unground (whole) spices within 3 – 4 years of purchasing them at their freshest point.
So, use the freshest dried spices available to maximize the flavor you get from them when making this homemade Kansas City Rub.
---
Basic Ingredients For Kansas City Style Dry Rubs
Kansas City is often called the Barbecue Capital Of The World. It is known for serving smoked meats that are slathered in barbecue sauce, so, the dry rub is just the beginning of the complex flavors that make this style of bar-b-q so unique.
One key ingredient in KC barbeque is brown sugar … you'll find it in the rub recipes as well as the sauces.
The spice blend dry rub ingredients typically include chili powder, garlic powder, ground chili peppers, onion powder, dry mustard, kosher salt and black pepper. Some versions may also include white sugar and celery seed.
The crowd-favorite BBQ sauces usually contain many of the same ingredients and also include molasses, yellow mustard, vinegar and sometimes even maple syrup.
Whatever the ingredient mix, the end result is a sweet, tangy flavor profile with a little bit of heat. It seems that there has been a transition to sweeter and sweeter sauces over the years which is evident in the winners of BBQ competitions.
---
How To Store Homemade Dry Rubs
I make big batches of dry rubs when we are cooking for larger groups of people and especially when we are smoking ribs that we liberally coat with seasonings.
You can keep most dry rubs up to a year if they are in airtight containers and stored in a cool, dry location.
---
What Can I Use Kansas City Dry Rub On?
The versatility of a Kansas City rib rub recipe is extensive. Of course you can use this BBQ seasoning on traditional Kansas City-style ribs but you can also use it on spare ribs.
It is a nice compliment to red meat, particularly beef brisket burnt ends.
Another delicious application is smoking a pork shoulder then shredding it and tossing it in Kansas City Style Homemade Old Fashioned Molasses BBQ Sauce to make BBQ pulled pork sandwiches.
---
Using KC Dry Rub On Camping Trips
The first thing we consider when cooking with portable smokers on camping trips is how much time we have to devote to hanging out at the campsite and tending the meal.
If we don't have a lot of activities planned, we will smoke larger cuts of meat overnight but if we will be mostly away from our campsite, we will prepare recipes that cook faster like smoked chicken legs, bbq ribs or Chuck Roast Burnt Ends (A Quick Version Of Poor Man's Brisket).
Before you apply the dry rub to meat, dab it with paper towels to get it as dry as possible then press (don't rub) the seasoning on all sides of the meat.
Let it sit for a while to give all of the flavors time to infuse into the meat and get it to room temperature before your start cooking it.
Typically, you want to smoke tougher cuts of meat at low temperatures (around 225 F degrees) for a few hours … that builds up the smoke flavor in the meat. Then, wrap it in aluminum foil for a few more hours to give the meat a chance to break down and tenderize.
---
How To Make Kansas City-Style Dry Rub
Combine the brown sugar, salt, chili powder, dry mustard, paprika, garlic powder, onion powder, black and cayenne peppers in a bowl. Stir to mix, breaking up any lumps with your fingers.
Store the dry rub in a dry, cool place for up to 1 year in a tightly sealed (glass or plastic) container.
---
Transporting Dry Spice Blends To The Campsite
There are spice jar sets that include travel bags that are specifically designed for travelers. It is convenient to have all of your spices and rubs in one container that stays neat and clean. The adjustable dials are awesome for controlling the quantity of the rub you are applying to your food.
Portable Stainless Steel Spice Shaker Seasoning Dispenser – 6 Pc Set with Rotating Lids and Travel Bag| Spice Jars – Salt and Pepper Shakers – Dry Herb Spice Condiment Dispenser | Camping | BBQ
Check out the 5 essential spices you should have in your camping spice kit.
---
Print This Recipe
Kansas City Dry Rub Recipe
Camping For Foodies Sauces Spices And More Camping Recipes: Kansas City Dry Rub Recipe
Ingredients
1/2

cup

brown sugar

1/4

cup

salt

2

tablespoons

chili powder

2

tablespoons

dry mustard powder

2

tablespoons

ground paprika

2

tablespoons

garlic powder

2

tablespoons

onion powder

2

tablespoon

black pepper

1

tablespoon

cayenne pepper
Instructions
Mix all ingredients together, working clumps out of the brown sugar.

Store dry mix in a tightly sealed (glass or plastic) container in a dry, cool place for up to 1 year.

Use as dry rub to season meat for grilling, frying or smoking meats like beef, pork and chicken. NOTE: Depending on how much rub you like on your food, or as directed by specific recipes, you should get approximately 2-4 meals out of one batch of this recipe.

Nutrition Information
Serving:
1
g
Calories:
82
kcal
Carbohydrates:
18
g
Protein:
2
g
Fat:
1
g
Polyunsaturated Fat:
1
g
Sodium:
3602
mg
Fiber:
3
g
Sugar:
12
g
---
More Yummy Camp Meal Ideas
BBQ is just one style of food you can prepare at your campsite. Try all of our recipes for each meal of your trip.