Chuck Roast Burnt Ends (A Quick Version Of Poor Man's Brisket)
So many camping smoker recipes take a really long time to cook but this is a quick version of a crowd favorite. Chuck Roast Burnt Ends (aka Poor Man's Brisket Burnt Ends) have the amazing flavor and bark you love, but cook in a fraction of the time compared to traditional brisket point burnt ends and they'll save you money too!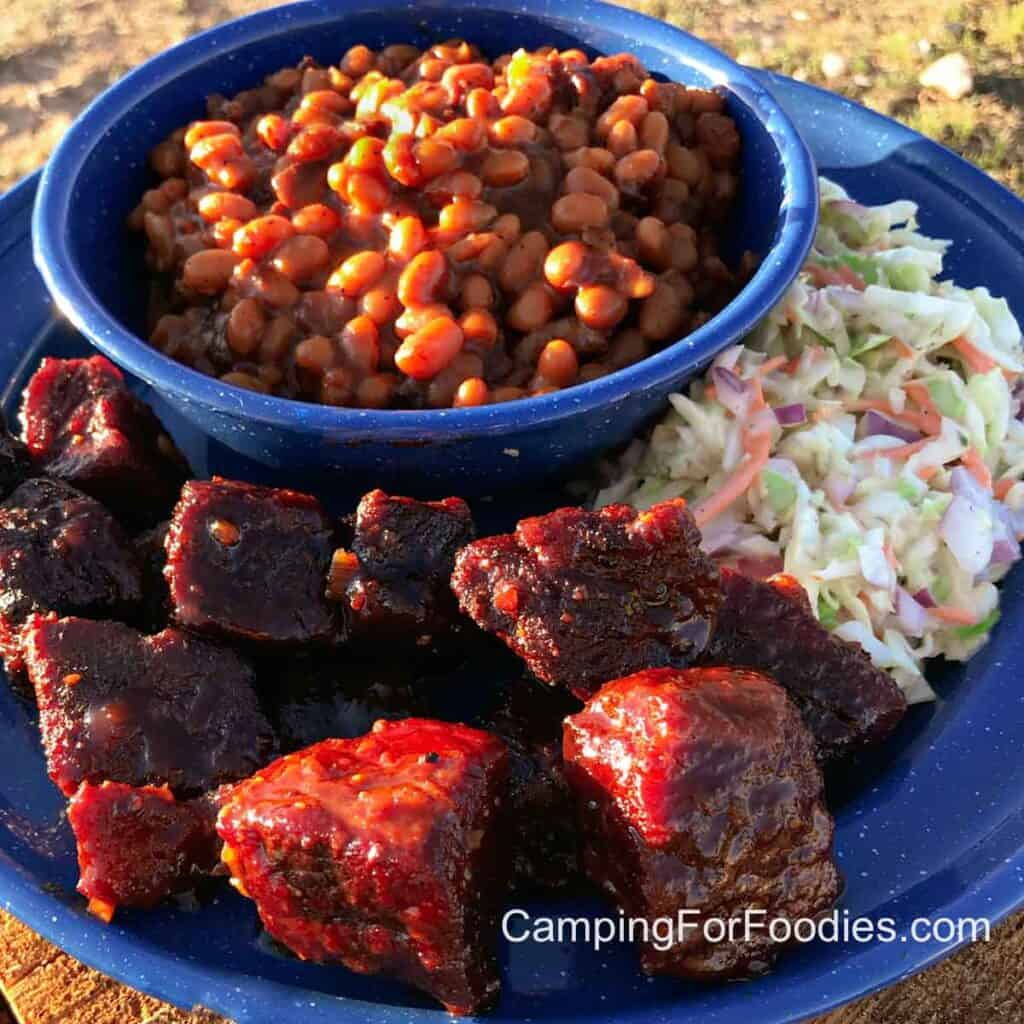 Psst we're compensated…see our disclosures.
The Difference Between Beef Chuck And Beef Brisket
Brisket and chuck are two different cuts of beef that come from different areas of the cow.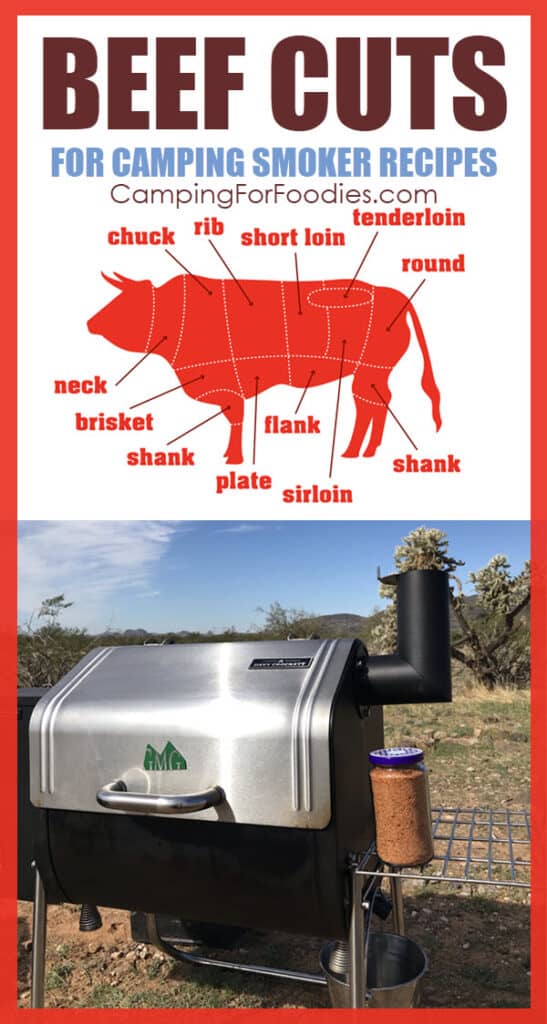 Beef chuck is …
Taken from the shoulder of the cow … a highly used muscle set.
The connective tissue makes it tough if you cook it quickly.
A cut that requires low and slow cooking to break it down to make it tender.
Sold whole, as a roast or ground.
An inexpensive cut of beef.

Beef brisket is …
Taken from the front legs of the cow … muscles that are used the most.
The connective tissue makes it tough if you cook it quickly.
A cut that requires low and slow cooking to break it down to make it tender.
Usually sold as a whole brisket.
An inexpensive cut of beef.
---
Burnt Ends Using Beef Brisket
When you smoke an entire brisket you are dealing with a really large cut of meat that is often called a "whole packer beef brisket" that typically weighs 12-18 pounds. The name originated because of how it is shipped from the meat packing house.
The brisket cut is made up from two different muscles:
The point (fatty part of the brisket also known as the deckle)

After smoking the entire brisket, the point of a whole packer brisket is cubed and served (called burnt ends)

The flat (has the deckle removed causing it to lay flat)

After smoking the entire brisket, the flat is sliced and served (called sliced brisket)
Many people refer to "brisket point burnt ends" simply as "burnt ends".
---
Traditional Burnt Ends vs Poor Man's Burnt Ends Recipe
When people talk about good burnt ends they typically are referring to smoking an entire brisket. And, cutting the brisket point end of the meat into cubes.
But, if you don't want to cook an 18 pound piece of meat just to get the burnt ends, the best thing to do is use a similar type of beef but smaller in size.
When you make traditional burnt ends from a whole brisket, the typical cooking time runs 10-12 hours (depending on the size of the brisket) … the beauty of using a chuck roast to make the wet burnt ends (dry is without sauce, wet is with sauce) is that you only need to smoke the meat for 4-5 hours to produce the meat candy you are craving.
Because brisket and chuck have similar flavor and texture characteristics, a chuck roast is a good substitute for making fake burnt ends.
---
Where Did The Poor Man's Burnt Ends Name Come From?
Generally speaking, the cost to purchase brisket and chuck are almost the same per pound. But, because the brisket is so much larger, it ends up costing a lot more money than an inexpensive chuck roast.
So, the "idea of poor man" is that the overall cost of the meat and time investment for cooking it makes chuck roast burnt ends a more affordable option (but you do get a lot less meat too.)
---
Methods Of Cooking Poor Man's Chuck Roast Burnt Ends
When we are making this recipe at the campsite, we use one of our favorite portable smokers with nicely flavored pellets like hickory or oak.
Green Mountain Davy Crockett Sense Mate Electric Wi-Fi Control Foldable Portable Wood Pellet Tailgating Grill with Meat Probe
If you don't have a pellet grill smoker but you do have a little Smokey Joe, you can do this easy Smokey Joe smoker mod to make this recipe using wood chips and a smoker box.
---
Prep To Make Burnt Ends Using Beef Chuck Roast
This is one of the fastest easy camping meals to prep. You just need to cube the 3 pound chuck roast into 1 inch cubes.
Chuck roast is an inexpensive cut of meat and a good option to make faux burnt ends but most barbeque recipes smoke the chuck roast first then cube it up afterwards. We do things a little differently because we don't want the bark to develop only on the outer sides of the roast.
Also, if you cook an entire roast you need to use a meat thermometer to check the internal temp. Then, when the internal temperature of the meat reaches a certain point you have to wrap the roast in peach butcher paper or aluminum foil. We've made this method much easier for campsite cooking.
2 reasons to cube first:
Develop bark around the entire piece of meat for each burnt end cube.
Don't have to check on a large roast or wait till the internal temperature reaches a certain point, you are just cooking small bite-sized cubes until they're tender.
---
How To Make Burnt Ends
Step 1. Prepare your ingredients as directed. Gather all of your ingredients for this recipe. In addition to cubing the chuck roast, you will need some dry rub and barbecue sauce. You can pick up something from your grocery store or you can make your own at the campsite or at home and just transport them already prepared to your campsite.
Here is our awesome Kansas City Dry Rub recipe. It is a simple recipe using basic ingredients like brown sugar, garlic powder, kosher salt, black pepper, cayenne pepper, chili powder and dry mustard powder. Stir up a batch and store it in a sealed glass or plastic container up to 1 year.
Use your prepared favorite bbq sauce or our fantastic Kansas City Style Homemade Old Fashioned Molasses BBQ Sauce recipe that can be made in advance and stored in a covered container in the refrigerator for a month or two.
A traditional part of Kansas City barbecue recipes is a sweet barbecue sauce. Ours starts with ketchup, brown sugar, yellow mustard, molasses, honey and finishes with a variety of seasonings and spices that add so much flavor to the meat.
Our recipe calls for 1/2 cup of your favorite beer but if you don't drink beer you can just substitute beef broth.
Step 2. Prepare your smoker. Pre-heat the smoker to 250 F degrees. As with all smoker recipes, you are cooking with indirect heat. This recipe calls for a total cook time of 4-5 hours.
Step 3. Coat the beef chuck cubes in dry rub. I have found the best way to ensure all sides of the meat are covered in the dry rub is to place them in a bowl, sprinkle the dry rub over the meat and then just toss to coat all sides.
Step 4. Smoke the meat. You'll place the seasoned chuck roast cubes directly on the smoker rack but you want to space them apart so they are not touching. You'll let them smoke at 250 F degrees for 2 hours.
Step 5. Mix the barbecue sauce and beer. Use a small bowl or cup to combine the bar-b-q sauce with the beer (or beef broth if you are substituting it for the beer.)
Step 6. Toss smoked chuck roast cubes in sauce. Increase the smoker temperature to 275 F degrees and remove the meat to coat in the sauce. It is easiest to use disposable foil pans so you don't have to clean big pans later. As the smoker temperature is increasing, remove the meat from the smoker and drop it into a foil pan. Next, pour the sauce mixture over the meat and toss to coat all sides of the meat. Cover the pan with foil and place the meat back in the smoker.
Step 7. Cook till tender and serve. The liquid and steam in the pan will tenderize the meat now that it has a nice smoked flavor and bark. It will take approximately 2-3 hours. Be careful when you remove the pan and pull back the foil … the steam will be hot. Serve hot with your favorite sides.
---
Great Recipes To Pair With Beef Chuck Burnt Ends
The first time I make a slow cooked recipe at the campsite, I keep the sides simple so I am not trying to time a recipe that is unfamiliar to me.
A can of baked beans and a nice coleslaw salad are simple side dishes for this meal.
If you want to get a bit more fancy, consider adding one or two of my favorite side dishes:
Dutch Oven Mac And Cheese, it is rich, creamy and fun.
Potato Salad With Bacon And Chives, this is one of the best potato salad recipes you will ever taste and it tastes better if it stands for a day or two so it works perfect as a make-ahead side dish.
Campfire Dutch Oven Jalapeño Cornbread, really, who doesn't love a slice of cornbread with their favorite good BBQ meals?
Campfire Corn On The Cob, sweet corn is always a nice compliment to barbecue main dish recipes.
---
More Low And Slow Camp Meals
There are some days when we like to be lazy and just hang out at the campsite … taking our time to leisurely cook camping dinner recipes that need a long time to cook over a low temperature. Here are some of our favorites…
Enjoy a smoky-flavored chili when you make this Smoked Ground Beef Chili in your portable tailgate smoker.
These Pellet Smoked Short Ribs are cooked in a portable tailgate pellet smoker. After 6 hours of letting the smoker do the work for you, it's time to eat the fall-off-the-bone tender beef short ribs. It is a restaurant-quality meal!
These Smoked Honey Sriracha Chicken Drumsticks are a little sweet and spicy, plus, they're sticky and crispy!
This Dutch Oven Chili was my brother-in-law's secret family recipe until recently when he finally shared it … on VIDEO! The homemade spice blend, ground beef, Italian sausage and a touch of beer are what make it delicious.
These Camping Dutch Oven BBQ Ribs might make you lick your fingers they are so good and tender. They are low heat, slow cooked and submerged in a fantastic sauce. This is a great recipe for campers who like ribs but don't have a smoker because smokey flavor is added by using a bit of liquid smoke.
There is nothing better than this warm and hearty Campfire Stew when you are camping in cold weather. The rich tomato-based sauce simmers the beef chuck until it is fork-tender.
Don't want to wait all day for a smoked dinner? Try these Smoked Chicken Legs that only take 5 minutes to prep and 2 hours to smoke!
For red meat lovers who enjoy pot roasts, this Camp Oven Roast Beef features thick slices of quality of meat with a Mexican flavor profile and potatoes on the side for a fork-tender dinner that is a real treat.
---
Print This Recipe
Chuck Roast Burnt Ends Recipe (Poor Man's Brisket)
Camping For Foodies Dinner Camping Recipes: Chuck Roast Burnt Ends Recipe (Poor Man's Brisket)
Instructions
NOTE: Special Equipment Required: Pellet grill smoker and pellets + foil pan that fits inside your smoker and foil to cover it.

Prepare ingredients as directed. For best results, use a sharp knife to trim excessive fat before cutting meat into cubes.

Pre-heat smoker to 250 degrees F.

Toss the chuck roast cubes in the Kansas City Dry Rub rub making sure to coat all sides of the meat.

Place the chuck roast cubes on the smoker rack leaving space between the cubes. Smoke for 2 hours.

In a bowl or cup, combine the Kansas City Style Homemade Old Fashioned Molasses BBQ Sauce sauce with the beer.

Turn the smoker up to 275 F degrees.

While the smoker temperature is increasing, remove the chuck roast cubes from the smoker and place them in the foil pan. Then pour the barbeque sauce and beer mixture over the cubes and toss to coat all sides of the meat.

Cover the pan tightly with foil and place the meat back in smoker until it is tender, approximately 2 – 3 hours.

Remove the pan from the smoker and carefully pull back the foil … the steam will be hot so make sure you don't burn yourself. It is a good idea to wear gloves for this. Serve hot.
Nutrition Information
Serving:
1
g
Calories:
814
kcal
Carbohydrates:
49
g
Protein:
56
g
Fat:
35
g
Saturated Fat:
14
g
Polyunsaturated Fat:
18
g
Trans Fat:
2
g
Cholesterol:
188
mg
Sodium:
253
mg
Sugar:
47
g
---
More Yummy Camp Meal Ideas
There are so many delicious and unique camping recipes we love to make. Check out all of the options for every meal of your day!