Camping Cocktail Drink Recipes
Shaken Or Stirred? Camping is a time to unplug, rest and relax. When we camp, we like to spend time with family and friends while enjoying good food and camp cocktails. Not every drink needs to contain alcohol but it certainly can if that's your preference. We've got options for both in our awesome camping cocktail drink recipes! Psst we're compensated…see our disclosures.
Camping Cocktail Drink Recipes
---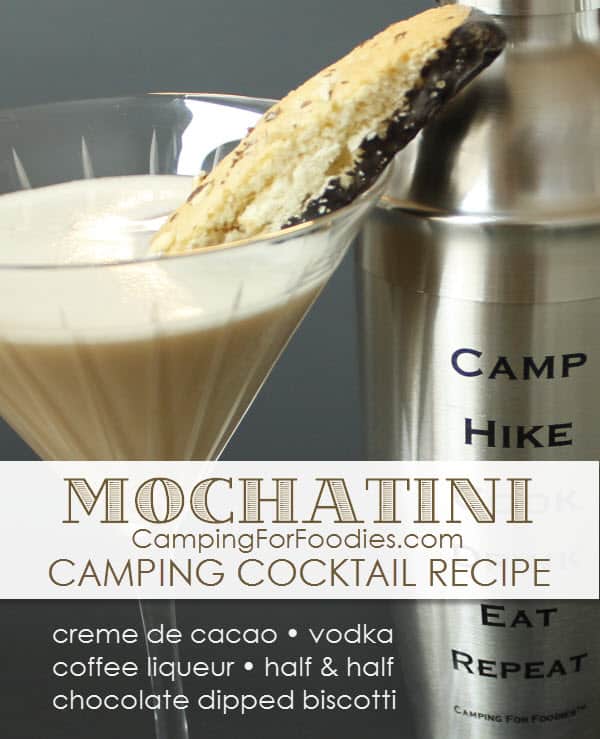 With a flavor combination of chocolate, coffee and cream, this Mochatini Camping Cocktail Recipe is a yummy treat to sip after dinner. This is one of the best camping drinks to make if you are wanting something a little sweet but not a big dessert.
Get the recipe here.
&
---
Camp, Hike, Cook, Drink, Eat, Repeat Stainless Steel 5-piece Cocktail Shaker Gift Set In Decorative Box.
There is no better way to get a drink really cold than to shake it with ice. We love our 5-piece camping cocktail shaker because it is stainless steel which means it gets drinks really cold almost immediately, it won't break during travel, it has a sleek design and it has a fun camp-themed message. It makes a great gift that you don't even have to wrap because it comes in a decorative box!
&
---
We named this Rim View Rum Refresher for the location we created it at … our favorite campsite on Arizona's Mogollon Rim. The spiced rum and melon liqueur are topped with orange juice and ginger ale to make it sweet and slightly bubbly. Our camping friends have voted this one of their favorite mixed drinks for camping!
Get the recipe here.
&
---
When your camping drink recipes call for sliced fruit, it is great to have a flexible cutting mat for the task! We love our Camping Flexible Cutting Mat because it is lightweight, has a totally cute camping design and it can be hung from hooks when we are not using it. It makes a great gift too!
&
---
One of the most refreshing summer cocktails is the Ginger Beer Moscow Mule. The combination of lime and mint really cools the palate. There are lots of variations to this cocktail and can even be made without alcohol too!
Get the recipe here.
&
---
Moscow Mule Copper Mug Gift Set
The traditional way to serve a Moscow Mule Cocktail is in a copper mug because it keeps the drink so icy cold. Some even come with a copper straw to make sure your cocktail stays cold as long as possible! This copper mug gift set comes with 4 mugs, copper straws, a shot glass and spoon.
&
---
Sipping a sweet & fruity, cool & refreshing camping drink while relaxing in a hammock at our favorite campsite is how this Snugglin' In The Hammock Cocktail Camp Recipe got its name. Just make sure you take the time to relax in the hammock because shakin' a yummy camp cocktail is really hard work … whew! 😉
Get the recipe here.
&
---
I'm Unplugging Hammock With Attached Carrying And Accessory Bag
If you are enjoying some ridiculously good camping drinks, you're probably in a total relaxation mode and completely unplugging from the pressures of everyday life! When we are doing that, we are doing it in style with our I'm Unplugging Hammock which we LOVE because of the attached accessory bag that allows you to stay right where you are and have your magazine, drink, phone and sunglasses within easy reach! I have been known to catch a couple of zzzzzz's in this comfy hammock too! 😴
&
---
If you are looking for kid-friendly camping drink ideas, you found the best one right here! Our Lemon Mint Cocktail aka Mint-Kissed Lemontini Camp Recipe is the most refreshing, freshly shaken lemonade recipe you will ever taste and kids of all ages go WILD over it! For the adults in the crowd who want their drink spiked, just add a shot of vodka to the shaker (it's all in the recipe so check it out and enjoy!)
Get the recipe here.
&
---
Retro RV Trailer Women's Tri-Blend Tee
Women looking for yummy camping drinks and recipes will love this totally cute … oh-so-soft … easy fitting tri-blend Cute Camping Tee with the pink retro camper scene and the camping message reminding everyone what camping is all about … CAMP, HIKE, COOK, DRINK, EAT, REPEAT 🍹
&
---
I had a great time hanging out with Dustin and getting his Grand Canyon hiking stories at the same time that he shared the SECRET RECIPE: Kona Grill's Strawberry Basil Lemonade recipe with me on VIDEO!
Get the recipe here.
---
Dustin and I had a lot of laughs about funny camping stories while he spilled the beans about Kona Grills' secret recipe! That reminds me of the time when one of our friends almost lost his shoes because he got too close "warming his feet by the campfire" 🤣 This Funny Campfire Apron says it all … Every Camper Knows … If Your Shoes Are Smokin' Back Away From The Campfire! It makes a great gag gift!
&
---
Not all camping happens during the hot summer months! For those times when the air is a little chilly and you need a warm camping drink, it's time to heat up the milk and make a cozy cup of Campfire Hot Cocoa! This easy recipe consists of 4 simple ingredients to make the dry mix. If you want to give it as a fun gift, just add it to a mason jar with a cute ribbon and label … pair it up with an adorable camping-themed mug and BAM … You're done!!!
Get the recipe here.
&
---
There are sooooooo many unique camping-themed mugs you are bound to find one that is the perfect gift … for yourself or for someone you love! Yes, it is ok to give yourself a gift every so often! LOL 😉
&
---
Here are a few more camping drink ideas which include alcohol-free options as well as alcoholic drinks for camping … Cheers!
 What Is Cowboy Coffee And How To Make It Chocolate Covered Almond Mocha Camping Drink Recipe Raspberry Lemon Drop Camping Drink Recipe Modern Margarita's Classic Mojito Cocktail Recipe Red Grapefruit Fizz Cocktail Camping Drink Recipe Fruit Cocktail Martini Camping Drink Recipe Sonoran Sunset Sensation Cocktail Camp Recipe
&
---
With Or Without Alcohol Camping Cocktail Drink Recipes
We specifically have recipes that are "alcohol optional" drinks which are these:
Warm You Up Camping Beverages
---
No time to look for recipes, create a menu and write a grocery list? No Problem! Get our 3-Day Dutch Oven Camp Menu Plan here!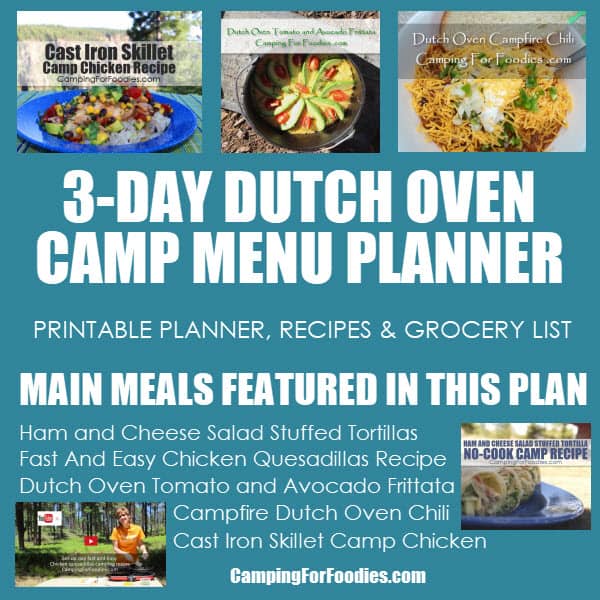 ---
Need food recipes too? Get our entire list of camping recipes for cooking in Dutch ovens, camp ovens, foil packets, grilling and more!
&
---
Our Cool Camping Products Make Great Gifts!
Tote
Cutting Mat
Mat Set
Shaker Set
Apron
Hammock
Women's Tee
&
---
If you need camping recipes and menu ideas, you can find them here at the Camping For Foodies Camping Recipes list.
Don't miss a thing…sign up for Camping For Foodies email updates!
Your purchase of our products will help support World Vision ® Building a better world for children.