Camping Cocktail Drink Recipes
Shaken Or Stirred? Camping is a time to unplug, rest and relax. When we camp, we like to spend time with family and friends while enjoying good food and camp cocktails. Not every drink needs to contain alcohol but it certainly can if that's your preference. We've got options for both in our awesome camping cocktail drink recipes! Psst we're compensated…see our disclosures.
Camping Cocktail Drink Recipes
---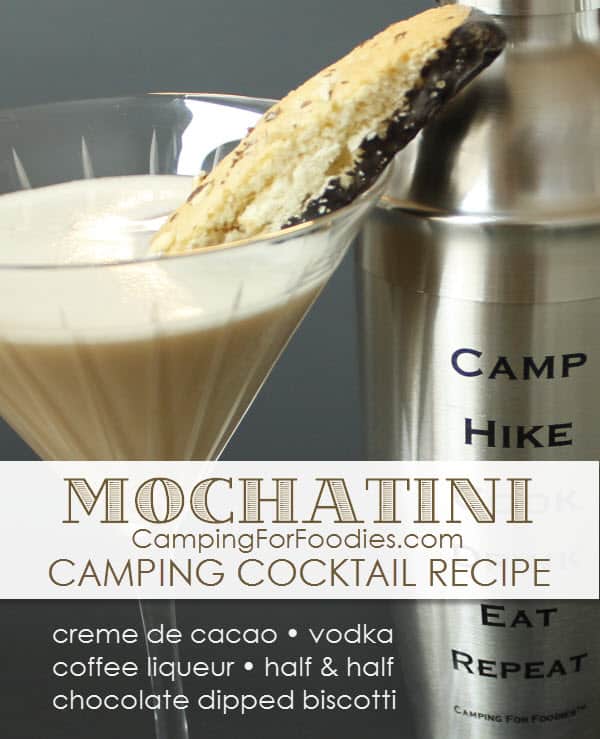 With a flavor combination of chocolate, coffee and cream, this Mochatini Camping Cocktail Recipe is a yummy treat to sip after dinner.
Get the recipe here.
&
---
Camp, Hike, Cook, Drink, Eat, Repeat Stainless Steel 5-piece Cocktail Shaker Gift Set In Decorative Box.
There is no better way to get a drink really cold than to shake it with ice. We love our 5-piece camping cocktail shaker because it is stainless steel which means it gets drinks really cold almost immediately, it won't break during travel, it has a sleek design and it has a fun camp-themed message. It makes a great gift that you don't even have to wrap because it comes in a decorative box!
&
---
One of the most refreshing summer cocktails is the Ginger Beer Moscow Mule. The combination of lime and mint really cools the palate. There are lots of variations to this cocktail and can even be made without alcohol too!
Get the recipe here.
&
---
Moscow Mule Copper Mug Gift Set
The traditional way to serve a Moscow Mule Cocktail is in a copper mug because it keeps the drink so icy cold. Some even come with a copper straw to make sure your cocktail stays cold as long as possible! This copper mug gift set comes with 4 mugs, copper straws, a shot glass and spoon.
&
---
We named this Rim View Rum Refresher for the location we created it at … our favorite campsite on Arizona's Mogollon Rim. The spiced rum and melon liqueur are topped with orange juice and ginger ale to make it sweet and slightly bubbly.
Get the recipe here.
&
---
I had a great time hanging out with Dustin and getting his Grand Canyon hiking stories at the same time that he shared the secret Kona Grill Strawberry Basil Lemonade recipe with me on video!
 Raspberry Lemon Drop Snugglin' In The Hammock Lemon Mint Cocktail Fruit Cocktail Martini Chocolate Almond Mocha Red Grapefruit Fizz Sonoran Sunset Sensation Rim View Rum Refresher Modern Margarita's Mojito
&
With Or Without Alcohol Camping Cocktail Drink Recipes
We specifically have recipes that are "alcohol optional" drinks which are these:
Warm You Up Camping Beverages
No time to look for recipes, create a menu and write a grocery list? No Problem! Get our 3-Day Dutch Oven Camp Menu Plan here!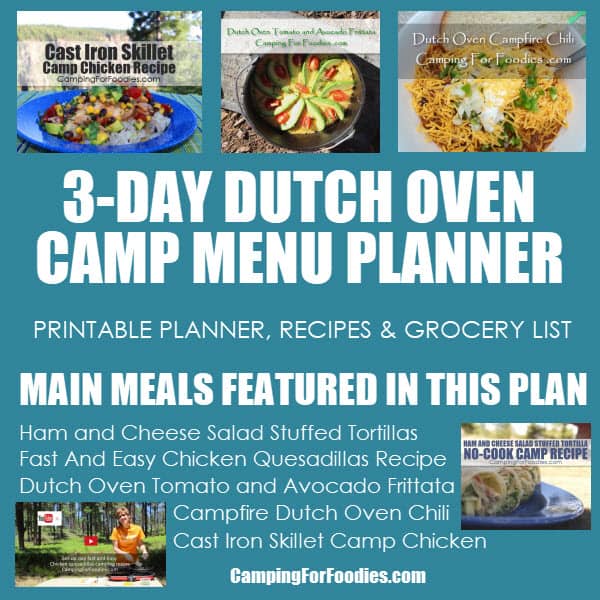 Need food recipes too? Get our entire list of camping recipes for cooking in Dutch ovens, camp ovens, foil packets, grilling and more!
If you need camping recipes and menu ideas, you can find them here at the Camping For Foodies Camping Recipes list.
Don't miss a thing…sign up for Camping For Foodies email updates!
Your purchase of our products will help support World Vision ® Building a better world for children.