Mochatini Camping Cocktail Recipe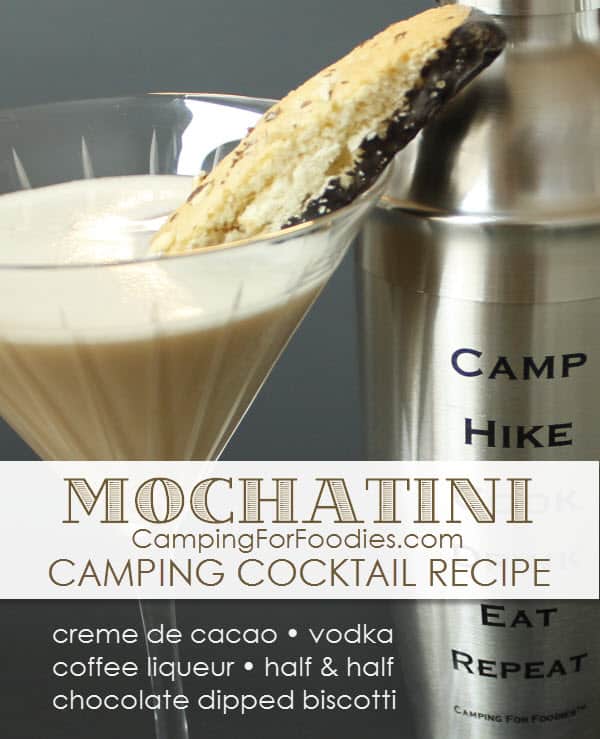 Mochatini Camping Cocktail Recipe
The flavor combination of chocolate, coffee and cream make this chilled Mochatini recipe the perfect after dinner sippable camping cocktail for adults. We have a kid-friendly alcohol-free Chocolate Covered Almond Mocha On The Rocks Recipe too! Cheers! Psst we're compensated…see our disclosures.
Add ice to cocktail shaker to about half full. 
Top with these ingredients:
3 oz. Vodka
1 oz. Creme de Cacao
1 oz. Coffee Liqueur
1 oz. Half & Half
Shake well and strain into your favorite martini glass, then add garnish.
1 Chocolate dipped almond biscotti
Stainless Steel Cocktail Shaker Set
Polycarbonate Martini Glasses
Stainless Steel Martini Glasses
Mochatini Recipe Garnish Variations
Edible (like cookies and candy) garnishes are my favorites but you can also rim you martini glass too. Here are a few options:
Chocolate Dipped Biscotti: Place in martini glass filled with your Mochatini camp cocktail
Chocolate Truffle: Spear a truffle or two with a drink pick
Chocolate Sugar: Rim your martini glass with chocolate rimming sugar
Chocolate Biscotti
Chocolate Truffles
Martini Sugar
Need food ideas to go with your cocktail? Check out our Camping Recipes List!
 Funny Apron
 Cutting Mat
 Mat Set
 Shaker Set
 Fun Hammock
&
What do you think? Leave me a comment…I'd love to hear from you!
I love sharing my recipes and tips for enjoying the great outdoors while camping, RV adventuring and relaxing in your own backyard. I'd love to hear what you think and if you'd like to share some of your secrets, I'd love to hear them too! Please leave a comment below and let's chat.
If you need camping recipes and menu ideas, you can find them here at the Camping For Foodies Camping Recipes list.
Don't miss a thing…sign up for Camping For Foodies email updates!
Your purchase of our products will help support World Vision ® Building a better world for children.