Rosemary Spiced Nuts Camp Recipe
Nuts make the perfect snack for camping and hiking
Don't you think nuts are the perfect snack? They are easy to transport, fun to eat and totally "dressable"…meaning, you can dress them up or keep them naked. Dressing up is sooooooo much more fun! If you want a little salty, a little sweet and a touch of fresh herbs…these Rosemary Spiced Nuts are for you! They only take a few minutes on the stovetop but the flavor goes on forever. I've been told they are the perfect accompaniment to an afternoon cocktail…I'd love to hear your opinion! Here's how to make them. Psst we're compensated…see our disclosures.
 Funny Apron
 Cutting Mat
 Mat Set
 Shaker Set
 Fun Hammock
&
Rosemary Spiced Nuts Camp Recipe
Melt it:
In a large skillet, melt the following over medium heat:
2 T butter (unsalted)
2 T brown sugar
Camp cooking tip: Measure your non-perishable ingredients and spices at home and take only what you need with you. Because you have to measure somewhere, it's best to do it at home before you leave…that way it's easier at the campsite and then after the weekend is over you will have less stuff to unpack when you get home.
Then add and toss:
2 c mixed party nuts (I use the roasted and salted, if you use unsalted nuts you will have to add some salt here too)
¼ t chipotle chili pepper
¼ t ground cumin
¼ t ground allspice
Heat it:
For the "cooking" you are just toasting the ingredients to bring out their flavors. Gently stir everything just until you "smell nuts"…make sure you take them off the heat before they burn…you can tell by smell here…so get your nose ready to test for doneness! Take the skillet off the heat.
Toss with herbs:
2 t finely chopped fresh rosemary leaves
Rosemary—The herb
Rosemary is easy to grow at home. You can put it in a container in your kitchen, outside in your garden or even in your yard as an edible landscape plant. It has great health benefits too! Check out more information on rosemary here.
Let cool:
Spread nuts out on wax paper to let cool.
Eat:
Remember it is nice to share!
No time to look for recipes, create a menu and write a grocery list? No Problem! Get our 3-Day Dutch Oven Camp Menu Plan here!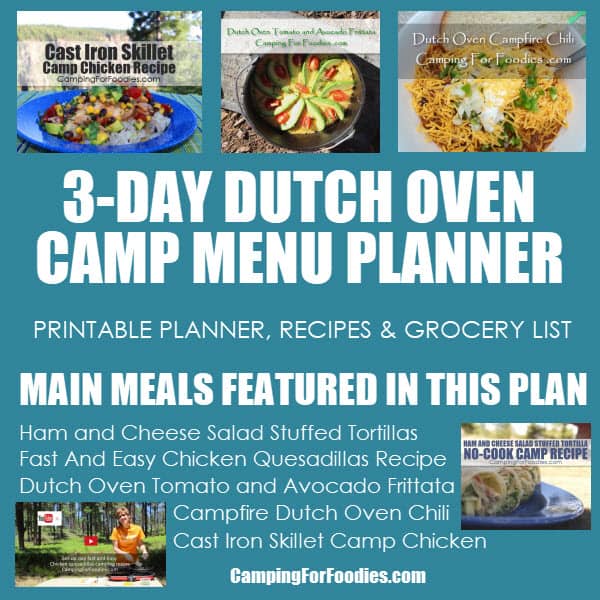 If you need camping recipes and menu ideas, you can find them here at the Camping For Foodies Camping Recipes list.
Don't miss a thing…sign up for Camping For Foodies email updates!
Your purchase of our products will help support World Vision ® Building a better world for children.