How To Stay Warm In A Tent
Year-round tent camping IS possible, but it is not for everybody … that's the good part! These tips will teach you how to stay warm in a tent to keep you experiencing the great outdoors all year long! 
Fall and winter camping means better camping experiences with fewer people and next to NO BUGS (most go dormant in cold weather!) One of the most important camping tips for winter tent camping is staying safe from the cold.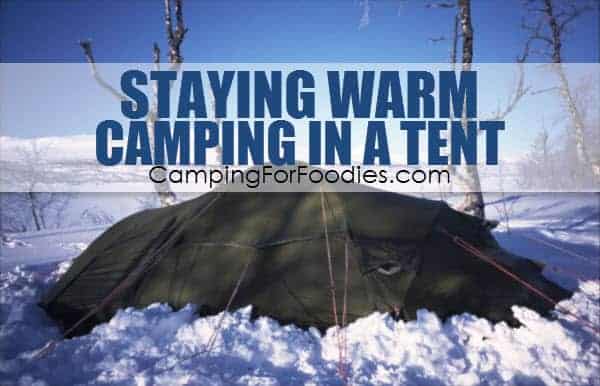 Psst we're compensated…see our disclosures.
Tips For Staying Warm Camping In A Tent
These are especially helpful if you are celebrating a camping themed Christmas with a trip to an extremely cold climate.
---
Avoid Condensation Inside Your Tent
Your breath and body moisture will create condensation inside your tent making everything damp and cold.
But, keeping tent vents open allows water vapor to escape rather than condense into water droplets inside the tent. 
---
Pitch Your Tent Avoiding Windy And Shady Locations
You don't want lots of wind coming through your open vents, so … pay special attention to where you set up your tent.
Do your best to take shelter from winds while also taking advantage of the heat from the sun.
Choose Sunny Camp Spots
Watch the movement of the sun and plan to avoid shade spots if possible. Setting a tent in a location that is exposed to direct sunlight, can increase the heat index value up to 15 F degrees (even though the actual ambient air temperature is the same in sun or shade).
---
Sleeping And Staying Warm In A Tent
Don't use a huge tent … DO use a tent that comfortably fits the people and gear you have for that particular trip.
Your body heat will warm a small space faster than a large one so get cozy!
Also, be sure to use a tent that is rated for the conditions you will be experiencing.
Tents designed for winter camping are known as "4-Season" or "Extreme" tents.
Many are designed to accommodate rain, snow and ice conditions by using strengthened seams, coatings and zippers as well as overall superior materials.
---
Tarps
Using a tarp UNDER your tent is especially important when camping in cold weather.
We like to use an oversize tarp and fold it to fit our tent creating the first layer of waterproof cushioned insulation from the cold ground.
This Reinforced Multi-Purpose Tarp is made of durable rip-stop polyethylene which is laminated on both sides and it comes in a variety of sizes.
Stansport Reinforced Multi-Purpose Tarp
---
Tents
This Naturehike 4-season tent is designed for 2 or 3 people.
The inner tent is made with anti-scratch 20D nylon mesh making it comfortable and breathable while the rainfly is made by 20D rip-stop nylon and silicone coated features creating PU4000mm water-resistant and UV 50+ sun protection.
Designed to support heavy wind, rain and snow … the tent poles are made with 7001 space aluminum so they are strong but lightweight.
You can use both layers (inner and outer tent superposed together) in rainy snowy winter weather for a waterproof and windproof shelter.
Alternatively, in the warmer months, you can use the inner layer only as a ventilated tent when you need to stay cool.
2 And 3 Person Ultralight Waterproof 4 Season Free Standing Backpacking Camping Tent With Footprint With Snowskirt
---
This ALPS Mountaineering Extreme 2 Person Tent has a 3-pole design providing more "framework" to combat more extreme weather conditions.
The fly and floor have factory-sealed seams and are urethane coated to provide a maximum weatherproof tent.
To make it even better, the assembly is super easy with clips that quickly snap over the tent poles.
ALPS Mountaineering Extreme 2-Person Tent
---
Camping with larger groups is fun but also has some challenges, like finding larger tents made for winter camping.
This Base Camp 6 Person 4-Season Expedition-Quality Backpacking Tent is designed for all weather conditions, including extreme rain, snow, wind, heat and cold.
Moose Racing Basecamp Base Camp 6 Person, 4 Season Expedition-Quality Backpacking Tent
---
Don't Sleep On Your Tent Floor: Use Tarps, Carpets, Mats & Pads
You need insulation from the earth to stay warm so don't sleep directly on the floor of your tent.
Use tent carpets and rugs over the floor of your tent as an insulating layer from the cold ground.
---
Having the right size tarps, carpets and rugs to fit your tent floor is important.
This ALPS Mountaineering Tent Floor Saver is made in multiple sizes to fit 2-person to 6-person tents.
It is made of nylon and has webbing straps for easy staking and it will "save your tent floor" as the name implies.
ALPS Mountaineering 2 Person Tent Floor Saver, Nylon, 5-Feet x 7-Feet 6-Inch
---
Using a carpet-like material with a waterproof backing will keep you dry and warm.
This lightweight Drymate Camping Tent Carpet Mat measures 7'4″ x 8'4″ and it is easy to move and rolls up quickly for storage too.
Drymate TCMC88100 Camping Tent Carpet Mat, 7'4
---
Adding more thickness means adding more warmth/insulation from the cold ground.
This ALPS Mountaineering Foam Camping Mat is lightweight and made from dense closed cell textured foam providing great insulation and comfort.
It comes in multiple sizes and thicknesses; it easily rolls up for packing with the included straps.
ALPS Mountaineering Foam Camping Mat In Various Sizes
---
When you start talking about really cold conditions, you better check out the R-Value of your gear.
The higher the R-Value, the greater the insulating power.
This Thermarest Ridge Rest Solar Sleeping Pad has a 3.5 R-Value and uses patent-pending technology that reflects radiation back to the user.
The "peaks" in the design provide support while the "valleys" trap warm air.
Using this pad with the reflective side facing up will provide maximum warmth.
Therm-a-Rest RidgeRest SOLite Reflective Foam Camping Ground Pad, Regular – 20 x 72 Inches
---
Know Your Body & Your Sleeping Bag
Material matters when it comes to warmth in sleeping bags.
A "high loft" fiber structure contains more air than fiber.
The loft traps air creating a type of insulation; typically high loft fabrics retain more warmth than fabrics with a higher fiber content.
Sleeping bags have temperature ratings but you need to know your body … if you are cold when the "average" person is comfortable, get the bag rated for colder conditions to ensure it will keep you warm enough on your adventure.
---
Bundling up in a mummy bag is one of the most popular ways to stay warm while sleeping in a tent in cold weather.
This Extreme Weather Sleeping Bag is made by Coleman and features their ComfortSmart Technology; 60 ounces of Coletherm insulation keeps you comfortable down to 15º F.
Coleman 0°F Mummy Sleeping Bag for Big and Tall Adults | North Rim Cold-Weather Sleeping Bag, Olive
---
Bodies create heat and two are warmer than one!
This TETON Mammoth 0-Degree Queen Size Sleeping Bag allows two people to sleep together comfortably in one bag.
TETON Sports Mammoth 0 F Degree Queen-Size Double Sleeping Bag; Warm and Comfortable For Family Camping
---
Don't Rely On Body Heat And Your Sleeping Bag Alone
Use liners, hot water bottles and other camping gear to pre-heat your bed in the winter.
---
Sleeping Bag Liners
Putting a liner inside your sleeping bag does a couple of things …
It provides an easily machine washable and dryable layer inside your bag reducing the number of times you need to wash your sleeping bag.
The more you wash your sleeping bag, the more the loft breaks down reducing the lifespan of your bag.
A liner also adds about 10 degrees to your sleeping environment.
This TETON Sports Sleeping Bag Liner is available in various sizes and fabric types.
TETON Sports Mammoth Cotton Sleeping Bag Liner; A Clean Sheet Set Anywhere You Go; Perfect for Travel, Camping, and Anytime You're Away from Home Overnight; Machine Washable
---
Hot Water Bottles
Surprise … just when you thought hot water bottles were a thing of the past!
Putting a hot water bottle inside your sleeping bag will "pre-heat" your bag, taking the chill off so you don't lose valuable body heat when you jump in to go to sleep.
This Classic Rubber Hot Water Bottle With Knit Cover is made from a thermoplastic material which is odorless, recyclable and holds heat longer than traditional rubber bottles.
All one tech Transparent Classic Rubber Hot Water Bottle with Knit Cover
---
Heat Pack Blankets
Another great method to add heat to your sleeping environment is by using a Thermafur Air Activated Heated Blanket.
This blanket has built-in pockets to hold the heat pads that provide up to 24+ hours of heat.
Once the original heat pads quit producing heat, just add replacement Heat Pax Body Warmers and you're good to go.
ThermaFur Air Activated Heated Blanket
HEAT PAX 24+ HOUR BODY WARMERS – 10 PIECE PACK
---
12-Volt Heated Electric Blankets
Camping in a location with access to 12-volt electricity gives you the option to use a heated blanket.
This polyester fleece 12-Volt Heated Travel Blanket can be plugged into your vehicle's cigarette lighter via its 8′ cord.
The blanket measures 42″ X 58″ and is available in various colors.
Car Cozy 2 – 12-Volt Heated Travel Blanket
---
Pre-Heat Your Tent Before Going To Bed
Camping propane is an efficient way to pre-heat your bed before you slip in to go to sleep.
Anytime you are using propane in an enclosed environment we recommend using a Carbon Monoxide Alarm for safety.
Because carbon monoxide (CO) is an odorless, colorless, tasteless gas that can kill you, it is not something to mess around with … it is truly one of the most dangerous camping safety items … you must take very seriously.
This Worry-Free Carbon Monoxide Alarm has a 10-year lithium battery that is built-in and sealed within the unit.
The CDC has more information about Carbon Monoxide.
Kidde Worry-Free Carbon Monoxide Detector Alarm with 10 Year Sealed Battery
---
Portable Indoor Propane Camping Heaters
Heating your tent BEFORE you go to bed is the best way to stay warm while camping in cold weather.
The Little Buddy 3800-BTU Indoor Safe Propane Heater provides continuous odor-free heat for over 5 hours and runs off of a refillable 1-pound disposable propane cylinder (like the kind you use on your camp stove).
Even though this unit has safety features like a low-oxygen sensor and accidental tip-over auto shut-off switch, we don't recommend using gear like this unattended or while you are sleeping.
Mr. Heater Little Buddy 3800-BTU Indoor Safe Propane Heater
2PK 16.OZ Propane Bottles
The Little Buddy is considered one of the best propane camping gear items you can have for tent camping in cold weather conditions.
---
Indoor/Outdoor Camping Propane Heaters
When trying to heat a larger tent BEFORE you go to bed, you'll want a more robust heater.
The Indoor-Safe Portable 4,000-9,000 BTU Radiant Heater is designed for spaces up to 450 square feet and runs off of a refillable 1-pound disposable propane cylinder (like the kind you use on your camp stove) or can be run on propane tanks as large as 40 pounds with the Mr. Heater Buddy Series Hose Assembly.
Even though this unit has safety features like automatic shut-off if the unit is tipped over, the pilot light goes out, or low oxygen levels are detected, we don't recommend using gear like this unattended or while you are sleeping.
Mr. Heater Indoor/Outdoor Portable Propane Heater, 4,000-18,000 BTU, Heats Up To 450 Square Feet
Mr. Heater Buddy Series Hose Assembly – 10-ft. For Connecting To Larger Propane Tanks
Carrying a Mr. Heater Buddy is convenient with the Mr. Heater Portable Carry Bag.
It is designed with large zippered pockets to carry hoses, regulators and other accessories.
There are also quick-access pockets that are capable of carrying two 1-pound propane cylinders.
Mr. Heater Portable Buddy Carry Bag
Heaters are not the only option you have, find more tips on how to heat a tent without electricity when you are camping off-the-grid in cold weather.
---
Winter Tent Camping Tips For Women
Staying warm while tent camping is challenging when you have to go to the bathroom in the middle of a cold night.
Most tent campers prefer to pee in a bottle inside the tent rather than venturing outside.
This is not a big deal for guys but is quite tricky for women.
Finally someone invented the P Ez Travel Urinal For Women, a female urinal made from soft flexible silicone which makes it spill-proof, cleanable and reusable.
---
Cover Your Extremities When Sleeping In A Tent
Did you ever wonder why your fingers and toes seem to get cold before the rest of your body?
It is because your body uses its energy to maintain its internal temperature and during extended periods in cold conditions, it begins to shift its blood flow from its extremities to its core (chest and abdomen).
---
Socks, Adhesive Warmers, Face Coverings & Gloves
Using Insulated Socks, Adhesive Toe Warmers, Balaclava and Thermal Gloves will help to protect your extremities so you can stay warm when camping and sleeping in a tent.
Heat Trapping Insulated Socks
Adhesive Toe Warmers
Wind-Resistant Hinged Balaclava
OZERO -40ºF Thermal Gloves
Getting wet (from sweating, rain, snow etc.) is that fastest way to get chilled to the bone; always change into dry clothing before going to bed.
See more Cold Stress Facts from Princeton.
---
Staying Dry And Warm On Cold Camp Days
It is easier to STAY warm than to GET warm after you're already cold!
The easiest way to do that is to wear the right winter camping gear specifically designed for wicking, warmth, wind and waterproofing.
Here are some additional tips to stay warm and dry during the day.
---
Padded Seat Covers
Sitting on cold ground, rocks or camp furniture will chill your body quickly so insulate yourself by adding padding.
This NEP Outdoors THERM-A-SEAT is made from Softek Closed Cell Foam and comes in several thicknesses from .75″ to 1.5″ to provide varying levels of insulation.
This seat cushion is water resistant and absorbs your body's heat to keep you warm.
The detachable velcro belt strap makes it easy to attach to a backpack too.
---
Personal Catalytic Hand Warmers
Some camping activities are accomplished best without gloves but going glove-free can make for cold hands!
This Zippo Hand Warmer is compact, flameless, odorless and provides instant warmth!
The lighter fluid soaks the cotton providing fumes for the catalytic burner resulting in flame-free heat.
The warming bag helps to regulate the heat and doubles as a soft carrying case.
When the fluid runs out, just refill it and you're back in business!
Zippo Lighter Fluid lights faster, burns cleaner and produces less odor than other fuels and is recommended for use with the Zippo Hand Warmer.
Zippo Hand Warmer, 12-Hour
Zippo Lighter Fluid
---
If you are going on a day hike and want to take your hand warmer but don't want to carry the entire can of lighter fluid, this little Zippo Fuel Canister is a convenient gadget to carry a small quantity of the lighter fluid.
It even has a clip to easily fasten the canister to your belt loop, backpack etc.
---
Food And Drinks For Staying Warm Tent Camping
Eat and drink warm, calorie-rich food and drinks so your body has lots of energy and stays warm.
Is it a surprise that I use food as one of my "tools" for staying warm while camping in a tent? LOL
Try these awesome winter camping recipes on your next cold weather adventure!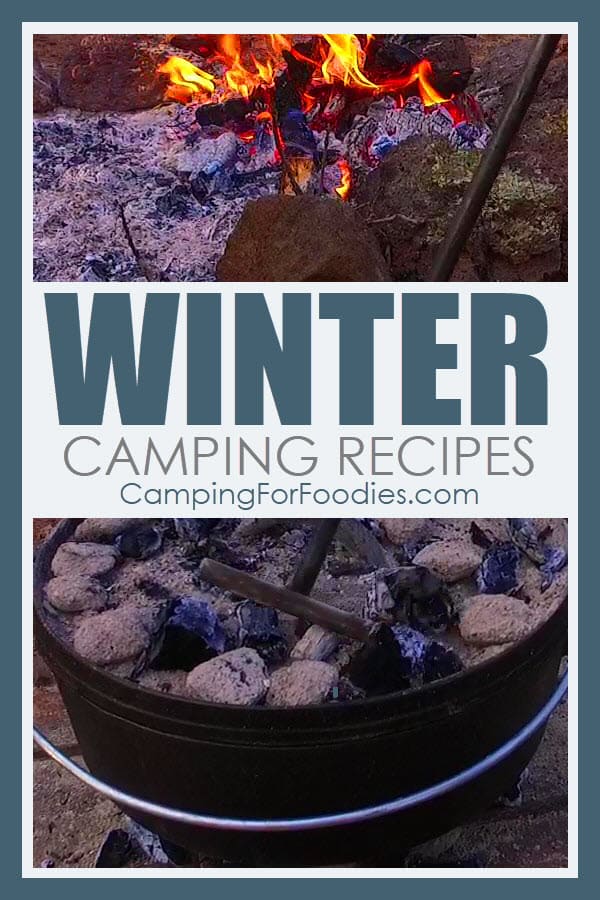 Do you know a newbie who needs help getting started? Get our Camping Gear List For First Time Campers FREE printable checklist and more!
---