Camping Gear List For First Time Campers
Camping Gear List For First Time Campers
Let me start by saying CAMPING IS FUN! So, don't get overwhelmed by your first packing experience. Knowing what should be included on your tent camping gear list and other supplies to pack is half the battle for first time campers. With a little planning and my camping checklist, you'll be organized, confident and happily unplugging from society to experience the great outdoors! P.S. If you're new to RVs, check our our RVing Tips For Beginners post. Psst we're compensated…see our disclosures.
---
When it comes to camping gear, you can't be without an awesome hammock! This "I'm Unplugging" Hammock With Attached Accessory And Carrying Bag is great because the attached accessory bag allows you to stay reclined as you reach for your book, drink and sunglasses that are conveniently tucked into the attached bag within arm's reach! At the end of a relaxing weekend,  just fold it up and pull the string for easy transportation and storage! Check out the video to see it in action!
&
---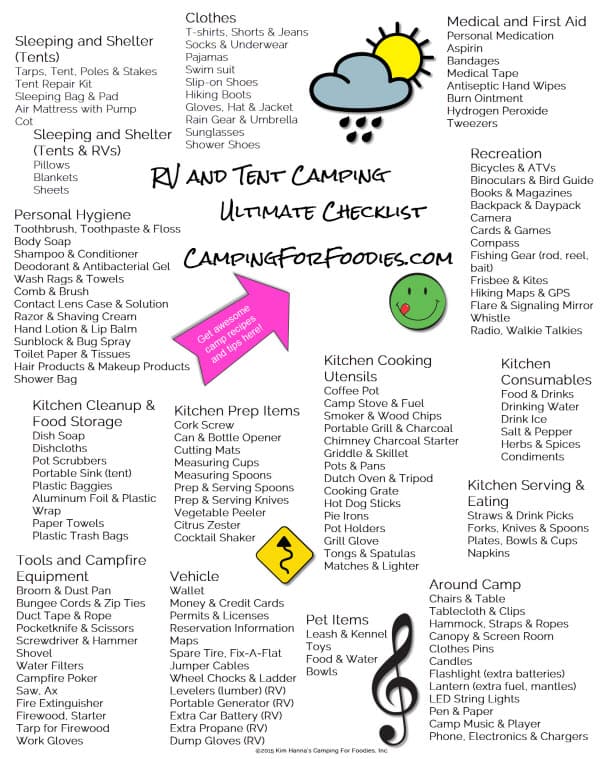 Here is my Ultimate RV and Tent Camping Checklist, download a FREE printable copy here too!
&
Essentials For A Camping Gear List For First Time Campers
I recommend your first time tent camping experience happen in a campground with services like water, toilets, showers and trash service so you can pack minimally for sleeping, eating and activities. Save the more "challenging camping conditions" for a later date. My camping checklist is comprehensive … so, refer to it before you pack. But, I want to provide tips for certain items on my camping gear list for first time campers.
---
&
Camping Tarps: Placing a tarp between your tent and the ground creates the first barrier from the elements. Choose a tarp that is large enough to fit under your tent with overhang. Make sure it is waterproof, washable, heavy duty and has grommets.
&
&
---
Coleman Red Canyon 8 Person Tent, Blue
Camping Tents: Size matters! Tents are rated for the number of people they can accommodate for sleeping (like sardines, in my opinion). Make sure you have extra room for family members who kick and roll around in their sleep. You may also want room to store clothes and other personal items in the tent.
&
&
---
Air Mattresses: This is the most popular gear item to create space between you and the ground which helps create comfortable sleeping conditions like not feeling rocks that are on the ground under your tent floor. It also helps with temperature control especially in chilly conditions.
&
&
---
Air Pumps: In order to inflate your air mattress, you will want to have an air pump. Hand Pumps … They are human-powered, so take a little effort on your part but that's it. If you want power coming from another source, you can get a Battery Powered Air Pump which usually runs on 4D batteries or a 12v-DC Electric Air Pump that connects to car power outlets. There are also units that plug into standard wall outlets but we don't recommend those because AC power is not always available when camping.
&
Airhead Hand Pump
Battery Powered Air Pump
12v-DC Electric Air Pump
&
---
Sleeping Bags: Ratings on bags indicate their temperature range. If you are camping in cold conditions, you don't want to have a bag only rated for summer weather conditions and visa versa. Keeping your body comfortable is important for a night of good rest. As you consider where you will be camping along with the weather conditions at your sleeping locations, you have many options in sleeping bags like a 5-Degree Double-Wide Sleeping Bag, a 0-Degree Sleeping Bag, a Cool Weather Sleeping Bag or even a Warm Weather Sleeping Bag.
5-Degree Double-Wide Bag
0-Degree Sleeping Bag
Cool Weather Sleeping Bag
Warm Weather Bag
&
---
Camping Gear List For Around Camp
It is tempting to have all the creature comforts from home when you are camping but it is not a good idea to start out that way. For the basics on your camping checklist you will need a camp chair, a table and some lights then you can add gear around your camping personal preferences … do you prefer glamping (glamorous camping) or do you want to feel more minimal and natural in your camping experience?
Coleman Camp Chair
Coleman Pack-Away 4-In-1 Table
LED Camping Lantern Flashlights
&
---
Camping Gear List For Meals
Think about the meals you have planned including the method of cooking and the camp kitchen gear required to prepare, cook and serve the meals. Add any specifics necessary to your camping checklist so you don't forget to load food/meal items (especially condiments and ice!) Dutch oven cooking is a popular way to prepare meals while camping. Check out our Dutch Oven Recipes For Camping here.
&
---
Dutch Ovens: One of the most versatile pieces of gear in a camp kitchen is a Dutch oven. It can be used directly in a campfire, hanging over it with a tripod or even be heated with charcoal briquettes. Different sizes are available and regular sized ovens are perfect for baking while deep Dutch ovens can accommodate big batches of soups, stews and chili for large crowds. Check out my Dutch Oven Camp Cooking Tips post for more information.
&
---
Stansport Cast Iron Cooking Tripod
Cast Iron Cooking Tripods: A tripod allows you to cook over a campfire by hanging your Dutch oven from the chain. You can control the cooking temperature by adjusting the chain to move your oven closer to the fire to turn up the heat … or raise the oven further away from the fire to reduce the heat. Be careful while adjusting the chain and stirring your food because the oven tends to sway when using a tripod.
&
---
Camp Chef Lumberjack Over-the-Fire Grill
Campfire Grill Grate: Most campgrounds have fire pits with grill grates but if your particular campground does not, and you want more stability than a tripod provides, you can bring your own campfire portable grate. These are great to use with Dutch ovens, cast iron skillets and the all-important camp coffee pot!
&
---
Texsport Cast Iron Dutch Oven Lid Lifter
Cast Iron Dutch Oven Lid Lifter: Using a lid lifter helps you stay a safe distance from hot coals when cooking. You can lift and turn the lid as well as the Dutch oven itself. Be sure to rotate your oven during the cooking process to ensure the food is evenly cooked. I have more information and Dutch Oven Camp Cooking Tips here.
&
---
Camp Chef Heat Resistant Gloves
Dutch Oven Heat Guard Gloves: At times, there is no substitute for using your hands to accomplish certain campsite activities. When you want to get a good grip on hot items, using high quality gloves made from a heat resistant material is the best way to protect yourself from burns.
&
---
Coleman 3-Piece Cooking Utensil Set
Cooking Utensil Set: Use a basic stainless steel utensil set that includes a fork, spoon and slotted spatula. Stainless steel can withstand the heat during cooking and you can use the same set as serving utensils too.
&
---
Eating Utensils: Disposable utensils are an option if you want to do less dish washing. If you prefer sturdier utensils, stainless steel is a popular choice. I personally don't like sporks but I have friends who love them so I wanted to mention them here. I prefer a more traditional utensil set while others are easy storage sets.
&
 Portable Stainless Steel Sporks
 Stainless Steel Portable Camping Cutlery
 Stainless Steel Eating Utensils
&
---
Coleman 24-Piece Enamel Dinnerware Set
Dinnerware Set: To get everything in one convenient package, a dinnerware set specifically designed for camping is a good option. This set includes plates, bowls and mugs for four people as well as a set of forks, spoons and knives in a roll-up storage pouch.
&
---
Most tent campers don't think about the trash they will produce at the campsite … especially when cooking! If your campsite has trash cans readily available, that is great but if you need to provide your own, these Hang N Out Portable Trash Can gadgets are really handy. It is not really a "trash can" but more of a holder for a trash bag. You just hook it on the tire of your vehicle and you're done! It is way more sanitary than carrying around an actual garbage can and it's easier to pack! These things are super popular for tailgating too!
&
---
Camping Gear List For Personal Hygiene And Medical
Shower Shoes: Wear shower shoes to prevent slipping, germs and dirt when using a public shower or other types of camping shower facilities like solar showers and shower tents. Look for shoes that are lightweight, have good traction and are easily slipped on and off.
&
---
ShowerMade Portable Shower Tote Storage Organiser
Portable Shower Tote: Staying organized is the key to keeping camping fun and stress-free. Using a shower tote allows you to keep everything you need in one place so you can just grab the bag when you are ready to head off to the shower. Look for one made with a quick-dry fabric and that has lots of pockets and a strap for hanging from faucets and hooks.
&
---
Coleman Expedition First Aid Kit
First Aid Kit: Your camping gear needs to contain a basic first aid kit that has items to treat the most common injuries. You can get really elaborate kits and smaller kits that are easy to carry on hikes. You need to determine your comfort level to decide which kit is right for your camping trips.
&
---
Clothes Organizer: There are lots of ways to pack your clothes for camping. It is best to use waterproof bags that are lightweight and have some "give" when packing in your vehicle and tent.
&
---
Skechers Sport Men's Equalizer Persistent Slip-On Sneaker,Black,8.5 M US
Slip-On Shoes: Wearing shoes inside the tent is a no-no in our family because we want the tent to stay clean and organized. So, we wear shoes around the campsite that can be easily taken off and put back on when going in and out of the tent.
&
---
Sun Protection Hats: Camping focuses on outdoor activities which also means exposure to harmful UV rays. Wearing wide-brimmed hats with Ultraviolet Protection Factor (UPF) fabric significantly reduces your risk. You can be as stylish as you want. Or, you can just stick with the traditional safari style. Look for hats with adjustable strings and built-in sweatbands.
&
---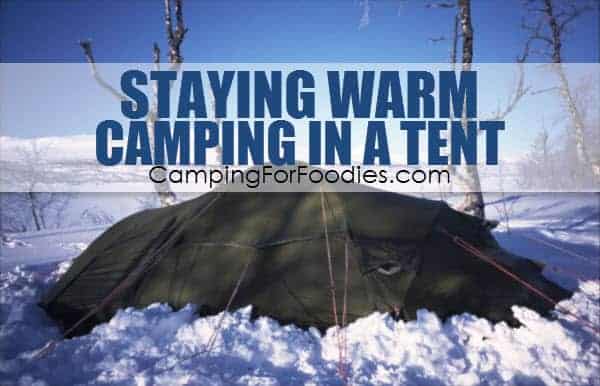 Think you might want to try tent camping in the winter? Get our tips for Staying Warm Camping In A Tent!
&
---
Tips on Boondocking aka Dispersed Camping aka Remote Camping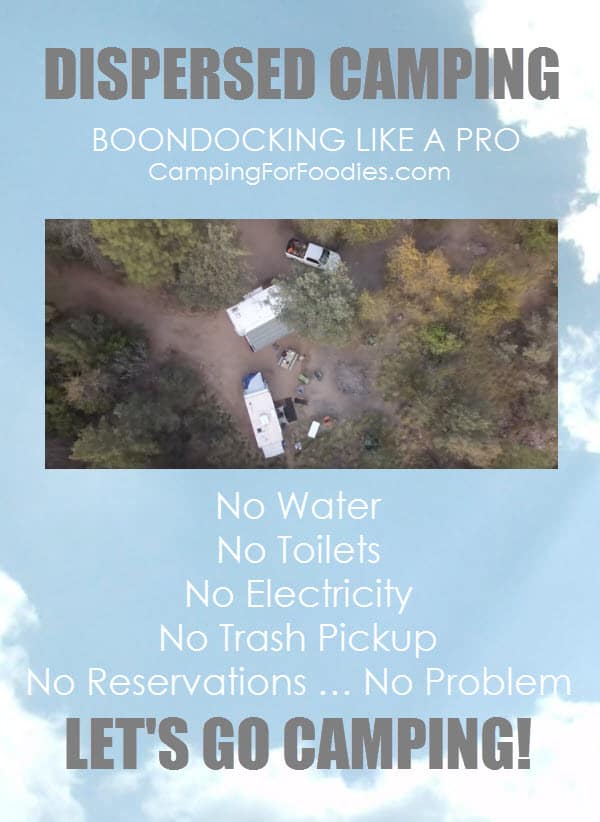 I already mentioned I recommend your first camping trip happen at a campground with services. BUT, if you are crazy … uh … I mean … if you are brave enough to head out in the wilderness on your first adventure, I have a few more suggestions for you.  Check out my post with tips on Dispersed Camping: Boondocking Like A Pro which includes how to go to the bathroom and take showers when there are no facilities in sight! You definitely won't want to forget to pack those camping checklist items!
&
---
Need More Camping Tips? Check Out These Posts!
---
If you need camping recipes and menu ideas, you can find them here at the Camping For Foodies Camping Recipes List 😉
&
---
No time to look for recipes, create a menu and write a grocery list? No Problem! Get our 3-Day Dutch Oven Camp Menu Plan here!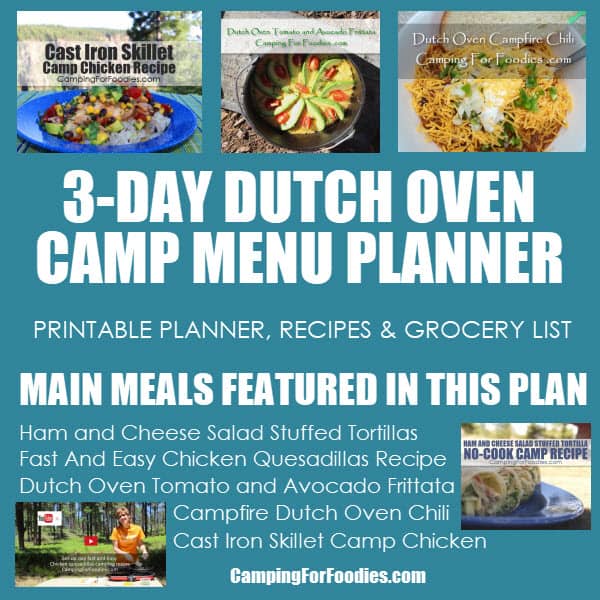 ---
Our Cool Camping Products Make Great Gifts!
Tote
Cutting Mat
Mat Set
Shaker Set
Apron
Hammock
Women's Tee
&
---
If you need camping recipes and menu ideas, you can find them here at the Camping For Foodies Camping Recipes list.
Don't miss a thing…sign up for Camping For Foodies email updates!
Your purchase of our products will help support World Vision ® Building a better world for children.