Grilled Thanksgiving Camping Turkey Recipe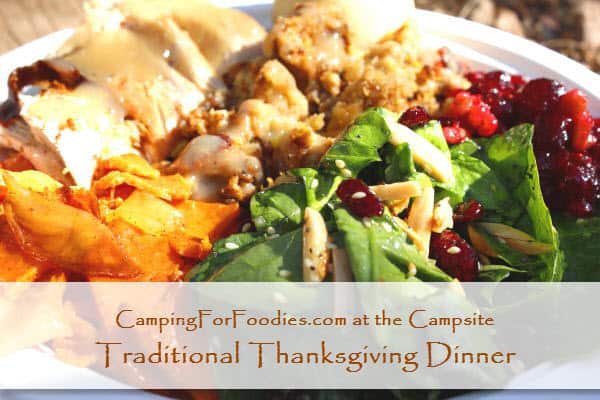 Thanksgiving Is Turkey Time! So how do you cook turkey while camping? Our Grilled Thanksgiving Camping Turkey Recipe makes it simple … and, because grilling and camping just go together, it seems natural to cook your turkey using a grill. This recipe is fast and easy … a spiced butter rub, a few aromatics in the cavity and that's it … your bird is cooking!  Here's how you make it. Psst we're compensated…see our disclosures.
Grilled Thanksgiving Camping Turkey Recipe
Mix the butter blend
4 tablespoons butter, softened
4 cloves garlic, minced
1 tablespoon cayenne pepper
1 tablespoon black pepper
1 tablespoon kosher salt
1 teaspoon thyme
1 teaspoon dried oregano
Butter the bird and flavor the cavity
Camp Cooking Tip: We decided to use a turkey that had the legs and wings removed because we were using our little Smokey Joe to cook the turkey while camping on this particular trip. The legs and wings cook faster than the rest of the turkey so in a regular oven you can easily slide out the oven rack and cover them with foil so they don't burn before the rest of the turkey is finished cooking. In this situation, cooking with our modified Smokey Joe, it was not going to be that easy to maneuver the turkey during the cooking process so we just opted to cook the cavity part of the turkey rather than the entire bird.
Clean the turkey then gently lift the skin around the cavity and spread the seasoned butter under the skin but be careful not to tear the skin … it needs to hold in all that butter while the bird is cooking.  Take any remaining butter and spread it inside the cavity.  Then add the aromatics inside the cavity.
1 turkey (turkey with cavity but with legs and wings removed)
1 large onion, quartered
1 orange, quartered
1 lemon, quartered
Preheat
Pre-heat your grill or oven to 350 degrees and cook according to package instructions for the size of your turkey (approximately 15 minutes per pound).
How To Cook Turkey While Camping
There are lots of ways to cook a turkey while camping. We have used a turkey fryer, a regular-sized gas grill and an RV oven … but, for this particular Thanksgiving, we used our little Smokey Joe that we converted into a smoker and we used it without the wood chips.
---
If you need help with setting up your Smokey Joe to cook a turkey, check out our Simple DIY Modifications For A Weber Smokey Joe Smoker Conversion post for step-by-step instructions!
&
---
Not interested in doing a DIY modification to your Smokey Joe? No problem!
Smokey Mountain Cooker Charcoal Smoker
The Smokey Mountain Cooker Charcoal Smoker has a built-in lid thermometer, a porcelain-enameled water pan, an aluminum fuel door, and a porcelain-enameled charcoal chamber. You can actually get these in different sizes too. The smallest size is the same size as the 14-inch Smokey Joe (most popular for camping) but it also comes in 18-inch and 22-inch models.
&
---
Cook it
Get your charcoal going, enough to do a ring of coals around the grill's kettle drum for indirect heating. Don't place coals in the center of the charcoal grate.
Add your water pan to the water pan grate and fill it with water to keep the turkey moist. See our Simple DIY Modifications For A Weber Smokey Joe Smoker Conversion post for more information and photos.
Place the turkey onto the cooking grate (located above the water pan grate). Situate the turkey upright so the aromatics stay in the cavity and in the center of the grate to avoid direct heat.
Now for the toughest part: maintaining a constant 350 degree temperature inside the grill.  You'll have to open or close the grill vents to raise and lower the temperature.  This is where science comes in to play.  Just remember this … It's all about the oxygen … starve the fire by closing the vents and the fire burns out. Feed the fire by opening the vents to add more oxygen.
You'll want to cook the bird according to the weight so check the directions on the package for specifics (approximately 15 minutes per pound). Our experience has found that the smaller the grill, the faster the bird cooks (even when maintaining the appropriate internal grill temperature.) 
Ambient conditions impact cooking times so use a quick-read thermometer to check the progress. Like all good campers, be flexible!  Your turkey may be done sooner or later than you anticipate so just be ready either way.  Recommended doneness is 160 degrees for internal breast temperature.
Eat it
Carve your turkey and serve it up with all of your sides. This is one of the recipes we make when we are camping on Thanksgiving. See our entire menu on our Traditional Thanksgiving Dinner At The Campsite post; get tips for cooking the big meal on our Thanksgiving Dinner At The Campsite With Camping For Foodies post; and get trip planning help on our Easy Tips for a Thanksgiving Camping Trip post!
---
Other Methods To Cook Turkey While Camping
Using a propane grill is the easiest method to cook turkey while camping in the outdoors. The reason: maintaining a constant temperature with a gas grill is much more straightforward than dealing with charcoal briquettes. Just use the propane grill the same way you cook turkey in your home oven. Preheat the propane grill, place the turkey in a foil pan and make sure you baste the turkey throughout the cooking process for a juicy beautifully browned bird!
Weber Propane Gas Grill
Foil Aluminum Roasting Pan
Baster, Injector And Cleaning Brush
&
---
Another method to cook turkey while camping is to fry it. This is one of the fastest methods to cook your turkey which is great if you have morning activities (like hiking or playing a few games of flag football) but you still want a big turkey meal. I would rather use a turkey fryer at the campsite than at home because they can be a little messy and the odor from the cooking oil can linger for a while so it is a perfect fit for cooking a turkey while camping! Remember, oil and water don't mix so if you are camping in rain or snow, place your turkey fryer under some sort of overhead cover while still allowing enough room for ventilation and avoiding fire hazards. The best way to get outstanding flavor in your fried turkey is by using an injector to get your marinade inside the meat instead of just seasoning the surface, make sure you use waterproof gloves when lowering or raising the bird to/from the turkey fryer to avoid getting burned by hot steam and splattering oil.
Turkey Fryer
Marinade Meat Injector
Oil/Heat Resistant Waterproof Gloves
&
---
No time to look for recipes, create a menu and write a grocery list? No Problem! Get our 3-Day Dutch Oven Camp Menu Plan here!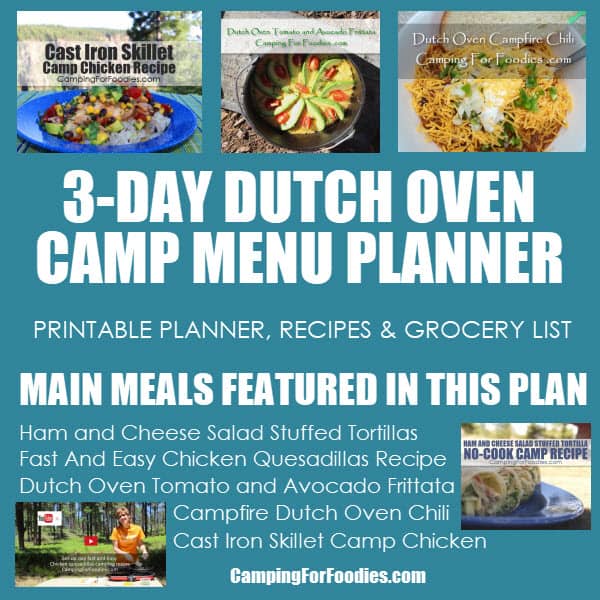 Funny Apron
 Cutting Mat
 Mat Set
 Shaker Set
 Fun Hammock
&
Get More Camp Menu Ideas From Our Camping Recipes List!
Don't miss a thing…sign up for Camping For Foodies email updates!
Your purchase of our products will help support World Vision ® Building a better world for children.