Thanksgiving Camping Dinner Meal Timing Tips
Do you dare attempt a traditional dinner with all the trimmings on a Thanksgiving camping trip?
Of course, YES!
And, you can do this if you are tent camping or in a big RV motorhome!
Join us for our family's holiday celebration and I'll share secrets for a fabulous feast and how these Thanksgiving camping dinner meal timing tips will have your entire dinner hit the table at the same time … without kitchen chaos!
Psst we're compensated…see our disclosures.
Timing The Cooking Of Your Camping Thanksgiving Dinner
I say it often … A little organization goes a long way.
Follow these steps to make a totally scrumptious traditional Thanksgiving meal without tons of stress!
Timing is the biggest challenge when cooking a meal with lots of side dishes and different cooking times and methods.
Try to get as much prep and cooking out of the way early so you are focusing on just a few time-critical dishes instead of the entire meal preparation feeling chaotic.
Also, you will probably be camping for the entire holiday weekend so make sure all of your other days feature easy camping meals.
Our typical menu includes Thanksgiving camping recipes of:
Turkey that is cooked in a slightly modified Smokey Joe grill.
Gravy that is made on a propane camp stove or in a cast iron skillet over a campfire.
Sausage Dressing that is made in a cast iron camp Dutch oven.
Cranberry Sauce that is prepared using a propane camp stove.
Spiced Sweet Potatoes that are cooked in foil packets over a campfire.
Spinach Salad that is mostly no-cook (although we do toast the almonds in a skillet.)
Apple Pie that is baked in a cast iron camp Dutch oven.
Apple Cider that is heated over a cooking fire on a campfire grate or using a propane camp stove.
---
A Few Days In Advance Of Your Thanksgiving Dinner
Make the dressing for the salad up to a few days in advance, then store it in your refrigerator or camp cooler.
Just before eating, toast the almonds then toss the dressing with the spinach and serve.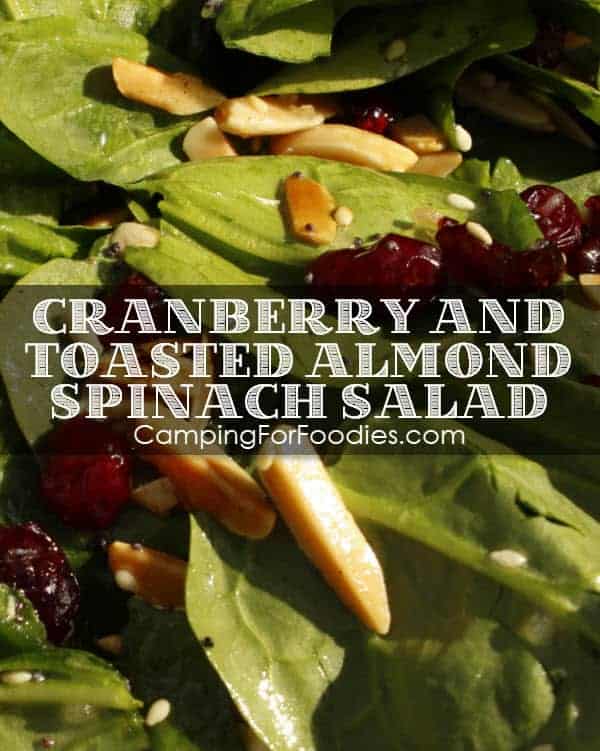 ---
The Day Before Your Thanksgiving Dinner
If you are cooking a previously frozen turkey, make sure it is totally thawed the day before you cook it. This is an important tip if you are cooking at the campsite or at home!
---
The Morning Of Your Thanksgiving Dinner
We have a campfire burning all day on our Thanksgiving camping trip.
That allows us to stay warm and produce coals for cooking at different times throughout the day.
This also means we have warm drinks ready like camp coffee, hot apple cider and campfire hot cocoa throughout the day.
---
You are not going to believe how FANTASTIC 4 INGREDIENTS CAN TASTE!
This side dish is a super-simple and fast recipe that actually needs to cool and gel a bit before you serve it so make it early and refrigerate it till you're ready to eat.
---
Prepping the potato packets can be done well in advance of cooking them.
They will cook in about 1/2 hour over a campfire which, by the way, we have going all day long on our Thanksgiving camping trips and I suggest you do too.
Keeping the campfire going is great to keep everyone warm and it also makes cooking easy at any time.
---
The hard part about making my Upper Crust Apple Pie early is not eating it as soon as you finish baking it!
But, getting the pie done early is best for the timing of your Thanksgiving camping dinner.
---
Late Morning/Early Afternoon Of Your Thanksgiving Dinner
Now that you have done as much pre-prep and pre-cooking as possible, it's time to focus on the turkey.
This part is super important … the timing of your turkey depends on the size of your bird and cooking conditions so you are going to have to use a little art and science to determine when you should start cooking your turkey.
We have tips on cooking your turkey using three different methods:
Grilling with a Smokey Joe takes the longest.
Using a propane grill is a little faster and easier.
Deep frying your turkey in a turkey fryer is the quickest.
---
This stuffing can be made in a Dutch oven, camp oven or RV oven so depending on which cooking method you choose, you will need to determine timing on this dish.
I like cooking this in a Dutch oven because I have several of them and we can have one camper "assigned" to tend to this side dish wherever they want to hang out around the campsite.
Just remember to allow enough time for your charcoal briquettes to get started and heated up to the point of being ready for baking this dish.
---
More Helpful Tips For Your Thanksgiving Camping Trip
Check out our other Thanksgiving post for 5 Tips To Make Camping On Thanksgiving An Easy And Fun Tent Or RV Trip where you will find tips for trip planning  and meal planning too!
---
If your Thanksgiving camping trip will take you to colder locations in an RV, check out our Winter RV Camping Tips post!
---
Camping in a tent for your Thanksgiving camping trip? Our Staying Warm Camping In A Tent post is one you don't want to miss!
---
Check out our Winter Camping Clothes Keep You Toasty post if your Thanksgiving camping trip will be below 78°F … LOL!
Yes, I really am that wimpy when it comes to cooler weather because something happened to my body after I moved to Phoenix and began living in 100+++++ degree summers where you can actually bake cookies on the dash of your parked car!
---