Campfire Smores Recipes: 10 Mouth-Watering Smore Variations

Campfire Smores Recipes: Top 10 Smore Variations
The traditional campfire smores recipe is certainly a classic but why stop there? We've changed out the cookie and candy layers to come up with our own family favorite campfire smores recipes. The one we call "Tropical Therapy" is my personal favorite. I'm guessing your family will be just as excited to try all of our awesome smore variations as our family was in creating them! Psst we're compensated…see our disclosures.
---
Telescoping Rotating Smores Skewers
Camp Cooking Tip: Don't burn the marshmallows (unless you prefer them that way 😉 LOL), I personally like my smores marshmallows roasted to the point of being dark brown and very gooey but not charred and burnt. My husband does not have the patience to roast marshmallows and he tends to deliberately set them on fire to make them cook faster … ugh!!! These Telescoping Rotating Smores Skewers are so cool because they extend to 30 inches (not just the common 22 inch length) which keeps kids (and adults) a safe distance from the campfire. There are 10 telescoping and spinning forks, a canvas travel bag and 10 bamboo skewers in this set.
&
---
Our Favorite Variations Of Campfire Smores Recipes
Wild For Chocolate = Roasted Marshmallow + Dark Chocolate Candy Bar + Chocolate Graham Crackers (We have one chocolate freak in our family who always wants the darkest chocolate on the planet! For "normal" chocolate lovers, just a nice smooth dark chocolate is the goal for the candy bar in this smores variation recipe.)
Tropical Therapy = Roasted Marshmallow + White Chocolate Coconut Candy Bar + Graham Crackers (Hands down, this one is my personal favorite. 🙂 Sort of funny because I would rather be in the mountains instead of the tropics but there is just something about that coconut … yum!)
Crazy For Bacon = Roasted Marshmallow + Salted Caramel Chocolate Candy Bar + Crispy Bacon + Graham Crackers (Have I ever told you how much my husband loves BACON?!?! I won't mention how many pounds of it he wants me to bring on a camping weekend!)
Chocolate Covered Strawberry = Roasted Marshmallow + Sliced Strawberry + Dark Chocolate Candy Bar + Graham Crackers
Sweet And Salty = Roasted Marshmallow + Milk Chocolate Candy Bar + Pretzel Crisps (Pretzels are one of my favorite ways to add salt to a sweet dessert. Just make sure you use the flat pretzel crisps for this smores recipe because they make the perfect hand-held sandwich.)
Amazing Andes = Roasted Marshmallow + Andes Mint And Chocolate Candy + Chocolate Graham Crackers
Shortbread Sensation = Roasted Marshmallow + Milk Chocolate Candy Bar + Shortbread Cookies (Some people think using a cookie instead of a graham cracker makes this campfire smore variation "disqualified" but we have to think outside the box once in a while … right? We're glad we did!)
Nuts Over Nutella = Roasted Marshmallow + Nutella Spread + Graham Crackers
Remarkable Reese's = Roasted Marshmallow + Reese's Peanut Butter Cup + Graham Crackers (Word Of Warning: I have to hide the Reese's otherwise I find myself yelling across the campsite, "Hey, those are for a recipe! Are there any left?" The first time the answer was "NO", I learned a lesson! Hide the Reese's until it is smores night! 😉 )
Cozy And Classic = Roasted Marshmallow + Milk Chocolate Candy Bar + Graham Crackers (We had to tip our hat to the old fashioned classic campfire smore! And, yes, we do still enjoy this version!)
---
Smores Store: Totally Cute Gift Ideas!
Because some happy campers just can't get enough of smore campfire treats, here are some really cute smores themed gift ideas!
Mini Smore Squishable
Smores Duct Tape
Smores Decal Sticker
Smore Socks
Smores Dog Collar
Smores Coffee Mugs
Smores Keychain
Smores Night Light
Smores Spare Tire Cover
Smores Hot Cocoa
Smore Recipe Book
Smores Country Candle
Checkers Smores Game
Smores Lip Shine
Smores Citronella Candle
Smores Vinyl Wall Art
&
---
No time to look for recipes, create a menu and write a grocery list? No Problem! Get our 3-Day Dutch Oven Camp Menu Plan here!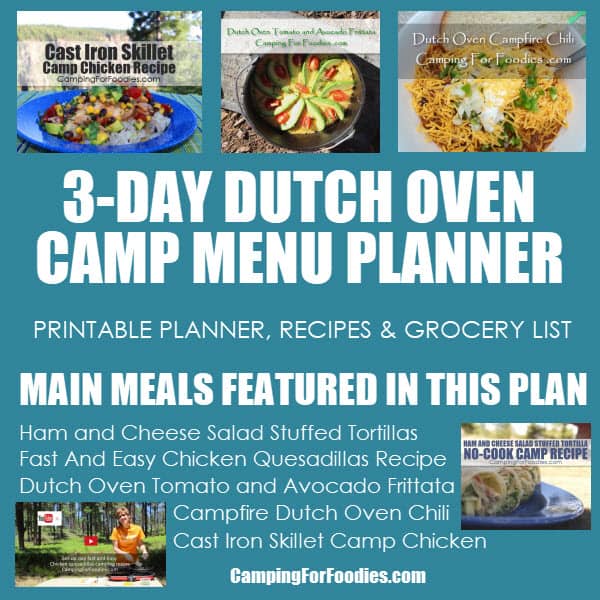 If you need camping recipes and menu ideas, you can find them here at the Camping For Foodies Camping Recipes list.
Don't miss a thing…sign up for Camping For Foodies email updates!
Your purchase of our products will help support World Vision ® Building a better world for children.