20 Tips: How To Keep Food Cold While Camping In The Wilderness
Seasoned campers know how to keep food cold while camping and use plenty of tricks that make it easy. These camping tips will keep your food safe while you enjoy the great outdoors.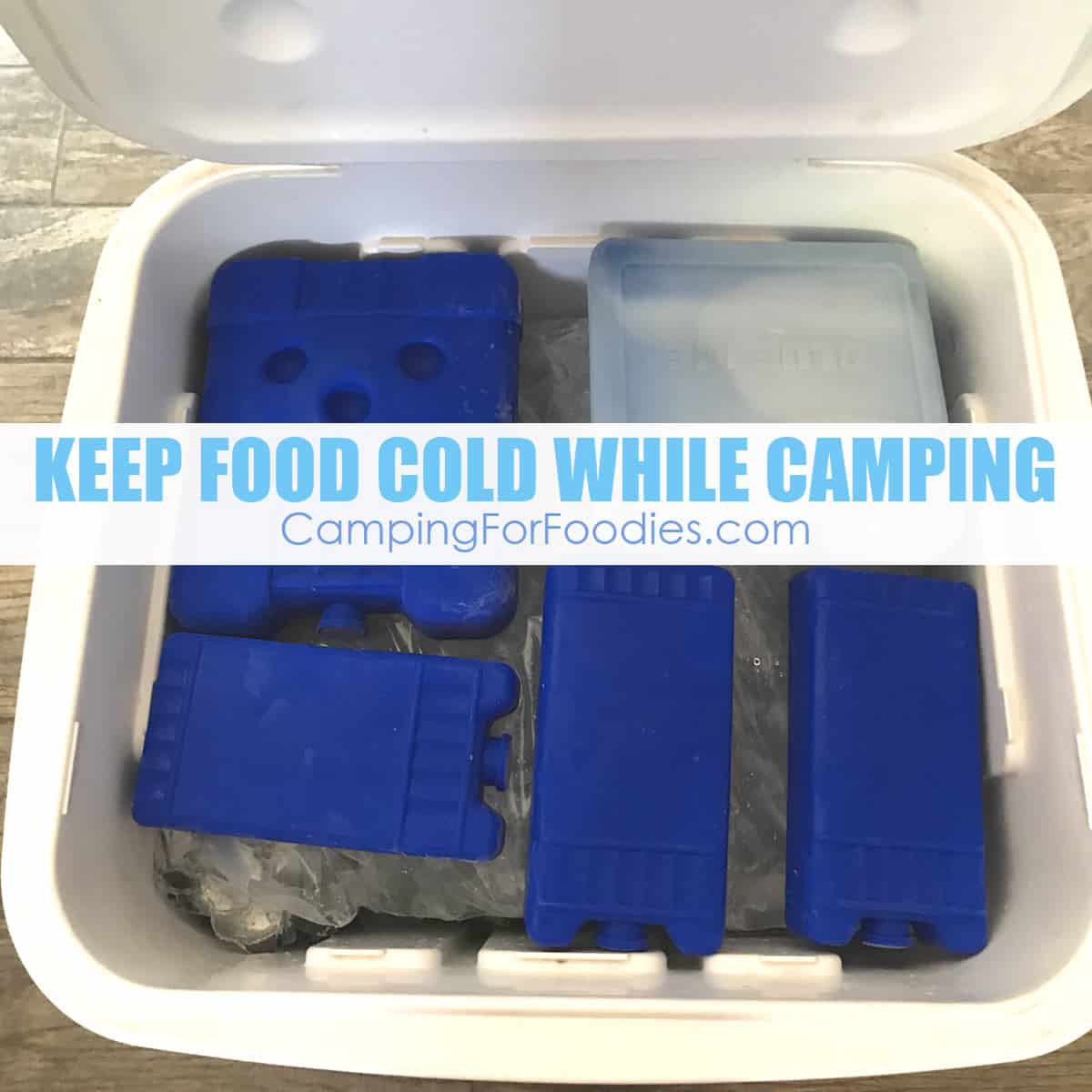 Psst we're compensated…see our disclosures.
Easy Ways Of Keeping Campsite Food Cold
It's important to keep perishable food at safe temperatures so nobody gets sick with the dreaded …. never leave the toilet … food poisoning on your RV and tent camp trips!
1. Buy A Quality Cooler
A high-end cooler, like the Yeti Tundra, has thicker walls and better insulation making it easier to keep the cooler cold. Cheap coolers may not keep your food cold much past the first day because of the lack of insulation. Get the best cooler you can afford to buy.
YETI Tundra 65 Cooler, Desert Tan
The right cooler will keep cold air in and warm air out for a couple of days with enough space to handle the amount of food or drinks you want to carry.
A cheap styrofoam cooler is not as durable as a good quality cooler but they are convenient and readily available during the summer camping season.
P.S. We have a YETI and we absolutely LOVE IT! Our family joke is that it "makes ice" because it's so well insulated, the ice in it seems to last forever. LOL
---
2. Consider Powered Coolers
Powered Coolers For Tent Camping
Some electric coolers are mini fridges that run off of a car battery. If you have access to power, you won't need to worry about ice packs, ice blocks or melting ice. These are great for keeping food cold while tent camping. Some models can be used as a cooler or as a warmer.
K-box Electric Cooler and Warmer with Wheels for Car and Home – 48 Quart (45 Liter) – 6 FT. EXTRA Long Cables Dual 110V AC House and 12V DC Vehicle Plugs
RV Refrigerators
Most RVs have refrigerators that run on propane or electric. These are notorious for having poor airflow with hot and cold spots at different locations within the refrigerator. It is a good idea to use a Fridge Airator to maintain a constant temperature inside the refrigerator.
Camco Fridge Airator With On/Off Switch
---
3. Use A Thermometer Inside Coolers & Fridges
The only way you'll know if you are keeping your food at safe temperatures is by placing a thermometer inside. See all of our camping food safety tips to keep everyone safe so you can focus on having fun!
Camco Durable Steel Refrigerator-Freezer Thermometer, Hooks Or Stands Alone
---
4. Pre-Chill Your Coolers
Cold coolers and refrigerators go a long way when you are trying to keep food cold for long periods of time. If you place cold food in a warm cooler or refrigerator, the food's temperature will quickly increase and potentially rise to unsafe levels even before you leave home.
I like to add ice or freezer packs to my coolers at least 12 hours before loading my food. I also keep the coolers in the coldest part of my house or garage. Then, I remove the ice, water from melted ice, and ice packs as well as dry the interior before loading the cooler with food for our trip.
---
5. Pack Cold Food
Keeping your food cold begins as soon as you leave the grocery store. If you have a chance, shop in advance of your trip so you can pre-chill your food in your home refrigerator overnight (or longer) before packing it in your cooler.
---
6. Freeze Food Before Packing
Freeze your food that will be eaten later in your trip. Starting with frozen food makes it easy to keep other food in the cooler as cold as possible. Make sure there is enough time for the frozen food to defrost before you will be cooking it. Odds are, you won't have a microwave there to help you with a "quick defrost" in the middle of the great outdoors!
---
7. Employ Dry Ice For Frozen Foods
The best way to keep frozen food from defrosting is to use dry ice packs. But, handle it with caution because it is REALLY COLD (−109.3 °F/−78.5 °C) and can burn/freeze exposed skin if you touch it. The good part about dry ice is that it doesn't melt … it evaporates because it is carbon dioxide in solid form. That means you won't have to deal with puddles of water from melted ice like you do when you use regular ice cubes or blocks.
---
8. Utilize Ice Packs
I don't like putting a layer of ice on top of food because as it melts, the food can get soggy if it is not in a completely waterproof container. Instead, I use freezer cold packs as the top layer because they stay cold for a longer time and don't create unnecessary water inside the cooler because they don't melt like ice does.
YETI ICE 2 lb. Refreezable Reusable Cooler Ice Pack
---
9. Freeze Drinking Water In Containers
Layer food between frozen water bottles rather than ice cubes. You can use individual water bottles or gallon jugs for this. As the bottles defrost, the liquid is contained within the bottle so you won't have a pool of water at the bottom of the cooler. That keeps your food dry and provides a drinking water supply throughout your camping trip. It is a double-duty, win-win!
---
10. Use Block Ice
Loose ice cubes melt faster than a larger block of ice. The tradeoff is that big ice blocks take up valuable space that you may need for food items.
---
11. Protect Food From Melting Ice
If you decide to use ice inside your cooler, you should pack your food items in ziplock freezer bags so the food is protected from melting ice.
---
12. Know Where To Get More Ice
It's nice to have enough ice to get you through your entire trip but that is not always possible. It's a good idea to know where you can get more ice during your trip. The campground store and local gas station will usually have regular ice and they may even have block ice and dry ice.
---
13. Pack Your Cooler The Right Way
Our post, how to pack a cooler for camping, will help you decide the best way to pack your coolers. Are you going with Camping Cooler Packing Theory 1: FILO (first in, last out) or Camping Cooler Packing Theory 2: RMAB (raw meats at bottom)?
---
14. Utilize Multiple Coolers
Fresh meat and dairy products will spoil quickly if they are not kept at a consistently safe temperature. Don't let your cooler temperature fluctuate. Keep a separate food cooler and drink cooler. You open the drink cooler much more frequently which will warm it up faster than a cooler that is opened infrequently. You'll also avoid cross contamination of raw meat with drinks by keeping food and drinks in separate coolers.
No matter how frequently you are opening your drink cooler, you want your cold water, soda, beer and favorite cocktails icy cold. Learn how to keep drinks cold when camping, even in sweltering summer heat.
---
15. Keep Coolers Shaded
Store your coolers out of direct sunlight by placing them in the shade of a tree, tarp, blanket, building or vehicle. Also, place them on a cool surface … cool grass is better than hot asphalt. Be prepared to move your coolers throughout the day as the shade shifts with the passage of the sun.
---
16. Add Extra Insulation To Camping Coolers
Place an insulated blanket or quilt around the outside and over the top of the cooler to help keep cold air in and hot air out.
---
17. Be Quick To Open & Close The Lid
Take some time to organize your cooler so you know where everything is located. Keep the lid closed as much as possible. Know what you need from the cooler before you open the lid so you can get in, get out and close the lid as quickly as possible. Hot outside air temperatures are your cooler's enemy.
---
18. Keep It Full
Don't drain the cooler unnecessarily. If a cooler is not full, the empty space gets filled with something … usually warm air. As you use food from your coolers, begin to combine the contents and work your way down to eliminate coolers that are not full, keeping the remaining ones full with ample amounts of ice or ice packs.
---
19. Cook At The Campsite
You'll need much less cooler space if you transport uncooked food because you'll only need to keep the perishable ingredients cold until you are ready to cook. Think about making campfire chili. If you prepare it at home, you'll need to keep the entire batch cold until you eat it at camp versus just refrigerating a package of ground beef. The cans of beans, tomato sauce, onions, garlic, etc … are all ingredients that don't require refrigeration before you open or slice them.
---
20. Plan Non-Perishable Food Meals
You can reduce the amount of cold food storage space required for your trips. Eat cold, delicate foods first but make sure to bring non-perishable foods that don't require refrigeration too. Here are some examples:
Non-refrigerated meats are a great option to enjoy meat without the fear of unsafe temperatures. Consider items like beef jerky and summer sausages.
If you want to make sure you have enough protein on your trips, consider getting it from shelf-stable food that does not have to be refrigerated. Here are some recipes to consider that use canned meat, beans, nuts and veggies.
I have an entire list of camping food recipes no refrigeration required. The ingredients start and end with your pantry!
To develop more flavors, aged cheese is left to ripen for longer periods of time … several weeks to several years. That process usually produces a firmer, more crystalline texture making aged cheese more study than soft cheese which is more delicate.
If you have recipes that call for soft cheeses, you'll want to use them at the beginning of your trip and keep your recipes that call for firm cheeses for later in your trip.
My favorite soft cheese varieties: Feta, Brie, Ricotta, Cream Cheese, Camembert, Chevre, Roquefort, Gorgonzola, Cottage Cheese and Mozzarella.
My favorite aged cheese varieties: Cheddar, Gruyere, Manchego, Gouda and Parmesan.
The same considerations should be made with your vegetables. Kale, spinach, cabbage and iceberg lettuce last longer than romaine, arugula or spring mixes. Learn how to keep food fresh while camping so you can enjoy high-quality, fresh vegetables out in the wilderness.
---
Camping Food Recipes
Keeping your food cold is the first step to eating well on your trips.