Ultimate RV And Tent Camping Checklist From Camping For Foodies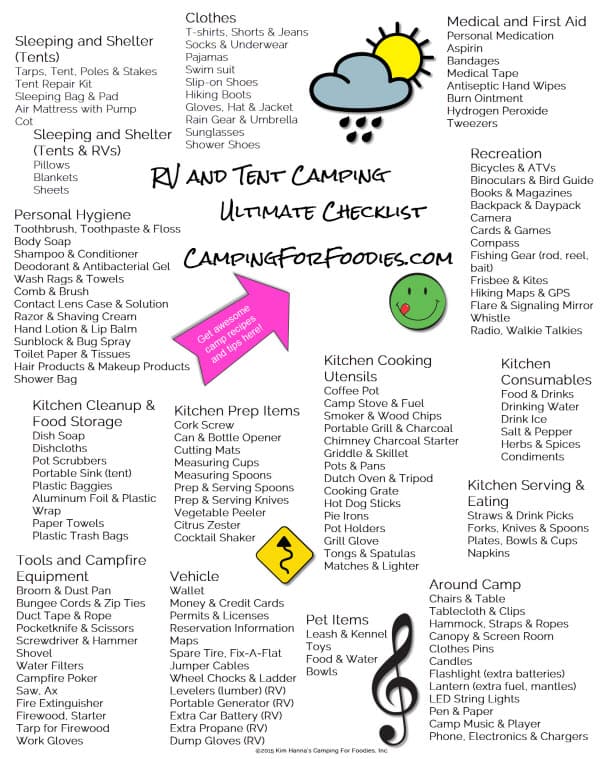 FREE Printable Ultimate RV and Tent Camping Checklist
Tons of people relieve stress by experiencing nature while unplugging and getting a little R & R on camping trips. Others say camping is too much work and believe camping actually creates more stress. I say, "Not so, amigo!" If you are organized and do a bit of easy up-front planning, camping is one of the most relaxing ways to spend your precious time to recharge your over-tired body and mind. Psst we're compensated…see our disclosures.
 Funny Apron
 Cutting Mat
 Mat Set
 Shaker Set
 Fun Hammock
&
Memory vs Checklist – There's Only One Way To Go!
If I left it up to memory to pack for a camp trip, I guarantee I would not be in the "I LOVE CAMPING" crowd! A well-organized trip is the key to keeping camping fun and organization comes with a detailed checklist. Not every camp trip requires the same stuff so using a comprehensive checklist ensures you are leaving stress at home! I use my checklist every time we go on a trip (consistency is a good thing here!)
A few tips for using my Camping For Foodies Ultimate RV and Tent Camping Checklist
Gather and load as many items as possible the weekend before the trip so you're just dealing with a few items at the last minute. Rushing causes stress and we are all about avoiding stress…right?
Have a "camping box" with items that are used only for camping. I don't want to have to load things like toothbrushes, combs, bedding and kitchen gear every time we go camping so I just have doubles of those types of items (one for home and one for camping) and keep them in our RV or "camping box" if we are using our tent.
Cross items off the list as you LOAD them. Once something is crossed off of the list, your mind is free to focus on other things and that relieves stress.
Bring your checklist with you on your camping trip so you can jot down notes while they are fresh on your mind.  Things like "refill shampoo" is a good thing to write on the list as soon as you notice your supply is low.  That way you don't have to rely on your memory when you get home.
Consistency is key! If you use the same checklist every time you go camping, you will become familiar with it and it just becomes part of your routine. The more regular your planning routine, the more planning becomes a "non issue" and the more you can focus on fun and relaxing with your family and friends.
Mostly, figure out what works best for you and enjoy your camping adventure. Have fun! That is what it's all about after all.
Get your FREE printable copy of the Camping For Foodies Ultimate RV and Tent Camping Checklist and More!
No time to look for recipes, create a menu and write a grocery list? No Problem! Get our 3-Day Dutch Oven Camp Menu Plan here!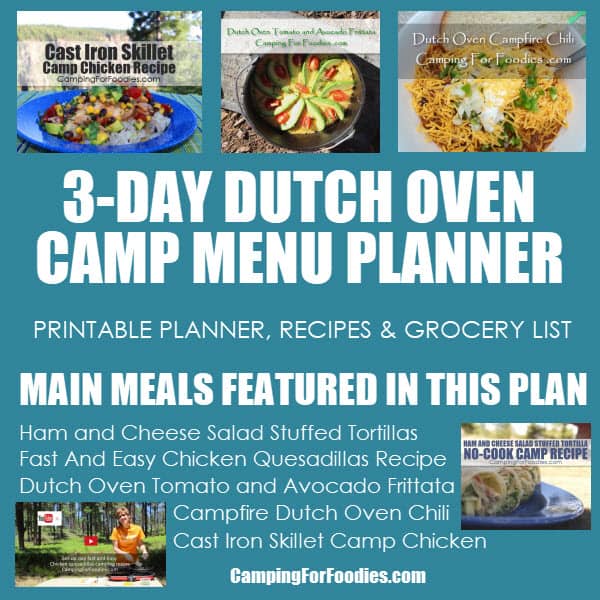 If you need camping recipes and menu ideas, you can find them here at the Camping For Foodies Camping Recipes list.
Don't miss a thing…sign up for Camping For Foodies email updates!
Your purchase of our products will help support World Vision ® Building a better world for children.