Ultimate RV And Tent Camping Checklist
One of the most important camping tips is to be prepared and pack all of your gear! Tons of people relieve stress by experiencing nature while unplugging and getting a little R&R on camping trips. Others say camping is too much work and believe camping actually creates more stress. I say, Not so!
If you are organized, use a good camping checklist and do a bit of up-front planning, I think you'll agree that camping is one of the most relaxing ways to spend your precious time to recharge your over-tired body and mind.
Psst we're compensated…see our disclosures.
Must Have Camping Checklist
Camping can be as luxurious as you want to make it.
You can be a minimalist … or … you can go glamping (glamorous camping).
Obviously, your preference will make a difference when it comes to what you consider to be essential camping gear.
Our FREE printable checklist is comprehensive so you'll need to determine the level of creature comforts you want to pack … but first, we'll cover SOME OF THE REALLY BASIC ESSENTIALS regarding what to bring camping.
---
Items To Have Around Camp
Vehicle, Tools & Campfire Equipment Camp Gear
Bungee cords
Duct tape, this is essential gear! You can use duct tape as a trail marker, temporary bandage, patch for torn fabric, makeshift shelter along with a tarp … and … so … much … more!
Pocketknife
Firewood starter
Atlas/maps, get a copy or our FREE printable Camping Route Planner!
Jumper cables
Spare tire/fix-a-flat
Wheel chocks/levelers (for RVs), see our RV Tool Kit Checklist post for a comprehensive list and get your FREE printable copy!
Sleeping And Shelter Tent Camping Gear
Sleeping And Shelter RV Camping Gear
Personal Hygiene Camping Essentials List
Camping Clothes
Medical & First Aid Essentials
Personal medication (this is especially important for people who use medication for pain and are camping with limited mobility)
First aid kit (this is one of the most overlooked camping safety items but also one of the most important) containing at least the following :

Bandages
Medical tape
Burn ointment
Hydrogen peroxide
Tweezers

The American Red Cross has an app that provides simple step-by-step advice so you know how to administer first aid in all kinds of emergency situations. It is pre-loaded so you don't need cell coverage to use it. We think it is one of the best camping apps available for iOS and Android … and it is FREE!
Kitchen Cleanup & Food Storage Camping Gear
Camp Kitchen Items
Can/bottle opener
Forks/spoons/tongs/knives/plates/bowls/cups for cooking and eating/drinking
Camp stove/Dutch oven/Grill
Fuel sources like camping propane, charcoal and firewood
Pots/pans, see Campfire Cooking Equipment You Can't Live Without for the latest awesome gear.
Coffee pot (yes, I consider this essential)
Pot holders/heat resistant gloves
Lighter/matches (outdoor, waterproof style is best)
Food & Drinks On Your Camping Checklist
Drinking water
Food/drinks
Condiments
For camping menu ideas, get inspiration to make some easy and unique camping food!
Pet Camping Gear Must Haves
---
Fast Camping Set Up Ideas
Taking a long time to set up camp is a common problem.
I realized that I was unloading lots of clean clothes and uneaten food when we got home from our trips so I started being more deliberate about packing only what we need for the amount of days we will be camping.
I use my checklist in a more "strict" way now when we are planning a simple camping trip.
---
Minimal Camping Checklist
We pack minimal gear when we are last minute camping on the spur of the moment.
Get tips to get out of town in 30 minutes to head for your favorite camp spot!
&
---
Additional Items To Bring Camping
Our family considers the small list I just shared to be our minimal camping gear list … but … when we want to have items that are above and beyond the essentials, like when we are free camping in remote locations, we use our comprehensive camping checklist to prepare for our trips.
I'll share a few tips on how I use this comprehensive camping packing list for loading our equipment and supplies.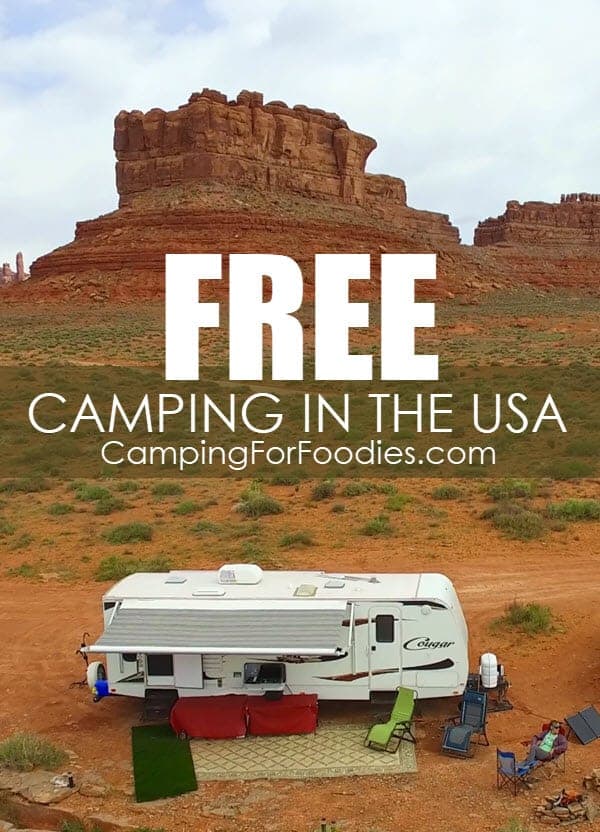 &
---
FREE Printable Ultimate RV and Tent Camping Checklist
Get your FREE printable copy of the Camping For Foodies Ultimate RV and Tent Camping Checklist and More!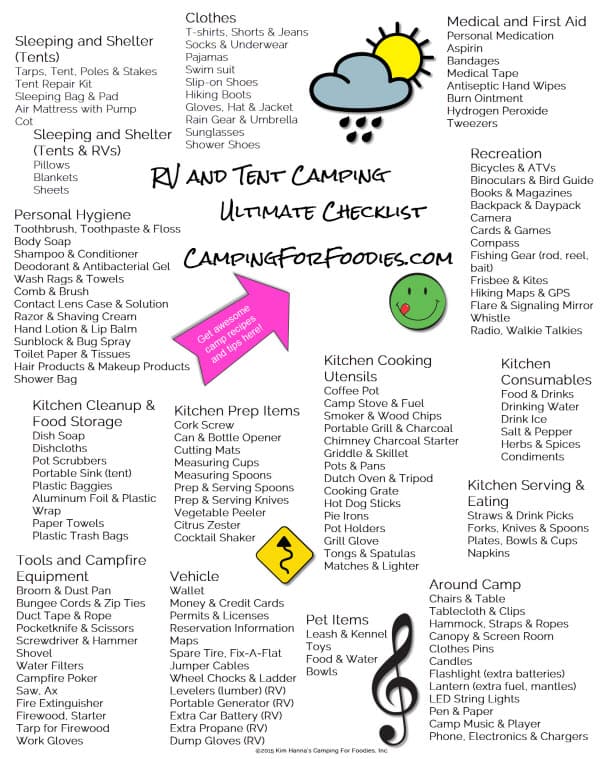 ---
Memory vs Checklist – There's Only One Way To Go!
If I left it up to memory to pack for a camp trip, I guarantee I would not be in the "I LOVE CAMPING" crowd!
A detailed camping checklist is the first step in good camping organization so you can have a clean and clutter-free experience in the great outdoors.
Not every camp trip requires the same stuff, as seen in our RV tips and hacks, so using a comprehensive checklist ensures you are leaving stress at home!
I use my camping checklist every time we go on a trip (consistency is a good thing here!)
A few tips for using my Camping For Foodies Ultimate RV and Tent Camping Checklist
Gather and load as many items as possible the weekend before the trip so you're just dealing with a few items at the last minute. Rushing can make you forget to pack some camping necessities … which, in turn … causes stress. And, we are all about avoiding stress … right?
Have a "camping box" with items that are used only for camping. I don't want to have to load things like toothbrushes, combs, bedding and kitchen gear every time we go camping so I just have doubles of those types of items (one for home and one for camping) and keep them in our RV or "camping box" if we are using our tent. There are certain things that are mandatory on your 'what to take camping' list … those are the things that need to be placed in the camping box.
Cross items off the list as you LOAD them. Once something is crossed off the list, your mind is free to focus on other things and that relieves stress.
Bring your checklist with you on your camping trip so you can jot down notes while they are fresh on your mind. Things like "refill shampoo" is a good thing to write on the list as soon as you notice your supply is low. That way you don't have to rely on your memory when you get home as you ask your family members, "What were those things we said we need to bring camping on our next trip?" And, all you get back is a blank stare because everyone forgot!
Consistency is key! If you use the same checklist every time you go camping, you will become familiar with it and it just becomes part of your routine. The more regular your planning routine, the more planning becomes a "non issue" and the more you can focus on fun and relaxing with your family and friends.
Mostly, figure out what works best for you and enjoy your camping adventure. Have fun! That is what it's all about after all.
---
Using our thorough camping checklist is extremely important if you are boondocking and the nearest grocery store, hardware store and emergency services are miles away!
Check out our Boondocking: How And Where To Go Dispersed Camping post for information on all areas of preparation for that style of camping.
---
If you are wondering how to organize all of your equipment on your camping checklist, check out my Camping Storage Ideas for some great tips and inspiration!
---
Camping Checklist For RV Campers
RV camping requires more tools than tent camping so we have created a camping checklist specifically for items you need to have for your rig.
You can grab your copy of our FREE printable RV Tool Kit Checklist here.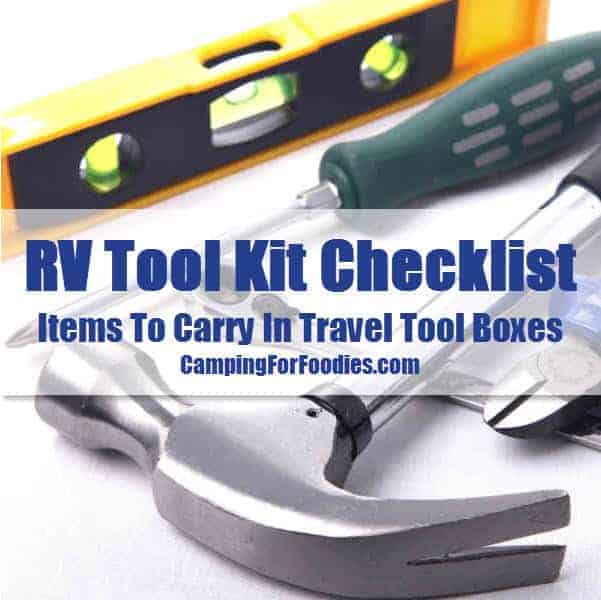 ---
If you are new to RV camping, you'll find our RVing Tips For Beginners: Enjoying The Maiden Journey post super helpful … we have shared tips on driving, packing, storage, camping locations and more.
There is a small camping supplies list that you may want to use to organize the small space inside your RV and to prevent items from shifting as you travel down the road to your camping destinations.

---
I mentioned glamping earlier … so … if you want to try your hand at glam camping and are willing to go well beyond the minimum camping equipment list, check out our Cute Glamping Accessories And DIY Glam Camping Ideas And Tips post for some inspiration!
---
No time to look for recipes, create a menu and write a grocery list? No Problem! Get our 3-Day Dutch Oven Camp Menu Plan here!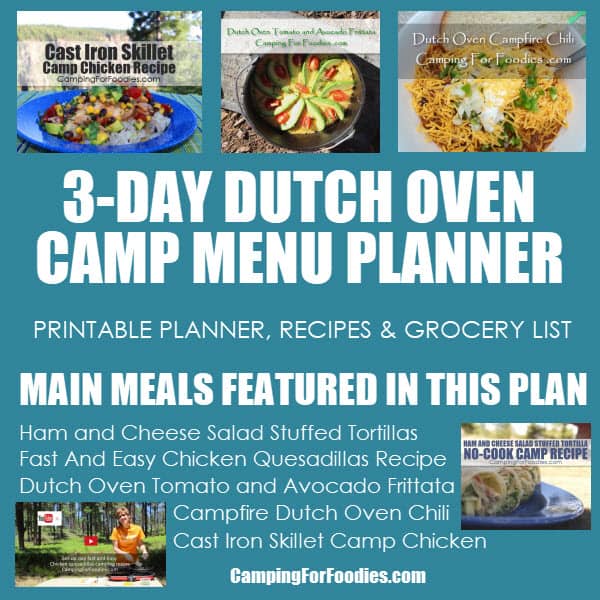 ---
If you need camping recipes and menu ideas, you can find them here at the Camping For Foodies Camping Recipes list.
Don't miss a thing…sign up for Camping For Foodies email updates!
Your purchase of our products will help support World Vision ® Building a better world for children.