Cast Iron Skillet Camp Chicken Recipe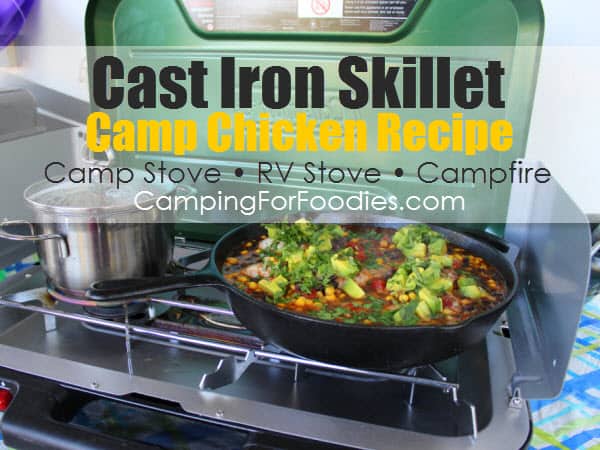 Cast Iron Skillet Camp Chicken Recipe
Cast iron cooking equipment is my favorite! You can use it to cook directly over a campfire or with camp or RV stoves. This Cast Iron Skillet Camp Chicken Recipe is a one-pot meal with a slight Mexican flare. Serve it over a bed of rice and you'll have a hearty meal for hungry campers!  Psst we're compensated…see our disclosures.
Coleman Eventemp 3 Burner Stove
Coleman Stove Carry Case
Disposable Bottle Refill Adapter
&
Set up your cooking environment. If you are cooking with a campfire, try fire sticks to get it started. Then, put your cast iron skillet on a grill grate to cook … or, you can use a propane camp stove or RV stove as the heat source for this recipe. 
Toss together and set aside In a non-reactive bowl, combine these ingredients and set aside.
1 avocado, cubed
½ lemon, juice from it
Brown the meat In a large cast iron skillet over medium heat, cook bacon till almost done.
4 slices thick bacon, cubed
Stainless Steel Cast Iron Cleaner
Cast Iron Oil
Rapidfire Chimney Starter
&
Now add these ingredients and cook till softened
½ small onion, diced
1 large jalapeno pepper, seeded and finely diced (omit or increase based on your heat level preference)
2 cloves garlic, finely diced
Chop your veggies on cute retro RV camper trailer flexible cutting mats! 
Now add chicken and brown on both sides
Salt and pepper both sides of the chicken before placing it in the cast iron skillet
4 skinless boneless chicken breast halves
Now add these ingredients, reduce heat, cover and simmer Cook covered till chicken is cooked through (about 30 minutes depending on size of chicken breasts).
1 (15 oz.) can diced tomatoes
1 (15 oz.) can black beans, drained
1 (15 oz.) can corn, drained
¼ teaspoon dried cumin 
Long "Tweezers" help you stay a safe distance from the campfire while adjusting it for cooking temperature.
Add toppings, just before serving
1 bunch cilantro, rough chopped
Avocado tossed in lemon juice (you prepared and set aside)
Serve it, I like to serve this chicken over brown rice.
Coghlans Vinyl Tablecloth
Coleman Tablecloth Clamps
Camping Tableware Set
&
No time to look for recipes, create a menu and write a grocery list? No Problem! Get our 3-Day Dutch Oven Camp Menu Plan here!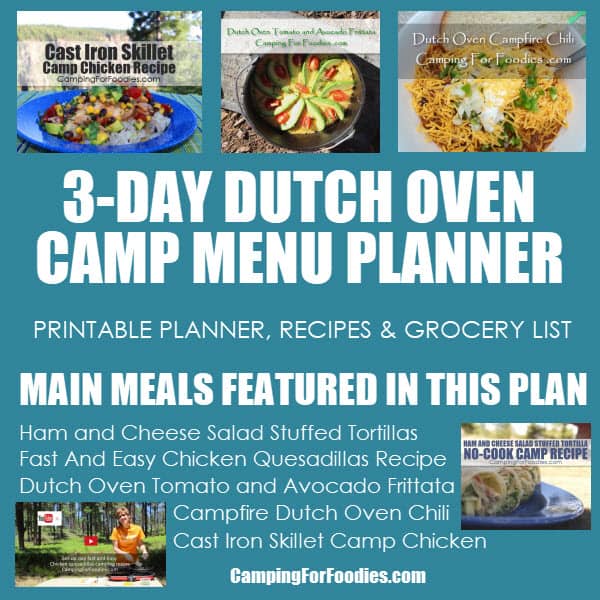 Cast Iron Skillet Camp Chicken Recipe Cooking Tips
Coleman Eventemp 3 Burner Propane Stove
This Cast Iron Skillet Camp Chicken Recipe can be made with a campfire, camp stove or RV stove as a heat source. We used this Coleman Eventemp 3 Burner Propane Stove for this recipe and love that it has a "bridge burner" connecting the two traditionally placed burners. It can handle 2 large or 3 smaller pots!
&
&
The Perfect CampfireGrill Heavy-Duty Log Tweezers
When cooking this Cast Iron Skillet Camp Chicken Recipe with a campfire,  I like to use "tweezers" to arrange the campfire logs and coals. Tweezers provide more control than just using a fire poker or shovel. You'll want to keep your campfire flames roaring to keep you warm but more controlled for cooking.
&
&
Camp Chef Heat Resistant Gloves
Be careful when handling hot cast iron camp cooking equipment! I like using Heat Resistant Gloves that extend well above my wrists. These are especially handy when cooking over a campfire which is much hotter than cooking with a camp stove or RV stove.
&
Cast iron camp cooking equipment can be a bit of an investment but if you treat it well, it will be passed on through the generations! This Cast Iron Oil & Conditioner is made from refined coconut oil … it won't go rancid and does not need to be refrigerated.
&
Get More Camp Menu Ideas From Our Camping Recipes List!
 Funny Apron
 Cutting Mat
 Mat Set
 Shaker Set
 Fun Hammock
&
If you need camping recipes and menu ideas, you can find them here at the Camping For Foodies Camping Recipes list.
Don't miss a thing…sign up for Camping For Foodies email updates!
Your purchase of our products will help support World Vision ® Building a better world for children.