One Pot Camping Cast Iron Fish Recipe: Easy, nutritious & delicious
This One Pot Camping Cast Iron Fish Recipe has Spanish flavor influences and is so delicious your hungry campers are going to think you slaved all day to make this fabulous one pot camp dinner!
One pot camp stove recipes are great when they are easy and flavor-filled! Plus, clean-up is a snap with a single cast iron skillet!
Psst we're compensated…see our disclosures.
How To Make This Spanish Inspired One Pot Fish Dish
Step 1. Set up your cooking environment. Prepare your ingredients, heat source and equipment as directed.
This one pot camping recipe is flexible regarding where you cook it. It is easy to make as one of your camp stove recipes. You can also use an RV stove or a conventional stovetop as a heat source.
This also works well as one of your easy campfire recipes. You can use the hand test to determine if you are at the proper cooking temperature. Just place your skillet on a grill grate and move the campfire coals closer to or further away from the skillet to control the heat.
Hand Test For Cooking Temperatures
You don't need a thermometer to determine the temperature of your heat source for cooking. Here's steps for the "hand test".
Hold the palm of your hand about 5 inches above the heat source (campfire coals, charcoal briquettes, propane grill etc.) you're using for cooking. (Make sure nothing is flammable, like clothing or jewelry.)
Pull your hand away from the heat before it hurts and note how many seconds have passed. Example: 5-6 seconds = medium heat.
| | | |
| --- | --- | --- |
| Heat Level | Temperature Range | Time |
| High Heat | 450-550°F | 2-3 seconds |
| Medium Heat | 350-450°F | 5-6 seconds |
| Low Heat | 250-350°F | 8-10 seconds |
Hand Test For Cooking Temperatures
If you are cooking over a campfire, check out our tips for starting campfires the easy way!
Step 2. Heat the oil in the skillet. You will be pouring a generous amount of olive oil in the bottom of the skillet to coat it, then you'll bring it up to temperature for cooking.
Step 3. Add the aromatics and spices. Now it is time to add the onion, garlic, turmeric, oregano, basil and cayenne pepper. You'll be cooking these till the onion is softened.
Step 4. Add the veggies. Now it is time to add the tomato, bell pepper, salt and pepper to the skillet. You'll stir and cook until these veggies are tender.
Step 5. Add the rice and water.
Camp Cooking Tip: One way to make your one pot camping meals easy and fast is by using instant rice. Because it does not take a long time to cook, you won't be overcooking the rest of the ingredients in your meal.
Step 6. Add fish to the pot. The fish is the last ingredient you will be adding to the skillet.
Step 7. Cover and simmer till cooked through. Now you'll be reducing the heat, covering and simmering until the fish is cooked through and the rice is tender.
Step 8. Garnish and serve. The final step in the recipe is to taste it for seasoning … you may have to add additional kosher salt and black pepper to your tastes. You'll also be adding some fresh parsley just before serving.
---
Cast Iron Fish Cooking Tips
You don't want to overcook the fish because it will turn to a rubbery consistency. Depending on the fish you use, it could take 5 – 20 minutes to cook so just watch for it to become opaque and you'll know it is done cooking.
If your campfire cooking kit doesn't contain a lid that fits your cast iron skillet … don't worry … you can easily use a cookie sheet or piece of aluminum foil to use as a make-shift cover. Just make sure it is a tight fit so the heat and steam are not escaping from the skillet.
Want to catch your fish yourself instead of getting it from the grocery store? You might want to try Fishbrain. It is one of the best camping apps if you like to do some fishing on your trips! With this FREE app, you'll see where the fish are biting and be able to find fish using the app's Fishing Forecast.
---
What To Serve With This Recipe
This one pot meal really doesn't need anything because it has the fish, rice and veggies. But, it is nice to serve a bowl of fresh leafy greens in a simple side salad too.
Get your FREE printable camping trip & menu planner before you create your next meal plan!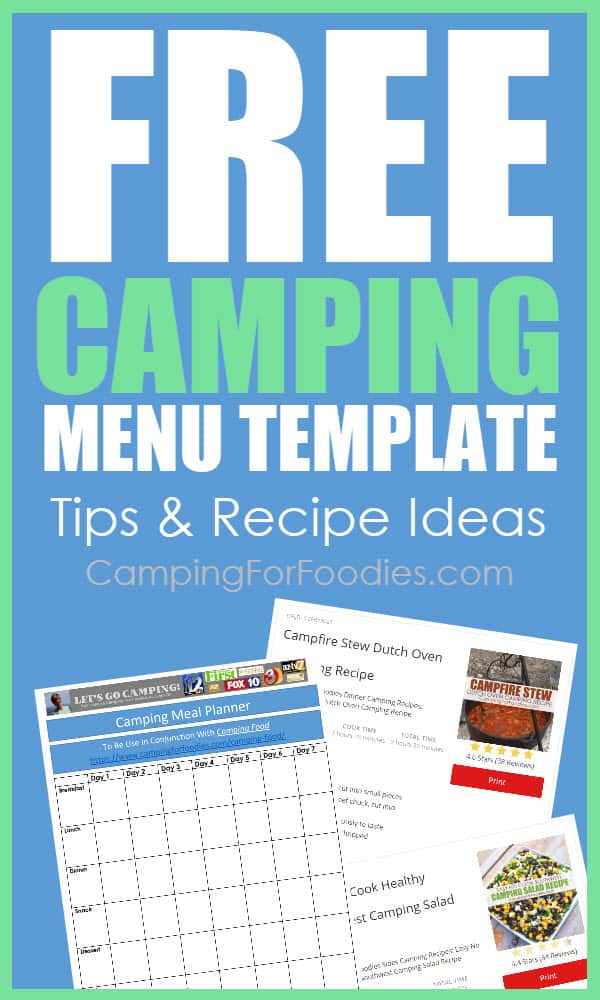 ---
Scaling Servings
This is one of my one-pot dinner recipes that serves 4, but, it is easily scaled down to make camping meals for two. Just adjust the number of servings you need in the recipe card. If you increase the recipe, make sure your pan is large enough to handle the number of servings you'll be preparing.
---
Suggested Equipment
We used this Coleman Eventemp 3 Burner Propane Stove for this recipe and love that it has a "bridge burner" connecting the two traditionally placed burners. It can handle 2 large or 3 smaller pots! We also like using a propane refill adapter so that we can re-use our 1 lb propane camping tanks.
When cooking this cast iron fish camping recipe over a campfire, I like to use "tweezers" to arrange the campfire logs and coals. Log Tweezers provide more control than just using a fire poker or shovel. You'll want to keep your campfire flames roaring to keep you warm but more controlled for cooking.
---
Similar Recipes
Try this Blackened Trout With Cajun Cream Sauce when you want a crispy crust. The first time my brother-in-law at this blackened fish he said it was the best thing he ever ate!
Don't feel like cleaning dishes? Make these Shrimp And Asparagus Foil Packs. The dry white wine, unsalted butter and lemon juice combine to make a light and fresh flavor. I like serving this with rice because the sauce is so yummy. If you want to keep it low-carb, use cauliflower rice. Check out all of our keto camping food ideas.
This Cast Iron Skillet Chicken Breast Recipe has Mexican flavors that are amazing. It is made easy by using canned black beans, tomatoes and corn. It's made fresh with onion, garlic, avocado and cilantro.
If you're looking for an almost-gourmet dinner, try these Chili Lime Shrimp Tacos! The slaw, creamy jalapeno sauce and corn tortillas are amazing. For a more affordable option, swap out the shrimp and make fish tacos.
Try this Campfire Fish Grilled In Foil Packets With White Wine And Garlic Sauce when you want a really quick meal that is healthy and delicious. Both of these recipes are great options if you're looking for gluten free camping food.
---
Print This Recipe
One Pot Cast Iron Fish Camping Recipe
Camping For Foodies Dinner Camping Recipes: This one pot cast iron fish recipe can be made with any type of fish and will be on your table in just 45 minutes!
Ingredients
Olive oil to generously coat bottom of large cast iron skillet

about 3 Tablespoons

1

large onion

chopped

4

garlic gloves

chopped

1/2

teaspoon

dried turmeric*

1/2

teaspoon

dried oregano*

1/2

teaspoon

dried basil*

1/4

teaspoon

cayenne pepper*

1

large tomato

chopped

1

red bell pepper

diced

Salt and pepper to season

2

cups

instant brown rice

2

cups

water

1 1/2 – 2

pounds

firm fish fillets

like cod, skin side removed, cut into 2-inch cubes

1

small bunch fresh parsley

chopped
Instructions
Ingredients marked with * can be measured and mixed at home.

Set up your cooking environment. You can cook this One Pot Cast Iron Fish Camping Recipe over a campfire using a grill grate to hold your cast iron skillet or using a propane camp stove or RV stove as the heat source.

Generously coat bottom of large cast iron skillet with oil.

Heat oil over medium-high heat.

Add onion, garlic, turmeric, oregano, basil and cayenne pepper to skillet stirring occasionally and cooking till onion is softened.

Now add tomato, bell pepper, salt and pepper (to season), stirring and cooking until vegetables are tender.

It is now time to add the rice and water to the skillet. Bring the entire pot to boil, then reduce heat to medium and cook until rice is almost done (about 5 minutes).

Pat fish dry with a paper towel, season with salt and pepper, then, add it to the rice, stirring it in to coat the fish for cooking (you won't have to flip it).

Reduce the heat, cover and simmer until rice is tender and fish is cook through (about 20 minutes). See (see ** Note) and Camp Cooking Tip below.

Garnish with parsley. Season with additional salt and pepper, if necessary and serve.
Notes
**NOTE: This is a "fish" recipe so you have the choice of the type of fish you are adding to this dish. If you pick a light and flaky fish (like Haddock or Black Sea Bass) your cooking time will be closer to 5 minutes. But, if you use a firmer fish like Cod, Tilapia or Catfish), the cooking time will be closer to 20 minutes. Just watch for the fish to become opaque and you'll know it is done cooking.
Camp Cooking Tip: If your skillet does not have a lid you can use aluminum foil or a cookie sheet to cover your pot … just make sure it fits snugly so you are trapping the heat and steam inside the skillet.
Here are a few more useful links:
Dutch Oven Temperature Chart
https://www.campingforfoodies.com/dutch-oven-temperature-chart/
Camping For Foodies Recipes List
https://www.campingforfoodies.com/camping-recipes-list/
Nutrition Information
Serving:
1
g
Calories:
177
kcal
Carbohydrates:
31
g
Protein:
4
g
Fat:
4
g
Saturated Fat:
1
g
Polyunsaturated Fat:
4
g
Sodium:
85
mg
Fiber:
3
g
Sugar:
4
g
---
No time to look for recipes, create a menu and write a grocery list? No Problem! Get our 3-Day Dutch Oven Camp Menu Plan here!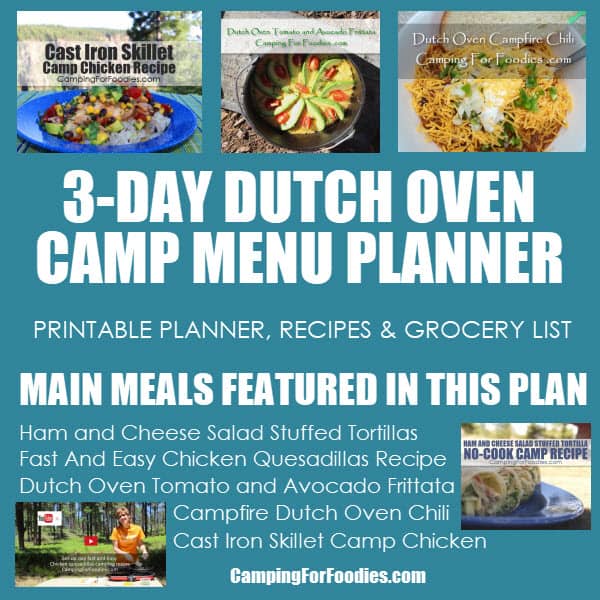 ---
More Food Ideas
Make every meal fabulous with some new ideas.