One Pot Camping Cast Iron Fish Recipe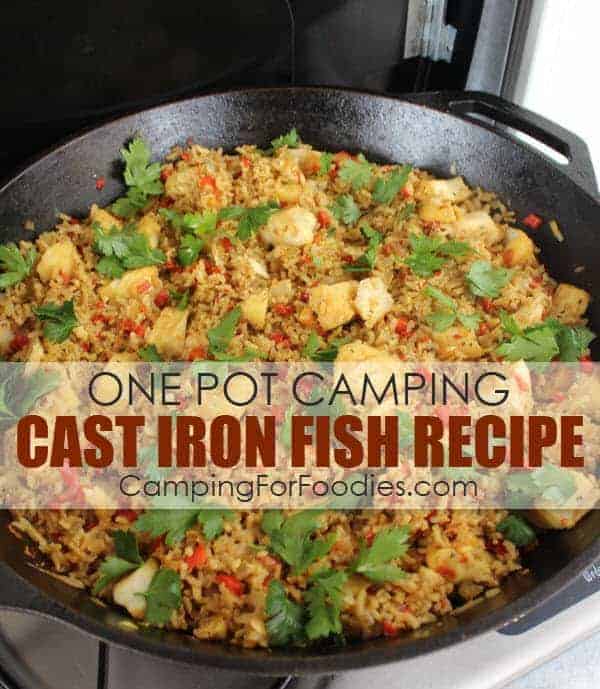 Spanish Inspired One Pot Camping Cast Iron Fish Recipe
One pot camping recipes are great when they are easy and flavor-filled! This Cast Iron Fish Recipe has Spanish flavor influences and is so delicious your hungry campers are going to think you slaved all day to make this fabulous one pot camp dinner! Plus, clean-up is a snap with a single cast iron skillet! Here's how you make it, serves 4. Psst we're compensated…see our disclosures.
Set up your cooking environment. If you are cooking with a campfire, try fire sticks to get it started. Then, put your cast iron skillet on a grill grate to cook … or, you can use a propane camp stove or RV stove as the heat source for this recipe. 
Heat oil in cast iron skillet over medium heat
Olive oil to generously coat bottom of large cast iron skillet (about 3 Tablespoons)
Add these and cook till onion is softened
1 large onion, chopped
4 garlic gloves, chopped
Dried spices

1/2 teaspoon dried turmeric
1/2 teaspoon dried oregano
1/2 teaspoon dried basil
1/4 teaspoon cayenne pepper
Now add these and cook till tender
1 large tomato, chopped
1 red bell pepper, diced
Salt and pepper to season
Add these and bring to boil, then reduce heat to medium and cook until rice is almost done (about 5 minutes)
2 cups instant brown rice
2 cups water
Now season the fish with salt and pepper, cut into cubes and add it to the rice, stirring it in to coat the fish for cooking
Salt and pepper, to season
1 1/2 – 2 pounds firm fish (like cod) cut into 2-inch cubes
Reduce the heat, cover and simmer until rice is tender and fish is cook through (about 20 minutes)
Garnish and serve
1 small bunch fresh parsley, chopped
Season with additional salt and pepper, if necessary
Stainless Steel Cast Iron Cleaner
One of the most popular ways to clean camp cast iron skillets and Dutch ovens is with a Stainless Steel Cast Iron Cleaner. They easily scrub away stuck-on food and don't trap bacteria like sponge scrub pads tend to do.
&
No time to look for recipes, create a menu and write a grocery list? No Problem! Get our 3-Day Dutch Oven Camp Menu Plan here!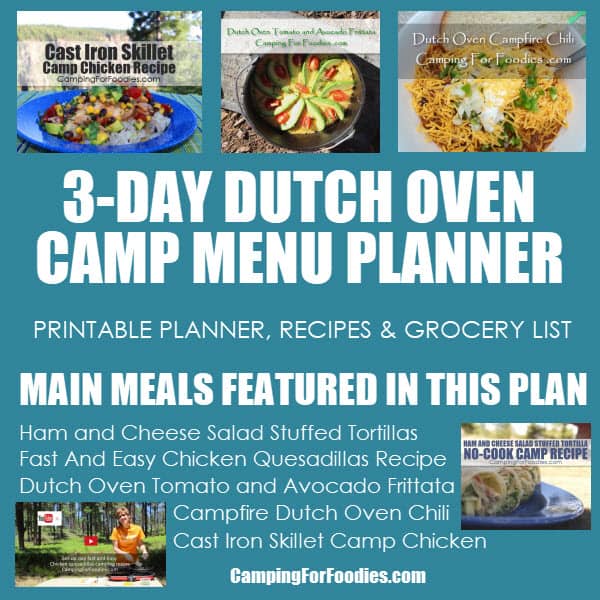 One Pot Camping Cast Iron Fish Recipe Cooking Tips
Coleman Eventemp 3 Burner Propane Stove
This Cast Iron Fish Recipe can be made with a campfire, camp stove or RV stove as a heat source. We used this Coleman Eventemp 3 Burner Propane Stove for this recipe and love that it has a "bridge burner" connecting the two traditionally placed burners. It can handle 2 large or 3 smaller pots!
&
&
The Perfect CampfireGrill Heavy-Duty Log Tweezers
When cooking this Cast Iron Fish Recipe with a campfire,  I like to use "tweezers" to arrange the campfire logs and coals. Tweezers provide more control than just using a fire poker or shovel. You'll want to keep your campfire flames roaring to keep you warm but more controlled for cooking.
&
&
Camp Chef Heat Resistant Gloves
Be careful when handling hot cast iron camp cooking equipment! I like using Heat Resistant Gloves that extend well above my wrists. These are especially handy when cooking over a campfire which is much hotter than cooking with a camp stove or RV stove.
&
Cast iron camp cooking equipment can be a bit of an investment but if you treat it well, it will be passed on through the generations! This Cast Iron Oil & Conditioner is made from refined coconut oil … it won't go rancid and does not need to be refrigerated.
&
Get More Camp Menu Ideas From Our Camping Recipes List!
Don't miss a thing…sign up for Camping For Foodies email updates!
Your purchase of our products will help support World Vision ® Building a better world for children.