Dutch Oven Cowboy Stew: Easy, Hearty & Delicious One Pot Camping Meal
Don't you love making Dutch oven camping recipes like the cowboys do? This Dutch Oven Cowboy Stew is a really simple one pot dinner that is warm and hearty. Combine beef, beans, potatoes and canned veggies in a pot, simmer the flavors together and dish it out to your hungry crowd for a satisfying meal.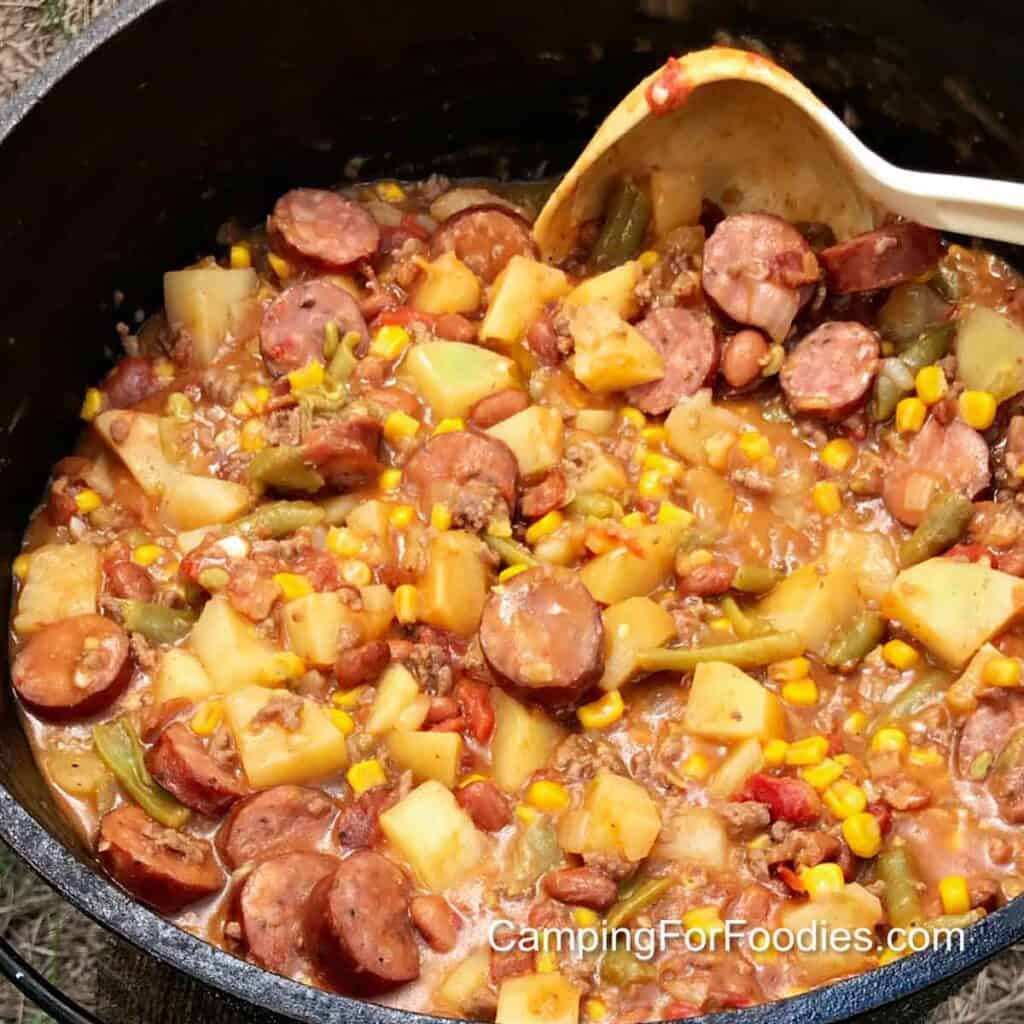 Psst we're compensated…see our disclosures.
Prep To Make This Dinner
Most of the veggies in my one pot camping meals are from cans so you won't have to do much prep work for those other than using a can opener and dumping them in the pot. This one includes diced tomatoes, pinto beans, green beans, whole kernel corn and chopped green chilies, all are undrained.
What you will have to chop: a bit of onion, garlic, potatoes, a couple slices of bacon and smoked andouille sausage.
---
Methods Of Cooking This Recipe
Camp Cooking Tip: There are several methods for cooking this old fashioned cowboy stew but it requires approximately 1.5 hours of total cooking time so you'll want to have enough fuel to finish the job.
If you are making this as one of our easy campfire recipes, you'll need to get your fire going in order to cook over hot coals. You can also use charcoal briquettes but be prepared to light a second batch of charcoal because you'll probably need two batches for this length of cooking time.
If you are planning to make this as one of our camp stove recipes, get enough propane ready for 1.5 hours of cooking time and prepare for cooking on a level surface.
---
Steps To Make This Recipe
Step 1. Prepare your ingredients as directed.
Step 2. Prepare your heat source for cooking with bottom heat for about 1.5 hours of total cooking time.
Step 3. Heat a 12-inch cast iron Dutch oven over medium heat and add the bacon to the pot. Stir it so it doesn't stick. Don't drain the grease from the pot.
Step 4. Place the onion and garlic in the pot, continually stirring until they are softened.
Step 5. Now, place the ground beef in the pot and use a spoon to break it up as it browns. Don't drain the grease from the pot.
Step 6. Drop the sausage in the pot and stir it with the rest of the ingredients.
Step 7. Now it is time to thicken the mixture. You'll do this by adding the flour, salt, and pepper to the pot. Keep stirring so the flour is well incorporated. Cook it for a couple of minutes before adding anything else to the pot.
Step 8. Dump in the canned veggies with all their liquids. It will be the tomatoes, beans, corn and green chilies. You'll add the potatoes now too and stir everything so it is combined well.
Step 9. Now it's time to let the flavors marry. You'll bring the mixture to a boil then reduce the heat so the pot is just simmering. Add the lid and let it go, stirring occasionally so nothing sticks to the bottom. You'll let it cook for about an hour before you serve. This is one of my favorite winter camping recipes I like cooking and eating around the campfire. The flames and food will keep you warm on cold camp trips.
---
What To Serve With This Stew
When I make camping dinner recipes that contain meat, veggies and some sort of starch, I call it done! But, there are a lot of people (like my husband) who also like bread or rolls on the side which is nice for dipping in the yummy sauce.
Get your FREE printable camping trip & menu planner before you create your next meal plan!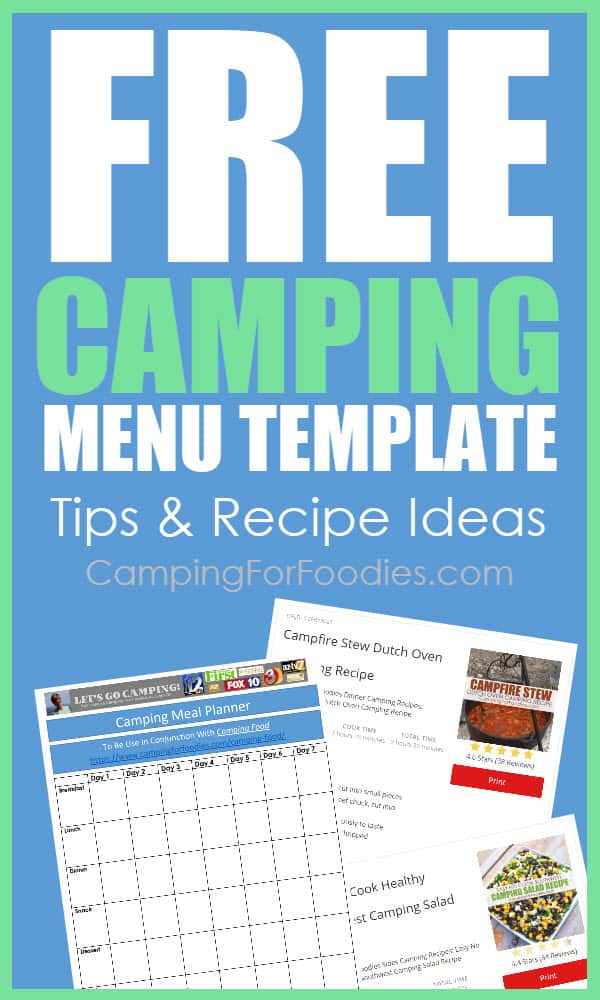 ---
Scaling For Bigger Crowds
Stews and chili recipes are easy camping meals for large groups. They are great when you want to make big pots of food to feed more people. You can easily scale this recipe so it feeds as many people as you need to serve. You can double the recipe if you use a 12-inch DEEP Dutch oven (rather than a 12-inch STANDARD depth oven). Just make sure the pot is large enough to handle the quantity as you increase the number of servings.
---
Similar Recipes
There are so many easy camping meals that are similar to this Cowboy Stew. Here are a few you may want to try:
If you'd rather have soup than stew, try this easy Cowboy Soup Recipe. It uses ground beef, beans, veggies and spices to create a yummy Tex-Mex flavor profile.
My One Pot Creamy Cajun Chicken Camping Pasta starts with pre-cooked chicken. Then you cook the pasta right in the sauce … no extra pot of boiling water is required!
Beef, beans, tomatoes and cheese are combined to make Dutch Oven Chili Mac. This classic comfort food is hearty and budget friendly too!
Try this easy Dutch Oven Shepherd's Pie for a classic meat & potatoes dinner.
Oh my goodness, this Campfire Stew is so yummy! The beef chuck is fork-tender after simmering in the tomato-based sauce with carrots and potatoes for about 2 hours.
Try this Hobo Casserole when you want simple, classic comfort food.
---
Print This Recipe
Cowboy Stew Dutch Oven Camping Recipe
Camping For Foodies Dinner Camping Recipes: Cowboy Stew Dutch Oven Camping Recipe
Ingredients
2

slices

thick bacon

chopped into 1/4 inch pieces

1

medium onion

chopped

4

garlic cloves

minced

1

pound

ground beef

1

(14 oz. package)

hot smoked andouille sausage, sliced into 1/2 inch pieces

3

tablespoons

all-purpose flour

1/2

teaspoon

salt

1/4

teaspoon

black pepper

1

(15 oz. can)

diced tomatoes, undrained

1

(15 oz. can)

pinto beans, undrained

1

(15 oz. can)

cut green beans, undrained

1

(15 oz. can)

whole kernel corn, undrained

1

(4 oz. can)

chopped green chilies

4

medium potatoes

peeled and cubed into 1/2 inch pieces
Instructions
Heat cast iron 12-inch Dutch oven over medium heat using campfire coals, charcoal briquettes, camp stove or RV stove.

Add bacon, cook stirring until the bacon is slightly browned. Do not drain the grease from the pot.

Add the onion and garlic to the pot, cook stirring until softened.

Add the ground beef, using a spoon to break it up into crumbles as it browns. Do not drain the grease from the pot.

Add the sausage, cook till slightly warmed, stirring occasionally.

Now add the flour, salt, and pepper stirring it into the pot. Make sure the flour is well incorporated and cook it for a couple of minutes before adding the remaining ingredients.

Add the tomatoes, beans, corn, green chilies and potatoes. Stirring until all the ingredients are combined.

Bring to a boil, then reduce heat and simmer, cook covered for about an hour, stirring occasionally to make sure nothing is sticking to the bottom of the pot as it cooks.

Notes
Camp Cooking Tip:
Make sure you have enough fuel to cook your entire meal before you begin the cooking process. This old fashioned cowboy stew requires approximately 1.5 total hours of cooking time.
Nutrition Information
Serving:
1
g
Calories:
354
kcal
Carbohydrates:
25
g
Protein:
18
g
Fat:
20
g
Saturated Fat:
7
g
Polyunsaturated Fat:
1
g
Monounsaturated Fat:
9
g
Trans Fat:
1
g
Cholesterol:
62
mg
Sodium:
335
mg
Potassium:
747
mg
Fiber:
3
g
Sugar:
2
g
Vitamin A:
8
IU
Vitamin C:
24
mg
Calcium:
37
mg
Iron:
3
mg
---
More Yummy Meal Ideas
Get some inspiration to make fantastic camp meals for breakfast, lunch and dinner!
Pin it for later!