Dutch Oven Baked Eggs In Avocado Cups
Looking for new and interesting camping breakfast ideas? Try this one! An avocado makes the perfect little cup. With just a few ingredients, this fun breakfast camping recipe, Dutch Oven Baked Eggs In Avocado Cups, is about as simple as they come.
And, the recipe scales easily so just increase the eggs and avocados to the number you need to serve your hungry camping crowd.
Serve them with a toasted English muffin and sausage patties for a hearty camp breakfast!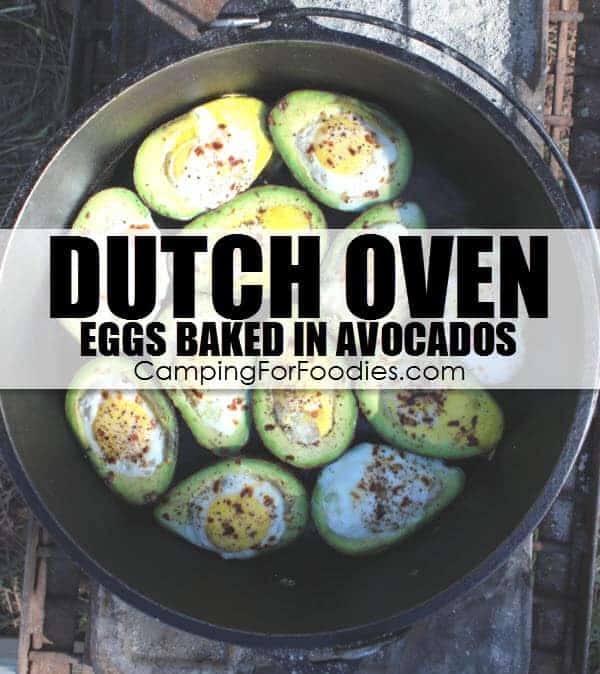 Psst we're compensated…see our disclosures.
Dutch Oven Baked Avocado Eggs Cups Cooking Tips
Most Dutch oven camping recipes make one family-style meal. These baked avocado egg boats are all individual servings.
The hardest part about making these eggs is getting the avocado to stand upright in the oven so the eggs don't spill out from the "cup in the avocado" before they are fully cooked.
Camp Cooking Tip: Slice off a small part of the bottom of the avocado so it stands firmly in the bottom of your Dutch oven.
---
The next hardest thing about making a baked egg in avocado cup is not burning your hands.
Camp Cooking Tip: Carefully and gently lower the filled avocados into your Dutch oven so you avoid spilling the eggs. As an alternative, use a disposable liner so you can place the filled eggs in the foil liner and then just lower the entire liner into the hot Dutch oven.
If you are going to use a liner, just make sure you have the right size because it is not easy fitting a 14-inch liner in a 12-inch Dutch oven. LOL
---
Create The "Avocado Cups" For These Dutch Oven Breakfast Eggs
Slice the avocado in half and remove the seed. The easiest way to remove the avocado seed is to hit it with a large knife, then twist the knife and lift out the seed with a twisting/lifting motion …
… be careful here, you don't want to be rushing to the nearest emergency room because you missed the seed!
---
When it comes to knife safety while camping, I only use knives with covers because it is too easy to get cut by an unprotected blade when packing and loading camping gear.
I like to have a few different sizes of knives for different tasks but I have to admit, my camp kitchen is probably slightly more "equipped" than most other campers' kitchens because I really love making yummy camping meals.
---
Pairings For This Recipe
If you are looking for a little something sweet on the side to serve with this gluten free camping food, you could just add a piece of fruit but because this recipe is sooooo simple.
I don't mind putting a small amount of effort in to this Fresh Summer Fruit Tossed In Honey Mint Syrup recipe … it is a GAME-CHANGER!
If you want to keep it low carb, add a few sausage links or bacon slices on the side because this is just one of our yummy keto camping food ideas.
---
Similar Recipes
If you like cooking eggs in something, try these recipes too…
It is so easy to make Hobo Eggs! You just need 3 basic ingredients and 8 minutes. The bread has a similar taste and texture to grilled cheese rather than buttered toast!
Drop meat, eggs and veggies in a muffin tin and cook over a morning campfire to make these simple and quick Muffin Tin Campfire Eggs.
When you make this Cowboy Breakfast Skillet for breakfast, you'll be cooking your eggs in a bed of potatoes and sausage. The best part … you can make sunny side up and scrambled eggs at the same time!
---
Print This Recipe
Dutch Oven Breakfast Eggs Baked In Avocados
Camping For Foodies Breakfast Camping Recipes: Dutch Oven Breakfast Eggs Baked In Avocados
Ingredients
Ingredients for 4 servings but can scale up if more servings are needed
4

ripe avocados

8

eggs

Salt

pepper and red pepper flakes, to taste

Optional toppings: hot sauce and salsa
Instructions
Prepare The Avocados. Slice the avocado in half and remove the seed. Slice off a small part of the bottom of the avocado so it stands firmly in the bottom of your Dutch oven.

Preheat The Dutch Oven

. Preheat a 12-inch camp Dutch oven to 425°F. You'll need a total of 31 coals (placing 21 on top and 10 on bottom). If you are using a different size Dutch oven, check out our

Dutch Oven Temperature Chart

to determine the number of coals you need.

Prepare The Eggs. Scoop as much avocado flesh out to ensure the whole egg fits into the hole. Lay each avocado half on a flat surface, crack one egg at a time into a small bowl, then use a spoon to transfer the yolk into the hole in the avocado. Try not to break the yolk … then add the remaining egg white. Top with salt and both peppers. Repeat with each egg and then place all of the eggs into the pre-heated Dutch oven at the same time. Be careful not to spill the eggs as you transfer them to the oven.

Bake The Eggs. Bake the avocados for 15-20 minutes. Rotate the lid 1/4 turn clockwise and the bottom 1/4 turn counterclockwise about every 5 minutes or so … you want to make sure all of the eggs are cooking at the same rate … when the whites are set, they're done.

Serve The Eggs. Optional toppings: hot sauce and salsa.
Nutrition Information
Serving:
1
g
Calories:
376
kcal
Carbohydrates:
14
g
Protein:
15
g
Fat:
31
g
Saturated Fat:
6
g
Polyunsaturated Fat:
21
g
Cholesterol:
372
mg
Sodium:
394
mg
Fiber:
10
g
Sugar:
1
g
---
More Yummy Camp Meals
Get creative with new and interesting camping recipes for every meal of your trip!