Dutch Oven Eggs Baked In Avocados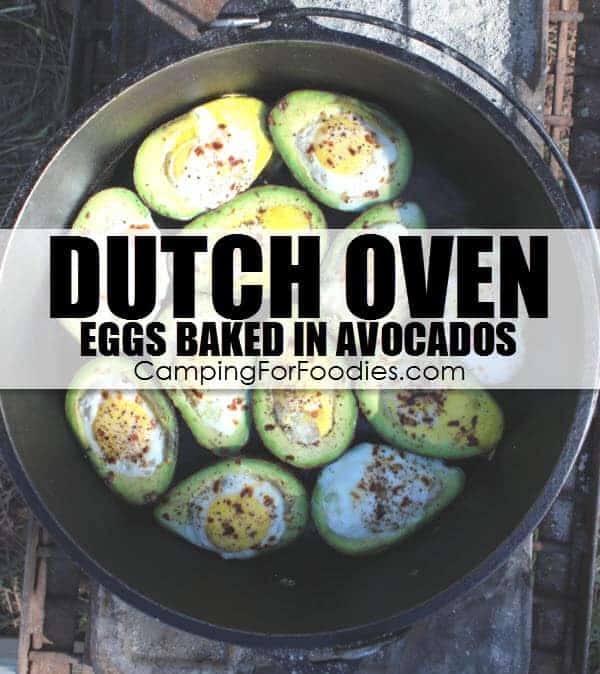 Dutch Oven Eggs Baked In Avocados
An avocado makes the perfect little cup to bake these Dutch oven eggs at the campsite! Serve them with a toasted English muffin and sausage patties for a hearty camp breakfast! Psst we're compensated…see our disclosures.
Lodge Camp Dutch Oven Lid Lifter
Camp Chef Heat Resistant Gloves
Lodge Camp Dutch Oven Lid Stand
Camp Cooking Tip: Slice off a small part of the bottom of the avocado so it stands firmly in the bottom of your Dutch oven.
Lodge Durable Pan Scrapers
Disposable Dutch Oven Liners
Lodge Camp Dutch Oven Tote Bag
The Recipe For Dutch Oven Eggs Baked In Avocados
Serves 4
Prepare The Avocados
Slice the avocado in half and remove the seed. The easiest way to remove the avocado seed is to hit it with a large knife, then twist the knife and lift out the seed with a twisting/lifting motion … be careful here, you don't want to be rushing to the nearest emergency room because you missed the seed!
Prepare The Eggs
8 eggs
Salt, pepper and red pepper flakes, to taste
Scoop as much avocado flesh out to ensure the whole egg fits into the hole. Lay each avocado half on a flat surface, crack one egg at a time into a small bowl, then use a spoon to transfer the yolk into the hole in the avocado. Try not to break the yolk … then add the remaining egg white. Top with salt and both peppers. Repeat with each egg and then place all of the eggs into the pre-heated Dutch oven at the same time. Be careful not to spill the eggs as you transfer them to the oven.
Stainless Steel Cast Iron Cleaner
Cast Iron Oil
Rapidfire Chimney Starter
Preheat The Dutch Oven And Bake The Eggs
Preheat the oven to 425°. The amount of charcoal you need depends on the size of your Dutch oven, get our Dutch Oven Temperature Chart and other tips here! Bake the avocados for 15-20 minutes. Rotate the lid ¼ turn about every 5 minutes or so … you want to make sure all of the eggs are cooking at the same rate … when the whites are set, they're done.
Serve The Eggs
Optional toppings: hot sauce and salsa
Coghlans Vinyl Tablecloth
Coleman Tablecloth Clamps
Camping Tableware Set
&
No time to look for recipes, create a menu and write a grocery list? No Problem! Get our 3-Day Dutch Oven Camp Menu Plan here!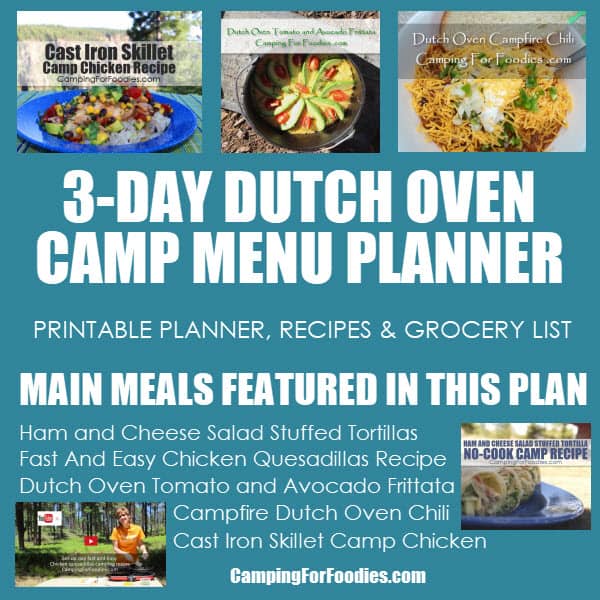 We've got great camp cooking tips in these other posts:
 Funny Apron
 Cutting Mat
 Mat Set
 Shaker Set
 Fun Hammock
&
If you need camping recipes and menu ideas, you can find them here at the Camping For Foodies Camping Recipes list.
Don't miss a thing…sign up for Camping For Foodies email updates!
Your purchase of our products will help support World Vision ® Building a better world for children.