Fresh Summer Fruit Tossed In Honey Mint Syrup
Honey Mint Syrup With Fresh Summer Fruit
Just when you thought summer fruit couldn't get any more refreshing. Fresh summer fruit is great…But add a little honey mint syrup and you'll rock your world (in a good way, of course)! Psst we're compensated…see our disclosures.
 Funny Apron
 Cutting Mat
 Mat Set
 Shaker Set
 Fun Hammock
&
When it is hot outside there is nothing quite as refreshing as a juicy bite of fresh fruit. Sure, you could dig in to a whole bowl of sweet and sassy strawberries but that is not nearly as satisfying as using a combination of seasonal fruit and amplifying the flavor with my honey mint syrup. The blend of citrus is sweet, tangy and off-the-charts when it comes to freshness while the honey adds a touch of sweetness to the coolness of the fresh mint in this syrup.  Ahhhhhh…The flavors of summer!  Here's how you make it:

SodaStream Source Home Soda Maker Starter Kit, Black
Once the fruit from this Fresh Summer Fruit Tossed in Honey Mint Syrup recipe has been devoured, if I have leftover syrup I put it in a tall glass over ice and add a splash of club soda. It is a delish thirst-quenching beverage! I love using my no electricity or batteries required SodaStream to make my own club soda because I am sure to always have fizz in my drink. I really hate flat club soda … bubbles are not optional! 
&
&
Fresh Summer Fruit Tossed in Honey Mint Syrup camp recipe
Serves 4 as side salad
Make the syrup
Mix these ingredients
Camp Cooking Tip: A zester is a great tool for your camp kitchen! It is small and lightweight so it's easy to pack and the powerhouse flavor that comes from the zest of your citrus is crazy good! I predict that you'll find many uses for this zester … this Fresh Summer Fruit Tossed in Honey Mint Syrup will be just the beginning!
&
&
Prepworks by Progressive Dome Lid Citrus Juicer
There are lots of ways to get juice out of citrus. I like using tools rather than just squeezing the fruit because I get more juice from each piece of citrus. Plus, it is easier. This Progressive Dome Lid Citrus Juicer is nice because it is designed to fit lemons, limes and oranges and the dome lid doubles as a measuring cup with increments of tablespoons and cup measurements. Making this Fresh Summer Fruit Tossed in Honey Mint Syrup recipe is a snap with the right camp kitchen tools!
&
&
Prepare the fruit
6 cups of your favorite seasonal fresh fruit
Cube about 6 cups of your favorite seasonal fresh fruit (I like to use seedless watermelon, strawberries, blackberries, peaches and seedless grapes but use whatever your camping clan likes the most and what is at its peak of freshness.)

Camping For Foodies Flexible Cutting Mats with Retro RV Camper Theme Design, Set of 3
I love chopping the fruit for this Fresh Summer Fruit Tossed in Honey Mint Syrup recipe on my Flexible Cutting Mats with Retro RV Camper Theme Design! It makes the camp cooking so much more festive! These mats come in three sizes, are lightweight and can be hung on hooks for easy storage.
&
&
Toss and serve
Gently toss the fruit in the syrup and let stand for a short time before serving. Camp Cooking Tip: I don't like to let this salad stand in the syrup more than a few hours because the acid in the citrus will begin to breakdown the fruit. I don't want macerated fruit so I plan the timing accordingly.
Pairings
You'll love this salad any time of the day! It works well at breakfast with a savory egg camp recipe like my Bacon and Cheese Quiche dish for a hearty meal or eat it with just a salty bagel for something a bit lighter. For lunch it's perfect as a side to a Panini sandwich. And for dinner, it makes a great dessert…yes, I said dessert! Top it with a barely sweet fresh whipped cream and you'll send yourself off to the land of sweet dreams and fairytales.
No time to look for recipes, create a menu and write a grocery list? No Problem! Get our 3-Day Dutch Oven Camp Menu Plan here!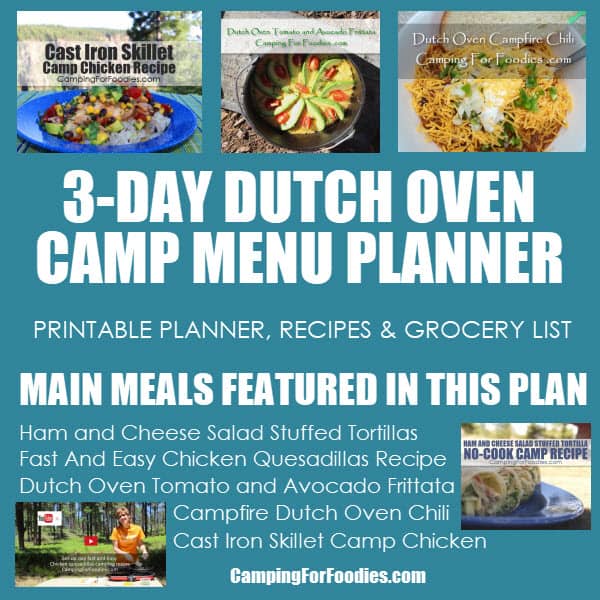 If you need camping recipes and menu ideas, you can find them here at the Camping For Foodies Camping Recipes list.
Don't miss a thing…sign up for Camping For Foodies email updates!
Your purchase of our products will help support World Vision ® Building a better world for children.