Easy Dutch Oven Jambalaya With Shrimp, Chicken & Sausage
Some of my family's favorite Dutch oven camping recipes are Cajun food meals that make you feel like you're celebrating Mardi Gras out in the wilderness! We brought Cajun cooking to the campsite with this Dutch Oven Jambalaya by starting with an authentic recipe and modifying it to use simple ingredients and methods to make our own version that is not-too-spicy and camp-cooking friendly!
Psst we're compensated…see our disclosures.
Prep To Make Campfire Jambalaya
If we have a busy camp trip planned, I prep the meat and veggies for this delicious recipe at home. You are going to need to chop some onion, celery, red or green bell pepper and some garlic cloves.
You'll also need to cut up some Andouille smoked sausage (1/4 inch slices) and chicken breasts (1/2 inch pieces, skinless chicken thighs can be substituted.)
Camp Cooking Tip: When your camping dinner recipes call for cubed chicken pieces, clean and cut the meat at home where you have ample water and cleaning supplies. Then, place it in a freezer bag and label it with the contents and the name of the recipe it is for … then freeze it. When you get to the campsite, defrost it prior to cooking that specific meal.
There is not only chicken and sausage in this particular recipe, it is also a shrimp jambalaya. If you choose to buy shrimp that must be peeled and deveined, you'll probably want to do that at home too. I make my shrimp-based recipes easy camping meals by just getting frozen shrimp that is already cleaned with the shells and tails removed.
---
Methods Of Cooking Jambalaya At Campsites
Some people like one pot meals making more of a jambalaya stew with the rice being cooked in with the meat and sauce. We prefer serving our jambalaya over rice that is cooked in a separate pot that can be made over a fire or on a stove top. Wherever you decide to cook the rice, this particular recipe requires two pots for cooking.
If you are making this as one of our campfire recipes, you'll need to get your fire going with enough wood for a cook time of about 40 minutes … you can also use charcoal briquettes.
If you are making this as one of our camp stove recipes you'll need to get your stove ready for cooking on a level surface and enough propane because this dish cooks for a relatively long time, about 40 minutes.
---
Steps To Make This Jambalaya Dutch Oven Recipe
Step 1. Prepare your ingredients and equipment, as directed. If you did your prep work at home and froze any of the ingredients, make sure you plan enough time to defrost them prior to cooking.
Camp Cooking Tip: I use our standard-depth 12-inch Dutch oven that holds 6 quarts for this recipe. You can use any large pot you choose as long as it has enough capacity and a tight-fitting lid or you have aluminum foil to cover it later in the cooking process. If you are cooking directly over a wood-burning open fire, it's a good thing to use a cast iron Dutch oven that can handle the soot.
Step 2. Prepare your heat source for cooking over medium heat. I like cooking winter camping recipes over a solid bed of hot coals when the heat of your fire keeps your body warm too.
Camp Cooking Tip: Using a large fire ring is the easiest way to adjust from a low heat to a higher heat by moving the coals closer to the pot or further away from it to reduce heat.
Step 3. Brown the ingredients. You are going to start by melting butter (you want the flavor that butter provides so don't substitute olive oil or vegetable oil unless you absolutely must) then you'll sauté the holy trinity vegetable mixture of onions, celery and chopped bell peppers plus some garlic.
Wait for the vegetables to soften before adding the sausage and chicken. You are not going to thoroughly fry sausage and chicken, you're just looking for them to get a little browned.
Camp Cooking Tip: Andouille sausage is the kind of meat you might have trouble locating, you can substitute kielbasa. It has similar but milder flavors so you'll want to add a little bit of black pepper, chili powder or a hotter spice blend to get that extra heat.
Step 4. Add the seasonings and tomatoes. First you are going to stir in the Cajun seasoning, dried thyme, paprika and cayenne pepper and make sure it is incorporated before adding the next ingredients. Now you'll add the tomato paste, mixing it in thoroughly.
Camp Cooking Tip: When you are meal planning, you need to consider the heat tolerances for the whole family. This is a great recipe for people who like a more tomato-flavored dish that is not very spicy. For the heat-lovers in your group, serve this with extra spicy creole seasoning, hot sauce or red pepper flakes on the side so they can increase the spiciness of their own portion of the meal.
You'll add the tomatoes and bay leaves, then cover the large Dutch oven with its lid and simmer for about 20 minutes, stirring occasionally. This is where you are actually going to cook the chicken … it takes longer than the shrimp.
Camp Cooking Tip: If a recipe calls for diced, you can use crushed tomatoes or whole tomatoes but you'll want to dice them before adding them to the mixture so the recipe has the proper consistency.
Step 5. Add the shrimp and serve over rice. Now that the chicken is cooked, it is time to cook the shrimp. It will only take about 5 minutes for it to turn pink. You'll remove the bay leaves and serve over cooked white rice.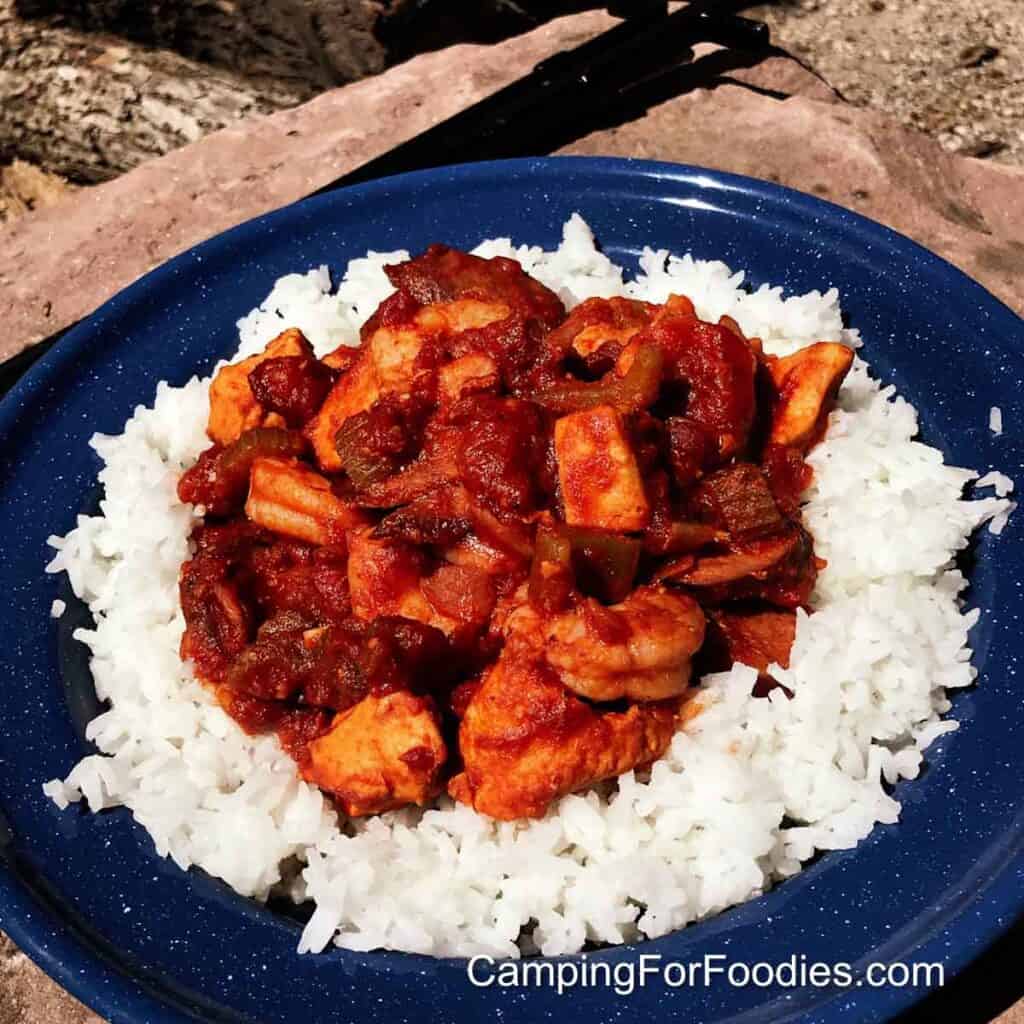 Camp Cooking Tip: We skipped the roux to make it easy, but you'll find this dish isn't the color of an old penny many people expect. You can add a splash of kitchen bouquet to darken the color, if desired.
Leftover Meal Idea: If you have any leftovers, make jambalaya soup by combining the jambalaya and rice in pot then adding any of the following ingredients: chicken broth, chicken stock, tomato sauce, few cups water … any liquid that will stretch the leftovers and change the thick consistency to a thinner one. If you use water, try to add a little extra flavor with something like oregano, scallions or dried thyme leaves. Cook over a medium-high heat open flame to bring to a slow boil. Top with a bit of fresh green onions.
---
Print This Recipe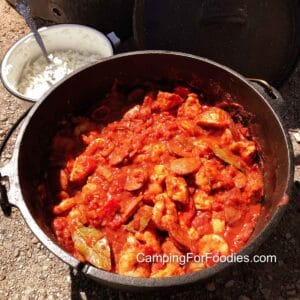 Dutch Oven Jambalaya Camping Recipe
Camping For Foodies Dinner Camping Recipes: Dutch Oven Jambalaya Camping Recipe
Ingredients
6

tablespoons

butter

1

medium onion

chopped

3

stalks celery

chopped

1

red bell pepper

chopped (you can substitute a green pepper if you want to be more traditional)

4

cloves

garlic

minced

1

pound

smoked Andouille sausage

cut into 1/4 inch thick slices (see * Note)

1

pound

boneless skinless chicken breasts

1/2 inch cubes (see * Note)

1

teaspoon

Cajun seasoning

1/4

teaspoon

dried thyme

1.5

tablespoons

paprika

1

teaspoon

cayenne pepper

1

(6 oz)

can tomato paste

1

(28 oz)

can diced tomatoes, with juice

3

bay leaves

1

pound

peeled and deveined medium shrimp

8

servings cooked long-grain rice

For serving, hot sauce, red pepper flakes or additional spicy creole cooking seasoning, for extra spiciness and salt, to taste

optional
Instructions
Heat a 12-inch Dutch oven over medium heat using a campfire or camp stove. Melt the butter, then add the onions, celery, bell pepper and garlic, cook till softened, stirring frequently.

Add the sausage and chicken, cook till browned, stirring occasionally, about 10 minutes.

Stir in the Cajun seasoning, dried thyme, paprika and cayenne pepper. (see ** Note)

Adjust the heat to bring ingredients to a simmer and add the tomato paste, mixing it in thoroughly before adding more ingredients.

Now, pour in the tomatoes with juice and add the bay leaves, then cover with the lid maintaining the pot at a simmer for about 20 minutes, stirring occasionally.

Add the shrimp and cook just until it is no longer translucent, about 5 minutes.

Remove bay leaves and serve over cooked rice.
Nutrition Information
Serving:
1
g
Calories:
658
kcal
Carbohydrates:
55
g
Protein:
43
g
Fat:
28
g
Saturated Fat:
12
g
Polyunsaturated Fat:
13
g
Trans Fat:
1
g
Cholesterol:
225
mg
Sodium:
1314
mg
Fiber:
2
g
Sugar:
7
g
---
Similar Recipes
I like serving comfort food when I'm making easy camping meals for large groups. Cajun jambalaya is not the only easy meal that brings New Orleans flavors and French influence to outdoor cuisine.
We made this gumbo easier for the campsite by eliminating specialty ingredients like file powder but you still need to plan for a day of cooking the meal that feeds about a dozen people.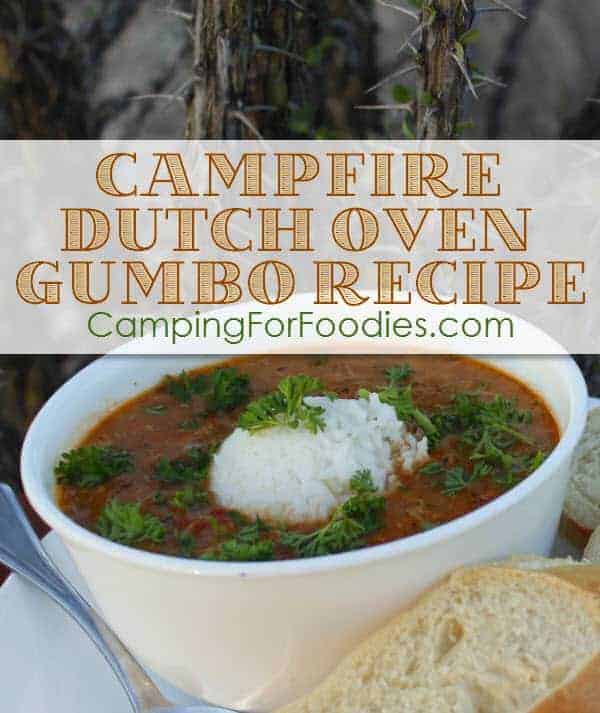 This one pan dinner is so tasty! When you want a rich, creamy and cheesy seafood pasta bake, try one of our favorite one pot camping meals.
After his first taste of this fish, my brother-in-law declared it was the best meal he ate in his life!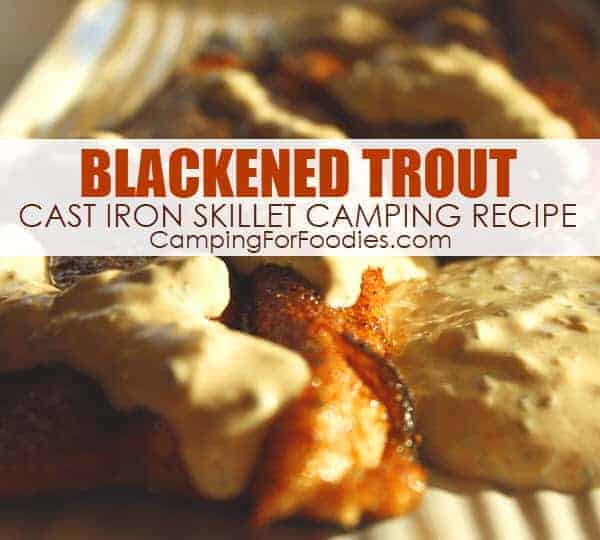 Cooking Creole delicacies can be fun … especially when you are making deep fried foods! These sandwiches are quick to prep and cook but don't lack a bit of flavor! It's the remoulade sauce that puts this camp recipe over-the-top. Remove the shrimp with a slotted spoon and drain on paper towel right away to make sure they stay crispy!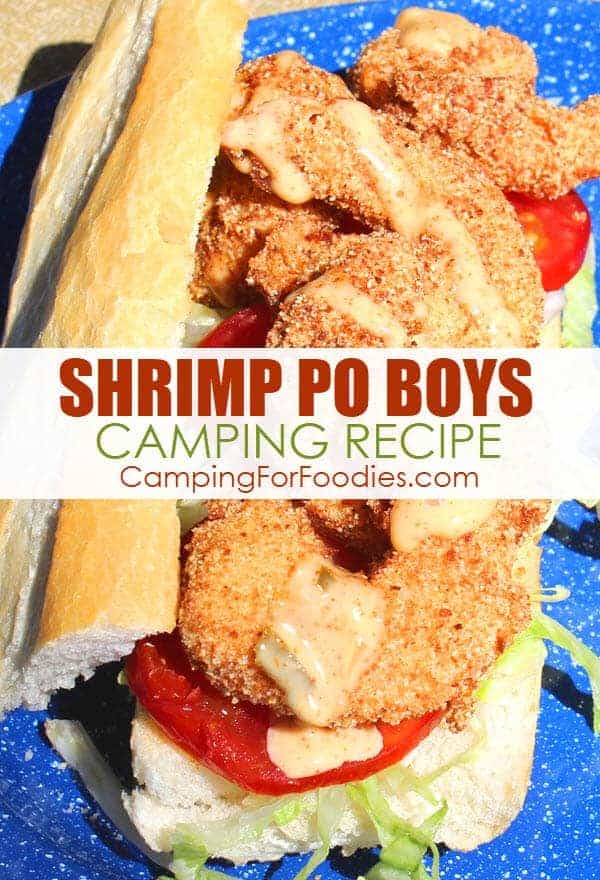 This quick and easy recipe is a really nice gluten free camping food option. Our beef stew is a one pot meal with potatoes and carrots in a yummy tomato-based sauce. And the meat simmers for about 2 hours creating fork-tender beef!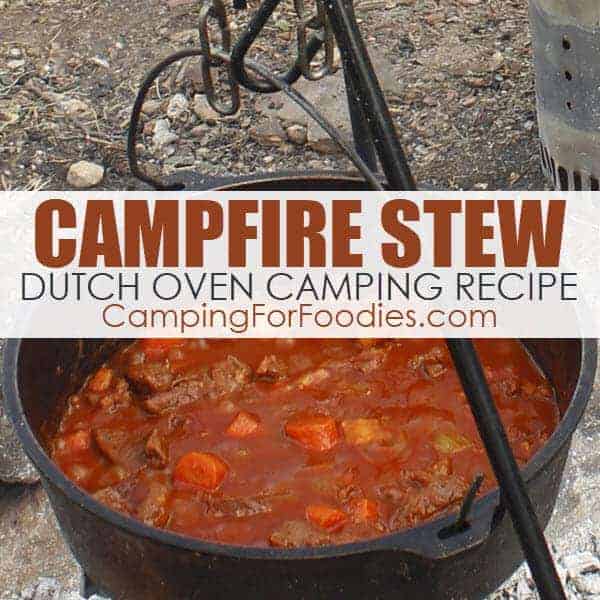 If you want something similar to this Dutch oven jambalaya recipe but with Spanish flavor influences, try this fish and rice meal. Fresh parsley finishes this dish nicely.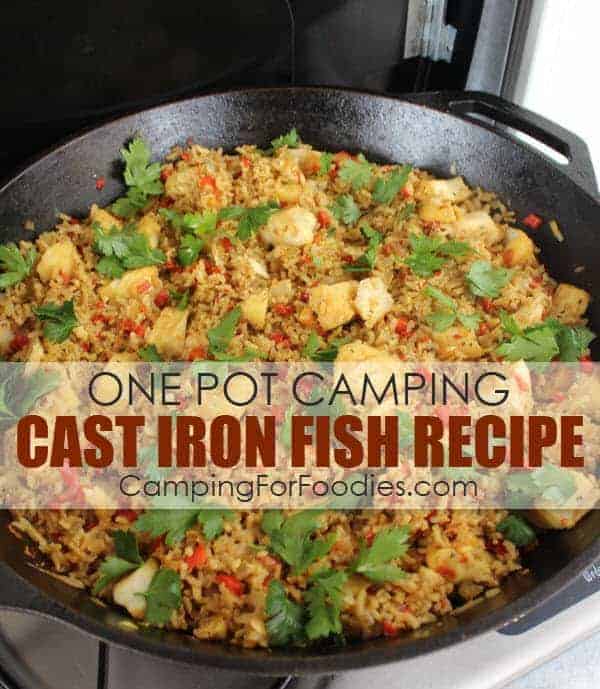 ---
More Yummy Meal Ideas
Make every meal of your trip an exciting one!
---