Campfire Dutch Oven Gumbo Recipe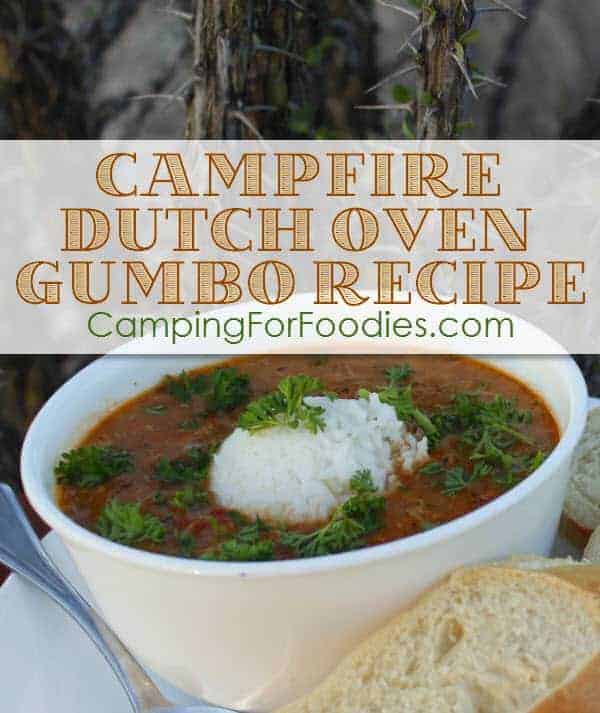 Campfire Dutch Oven Gumbo Recipe
Soups, stews and recipes like this Campfire Dutch Oven Gumbo are great options to feed camping crowds. The ingredient list for this recipe is a bit longer than our usual meals but it's the flavor layers that make this dish an all-time favorite. Our gumbo recipe is intended for a kick-back day of campfire tending and relaxed cooking at the campsite. Psst we're compensated…see our disclosures.
Lodge Camp Dutch Oven Lid Lifter
Camp Chef Heat Resistant Gloves
Lodge Camp Dutch Oven Lid Stand
&
Campfire Dutch Oven Gumbo Recipe Ingredients
Heat Dutch oven over campfire and fry bacon
In large 12-inch deep Dutch Oven, over medium-high heat
4 slices bacon, chopped in small pieces
Then add these and bring to a boil:
3 pounds chicken thighs with bones
1 pound andouille sausage
2 large onions, chopped
3 stalks chopped celery
1 large green bell pepper, chopped
28 oz. diced tomatoes (undrained)
4 oz. can green chilies
4 garlic cloves, chopped
2 teaspoons salt
½ teaspoon black pepper
1 teaspoon dried thyme
1 teaspoon dried basil
½ teaspoon cayenne pepper
Lodge Durable Pan Scrapers
Disposable Dutch Oven Liners
Lodge Camp Dutch Oven Tote Bag
&
Simmer the gumbo
Slow simmer for 2 hours Note: you will probably have to reduce the heat from the campfire at first then you may have to add more firewood to maintain the temperature of the campfire in order to keep the gumbo slow simmering. All of this depends on your specific elevation and weather conditions so just monitor the gumbo and adjust your campfire as necessary.
Remove the chicken
Remove chicken from Dutch oven and let cool slightly to the touch, then remove meat from bones and add chicken back to the Dutch oven.
Make the roux
In hot cast iron skillet, add oil and flour then stir with wire whisk till well blended and roux starts to bubble (this will take about 5 minutes), then turn down heat by removing some campfire coals to maintain a medium heat. Keep stirring until the roux mixture starts to turn brown, keep LOWERING THE HEAT as the mixture continues to get deeper in color (if you don't reduce the heat during cooking, the roux will burn). It can take 30 – 60 minutes to get the roux to the deep color you are looking for.
In a separate cast iron skillet, over campfire high heat combine these for the roux:
1/3 cup vegetable oil
½ cup all purpose flour
Add chicken stock
Once the roux is a brown color, slowly add the chicken stock stirring constantly.
After the chicken stock is combined with the roux it will begins to boil. Once that has occurred, transfer it to the gumbo in the Dutch oven and combine till it simmers and make sure you are using Heat Resistant Gloves when handling hot cooking equipment.
Add the shrimp
Just before serving, add the shrimp and cook until no longer translucent
1 pounds medium shrimp, peeled and deveined
Serve in bowl over rice
Rice, cooked
Fresh parsley, chopped
Crusty bread, on side
Prepare the rice according to package directions and make as many servings as necessary for the size of your crowd. Top with fresh parsley and crusty bread.
No time to look for recipes, create a menu and write a grocery list? No Problem! Get our 3-Day Dutch Oven Camp Menu Plan here!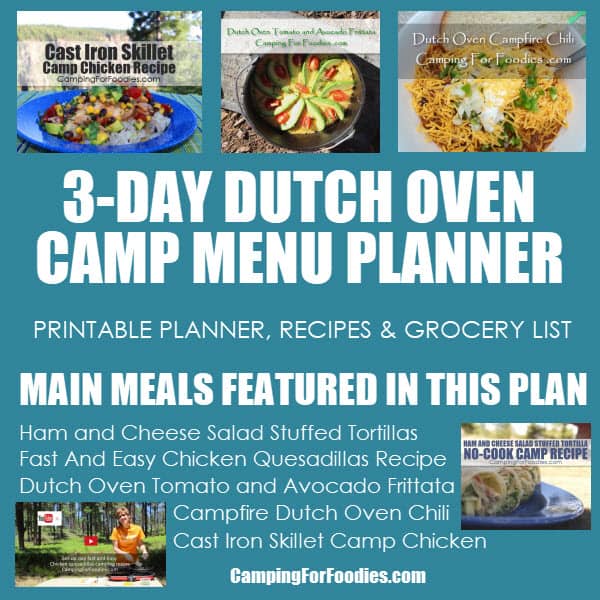 Stainless Steel Cast Iron Cleaner
Cast Iron Oil
Rapidfire Chimney Starter
&
I like to serve this Campfire Dutch Oven Gumbo Recipe when we are camping in cooler weather. That also means it may a bit breezy so I make sure to use Tablecloth Clamps to securely hold our tablecloth in place.
Coghlans Vinyl Tablecloth
Coleman Tablecloth Clamps
Camping Tableware Set
&
We've got great camp cooking tips in these other posts:
 Funny Apron
 Cutting Mat
 Mat Set
 Shaker Set
 Fun Hammock
&
If you need camping recipes and menu ideas, you can find them here at the Camping For Foodies Camping Recipes list.
Don't miss a thing…sign up for Camping For Foodies email updates!
Your purchase of our products will help support World Vision ® Building a better world for children.