Grilled Halibut Fillet Recipe
Grilled Halibut Fillet Recipe
Do you need a fast and easy meal for busy camp weekends? Try grilling seafood! Mine is one of the easiest grilled halibut fillet recipes of all time but don't let the simplicity of this recipe discourage you from trying it … The bold Asian inspired flavors hit this one out of the ballpark! Slather a little basting sauce on the fish, toss it on the grill, flip it and eat. It really is ready in mere minutes! The ease of this healthy main course is a beautiful thing. Psst we're compensated…see our disclosures.
You can grill many types of fish but I really like halibut because it is readily available and relatively inexpensive. Halibut is firm enough for grilling but flakey, tender and mild enough to take on the flavor profile you add during cooking. The simple basting sauce adds a bit of sweet and heat to make it interesting and a punch of fresh herbs finishes this easy grilled halibut recipe off perfectly. Here's how you make it, serves 4:
Soy And Garlic Grilled Halibut Fillet Recipe
Start your charcoal
I like using a chimney starter to start my charcoal efficiently without lighter fluid.
Camp Cooking Tip: These are awesome little tools that are efficient and clean. Use a Rapidfire Chimney Starter to get your charcoal going quickly without the need for lighter fluid.
Weber 7416 Rapidfire Chimney Starter
16.60LB Kingsf Briquets
BIC Multi Purpose Lighter – One Value Pack of 4 Lighters
Mix the dry
2 Tablespoons brown sugar
2 teaspoons garlic powder
¼ teaspoon ground ginger
¼ teaspoon cayenne pepper
Mix the wet and combine with the dry
1 Tablespoon vegetable oil
1 Tablespoon soy sauce
1 lemon, juice of (approx. 2 Tablespoons)
Heat and oil the grill
Vegetable oil (to oil grill grate)
Heat the grill to medium high heat and lightly oil the grate with vegetable oil applied with a wadded up paper towel.
Camp Cooking Tip: Use the proper size grill grate so the halibut fillets are properly supported over the heat. I like using my little Smokey Joe.
Weber 10020 Smokey Joe 14-Inch Portable Grill
Weber 6494 12-Inch 3-Sided Grill Brush
Weber 7154 Smokey Joe Bag
Grill the halibut
4 halibut fillets, approximately 5 oz. each and skin removed
Brush the fish with sauce on each side, grill approximately 5 minutes per side
Baste with sauce during cooking
Grill until desired doneness; fish is finished when it flakes easily with a fork
Tiemom Silicone Basting Brushes (Yellow, Set of 3)
OXO Good Grips Silicone Basting & Pastry Brush – Small
Silicone Basting Brush & Pastry Brush
Serve the grilled halibut
Remove from grill and top with cilantro for serving
1 bunch fresh cilantro, chopped
One of my favorite recipe pairings for this Soy And Garlic Grilled Halibut Fillet Recipe is my Campfire Glazed Grilled Carrots Recipe. They are fast and easy requiring minimal prep and cooking time!
Serve and enjoy!
No time to look for recipes, create a menu and write a grocery list? No Problem! Get our 3-Day Dutch Oven Camp Menu Plan here!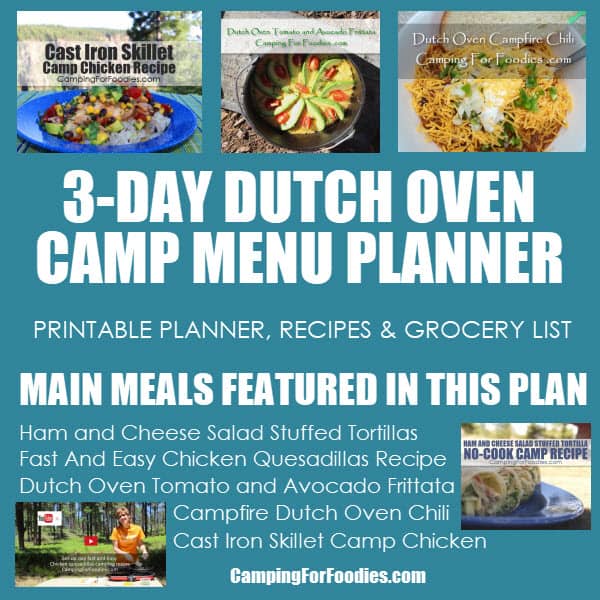 If you need camping recipes and menu ideas, you can find them here at the Camping For Foodies Camping Recipes list.
Don't miss a thing…sign up for Camping For Foodies email updates!
Your purchase of our products will help support World Vision ® Building a better world for children.