How To Use A Charcoal Chimney: Easy Steps With Video
There are tons of reasons you should know how to use a charcoal chimney! Whether you're making Dutch oven recipes or using your little BBQ Smoky Joe, you'll want a fast, safe, efficient way to start your coals and this gadget is one of the best camping gear items you can own!
Psst we're compensated…see our disclosures.
How A Charcoal Chimney Starter Works
The chimney design uses a metal tube to hold unlit charcoal while it gets ignited from a small fire below.
The metal cylinder has two separate chambers, the larger one sits above a grate that holds the charcoal. The bottom chamber sits below the grate and holds the flammable material that lights the charcoal. The tube has air vents that facilitate the airflow required to light charcoal quickly without any chemicals or lighter fluid. The cylinder also has a handle that allows you to pour the hot charcoal (be careful of flying sparks) into your barbecue grill or on the cooking surface for your Dutch oven.
As the fire burns in the bottom chamber, the heat and flames rise through the tube and into the upper chamber to light the top coals. There are no tricks, the secret to the ingenious design is the airflow generated by the tube's shape and airflow holes. A self-feeding fire is started with plenty of oxygen being introduced into the combustion process.
---
Steps For Lighting Charcoal With A Chimney Starter
Step 1. Choose your starting location and prepare your cooking equipment. Will you be using the coals for your charcoal grill or your Dutch oven?
Find a location that is safe for lighting coals:
Avoid areas with dry grass that might catch fire.
We like using the dirt area inside our campfire pit.
We also use old cookie sheets as barriers between the fire and the ground (get more camp Dutch oven tips on this.)
Avoid concrete if you don't want it to have burn marks on it.
If you are using a large grill, you can use the chimney starter directly on the charcoal grate (after you remove the cooking grate).
Step 2. Load the charcoal into the upper chamber. Determine the amount of charcoal you'll need for your recipe.
Your camp Dutch oven recipes will usually indicate a specific number of coals you need for cooking and baking at specific temperatures. If you're converting one of your home recipes to cook at your campsite and only have a temperature for cooking, use this Dutch oven temperature chart to determine how many coals you'll need.
You might need a full chimney if you are cooking with really high heat. That's the case if you are boiling or deep frying in a Dutch oven as well as searing steaks that are grilled hot and fast.
You won't need as much charcoal if you are simmering or baking in a Dutch oven as well as grilling chicken and veggies with a lower, slower cooking method. You'll probably only need to fill the chimney half way for these recipes. Get Dutch oven temperature control tips.
Lump Charcoal vs Charcoal Briquettes
You can use either type of charcoal but I recommend briquettes for baking in Dutch ovens because of their uniform shape, size and heat generation which helps ensure evenly baked cakes, pies and casseroles.
Step 3. Add the flammable material to the lower chamber in the bottom of the chimney. There are two popular options in materials:
Wadded Sheets Of Newspaper vs Lighter Cubes
Most people wad-up a few sheets of newspaper to start the charcoal. You'll want to fill the lower chamber without stuffing it so tightly that it causes a problem with the airflow. You want to make sure their is no restriction caused by too much paper in the lower chamber but still has enough paper to fuel the ignition.
Paraffin wax lighter cubes are also great for starting the flame. Set one or two of them on the surface where you'll be lighting the coals (inside your fire ring, on the ground, on your charcoal grate etc.)
Step 4. Light the flame. Use a match or lighter to start the flammable material.
For newspapers, tilt the chimney slightly to the side, light the paper and return chimney to its upright position.
For lighter cubes, set cubes in the area, light them and set chimney over top of the cubes.
Step 5. Wait for light ash. You'll first see a small flame, then it will turn into bigger flames and the coals will eventually develop a gray ash. The entire process takes about 10-15 minutes.
Step 6. Arrange coals and cook.
If you're using the coals with a Dutch oven, the recipe should tell you how many coals should be placed below the oven and how many should be placed on top of the lid. I like using tongs to place the coals in the best position for that cooking process.
If you're grilling with your coals, pour them on the charcoal grate in the proper position, direct or indirect heat, according to the recipe you are cooking. Then place the cooking grate in your grill and add the food.
Safety Tip: When you are handling hot chimneys, grill grates and Dutch ovens, it is important to use heat-resistant gloves to protect your hands and arms from getting burned.
932°F Heat Resistant Leather Long Sleeve Insulated Grill Gloves
---
Best Charcoal Chimney Starter
We have owned several different chimney starters and we use them all the time … on camping trips and in our backyard.
Weber Rapidfire Chimney Starter
The Weber 7429 Rapidfire Chimney Starter is our favorite because…
It has two handles.
The stationary handle is easy to grip and does not get extremely hot because it is protected by the large heat shield.
The swinging handle allows you to comfortably carry the chimney and aim the hot coals to the exact position where you want to pour them.
It holds a good amount of charcoal.
Is made of quality materials with sturdy construction and stands the test of time with normal wear and tear.
Large Heat Shield
Two-Handle Design
---
Why You Shouldn't Use Lighter Fluid
Starters that use petroleum products can add an unappetizing flavor to grilled meats and vegetables. And, they typically cause charcoal to burn faster than desired. In addition to the undesirable taste, many people just don't like the idea of ingesting food that was cooked with petroleum. Get more camping tips so your trips are as great as possible!
---
Awesome Recipes Using Charcoal
When we make Dutch oven camping recipes, we use campfire coals or charcoal briquettes. Here are some of our favorites:
You can make camping grill recipes using a propane or charcoal grill. Some of our favorites include:
---
FREE Printable Menu Planner
Stay organized and have fun planning your meals!
Get your FREE printable camping trip & menu planner before you create your next meal plan!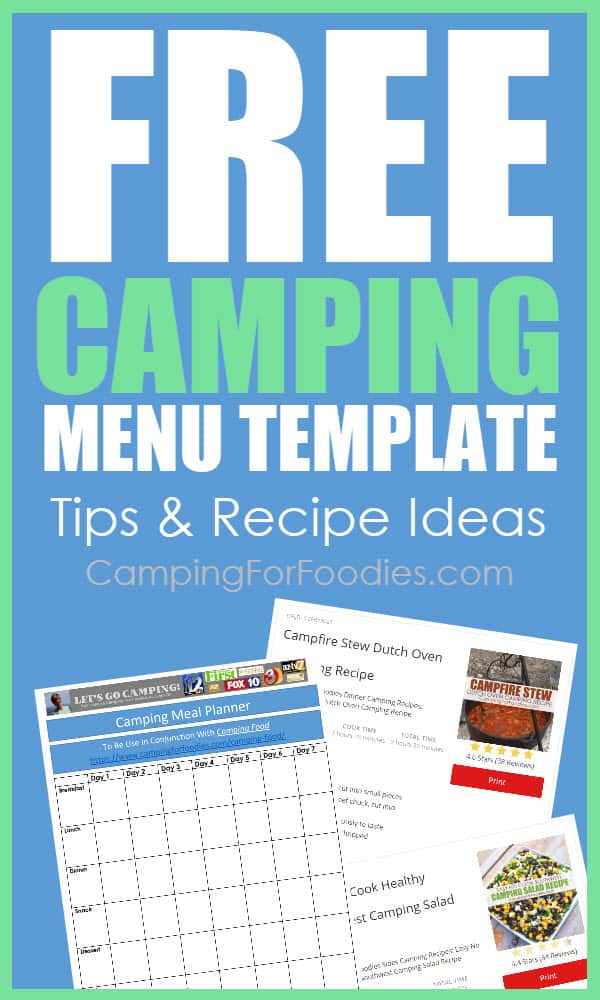 ---
Great Food Ideas
No matter what type of cooking you want to do, we've got awesome recipes that are easy to make on your camp trips in the Great Outdoors!