Hot Italian Sausage Soup Recipe
Hot Italian Sausage Soup Recipe
When the weather is a little chilly, having an easy recipe for a quick hearty soup is essential. My Hot Italian Sausage Soup Recipe is the perfect meal to enjoy while sitting around a roaring campfire. This soup is warm, creamy and a little spicy with hot Italian sausage as a main ingredient. This simple one-pot recipe is an easy Dutch oven camping recipe too making for easy clean up. Psst we're compensated…see our disclosures.
Lodge Camp Dutch Oven Lid Lifter
Camp Chef Heat Resistant Gloves
Lodge Camp Dutch Oven Lid Stand
&
How To Make This Hot Italian Sausage Soup Recipe
Get The Campfire Going
If you are cooking this Hot Italian Sausage Soup Recipe on a camping excursion in chilly weather, get your campfire going first. It will keep you warm as you prep your ingredients and it will be ready when you begin cooking. You want to cook over hot coals rather than large pieces of flaming wood. Using Campfire Heavy-Duty Log Tweezers helps you stay a safe distance from the fire.
Brown the meat
In a Dutch oven, over medium high heat, brown hot Italian sausage until no longer pink. Remove the crumbled meat to drain. If there is a lot of grease in the Dutch oven remove most of it, but if your sausage is relatively lean, you can skip removing the grease. If you don't have a campfire grill grate, you can use a Dutch Oven Tripod to hang your oven over the fire.
1 pound bulk hot Italian sausage
Cook the bacon, onions and garlic
Add the diced bacon to the Dutch oven and cook until crisp. Same thing here with the grease, if there is a lot of it, remove some of it … you want a fair amount to coat the bottom of the Dutch oven for cooking your onions and garlic. Just before the bacon is crisp, add the onions and garlic, cook them until softened.
4 slices bacon, diced in ½ inch pieces
1 large onion, diced
4 cloves garlic, minced
Lodge Durable Pan Scrapers
Disposable Dutch Oven Liners
Lodge Camp Dutch Oven Tote Bag
&
Add the broth and potatoes
Add the chicken broth and bring to boil. Then, add the cubed potatoes and boil until they are tender; you'll probably have to add a little more wood to your campfire to get the heat up to high for this. You will also want to put the oven lid on to get the potatoes cooking nicely. Use a Dutch oven lid lifter so you don't get burned handling the hot lid.
2 32oz. cartons chicken broth
6 medium sized potatoes, cubed to rustic bite-sized pieces
We like a rustic chunky soup so we cube our potatoes into large bite-sized pieces, but that also means it takes a little longer to get them to the fork-tender consistency. Don't add the rest of the ingredients before the potatoes are done cooking; there is no room for "crunchy potatoes" in your Hot Italian Sausage Soup! A Dutch Oven Lid Stand is handy for keeping your lid clean during the cooking process.
Stainless Steel Cast Iron Cleaner
Cast Iron Oil
Rapidfire Chimney Starter
&
Add the cream and sausage
Now add the hot Italian sausage back to the pot with the heavy cream. Continue cooking until those ingredients are heated through.
Add the spinach
Just before serving, stir in the fresh spinach.
2 cups packed fresh spinach, stems removed
We love eating this Hot Italian Sausage Soup as a main course with crusty bread on the side. It really is that hearty and filling (and that is saying A LOT with my family who typically believes a meal is not complete without a big piece of meat as the centerpiece on the dinner table!)
Coghlans Vinyl Tablecloth
Coleman Tablecloth Clamps
Camping Tableware Set
&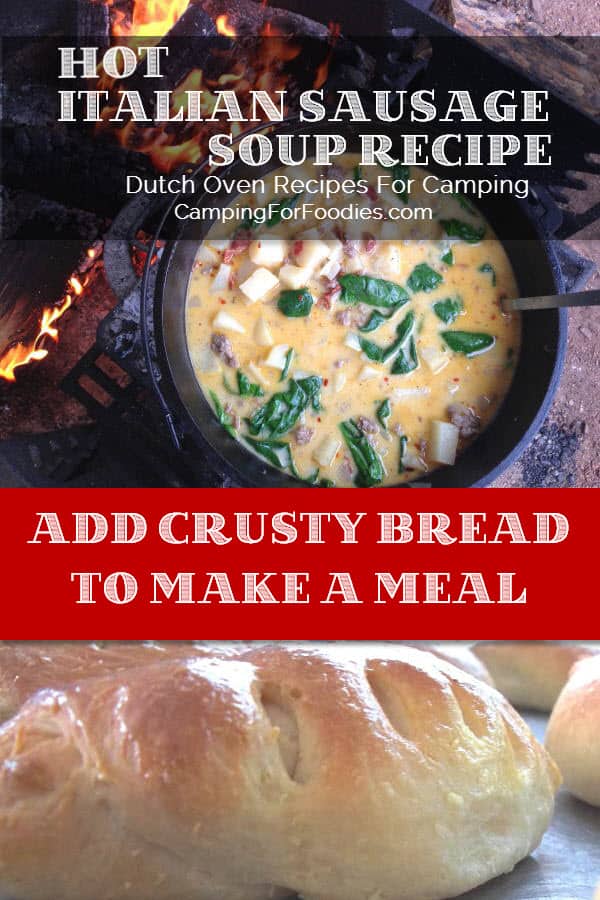 On the other hand, if this Creamy Italian Sausage Soup is a first course, you might want to try my Fish in White Wine and Garlic Sauce in Foil Packets at the Campfire or Drunken Meatballs Over Spaghetti as your main entrée.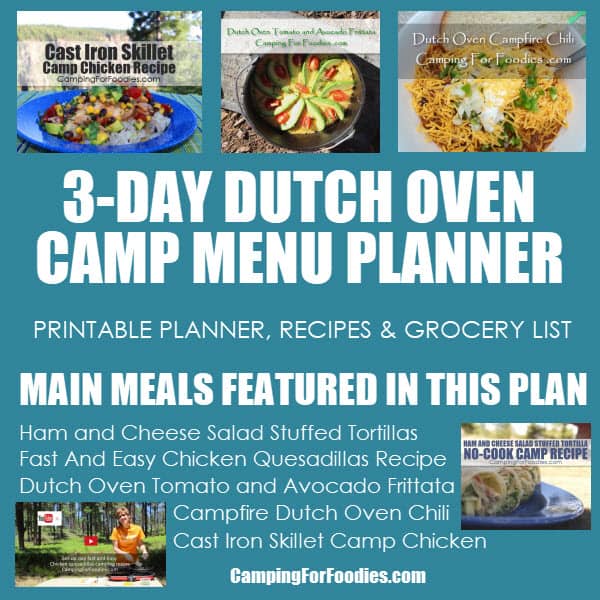 No time to look for recipes, create a menu and write a grocery list? No Problem! Get our 3-Day Dutch Oven Camp Menu Plan here!
When preparing your campfire for cooking, I like to use "tweezers" to arrange the campfire logs and coals. Tweezers provide more control than just using a fire poker or shovel. You'll want to keep your campfire flames roaring to keep you warm and your Hot Italian Sausage Soup Recipe on schedule for your hungry campers.
&
&
Lodge A5 Camp Dutch Oven Lid Lifter
Camp cooking tip: Don't burn yourself while stirring and checking on your Hot Italian Sausage Soup Recipe! If you don't already have a lifter, you will want to get one! These things are awesome! A Dutch oven lid lifter allows you to stay a safe distance from the hot campfire while removing the hot cast iron lid from your Dutch oven while it is still cooking over the campfire.
&nbsp
&
Lodge 3TP2 Camp Dutch Oven Tripod
If you are cooking this Hot Italian Sausage Soup Recipe in a remote camping environment without amenities like campfire rings with racks, don't worry, you have options. Using a camp Dutch oven tripod allows you to easily cook over a campfire by hanging your oven right over the hot fire. A hanging oven can have a tenancy to swing a bit while you are stirring so be cautious when cooking hot liquids over a hot campfire.
&
&
Lodge A5-3 Camp Dutch Oven Lid Stand
When you remove your Dutch oven lid to stir your Hot Italian Sausage Soup Recipe, have a "landing pad" ready for the lid. There is nothing worse than setting it directly on the ground and picking up dirt and rocks. Using a camp Dutch oven lid stand allows you to keep you hot cast iron Dutch oven lid off the ground and clean while cooking your camp meals.
&
Get More Dutch Oven Recipes For Camping!
 Grocery Tote
 Funny Apron
 Cutting Mat
 Mat Set
 Shaker Set
&
If you need camping recipes and menu ideas, you can find them here at the Camping For Foodies Camping Recipes list.
Don't miss a thing…sign up for Camping For Foodies email updates!
Your purchase of our products will help support World Vision ® Building a better world for children.