How To Empty Propane Tanks For Disposal & Transport: Quick & Safe Methods
It is important to know how to empty propane tanks for transport and proper propane tank disposal.
There are several reasons you may need to empty tanks:
Your tank is damaged and needs to be disposed.
Your RV is going in for service and the tanks must be empty.
You are traveling/transporting your RV and your propane tanks are required to be empty (like on a ferry).
Other circumstances that prohibit full tanks.
Psst we're compensated…see our disclosures.
---
Tagged And Certified As "Gas Free"
If a propane tank is not truly empty of all propane fuel and fumes, it has the potential to explode and cause serious damage and even death. That's why you may be required to show proof that your tanks are entirely empty and no longer pressurized.
It is common to find shipping rules that require empty tanks to be "tagged and certified as gas free" by an authorized propane dealer or service company.
The propane professional will arrange for the tank to burn itself completely off to overcome the native propane pressure in the tank. This usually includes connecting the propane tank with an extension via hose attachments and a large propane-burning appliance that takes a lot of gas to power it (like a large patio burner) so it burns off as quickly as possible. Once the tank is empty they will inert it with nitrogen.
The process of emptying and certifying propane tanks can be quite expensive. Many RVers find it is less expensive to purchase a new tank and fill it with propane at their destination rather than emptying and certifying their existing tanks.
---
NEVER Empty a Propane Tank This Way
You can find instructions all over the internet that tell you how to empty a propane tank but the advice should be AVOIDED because it is VERY DANGEROUS. This is how you SHOULD NOT empty propane gas cylinders:
Disconnect the tank from the plumbing gas line or equipment it is attached to (Don't do this).
Take the tank into an outdoor location in an open space area (Don't do this).
Invert the propane cylinder so the bottom of the tank is facing upwards and the handles are on the ground (Don't do this).
Open the valve and let the liquid propane flow out (Don't do this).
Close the valve (Don't do this).
---
Why The Common Method Is UNSAFE
Propane is an invisible compressed gas that is heavier than air. When you take a tank to an open-air location and let the gas drain, you can't see it so you have no idea where it is settling.
It can travel quite a distance and will settle at the lowest point creating a pool of explosive, invisible gas that can cause a deadly explosion.
---
How To SAFELY Empty Propane Tanks
There are only two method to do this yourself.
NEVER Release Propane Into The Atmosphere. ALWAYS Burn It Off Or Transfer It.
How To Burn Propane From A Tank
The safest gas is the one that's on fire … because you know where it is … you can see it. If you don't want to take your tank to a professional, you can empty the tank yourself by doing the following:
Hook up your tank to a propane burning appliance.
Use an appliance with a visible flame, if possible. Alternatively, just run one of your RV systems, like the propane heater.
Light the appliance.
Let it run until the flame is out or the apparatus runs out of gas.
Now you know the propane tank is empty, but, explosive vapors may still be in the tank. Don't remove the tank valve yourself, let a professional do it after they have verified it has been purged of all vapors.
How To Transfer Propane From A Tank
The other way to empty a propane tank is to transfer the gas to another tank. If you only have a few pounds of propane, you can do 1 pound camping propane cylinder refills for your camping equipment. If you've never done it before, we have a complete blog post and printable instructions to show you how to refill 1lb propane tanks.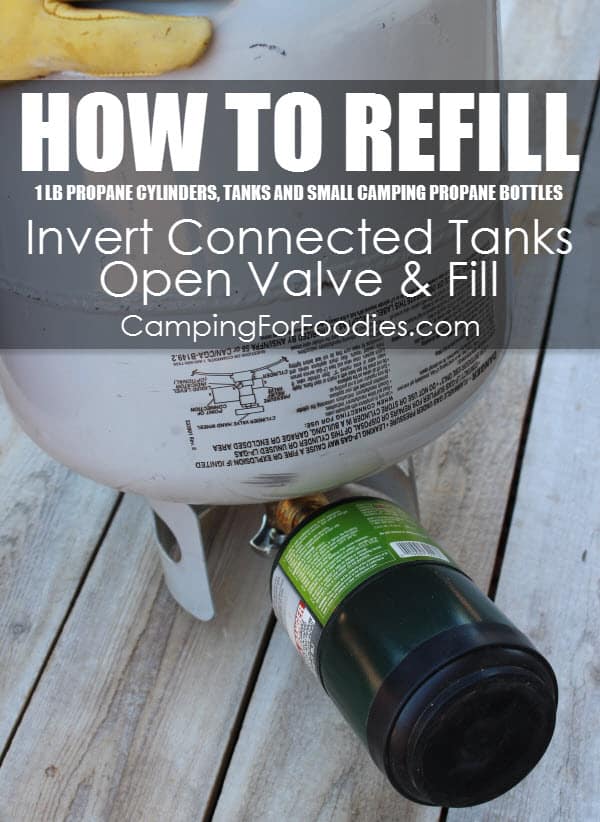 ---
Gauges Can Lie
A fuel gauge is great to tell you how much propane is in a tank you have in use. They are not accurate enough to tell you if the tank is safe for disposal and totally empty of all liquid and residual vapor fumes.
A propane tank's external gauge indicator will tell you the liquid fill level of the tank, it WILL NOT tell you how much pressure is in the tank. So, even if your gauge is reading "zero" there could be liquid fuel that is not showing on the float. Some larger tanks have two gauges, one indicates the liquid level and the other indicates the pressure level.
As with all equipment, a gauge is never totally accurate. That's why a tank should be emptied, purged and filled with an inert gas to ensure it is inexplosive.
---
How To Dispose Of Unwanted Tanks
There are three things you can do with unwanted tanks:
Put them out of service
Recycle them
Reuse them
Out Of Service
Your local public works department will be able to tell you what to do with tanks you want to put out of service. They often have hazardous waste collection events and may have instructions that allow you to throw them in the garbage with local household pickup. We have more information on how to dispose of small propane tanks.
AmeriGas is the largest propane supplier in the United States. You can buy, exchange and dispose of propane grill tanks through their local retailer partners in many convenience stores, grocery stores, hardware stores and home improvement stores.
Blue Rhino is another company that specializes in propane grill cylinder exchanges, recycling and disposal. If you have an old propane tank you no longer want, you can just place it beside a Blue Rhino display and they'll take care of it for you.
Recycle
Scrap metal dealers will usually accept tanks that are fully emptied of all gas and vapors. You can usually find recycling events in local communities too.
Reuse
If your empty tank is in good condition, it can be reused. Refilling RV and grilling tanks is an option. We are members of the warehouse, so, we like using the Costco propane refill service.
For 20-pound propane barbecue cylinders, don't forget about the convenient exchange options through AmeriGas and Blue Rhino we mentioned earlier.
---
How Much Remaining Gas Is In Your Tank?
If you just want to know if you have enough propane to finish cooking your burger on your propane barbecue grill, or have enough in your RV tank to run your refrigerator and hot water heater for a weekend, we have tips on how to tell if a propane tank is empty.
If you want something really fancy, you might want to get a couple of digital propane tank scales that have a magnetic sensor that mounts to the bottom of the tank providing a digital readout via bluetooth and work with smart phone apps.
Different models can provide a variety of information including:
cook time
gas fill percentage
pounds of gas left
gallons of propane remaining, etc.
You can find digital scales at your local hardware store or online.
LP Tank Check Dual Sensor, Monitor Kit, Propane Tank Gas Level Indicator
---
There are so many awesome uses for propane on camping trips. See all of our tips for using it, finding it, cooking with it (to make AMAZING recipes) and the best gear!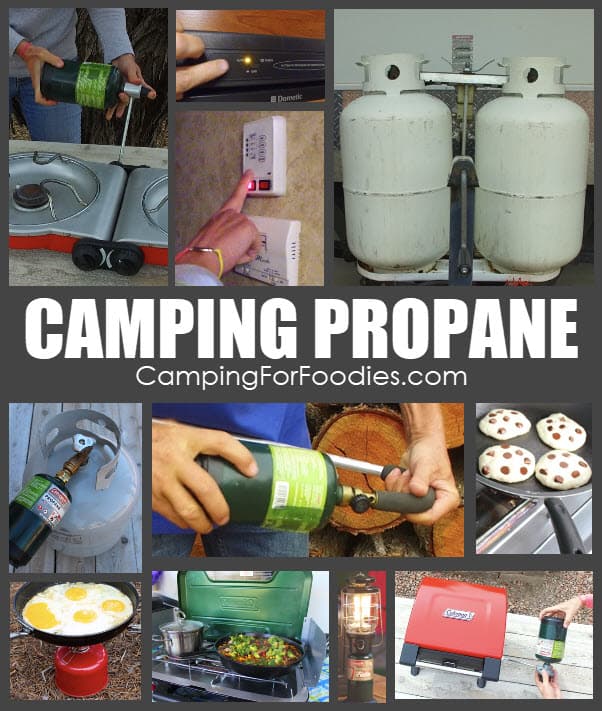 ---
Camping Food Ideas Using Propane
Whether you're using a portable propane camp stove or your RV's stove, here are some great camp stove recipes you should try!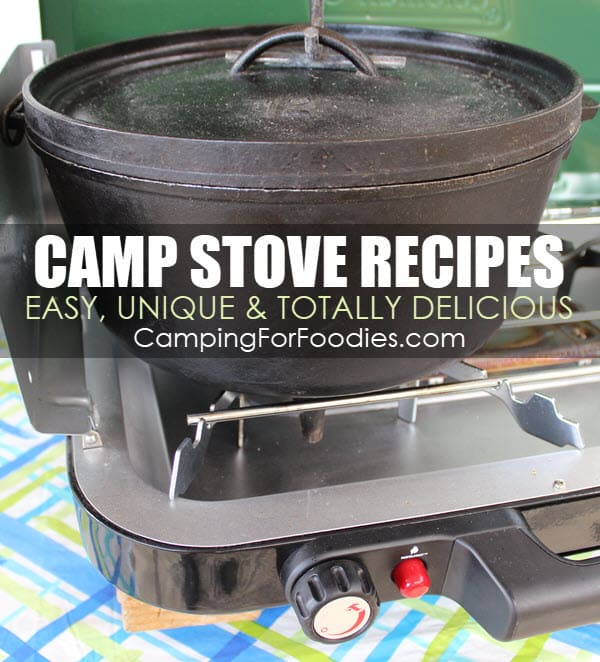 Enjoy cooking some awesome meals using propane, charcoal or campfire coals!