How To Refill 1 lb Propane Cylinders, Tanks And "Disposable" Small Camping Propane Bottles
How To Refill 1 lb Propane Cylinders, Tanks And "Disposable" Small Camping Propane Bottles
Why throw away "disposable" small camping propane bottles when you can refill them? It is easy, safe, inexpensive and environmentally friendly to re-use 1 pound propane tanks. We'll show you how to use a propane refill adapter to refill 1 lb propane cylinders in minutes … and, we're guessing you are going to love this cool camping gadget! Psst we're compensated…see our disclosures.
---
When you are finished refilling your small camping propane bottles, you may want to relax in this "I'm Unplugging" Hammock With Attached Accessory And Carrying Bag! The attached accessory bag allows you to stay reclined as you reach for your book, drink and sunglasses that are conveniently tucked into the attached bag within arm's reach! At the end of a relaxing weekend, just fold it up and pull the string for easy transportation and storage! Check out the video to see it in action! But first, let's get your propane cylinders refilled!
&
---
Tools Needed To Refill "Disposable" Small Camping Bottles / 1 lb Propane Tank Cylinders
Assuming you already have a "disposable" small propane camping bottle and a larger propane tank, you really only need one tool, a Propane Refill Adapter, to transfer propane from the larger tank into the small one. Here are the items we use when we refill our cylinders.
---
Propane Refill Adapter
1 lb. Propane Cylinders
20 Pound Propane Tank
Safety Glasses
Scale
Gloves
&
---
Steps To Refill 1 lb Propane Cylinders, Tanks And "Disposable" Small Propane Bottles
NOTE: This process should be done outdoors for proper ventilation.
---
1. Check The Empty 1 lb Cylinder For Good Condition.
1 Pound Propane Camping Bottles
Check the condition of your 1 lb Propane Cylinders to ensure the tanks are not dented or rusty and that the threads are in good condition. If a bottle is not suitable for refilling, dispose of it properly. Only refill bottles that are in good shape.
&
---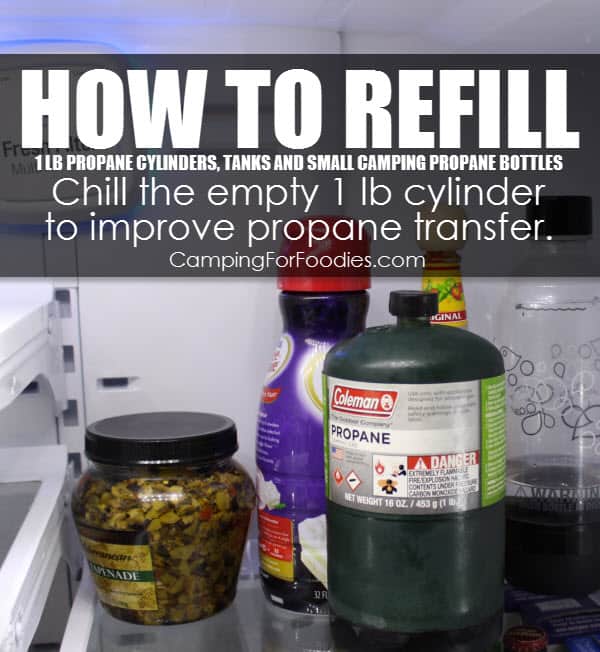 ---
2. Chill The Empty 1 lb Cylinder.
The propane is actually moved from one tank to another by pressure. When there is a pressure difference between the two tanks, the higher pressure tank will force propane to move to the tank with the lower pressure until the pressure in both tanks equalizes. To help this along, leave the Larger Propane Tank in the sun to warm it up and raise the internal pressure AND cool the 1 pound Propane Cylinder by placing it in a cooler environment such as inside a freezer, refrigerator, ice cooler or at the very least, in the shade which lowers the internal pressure of the bottle. This will ensure adequate propane transfer into the smaller bottle.
---
3. Weigh The 1 lb Empty Cylinder.
Don't refill the 1 pound cylinder beyond its allowable limit. In order to know how much propane you have in the bottle once it is refilled, you have to know the weight of the empty bottle prior to filling it. We use a Kitchen Scale for this step.
&
---
4. Thread The Adapter To The Larger Filled Tank.
When you connect the Propane Refill Adapter into the valve of the larger tank, remember it has left-handed threads (so turn the adapter to the left to tighten). You may need to use a wrench to get a snug fit but hand-tightening with a pair of Work Gloves has always worked for us.
UPDATE: Thank you to Tommy who mentioned in a comment to tighten the propane refill adapter to the larger propane tank a little more than hand tight because you don't want the refill adapter to remain on the refilled 1 lb camping propane bottle when you remove it from the larger tank.
&
---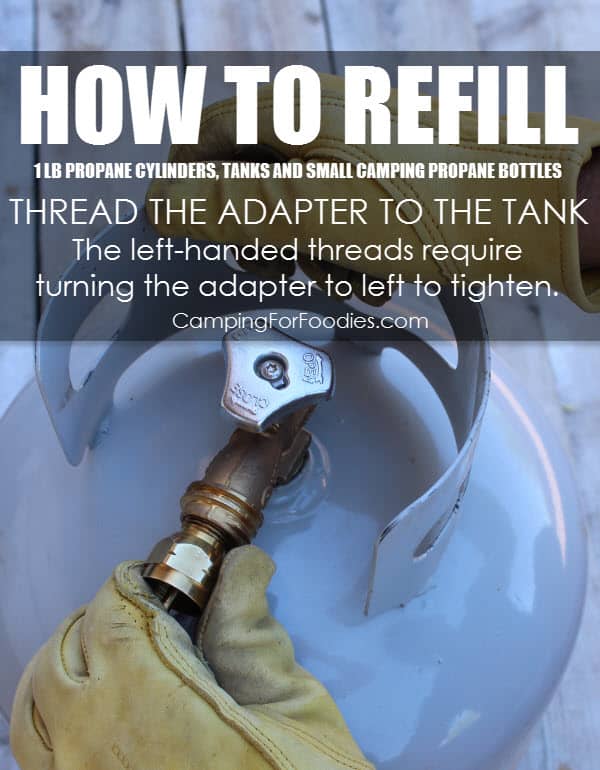 ---
5. Connect The Empty 1 lb Cylinder To The Adapter.
Just screw the 1 pound cylinder to the Propane Refill Adapter being careful not to cross-thread!
&
---
---
6. Invert The Connected Propane Tanks.
Now that both tanks are connected by the Propane Refill Adapter, you want to invert the entire "contraption" and set it on a flat surface.
---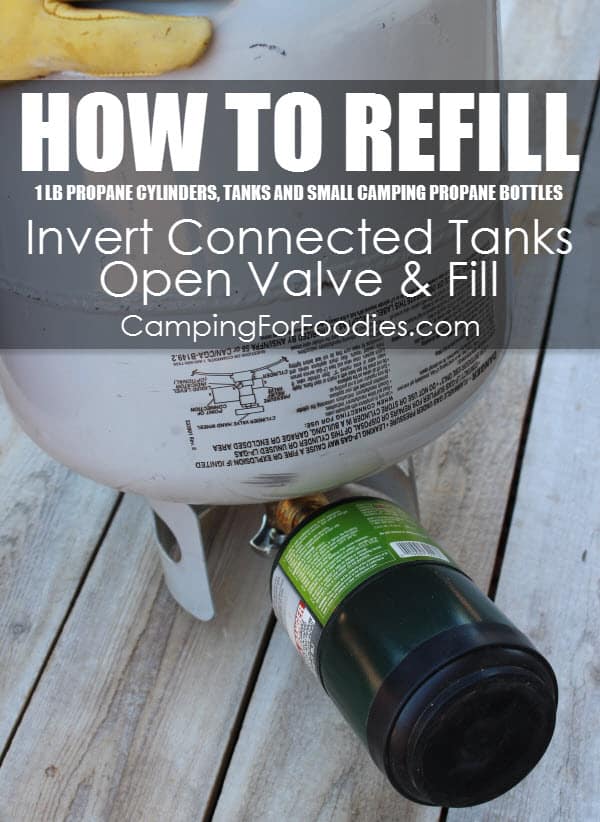 ---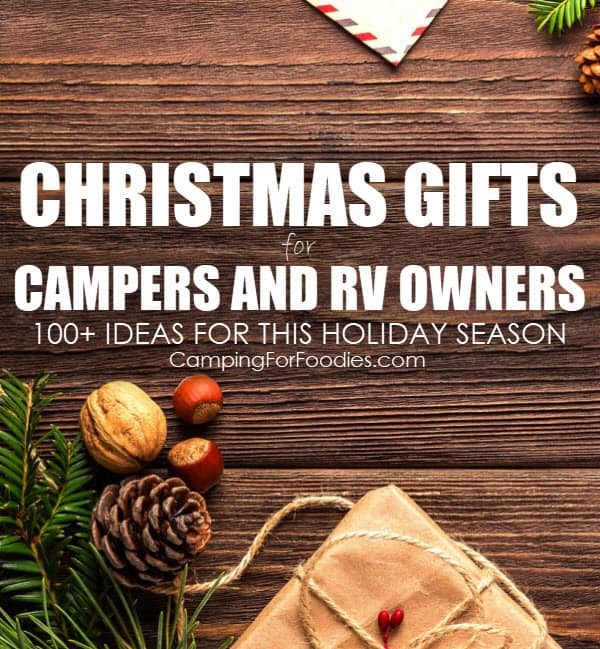 As a side note: Propane Refill Adapters are some of the most popular gifts given to campers during the holiday gift-giving season. If you are looking for more ideas, check out our Christmas Gifts For Campers And RV Owners: 100+ Ideas For This Holiday Season post! During the season, we update this post DAILY so you can see the most popular gift ideas.
&
---
7. Open The Larger Tank's Valve.
With everything inverted, VERY SLOWLY open the valve on the Larger Propane Tank until you hear the transfer of propane taking place. Keep everything inverted during this part of the process so maximum liquid transfer takes place.
UPDATE: Thank you to Steve who mentioned in a comment that new propane valves have a "sudden lock out" safety feature (which is triggered in the event that there is suddenly an open line, such as a pipe rupturing.) To avoid triggering the sudden lock out, just open the valve much more slowly at first. There will be a point where there is enough pressure in the little bottle to keep the safety valve from closing, then you can fully open the large tank valve.
&
---
8. Listen For The Transfer To Stop.
The sound of the transfer will come to a stop when the pressure in both tanks is equalized. We usually get just over 1 pound of propane in a refilled cylinder which is well within the safety limits of the max-rated capacity of the cylinder.
---
9. Turn Off The Larger Tank's Valve.
After the transfer is complete, close the larger tank's valve and turn the tanks right-side-up.
---
10. Remove Both Tanks From The Adapter.
Solid Brass Refill 1 LB Propane Bottle Caps
Unscrew the 1 lb refilled propane cylinder from the Propane Refill Adapter and replace its plastic thread protector cap to safeguard the threads. If the original caps are not in good shape, you may want to consider replacing them with Solid Brass Refill 1 LB Propane Bottle Caps. Now, remove the adapter from the larger propane tank by turning the Adapter to the right (remember these are left-handed threads.)
&
---
---
11. Weigh The 1 lb Refilled Propane Cylinder.
To ensure you have not exceeded the max-rated capacity of the 1 lb cylinder, use a Kitchen Scale to weigh the refilled cylinder and calculate the net propane weight by subtracting the empty weight from the new refilled weight. Each model is different so check with your manufacturer for specific details. UPDATE: Thank you to Tommy who mentioned in a comment to check the refilled bottle for leaks with soapy water … he suggests 1 part Dawn Dish Soap to 10 parts water. Use a soap that has no phosphorus which attacks copper and brass. Now you are done and ready to use your refilled camping propane cylinder with some totally cool gear … check these out! 😎
&
---
Camping Gear That Uses 1 Pound Propane Cylinders
Most people use 1 lb Propane Cylinders to provide energy for cooking food. We have used these cylinders with other types of camping equipment too. Here are some other cool camp items you may want to use with your refilled "disposable" small propane bottles on your next camp trip.
Propane Lantern
Indoor Safe Propane Heater
Propane Coffee Maker
Hot Tap Travel Shower
Garden Torch
Propane Outdoor Oven/Stove
Bottle Top Propane Stove
Camp Propane Grill/Stove
Propane 2-Burner Folding Stove
3-Burner Propane Stove
Portable Propane Grill
Propane/Butane Dual Fuel Stove
&
---
More Helpful Tips For RV And Tent Camping
---
No time to look for recipes, create a menu and write a grocery list? No Problem! Get our 3-Day Dutch Oven Camp Menu Plan here!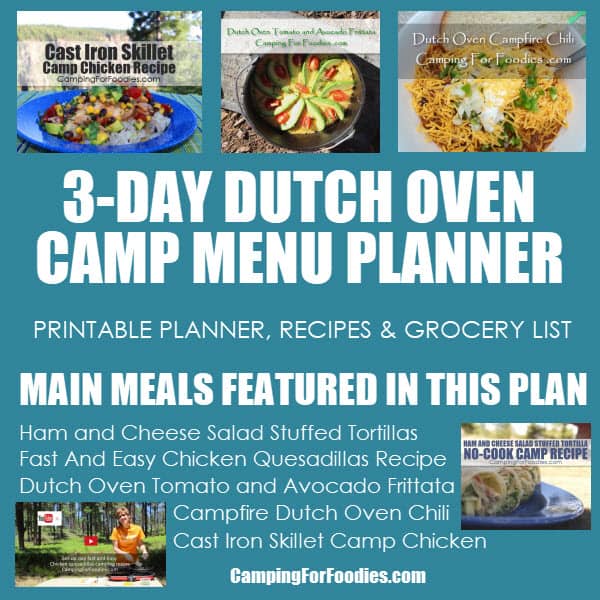 ---
Our Cool Camping Products Make Great Gifts!
Tote
Cutting Mat
Mat Set
Shaker Set
Apron
Hammock
Women's Tee
&
---
If you need camping recipes and menu ideas, you can find them here at the Camping For Foodies Camping Recipes list.
Don't miss a thing…sign up for Camping For Foodies email updates!
Your purchase of our products will help support World Vision ® Building a better world for children.