Mexican Three Bean Salad With Corn (Non-Perishable Ingredients)
This is one of those camping food recipes no refrigeration required … which is great until you see it has 17 ingredients … BUT … you just open cans and measure a few spices! You'll have this flavor-packed dish on the table in 10 minutes (if you are slow with the can opener) because this Mexican Three Bean Salad With Corn Camping Recipe requires no cooking!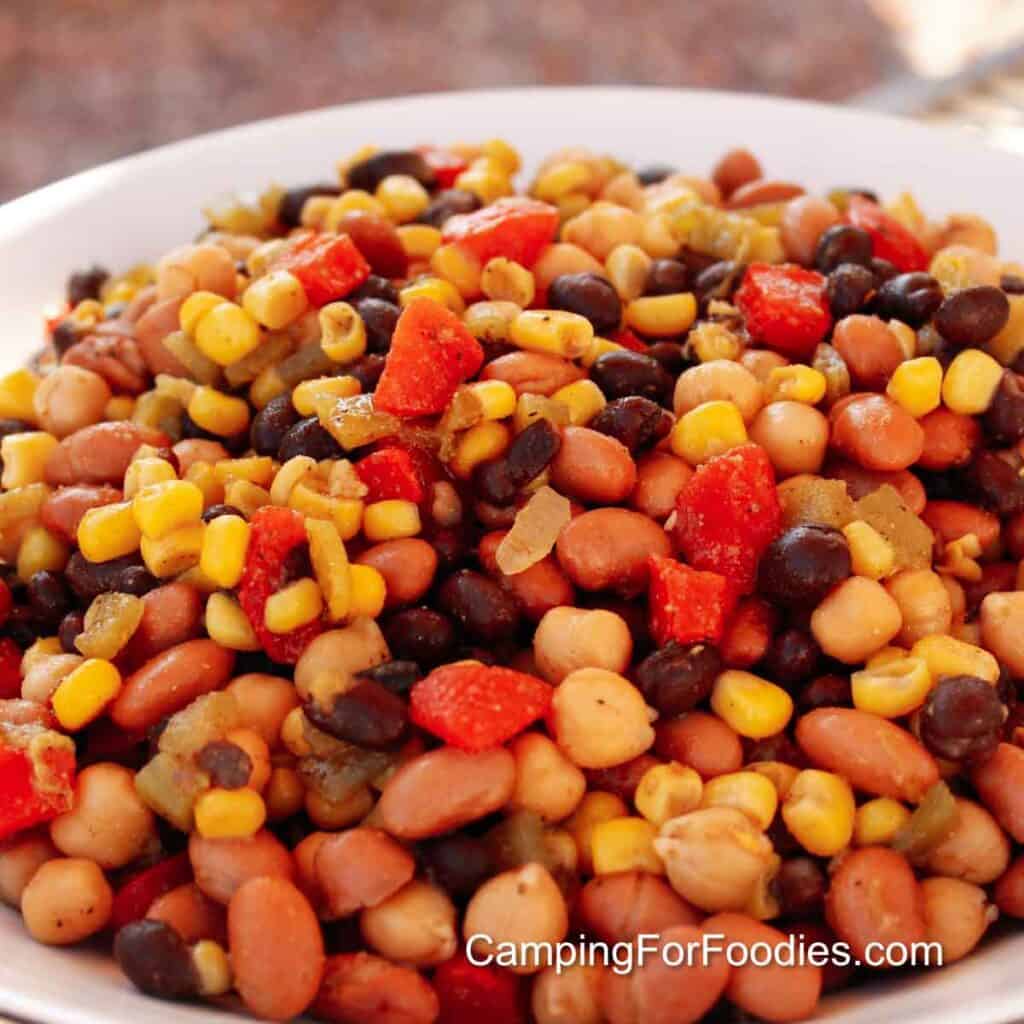 Psst we're compensated…see our disclosures.
Non-Refrigerated Ingredients Camping Side Dish Recipe
Most camping salads use fresh ingredients but this one uses only shelf-stable ones.
This recipe is one that I submitted as part of an emergency preparedness campaign to help people feed their families with pantry ingredients that don't require refrigeration … which is similar to camping without a refrigerator, cooler or even a stove in this case!
Emergency Tip: Develop a family disaster plan for peace of mind. Make sure it includes a family communication plan, evacuation concepts and exit routes. Also, create your "Go Bags" and "Stay Home Kits" and know when to stay or go.
---
How To Make It
Step 1. Combine salad ingredients.
Get your can opener ready because you'll be giving it a workout with this recipe. You will be combining the garbanzo beans, black beans, pinto beans, corn, roasted red pepper and green chilies in a large bowl.
Step 2. Whisk the dressing ingredients.
Now you are going to whisk together the apple cider vinegar, olive oil, honey, dry mustard, garlic powder, onion powder, cayenne pepper, celery seed, cumin, salt and pepper in a small bowl to make the dressing.
Step 3. Toss together and enjoy.
Lightly drizzle the dressing over the salad and gently toss everything to combine for easy camping lunches or light dinners.
---
Pairings
This Mexican bean salad recipe is great as a side dish for cookout foods like grilled meats and burgers. It's also and excellent choice for our Dutch oven Mexican recipes.
If you want a meal that consists of only gluten free camping food and is easy on the budget, try pairing this salad with a cheap cut of meat that is made delicious with a simple marinade. My Grilled Flat Iron Camping Steak Recipe tastes fantastic and is tender because it marinates for 6 hours, BUT, only takes 5 minutes to prep and 8 minutes to cook!
---
Make It A Main Dish
This salad makes a great gluten-free side dish or main dish that's vegan-friendly.
If you have meat-eaters in your crowd, you might need to add a canned protein (like chicken or tuna) for them to consider it a main dish.
---
Leftovers
Refrigerate leftovers in an air-tight container. I like reinventing these leftovers a couple of different ways.
It's easy to make a quick dip by mashing the leftovers with a fork then tossing in a bit of red onion, cilantro, cubed avocado and spritz in a little lime juice or lemon juice. Serve with tortilla chips for a bean guacamole appetizer.
You can also make fast bean and cheese quesadillas. Use a slotted spoon or drain the liquid from the beans first, then, layer bean salad on top of a tortilla and top with cheese, add another tortilla to make a sandwich and toast till tortilla is golden brown and the cheese is melted. I like to top with some chopped tomatoes and fresh herbs like cilantro or basil.
If you are preparing camping meals for two, you can make this recipe as a side dish for one meal then use the leftovers to make grilled bean burritos for another meal!
---
Similar Recipes
If you want a warm side dish, try these Dutch Oven Baked Beans. They combine hamburger, bacon and five different types of canned beans in a simple homemade sauce.
My 5 Can Chili requires 5 minutes for meal prep! This chicken and corn chili uses only non-perishable ingredients including canned chicken, pinto beans, prepare salsa and spices like cumin and chili powder. The taste is amazing for such a simple recipe.
My Smoked Green Beans are like traditional southern green beans but with added complexity because they are cooked in a portable pellet grill smoker.
Get your FREE printable camping trip & menu planner before you create your next meal plan!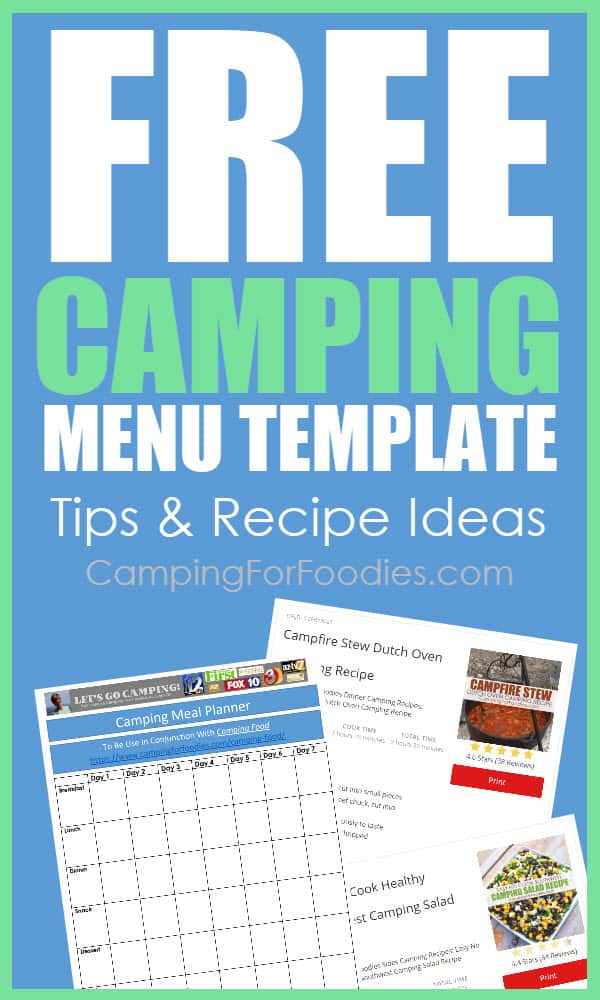 ---
Print This Recipe
Mexican Three Bean Salad Camping Recipe
Camping For Foodies Sides Camping Recipes: This Mexican 3 Bean Salad With Corn is one of my quick salad recipes that is great to take to campsite potlucks!
Ingredients
1

(15 oz)

can garbanzo beans

drained and rinsed

1

(15 oz)

can black beans

drained and rinsed

1

(15 oz)

pinto beans

drained and rinsed

1

(15 oz)

can Mexican style corn kernels

drained

1

roasted red bell peppers from jar

chopped

1

(4 oz)

can green chilies
Salad Dressing Ingredients
1/8

cup

apple cider vinegar

2

tablespoons

olive oil

1

tablespoon

honey
Dry Spices Can Be Measured & Mixed In Advance
1/4

teaspoon

ground dry mustard

1/4

teaspoon

garlic powder

1/4

teaspoon

onion powder

1/4

teaspoon

cayenne pepper

1/8

teaspoon

celery seed

1 1/2

teaspoons

cumin

1/2

teaspoon

salt

1/4

teaspoon

ground black pepper
Instructions
In large bowl combine the garbanzo beans, black beans, pinto beans, corn, roasted red peppers and green chilies.

In small bowl whisk together the salad dressing ingredients and dry spices.

Pour dressing over salad and gently toss to combine. Enjoy!
Nutrition Information
Serving:
1
g
Calories:
58
kcal
Carbohydrates:
4
g
Protein:
0.3
g
Fat:
5
g
Saturated Fat:
1
g
Polyunsaturated Fat:
1
g
Monounsaturated Fat:
4
g
Sodium:
282
mg
Potassium:
31
mg
Fiber:
0.3
g
Sugar:
3
g
Vitamin A:
74
IU
Vitamin C:
3
mg
Calcium:
10
mg
Iron:
0.5
mg
---
More Recipe Ideas
Make tasty yet uncomplicated meals on your next trip.