10 Amazing Camping Salads You Need To Try On Your Next Trip
Camping salads can be some of the most versatile camping food items on your menu! Whether you want a side dish or main dish, these camping salad recipes are a great addition to your outdoor meal plans.
Camping Salad Ideas
We've organized these recipes into two groups.
No cook salads
Cooked salad recipes that require toasting, boiling, frying or grilling

Psst we're compensated…see our disclosures.
Raw Salads Recipes
These cold salads for camping require absolutely no cooking making them easy to prepare at the campsite.
Making "quick pickles" just requires a little chopping. This fresh & easy salad features English cucumbers, red onion, bell pepper and garlic in a simple homemade dressing with fresh dill.
---
Need easy make-ahead salads for a crowd? Try this super-popular Southwest camping salad featuring canned black beans that are slightly sweetened with corn and honey. The Southwestern flavors come from a combination of lime, cumin, cayenne, queso fresco cheese and cilantro. Make it up to 2 days in advance!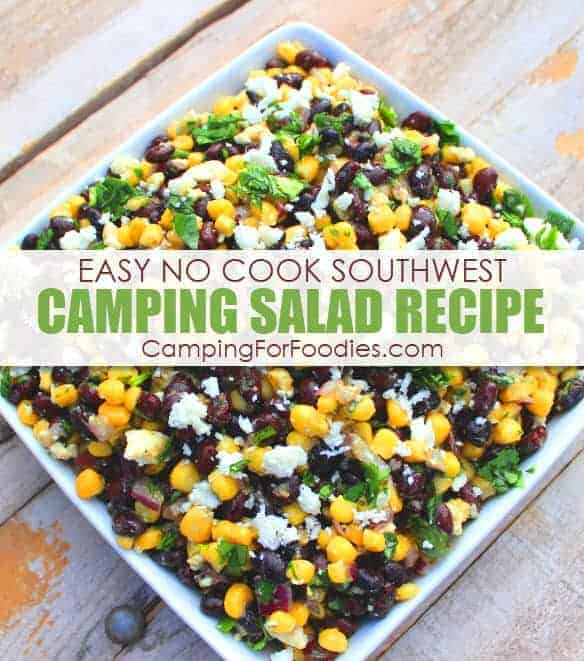 One of the quickest ways to make easy camping meals out of salads is to wrap them in a tortilla and serve them cold or toast them over a propane grill or campfire. That also works well if you have leftovers from your camping dinner recipes that have grilled meat and veggies like our Chicken Shish Kabobs.
---
Looking for almost-gourmet camping recipes making the salad the star of the show for heavy lunches or light dinners? You need to try this Panzanella salad! It is quick to prepare yet filling and fabulously fresh featuring lots of fresh veggies, Italian bread, marinated mozzarella balls and an easy dressing.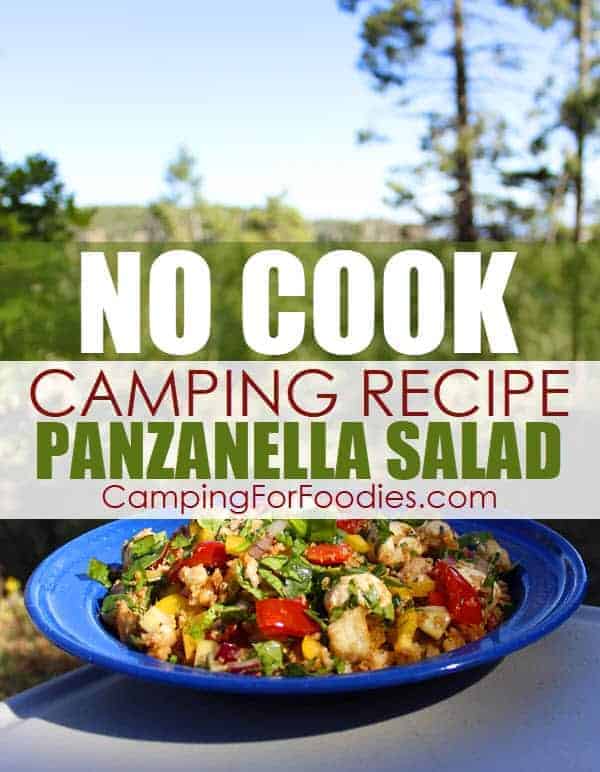 I like serving this as one of my easy camping lunches because it is substantial enough to take us to the dinner hour. Then, I just make light snacks and dessert later in the day.
---

I love camping menu ideas that include seasonal ingredients for salads to take camping in the summer. Use your favorite summer fruit in this scrumptious salad that is tossed in a mouthwatering syrup made from the juice and zest of citrus and combined with honey and fresh mint.
Pairing this yummy salad with a savory recipe is one of my favorite camping breakfast ideas when I am feeding large groups of people. It is also a great option of you're looking for camping dessert recipes that are on the healthier side.
Camp Casual Bowl & Servers Set
---

When your cold food storage space is limited, the best camping foods come out of your pantry! This Mexican three bean salad is made using three types of canned beans, canned corn, green chilies and shelf-stable ingredients to make a quick and flavorful dressing. Just toss everything together and serve!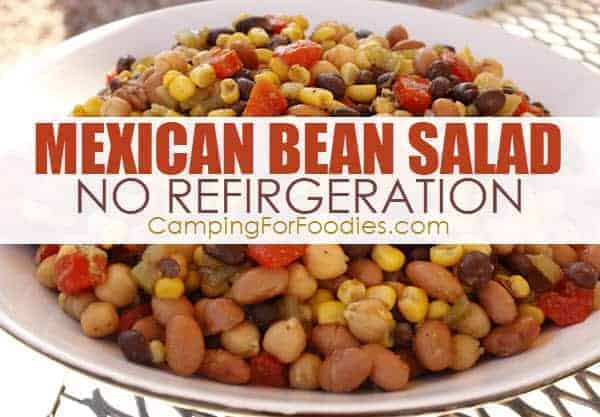 If you are interested in more no cook camping meals, we've got them! And, if you want to totally avoid bringing a refrigerator or cooler to your campsite, we also have more options for camping food recipes no refrigeration required.
---
Cooked Camping Salad Recipes
If you don't have time to cook the ingredients on your trip, you can prepare some of these make ahead salads for camping so they are ready to serve whenever you are ready to eat. Others require a cooking method that will be done in a flash at your campsite.
Summer never tasted so good! This awesome spinach salad features grilled shrimp flavored in a simple homemade marinade along with fresh grapefruit segments, orange slices, avocado and a quick from-scratch dressing. It'll be on your table in about 30 minutes!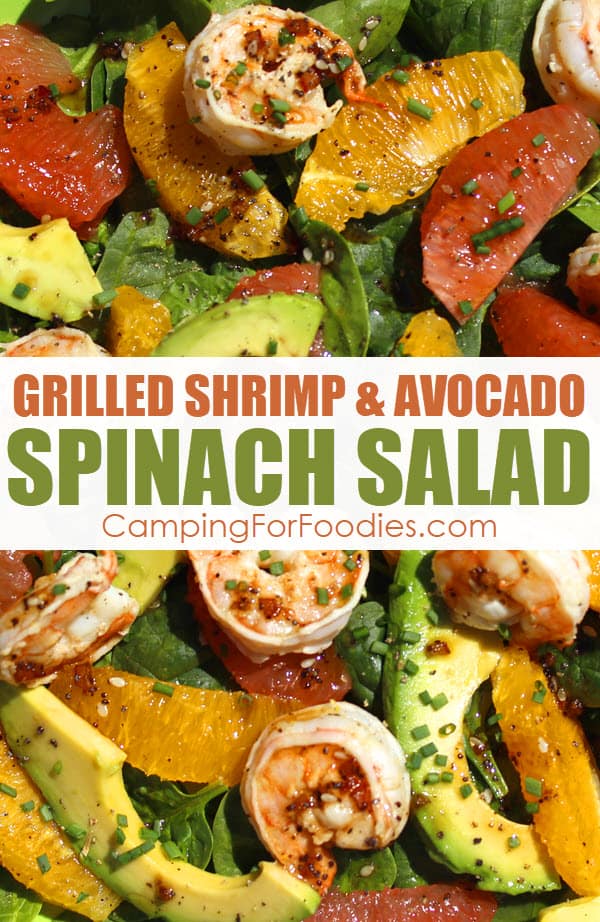 ---

Make ahead potato salads are wonderful for camping trips because they actually taste better after the flavors marry for a day or two. They make great side dishes for quick hamburgers. This crowd-favorite is really special with the addition of bacon, mayo and chives.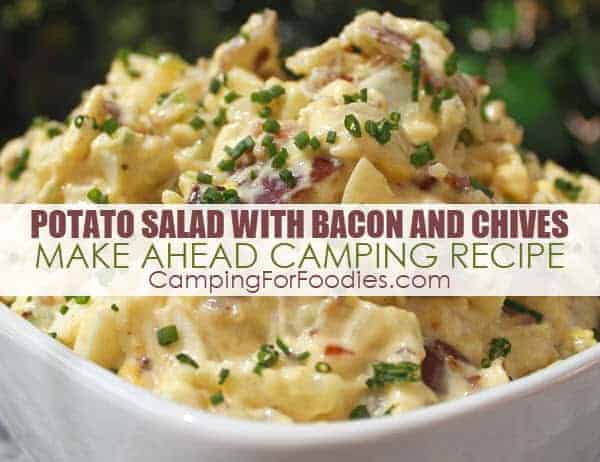 In addition to salads, grilled veggies make excellent camping side dishes for burgers and hot dogs. Try campfire corn on the cob, grilled potato wedges, and assorted veggie foil packs on your next menu.
---
You'll need to fry a little bacon to make this amazingly delicious broccoli salad. The sweet and salty combination makes this cold salad perfect for summertime camp trips.
If you like bacon in your salads, you'll love it in the main dish too. Try this Bacon Basil Tomato Ciabatta Sandwich Recipe for a substantial lunch or light dinner.
---

You might wonder why a cranberry almond spinach salad is in our list of "cooked" salads. It is because we melt a little butter to toast the almonds to bring out their flavor. You can certainly use them without toasting because the sweet and tart simple homemade dressing tastes terrific.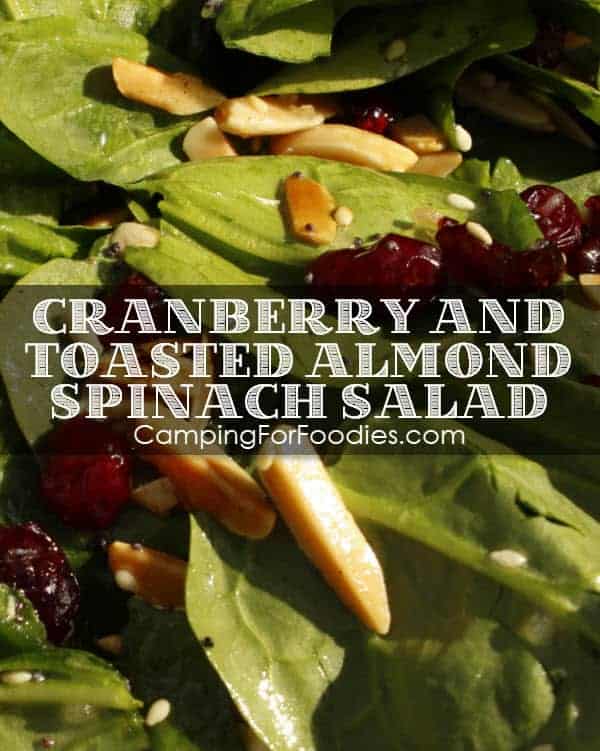 This spinach salad makes an appearance on our camping Thanksgiving dinner menu when we make a turkey with all the trimmings!
Coleman Fold N Go 2-Burner Propane Stove
---

Need easy sides for brats? Try this pasta salad for camping dinners including sandwiches and grilled meats. This recipe is spiced up with a simple homemade dressing, fresh veggies, feta cheese and bowtie pasta. It's really yummy after chilling in a refrigerator or cooler for a day or two.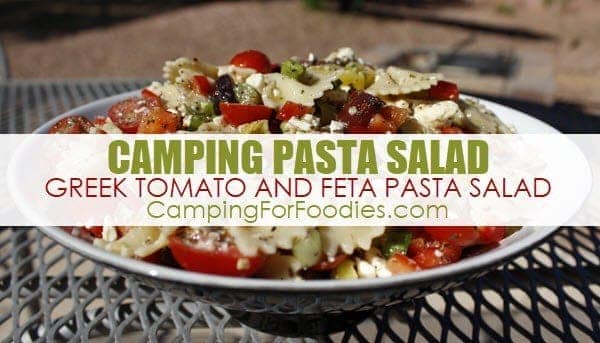 You can serve this as one of our vegetarian camping recipes but if you have leftovers and want to add some cubed grilled chicken, it is great when you are making camping meals for two.
If you're looking for more camping pasta recipes, we've got them for you!
---
I love making this easy retro side for grilled meats and sandwiches. This salad is served cold and tastes better after flavors marry a few days so you might want to make it at home and keep refrigerated until ready to serve.
---
Canned Meat Salads
You don't need a recipe to create some of the most popular salads you find at campsites. If you want to make a quick tuna salad or chicken salad, just drain the liquid from the can and toss with a bit of mayo. If you want to get extra fancy, add a little chopped celery, onion and relish then serve on a bed of lettuce or on bread.
---
Tips For Serving Camping Meals With Salads
Whenever you are transporting make ahead camping meals, make sure they are in airtight leak-proof food storage containers to protect from spills and cross-contamination of food.
Rubbermaid Easy Find Lids Food Storage Containers
---

Check out the different methods of how to pack a cooler so your food stays cold and dry throughout your trips.
Many camping salad recipes have lots of veggies, here's how to keep food fresh while camping including your most delicate fruits and vegetables.
---
Get More Ideas For Camp Meals