Limited Mobility Camping: Challenging But Achievable & Worth It
Most camping tips across the web are aimed at helping able-bodied people. But, what about outdoor lovers that are confronted with mobility issues?

Although limited mobility camping is challenging, it is totally achievable and worth it. Enjoying recreational opportunities and fresh air in outdoor experiences is healthy for everyone!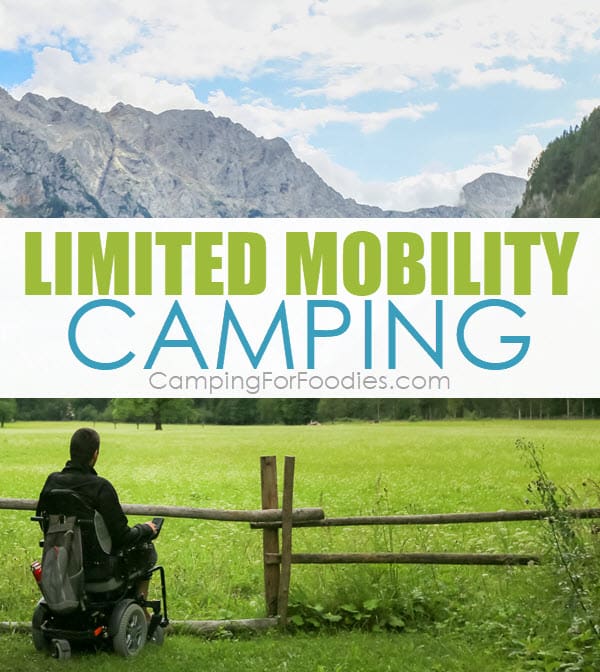 Psst we're compensated…see our disclosures.
9 Tips For Great Camping Experiences With Limited Mobility
Tip 1. Dry Run At Home
A great place to try new things is in the comfort of your own home. I give the same advice to able-bodied people in my post that includes RV camping tips for beginners. Test your process, packing and patience … fail at home! Then, when you go on a real trip, you'll have the confidence of that experience which will remove a lot of stress so you can have a good day from the moment the sun rises over the horizon!
---
Tip 2. Know Your Limits
Know your body and its limits before planning your trip. Then, plan for the worst-case scenario and hope for the best. You may want to anticipate having some struggles and with a little planning, you could avoid them. For example, a hike can be replaced with a low-impact activity in an adaptive kayak. Just make sure you wear safety belts and life vests when they are available.
---
Tip 3. Meet Physical Demands
Identify at least one person who can physically do the tasks that need to be done during your camp trip. Whether that be a spouse, friend, family member or campground staffer … don't be afraid to ask for help.
---
Tip 4. Advanced Planning
Plan every aspect of your trip and be prepared for unexpected events. Use my FREE printable Camping Trip Planner Template for this task.
---
Tip 5. Bring All Necessary Equipment
Use a regular checklist for normal camping gear and add any unique items you need for your particular physical limitations. Get a FREE printable copy of my Ultimate RV And Tent Camping Checklist for this task.
---
Tip 6. Plan Meals & Bring Groceries
You don't want to be "wingin' it" when it comes to your food … especially if you have dietary restrictions. Use my FREE printable Camping Menu Template for this task. You can make things easy by doing all of your prep work at home or just prepare make ahead camping meals that you just "dump and cook" or "dump and reheat" at the campsite.
---
Tip 7. Listen To Your Body & Be Flexible
Your planned activities may be more demanding on your chronic conditions than you expect. Don't push your body, give it time to adjust and give yourself permission to modify your plans as needed. Bring non-mobile activities to substitute the planned physical activities as a backup … things like books, magazines, board and card games are great options.
---
Tip 8. Bring Extra Medication
Many people with limited mobility experience more pain caused by all of those irregular activities associated with camping. Pain medication can help and it is something you can't get out in the wilderness so bring more than you think you need. It is better to have it and not need it … rather than need it and not have it.
---
Tip 9. Manage Emergency Situations
You should have a plan and know where the nearest emergency facility is located if you experience excessive fatigue, joint inflammation, pain, fever or other symptoms that demand emergency treatment.
---
Camping Trip Planning For Mobility Impairments
There are several items you should consider when making your camp trip plans. Let's discuss them now.
---
Americans With Disabilities Act (ADA) & Campsites
The ADA prohibits discrimination against people with disabilities and as a result you can find a growing number of accessible campsites that are available to people of all abilities.
National Parks
The National Parks Service is really good about providing useful information online as well as at visitor centers regarding the accessible features available throughout the federal parks.
Advanced planning is critical when camping at any National Park campsite because advance reservations are usually required. You'll need to do all of your research and scheduling prior to your visit. A great way to begin is with the individual park's website.
The website will have an accessibility page that has information regarding all types of assistive devices as well as accessible facilities.
You'll find information that is offered to meet the special needs and adaptive equipment available to a disabled person including categories like:
Audio/Visual Assistance

Sign Language Interpreters
Public TTY Service
Captioning
Assistive Listening Devices
Audio Description
Large Print & Braille

Service Animals
Wheelchairs and Mobility
You can usually find another web page that is dedicated specifically to help people with mobility disabilities.
We'll take Yellowstone National Park located in northwest Wyoming as an example. Look for the camping information to find more details like this:
All campgrounds have at least one wheelchair-accessible site except for Fishing Bridge RV Park. Two backcountry campsites are maintained to accommodate wheelchair users. Read more about backcountry accessibility in Yellowstone.
---
State Parks
You can also find the same type of information on most websites for state parks across the country.
For example, Arizona State Parks has an ADA webpage that highlights accessible trails, family campouts, wheelchair access fishing piers, accessible camping cabins, camping and RV sites and more.
One of Arizona's gems is the Kartchner Caverns State Park near Benson, Arizona. The handicapped designated paved access campsites are adjacent to the restroom, have a paved pad and have a wheelchair accessible table.
The trail system inside the caverns was intentionally developed for people with limited mobility.
---
National Forests
Unfortunately, you won't find as many opportunities to enjoy camping experiences in national forests because of the unpaved surfaces that are typical in those locations. It is more difficult to find an accessible area that is sufficient for people with mobility challenges in naturally rugged, rough terrain … but it is not impossible. You will often find paved roads in the campground camping areas but not in the dispersed camping areas.
A good example of a national forest camping location that extends a warm welcome to people with disabilities is the Simax Group Campground in the Deschutes National Forest near Crescent, Oregon. The fully accessible campground sits on Crescent Lake and offers hot shower facilities, a picnic pavilion and campsites that have gorgeous views and are set right on the lakefront. Visitors can enjoy waterskiing, sailing, windsurfing, hiking, and fishing.
The ADA does not require agencies to change the character of wilderness areas … otherwise they would no longer be "wilderness". But, if a facility is constructed … it must meet accessibility standards. Source.
The United States Department Of Agriculture/Forest Service puts out an Accessibility Guidebook for Outdoor Recreation and Trails which is one of the best ways to research new places you want to visit for the first time.
---
Private Campgrounds & RV Parks
Whether you are researching a privately-owned mom & pop RV park or a large campground chain, it takes a bit more digging to find information regarding accommodations for guests with limited mobility. You may find an access statement on their website but you will need to call each campground regarding specific details about that location.
---
Accessible Camping Requirements To Accommodate Mobility Devices
Whether you have a temporary or permanent disability and use a crutch, cane, walker, manual wheelchair or mobility scooter, before you head for a campsite, it is a good idea to research the following information:
How many accessible sites are available for campers with limited mobility?
Are the tent camping sites compatible for people with limited mobility? Does it have an accessible fire pit?
Can the tent pads accommodate an elevated sleeping bag or cot?
Which is the best site for a mobility limited person using a tent? An RV?
How large is the parking space and how close is it to the campsite? Are there obstacles between the two and is there enough room for a regular wheelchair to easily maneuver?
Is the space large enough for a vehicle with a wheelchair lift?
What is the condition of the ground? Is it asphalt, dirt, grass or something else?
How close are the nearest accessible restrooms?
Does the public bathroom have an accessible toilet with grab bars and a shower with a bench seat? Is it large enough for two people if assistance is needed?
How close is the fresh water spigot and is it surrounded by flat ground or uneven terrain?
Are the picnic areas and common areas accessible and nearby? Are there any steep grades in the area of the accessible picnic tables?
What outdoor activities are available for users with physical limitations?
How many accessible trails are nearby and how are they found? What are the trail conditions?
Are the cultural resources accessible and adaptive?
What type of special assistance is available for campers with physical mobility limitations?
Is there availability for use of other power to charge an extra wheel chair or other motorized similar devices?
ETC. … In other words, this is not a comprehensive list of questions you should consider when evaluating a campsite. You should create your own extensive lists based on your personal abilities, needs and expectations.
---
Gear For Camping With Limited Mobility
Traditional camping gear is not always the best option for immobility issues. Here are some great alternatives.
---
Quad Rubber Replacement Foot Pad For Walking Canes
Attaching a quad foot pad to an existing cane offers increased balance and stability on any surface including loose terrain, grass, gravel and sand. The device helps reduce fatigue in the hand and wrist because it flexes to absorb the shock while walking. You just attach the non-skid pad to the end of a standard or folding cane.
Self Standing Quadruple Tripod Stand For Cane Universal 4 Leg Attachment
---
FreeWheel Wheelchair Attachment With Pneumatic Tire
By attaching an extra wheel to an existing manual wheelchair, the user is able to more easily traverse rough terrain including rocks, dirt, sand and snow. It is great for standard campsites as well as backcountry adventures.
FreeWheel Wheelchair Attachment with Pneumatic Tire for Standard Frames and Standard Footrests
---
Mountain Bike Tires On Wheelchairs
Swapping out standard tires for mountain bike tires makes it easier for wheelchair users to maneuver on non-paved surfaces. While a standard manual adult wheelchair has a 24-inch drive wheel, a standard power wheelchair only has an 18-inch drive wheel so make sure you get the right size tire for your chair.
---
Portable Pressure Camp Shower
If you are camping in an RV or staying at a campground with an accessible shower, you are set for personal grooming. If you don't have either of those options, you can shower using a portable camp shower.
The most common camp shower is a solar shower that is hung from above (using a tree branch, tent structure etc.) and then the water flows through the hose by gravity. Those are difficult to manage for people with limited mobility.
Alternatively, the best option might be to use a ground-based manually operated pressurized shower with a sprayer hose. You can let the full tank sit in the sun for the day to heat up the water or just directly fill it with hot water when you are ready to use it. Then, use the foot pump to pressurize the water for your shower which can be taken while seated in a camp chair.
Nemo Helio Foot Pump Portable Pressure Camp Shower
---
Folding Bedside Commode
A folding bedside commode is a great option if there is no accessible toilet available. It folds easily for transportation and can be used with the basin or used as a raised toilet seat that is set over an existing low-rise toilet or standard camp-bucket toilet.
Drive Medical Steel Folding Bedside Commode
---
Satellite GPS Location Tracking Portable Communicator
When camped in an area without cell coverage, you may want to have a satellite option for communication in case of an emergency.
Spot Gen4 One Way Satellite GPS Location Tracking Portable Communicator, Device for Hiking New Technology Locator Gadget, Messenger & Email, Emergency SOS Alerting, Bundled with HogoR Power Bank
---
Accessibility Modifications For An RV
Accessibly modified RVs are the easiest way to camp for people with limited mobility. Just remember, adding weight to an RV will decrease its payload. Some of the most popular modifications include…
Widening doorways and interior spaces to enable wheelchair access
Adding a step, ramp or electric hoist
Installing interior and exterior grab bars
Modifying bathrooms: toilet height, shower and sink usability
Access to counters, seating, bed, lights & switches, control panels, vents, cabinets and storage compartments
Storage for wheelchairs or electric scooters
Some drivable RVs (A, B & C Class rigs) are already designed to be accessible making it much easier than starting a project from scratch.
There are some tax deductions on accessibility modifications to RVs (Obviously, I am not a tax professional so please consult with your personal tax professional for details.) Generally speaking, in the UK there is a VAT tax on goods and services paid by consumers. Chronically sick or disabled people may be able to claim VAT Relief on 'personal and domestic use' equipment they buy that is designed solely for disabled people. Some circumstances of RV modifications may qualify for tax relief. Generally speaking, in the US the tax laws are much more complicated and change frequently so there is no long-standing definitive answer to the question.
---
Camp Safely
With a little extra planning people with mobility challenges can have the comforts of home while enjoying a positive experience with Mother Nature.
Make sure you employ traditional camping safety techniques too.