Classic Mojito Cocktail: Modern Margarita's SECRET Recipe Is Great For Camp Cocktail Hour
I just love getting recipes for awesome camping cocktails from the experts who are willing to share their secrets! This Classic Mojito Cocktail Recipe is like summer in your mouth! That's how I describe a classic mojito. And, doesn't everyone need a little of that during summer camp trips (or in your own backyard!)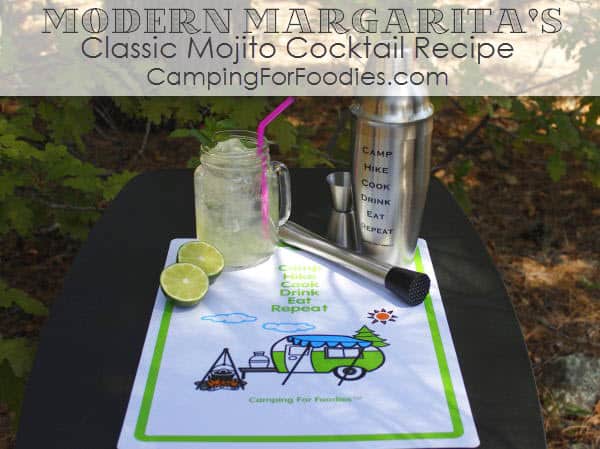 Psst we're compensated…see our disclosures.
Classic Mojito Cocktail Ingredients
I had to be convinced to try my first mojito by a waiter who was trying to help me make up my absolutely ridiculously indecisive mind on a hot summer evening.
He described the drink but the ingredient list did not strike me as super scrumptious.
Does rum, simple syrup, soda, mint leaves and lime sound good to you?
In spite of my hesitation, the waiter was so sure I would like it that he gave me the "If you don't like it, I'll get you something else" guarantee.
So, with mild apprehension, I said … Sure, I'll try one.
And THAT was the beginning of my commitment to the classic mojito cocktail.
---
Modern Margarita Shares Their SECRET Classic Rum Mojito Cocktail Recipe
I can't say that I've found a better recipe than the one I got from my friends at Modern Margarita.
And with the credentials swirling around Modern Margarita and the General Manager, Rich Rush … you know this is one for the record books.
I asked him to give me a little revelation on this and to give me a kid-friendly version for the campers in your crowd who need the unleaded version.
---
Award Winning Cocktail Recipes
Modern Margarita's General Manager Rich Rush offers this simple and easy recipe for a classic mojito.
He is a multiple award-winner at the annual Phoenix Tequila Festival. His cocktail recipes have appeared online and in print, including his famous "Watermelon Margarita" and his award-winning "Rhubarb Margarita" topped with a foamy logo'd float reminiscent of crafty coffee barista's foam art.
---
Where Is Mojito Cocktail From?
The classic mojito is a cocktail staple hailing from Cuba utilizing abundant local fresh herbs, cane and lime juices … and … Cuba's beloved rum.
---
How To Make A Great Mojito
Muddling is key! You are going to muddle the mint and lime together. This gets all of the essential oils out of the mint and all of the juice out of the lime to begin a wonderful base to this cocktail.
Then you'll add the ice, rum, and simple syrup. Put everything in a cocktail shaker and shake vigorously to combine all of the ingredients and get them icy cold.
Then, you'll put fresh ice in a serving glass and strain the cocktail over it. Lastly, you'll top with soda, garnish with a mint sprig and serve cold.
---
Non-Alcoholic Mojito Mocktail
To make a "virgin" mocktail version of this recipe, try replacing the rum in equal proportions with:
Ginger Ale or Ginger Beer
Perrier or sparkling water
A lime or cane-flavored seltzer
Rum-flavored syrup diluted with soda water
Consider hosting a "Mocktail Mojito Party" with your friends with each person concocting mock versions of the beloved cocktail with their own non-alcoholic ingredients. Taste, sample, vote and enjoy!
---
Pairings
I love serving delicious camping snacks for happy hour. Here are a few that go well with this cocktail.
Get your FREE printable camping trip & menu planner before you create your next meal plan!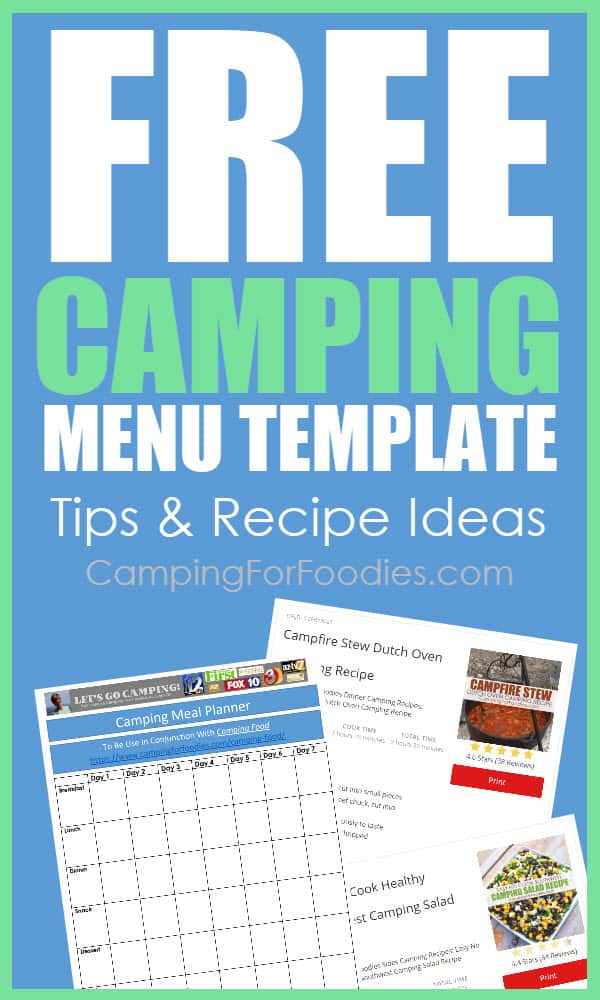 ---
Similar Recipes
If you enjoy a good drink, check out all of my yummy camping cocktails. Some of my personal favorites are:
Mochatini
Rim View Rum Refresher
Lemontini
Cucumber Lemonade Chiller
---
Print This Recipe
Classic Mojito Cocktail: Modern Margarita's SECRET Recipe
Camping For Foodies Classic Mojito Cocktail: Modern Margarita's SECRET Recipe
Ingredients
1.5

oz.

Rum

.75

oz.

Simple syrup

Splash of soda

Approx. 4 leaves + 1 sprig

Mint

1/2

Lime

juiced

Ice to fill 2 pint glasses
Instructions
In a pint glass, muddle the mint and lime.

Fill with ice, rum, and simple syrup.

Transfer the mixture to a shaker.

Place cap securely on the shaker and shake vigorously

Fill 16-20 oz. serving glass with fresh ice and strain drink into it.

Top off with soda and stir.

Take a sprig of mint and clap between your hands to release the menthol and use as a garnish.
Nutrition Information
Serving:
1
g
Calories:
165
kcal
Carbohydrates:
19
g
Protein:
0.2
g
Fat:
0.1
g
Saturated Fat:
0.01
g
Polyunsaturated Fat:
0.02
g
Monounsaturated Fat:
0.01
g
Sodium:
13
mg
Potassium:
48
mg
Fiber:
1
g
Sugar:
16
g
Vitamin A:
17
IU
Vitamin C:
10
mg
Calcium:
14
mg
Iron:
1
mg
I have to thank Rich and the rest of the Modern Margarita crew for sharing their phenomenal recipe with me. They get my award for being the best thirst quenchers on the planet! So if you enjoy this classic mojito at the campsite, in your backyard or have the experts at Modern Margarita mix it for you … say hello to summer!
I'm so excited about this camp cocktail recipe that I decided to share it with the world on Good Morning Arizona and at my live demonstration at Cabela's the World's Foremost Outfitter!
---
Get More Camping Recipe Ideas
In addition to making fun drinks for your next trip. Make sure you plan some yummy meals too!