Sweet Onion Salsa Recipe: Fresh, Fast & Simple Homemade Salsa
Fresh quality ingredients make all the difference when it comes to this Sweet Onion Salsa Recipe. It's one of our favorite camping snacks we enjoy as the perfect appetizer for our Mexican meals.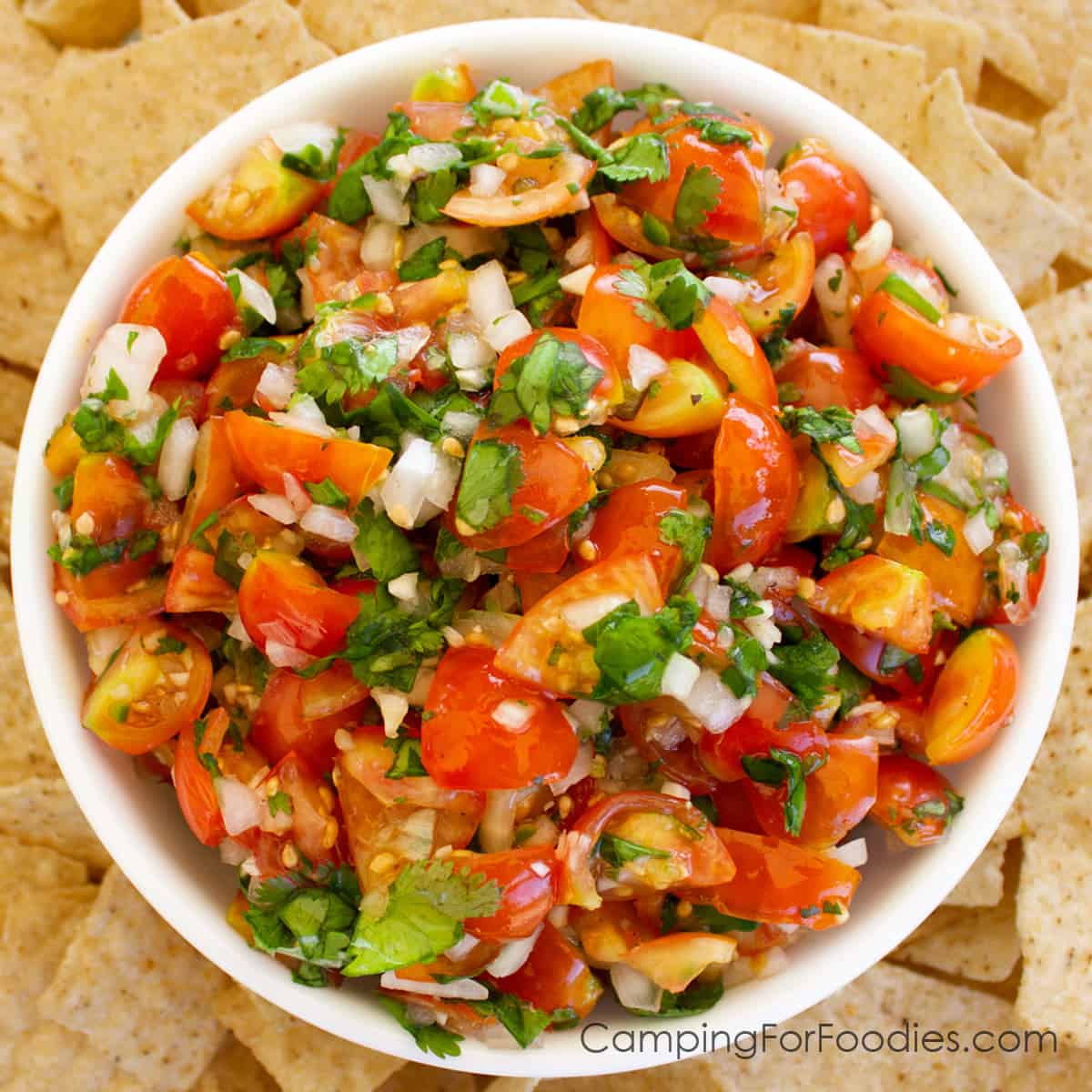 Psst we're compensated…see our disclosures.
Recipe Prep
I love making no cook camping meals that mainly use non-refrigerated ingredients, especially when we are on long trips with limited cold storage space.
---
Recipe Steps
You can either chop all of the ingredients by hand or you can use a salsa maker.
If you're chopping by hand:
You'll chop about 2 cups of fresh tomatoes, 1 or 2 cloves garlic, about a half cup cilantro, sweet onion, green onions and a jalapeno pepper.
Place the veggies in a medium bowl and toss with the juice of a lime or a lemon and some salt and pepper.
You can serve immediately or refrigerate until you're ready to serve. We like serving with tortilla chips.
If you're using a salsa maker:
You can't throw all of the ingredients into a little hand-crank salsa maker at the same time, here's what you need to do.
Attach the chopping blade into the bowl, put your veggies into the bowl in this order:
fresh cilantro leaves, without stems
green onions, sliced thin by hand
sweet onion wedge
tomatoes, quartered
Attach the cover and hold it firmly, then turn the hand crank to chop the ingredients. The less you crank, the chunkier the salsa … the more you crank, the smoother the salsa.
Dump the chopped ingredients into a serving bowl and stir in the minced garlic, jalapeno pepper, a couple tablespoons of lime juice (or lemon), salt and black pepper.
A salsa maker catches all of the liquid from the tomatoes (compared to chopping them by hand on a cutting mat) so if the tomato mixture has too much liquid, drain off the excess until the salsa reaches your desired consistency.
Serve with your favorite tortilla chips and refrigerate any leftovers.
Salsa Maker & Manual Food Processor
---
Substitutions
Some people don't like the unique flavor of cilantro, if that's the case for your family, just substitute chopped fresh parsley.
If deseeded jalapeño peppers are too spicy for your taste, substitute green bell peppers instead.
The addition of sweet onion is the perfect amount of flavor for many people, but, if you want to add a little extra sweetness, add about a half tablespoon agave nectar, honey or real maple syrup.
---
What To Serve With This Recipe
If you're doing a big appetizer spread, serve this sweet homemade salsa alongside these vegetarian camping recipes.
When there is an abundance of fresh avocados in the summer, you've gotta make this Fresh Guacamole Appetizer Camping Snack.
Chips, refried beans, onion, green chile peppers, fire roasted tomatoes, black olives, cheddar cheese, sour cream and cilantro make these meatless Camping Dutch Oven Nachos a crowd favorite!
If this sweet onion salsa is an appetizer for one of your Mexican-inspired camping dinner recipes, try these options as a main course.
These Dutch Oven Tacos are fast and satisfying with crunchy shells.
Try these Dutch Oven Chicken Enchiladas when you want a warm comfort food.
There are so many dishes that pair well with the delicious flavor of garden fresh homemade sweet salsa. If you have any leftovers, try adding a spoonful on scrambled eggs or on the side with these Breakfast Campfire Quesadillas.
---
Scaling Servings
It's really easy to scale this salsa up to feed more people. Combine all of the ingredients and keep refrigerated in a large container until you're ready to serve it.
---
Similar Recipes
One of my favorite gluten free camping food recipes is super fast to prep and cook. A sweet fruit salsa is different than a traditional red salsa and has a tropical flavor profile. Try this Grilled Mahi Mahi With Mango Salsa on your next trip.
This Strawberry Basil Bruschetta is another delicious appetizer. It is only slightly sweet and the goat cheese makes it a little tangy.
---
Print This Recipe
Sweet Onion Salsa Recipe
Camping For Foodies Appetizer Camping Recipes: This Sweet Onion Salsa Recipe is a fresh, fast & simple homemade salsa
Ingredients
3

medium tomatoes

chopped in about 1/4 inch pieces

1/4

small sweet onion

finely chopped

1

clove

garlic

finely minced (if the garlic clove is small or you really like garlic, use two cloves)

2

green onions

cut in thin slices

1

bunch of cilantro

remove stems and chop the green tops

1

jalapeno pepper

ribs and seeds removed, finely chopped (NOTE: heat levels of jalapeños vary so test first and adjust to your taste, if you don't want any heat substitute green pepper)

Lemon juice

juice of one lemon or lime

Kosher salt and black pepper

to taste

Serve with your favorite tortilla chips
Instructions
You can either chop all of the ingredients by hand or you can use a salsa maker. Using a knife produces a chunkier texture, a salsa maker produces a more finely chopped, jucier texture.

Mix prepared ingredients in a medium bowl and keep in refrigerator until ready to serve. Transfer to a serving bowl and serve with your favorite tortilla chips.
Nutrition Information
Serving:
1
g
Calories:
4
kcal
Carbohydrates:
1
g
Protein:
1
g
Fat:
1
g
Saturated Fat:
1
g
Polyunsaturated Fat:
1
g
Monounsaturated Fat:
1
g
Sodium:
1
mg
Potassium:
28
mg
Fiber:
1
g
Sugar:
1
g
Vitamin A:
98
IU
Vitamin C:
6
mg
Calcium:
6
mg
Iron:
1
mg
---
More Yummy Meal Ideas
Don't eat the same old boring thing! Get inspired to add a few new recipes to your menu!
---