Onion Creek Moab Utah (VIDEO, Off-Road Trail Scenic Drive & Info)
The best camping destinations are within short drives to experience majestic landscapes and activities.
Onion Creek Moab Utah has it all: camping, hiking, rock climbing, equestrian trails, mountain biking, motorcycle dirt bike riding, ATV off-road trails and four-wheel drive roads set in majestic scenery surrounded by stunning rock formations.
Psst we're compensated…see our disclosures.
The Most Popular Route In Onion Creek UT
The Bureau of Land Management (BLM) is the agency that manages the Onion Creek recreation area. The Onion Creek Road is classified as a motorized recreation area which is open to on-road and off-road vehicles.
Along this main road, the red rock formations you'll see range from incredible mesas to extraordinary buttes, magnificent arches, astonishing bridges, breathtaking hoodoos, peculiar spires, gorgeous pedestals and rare towers.
Although the color pallet is predominantly red, you'll also see stunning maroon, purple and brown colored rocks.
Amazingly, the Onion Creek Road contains 27 Onion Creek crossings in a 14 mile span as it leads visitors to the privately owned property known as the Fisher Valley Ranch.
---
Rules, Vehicle Requirements & Time
If you are traveling this dirt road for the first time you may get a little spooked when you hear people talk … and you see signs warning of the gravel road surface that may contain loose rock on steep grades … overlying rocks around tight turns … and … notices for journeying at your own risk.
Don't let those messages discourage you … DO let them guide you cautiously.
Most of the road is wide enough for oncoming vehicles to pass but there are some areas that are too narrow … pulling off to the side may be required (which also may require backing up to a point where there is enough room to pull over to let oncoming vehicles pass.)
The road has blind corners with twists and turns … which is what makes it exciting. But, that can also be nerve-racking for hesitant visitors … especially at the points in the road that have a steep ledge.
The rules prohibit vehicles from driving up or down the creek bed, but you are allowed to cross the stream on the road. This scenic drive's road follows the creek which is prone to flash flooding during heavy rains.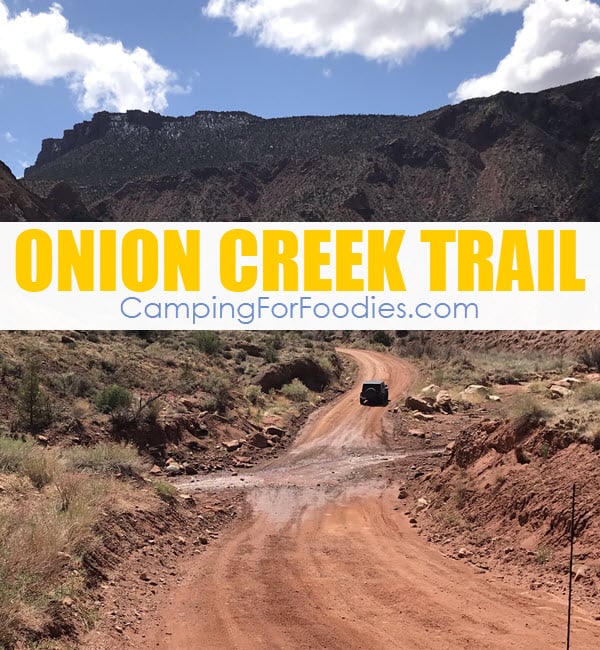 Typically, normal passenger vehicles are adequate to enjoy this beautiful drive but 4-wheel drive vehicles may be required for stream crossings when the water is higher after rainfalls.
CAUTION: Even stock Jeeps have to get towed out of bad spots on this road when it gets too muddy.
Some really good news … route finding is not a problem. Most vehicles get to the top of the mountain and turn around to take the same road back to the starting point. This is highly recommended for all normal vehicles.
Personally, we did the out & back, stopped for lots of photos and got back to the Onion Creek staging/parking area in about 2.5 hours.
Alternatively, if you continue on, the Onion Creek Road connects to the Kokopelli Trail in the Fisher Valley.
---
Kokopelli Trail: Mountain Biking & High Clearance Vehicles
The Kokopelli Trail runs 140 miles connecting Moab, Utah to Loma, Colorado. The trail's lowest elevation is 4,100 feet and is located at the point the trail crosses the Colorado River near the former town of Dewey, UT. The trail's highest elevation is 8,600 feet and is located near the head of Bull Canyon which is located in the La Sal Mountains. Two sections of the trail are singletrack sections available for non-motorized use only … mountain bikers enjoy these portions of the Onion Creek Trail without having to share the trail with four-wheeled off-road vehicles.
For more adventurous 4-wheel drive travelers, once the Onion Creek Road tops out in Fisher Valley, it turns into one of the most popular 4wd roads with Rose Garden Hill being one of the most difficult sections of the Kokopelli Trail. Other must-see points in this area include the Thompson Canyon, Top of the World (yes, this has 360 degree magnificent views), the Dolores River and Cow Skip Canyon.
---
More Moab UT Backroads & 4-Wheel-Drive Trails
There are so many trails in the Moab area that are BLM approved legal routes … off-roaders may have a hard time deciding which ones to visit. Guide books are great for determining which trails are best for beginners all the way through advanced drivers/vehicles with designations for easy, moderate and difficult roads.
Guide to Moab, UT Backroads & 4-Wheel-Drive Trails
---
Hiking Hot Spots Near Onion Creek Road
There is water that runs in the narrows of Onion Creek which is accessible but no driving is permitted in an effort to protect the water quality, riparian habitat and beauty of the area. That's why this area is popular for day-hiking trips. The Onion Creek Narrows hike takes you through the creek as you are surrounded by amazing canyon walls. It is a short hike, only about 2 miles total, but worth the stop. You'll find a small parking lot for this trail as you are on Onion Creek Road about 1/2 mile past the 5 Ton Weight Limit bridge.
The Fisher Towers Trail has fantastical rock pedestals that are capped with big sandstone slabs. In addition to the hike, there are 5 tent camping spots available too. Here's a BLM Utah Colorado Riverway map of the area.
---
Onion Creek Utah Camping
When we visited the Moab area we had Aches National Park and Canyonlands National Park on our must-see list so we stayed at a BLM campground that was a short distance from them and still a central location between those parks and Onion Creek. See our Goose Island Campground Moab Utah (VIDEO, Info & Review).
If you want to stay right at Onion Creek, you can try to get one of the first come first serve individual sites:
Lower Onion Creek Campground (P.S. If you are looking for boat ramps, Lower Onion Creek Campground has one so don't forget to pack your water gear and life jackets.)
If you are camping with a group, you can reserve campsites in advance. Reservation dates are hard to come by in the busy season which runs from March-October. If you don't immediately have luck getting a spot, look for early departures or late cancellations.
Lower Onion Creek Group Sites (Reservable)
Upper Onion Creek Group Sites (Reservable)
If the Onion Creek campgrounds are full, try the Rock Castle Camping Area which is a small BLM campground on Castle Valley Road.
---
How To Get To Moab's Onion Creek
To Get To The Campgrounds
If you are starting from the town of Moab, from the junction of HWY 191 & Hwy 128, you will head eastbound on highway 128 for about 22 miles (this is the river road that parallels the banks of the Colorado River) and look for the sign marking Onion Creek Road … it will be between mile markers 21 and 22.
You will also see signs for the campgrounds. NOTE: Upper Onion Creek Campground will be a right turn off of highway 128 and Lower Onion Creek Campground will be a left turn off of highway 128 (when you are driving from the Moab area).
To Get To The Onion Creek Road Trail
The entrance to the Onion Creek Road scenic trail is just past the Upper Onion Creek Campground.
Here's a link to the Upper Onion Creek Campground Google Map.
---
Local Moab Information
You can visit the Moab Information Center online or in person at 25 E Center Street, Moab, UT 84532 for more information and maps of the area.
---
More Red Rock Formation Camping Areas
Moab is not the only area with beautiful red rock formations that are prominent in the American Southwest.
It seems there is awesome BLM land across the entire state of Utah! The BLM Monticello Field Office has jurisdiction over the Valley of the Gods. This is an area within a short drive to the Monument Valley Tribal Park which is operated by the Navajo Nation Parks & Rec office.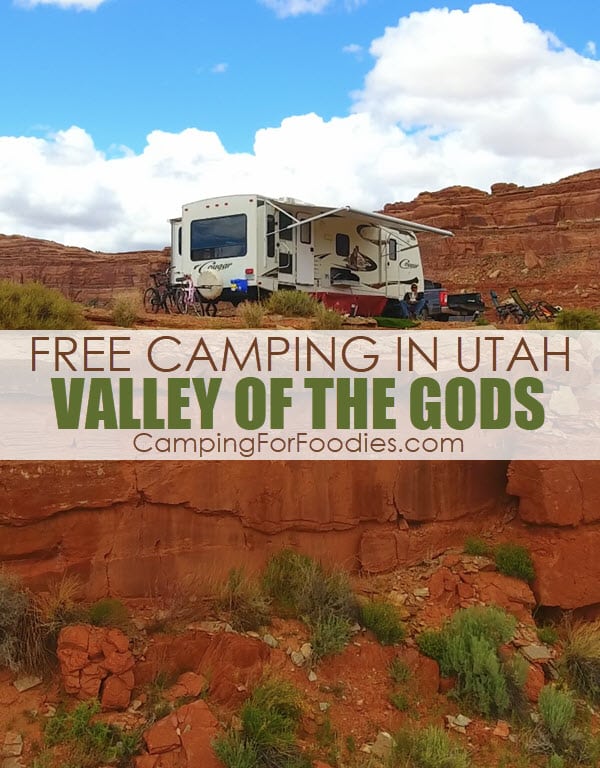 ---
There are beautiful dispersed camping spots located throughout the Coconino National Forest. The Red Rock Ranger District covers the land just outside of the Sedona city limits.
---
Get tips on how to camp and find fee-free campsites across the United States.