Spending zero money to camp is one of my favorite RV tips and hacks! Why pay to camp when free camping is available throughout the USA?
America is a free country and so are many camping destinations! We rarely pay to camp and we'll show you how to find free camping in the USA in some of the most scenic places on the planet. And yes, it is all legal!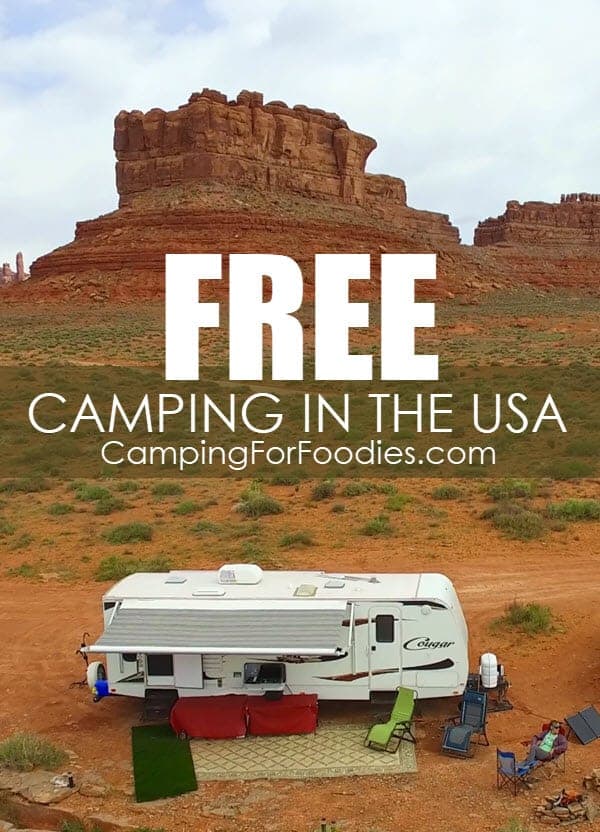 Psst we're compensated…see our disclosures.
Free Camping In USA
---
IN A HURRY? → Click on the links below to quickly jump down to these free camping topics:
---
What Is Free Camping
You might think "free camping" is all about saving money … BUT that is not the only reason people do it.
The scenery is amazing in many free camping locations and the solitude is something you just can't get when you are camped right next to your neighbor and feeling like sardines in a can at campground or RV park camp spots.
Free camping goes by many different names … like …
boondocking, dispersed camping, wild camping, remote camping, primitive camping, dry camping, off-grid camping …
when people use these terms to mean "fee-free camping", they generally mean the same thing (there are some exceptions) …
you are camping for free in an area that does not have hookups, facilities or services …
the land is publicly owned and regulations legally allow campers to stay as self-contained units.
Because free campsites can often be in remote areas, you'll want to make sure you have all of your gear and supplies, even things like campfire grates and other essential campfire cooking equipment …
Thorough planning for simple camping is the name of the game when you need to be fully self-sufficient in remote areas.
I recommend using our FREE, printable and comprehensive Camping Checklist to make sure you pack everything YOU need for your trip (yes, it's a personal thing).
To plan every aspect of your entire trip, use our FREE printable camping trip planner template.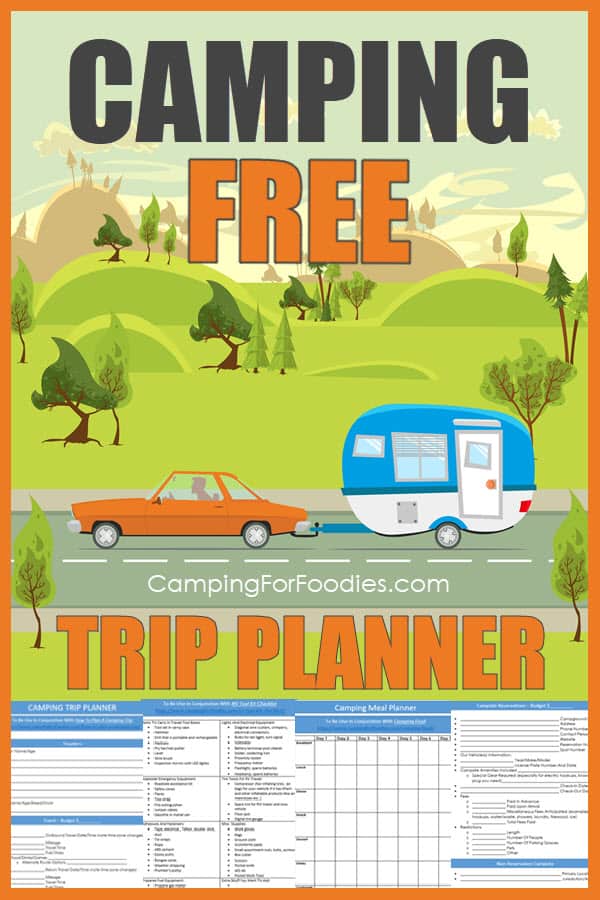 ---
How To Find Free Camping
Those beautiful hidden gems are the ones that never seem to show up on any published maps or databases but finding a local free camping expert is not always possible so here are some additional great resources…
National Forests
Generally speaking, free camping approved locations in National Forests are outside of developed campgrounds and have no facilities available … don't expect to find picnic tables … you might find fire rings but that is usually about it.
You have to haul your own water, power, trash and human waste. Length of stay is limited (usually 14 days) because these public lands are intended for recreation (not living.)
And, you must camp more than 200 feet from water sources (including streams).
Because you are out in the wilderness, cell service may be limited … or even non-existent … in the locations where you set up camp.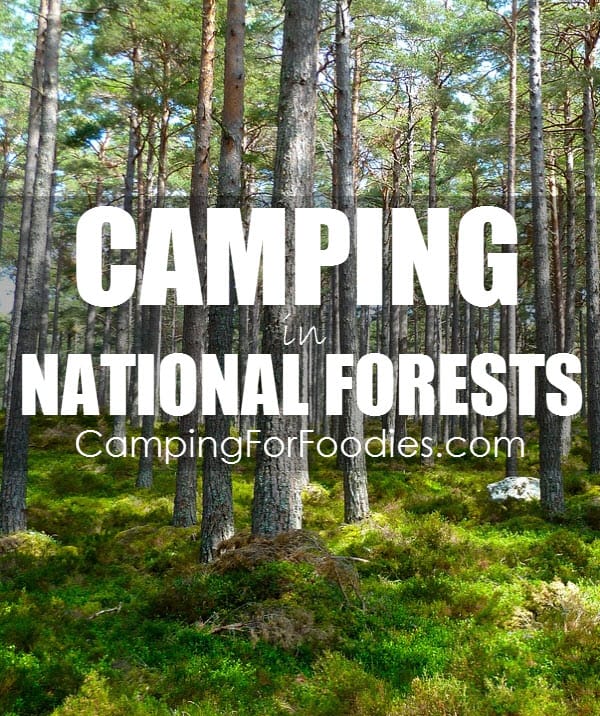 Check out our post for more information, Camping In National Forests, to learn about the difference between camping on National Forest Service Land vs inside National Parks.
Camping is NOT free in National Parks but most of them have a nearby National Forest that does have free camping!
---
Here are some resources to find more free camping locations on Grasslands and National Forest Land:
---
BLM Lands (Bureau of Land Management)
BLM free camping is similar to camping in National Forests.
In the land management BLM program, the approved locations are outside of developed campgrounds and usually have no facilities available … you might find fire rings and an occasional vault toilet but that is usually about it.
You have to haul your own water, power, trash and human waste.
Length of stay is limited (usually 14 days) and, you must camp more than 200 feet from water sources (including streams.)
One of our favorite BLM free camping locations in Arizona is near the town of Wickenburg.
It's an incredible winter camping location and if you are there on the weekends, you might get to hear the rumble and see the shiny chrome glistening in the sun as a group of motorcycle riders pass by on the picturesque Vulture Mine Road as it winds around the mountain.
Check out our VIDEO BLM Arizona Camping Near Wickenburg AZ Boondocking to see how gorgeous this Arizona free camping destination really is and why you will want to visit it.
---
Here are some resources to find more free camping locations on BLM Land: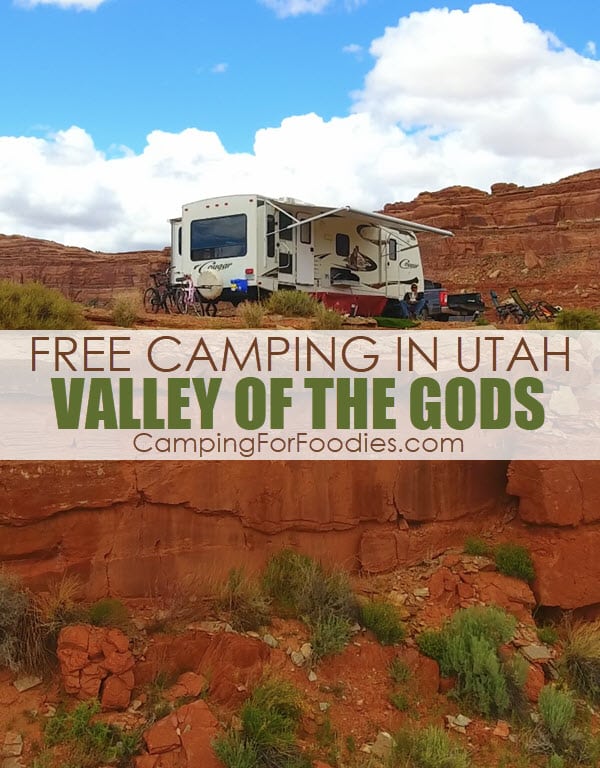 Another awesome location for free camping on BLM land is in Utah.
This destination is near Monument Valley and actually has the nickname "Miniature Monument Valley" because it has sandstone monoliths, gigantic pinnacles and wide open spaces without the crowds!
Valley of the Gods camping is free while you are on the designated dispersed campsites along Valley of the Gods Road!
---
US Army Corps of Engineers
Did you know the US Army Corps of Engineers manages more than 400 lake and river projects in 43 states and 90% of those recreation areas are located within 50 miles of a major metropolitan area?!?
Although they are not plentiful, the US Army Corps of Engineers does have limited free camping areas.
&
---
State Owned Land
Many states have public land that is available for recreation and free camping.
In Arizona, the Arizona State Land Department manages the state-owned land which is technically "Arizona Trust Land" and not "public land" … but unless you are a real estate developer, you probably don't care much about that technicality … what you do care about is the almost-free camping you can do with a cheap permit!
You can get your Arizona State Trust Land Recreation Permit online as well as the Places To Go.
Just like on the federal level, camping is NOT free in most state parks but there are often free gate entry events that allow you to explore the park while camping in a nearby free camping area.
&
---
Wildlife Management Areas
Because Wildlife Management Areas are managed at the state level, there is no absolute guideline regarding camping sites in those areas.
You need to check with each governing authority regarding free camping availability or even the permission to camp at all.
---
Some national retailers provide a different form of free camping spots for RV travelers and allow overnight parking in the parking lot of the store.
Some of the most popular retailers include some Wal-Marts, Cracker Barrel Restaurants, Cabela's plus many casinos and truck stops …
in other words, establishments where you might drop a few bucks for their services while you are camping for free in their parking lot.
BUT, many local ordinances prohibit the activity of overnight camping so you need to check with the specific store regarding their rules.
---
Apps And Websites To Find Free Camping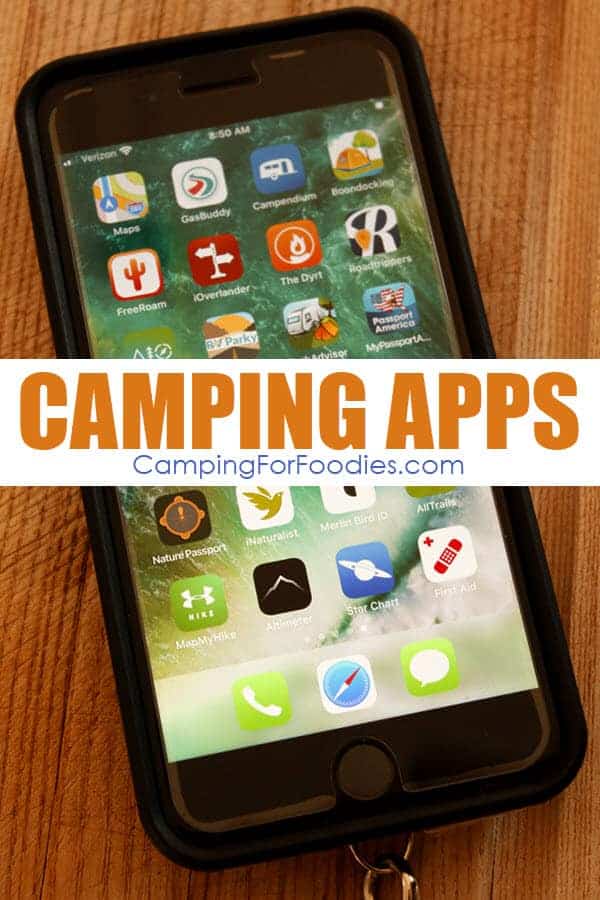 ---
Books To Find Free Camping
I like having a real book when we are navigating to free camping sites we are not familiar with because we are often in and out of coverage areas with our phones. Here are some great resources…
---
California Road and Recreation Atlas (Benchmark Atlas)
There is a Benchmark Road Map & Recreation Atlas for individual states and I buy one every time we are traveling to a new state!
I love these things!
They have public lands clearly designated as well as campgrounds, recreation and topographical map features.
&
---
National Geographic Road Atlas 2019: Adventure Edition [United States, Canada, Mexico] (National Geographic Recreation Atlas)
The National Geographic Road Atlas Adventure Edition features popular attractions, points-of-interest, top 100 destinations for adventure as well as the top 24 most visited National Parks. Plus, it covers the United States, Canada and Mexico!
&
---
The Next Exit 2019: USA Interstate Highway Exit Directory
The Next Exit 2019: USA Interstate Highway Exit Directory is a book that lists services located at Interstate exits across the U.S. including gas, food, lodging, shopping and more.
It is a great resource if you're doing a long road trip as you travel to different free campsites across the USA.
&
---
Walmart Locator, Fourth Edition: Directory of Stores in the United States
The Walmart Locator, Directory of Stores in the United States is a book containing a directory of Walmart stores in the United States including their overnight parking information. 
&
---
Casino Camping: Guide to RV-Friendly Casinos
The Casino Camping: Guide to RV-Friendly Casinos is a book that lists 100s of RV-Friendly casinos in the U.S. as well as the ones that allow free overnight parking.
&
---
RV Camping in Corps of Engineers Parks: Guide to 644 Campgrounds at 210 Lakes in 34 States
The RV Camping in Corps of Engineers Parks is a book that lists the RV-friendly camping areas operated by the Corps of Engineers. 
&
---
Free Camping Safety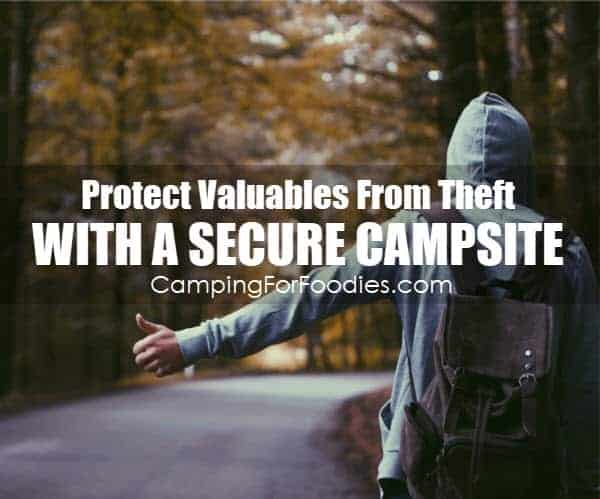 Free camping is just like any other type of camping … it is as safe as your location, surroundings and habits … much of your safety and security depends on you.
We have lots of posts with safety and security tips including:
A Secure Campsite Protects Valuables From Theft
Safety Tips While Camping In Bear Country
Camping Safety Tips For Families
Camping Food Safety Tips Including How To Pack A Cooler For Camping
---
Tips On Free Camping
Our preference is finding freecampsites and we consider ourselves expert boondockers.
Because that is how we camp most of the time, we have tons of blog posts to help you on your free camping trips!
Make sure you check these out and feel free to leave a comment or question if we can help you on your next free camping journey!
---
No matter where your free RV camping destination is located, we recommend you carry the tools you need for your specific vehicle, route and destination.
Use our FREE printable RV Tool Kit Checklist as your guide to create the right mix of tools for your free camping situation.
---
Before you get to your free camp sites, make sure your camping propane is fully stocked with ample supply for your entire stay.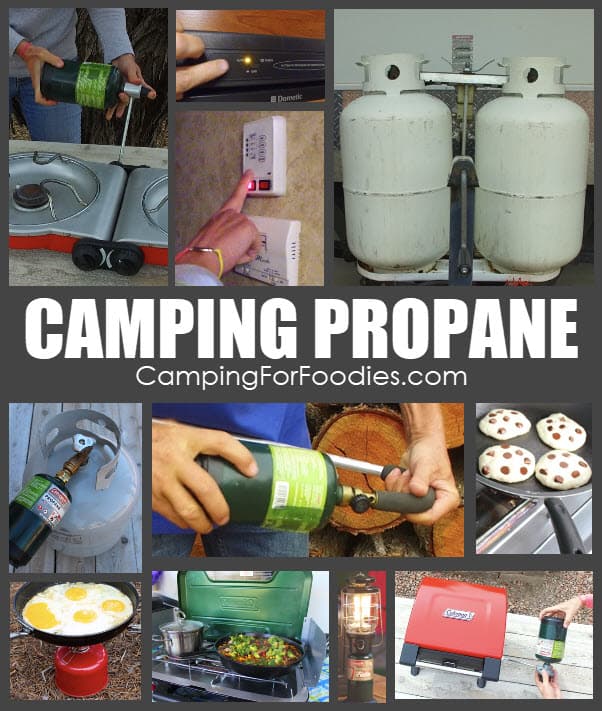 ---
If you are not familiar with boondocking and being self-contained while camping in remote locations, we have helpful tips to get you started.
---
If you have never been dispersed camping before, check out our Go Dispersed Camping VIDEO for some great tips.
---
As I mentioned earlier, when you are camping for free, you probably won't have access to any services and you'll have to provide your own power and water.
Check out our Portable Solar Panels For RV Camping VIDEO for some really helpful information.
---
The one thing that can catch new free camping boondockers off guard … the restrictions the authorities activate during hot and dry conditions that are susceptible to wildfires.
Check out our How To Camp When Camping Fire Restrictions Are Activated post for tips.
---
There are 2 big demands for electricity that you need to prepare for when you are free camping in remote locations without hookups.
The first is for campsite lighting and there are tons of options for efficient campsite lights in our post so make sure you check it out.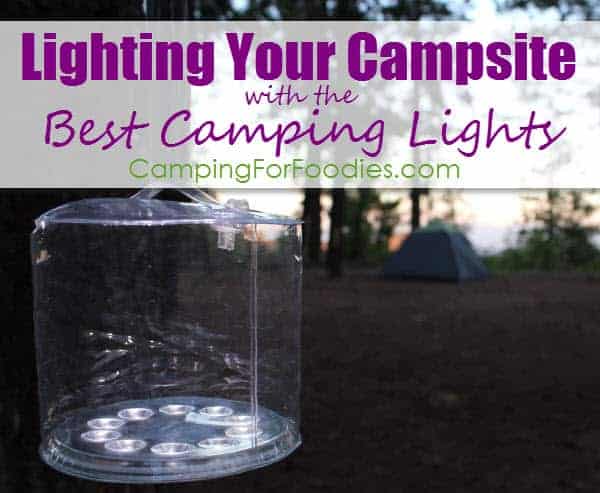 ---
If you are a cell phone user, the other big challenge when using free campsites is keeping your phone from going dead.
There are some super cool camping phone charger gadgets to provide solutions for that problem!
&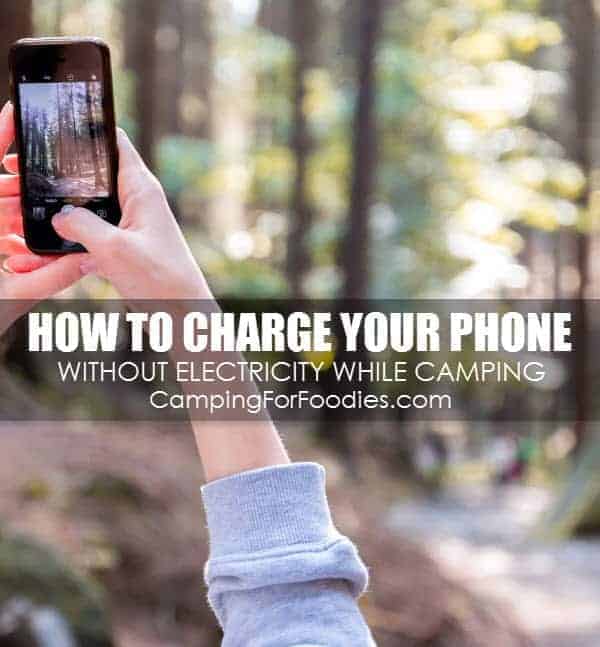 ---
We have tons more camping tips that will help you make every trip an enjoyable experience with long-lasting wonderful memories!
---
Free camping, in my humble opinion, REQUIRES great camping food!
Check out my Camping Recipes for some culinary inspiration for your camping meals!
---
Free Camping In Arizona
We live in Arizona where only about 18% of the land is privately owned!
That means there is A LOT of public land and opportunity for free camping!
The non-privately owned land in AZ is managed by federal, state and tribal agencies … which all allow free camping in some form or another.
The best way to find awesome free campsites is the same way you find those fantastic Mom and Pop local restaurants … ask the locals!
Free camping sites exists in many places, of course our favorites include Camping In Arizona
---
One of our favorite places to enjoy free camping in a National Forest in Arizona is on the Mogollon Rim.
You will see how stunningly beautiful it is in our VIDEO Mogollon Rim Camping In Arizona. This is a great place to camp during the summer months! 
---
Another awesome place to camp on National Forest land is near the town of Sedona.
The center of town is filled with expensive tourist shops and lodging options, but just outside of the town, you can get the jaw-dropping landscape views without the high price tag.
On one of our trips to our favorite free camping Sedona location, we had a HOT AIR BALLOON LAND AT OUR CAMPSITE!
Check out our VIDEO Best Free RV And Tent Camping Sites Near Sedona Arizona Are On Forest Road FR525!
This is a great destination during the fall and spring months.
---
Our Cool Camping Products Make Great Gifts!
Cutting Mat
Mat Set
Shaker Set
Hammock
&
---
If you need camping recipes and menu ideas, you can find them here at the Camping For Foodies Camping Recipes list.
Don't miss a thing…sign up for Camping For Foodies email updates!
Your purchase of our products will help support World Vision ® Building a better world for children.