Goose Island Campground Moab Utah (VIDEO, Info & Review)
When you visit Goose Island Campground Moab Utah, you will witness breathtaking views, experience exhilarating outdoor activities and enjoy convenient proximity to Arches National Park and Canyonlands National Park within short driving distances.
The best camping destinations take you to a place of rest, relaxation and rejuvenation.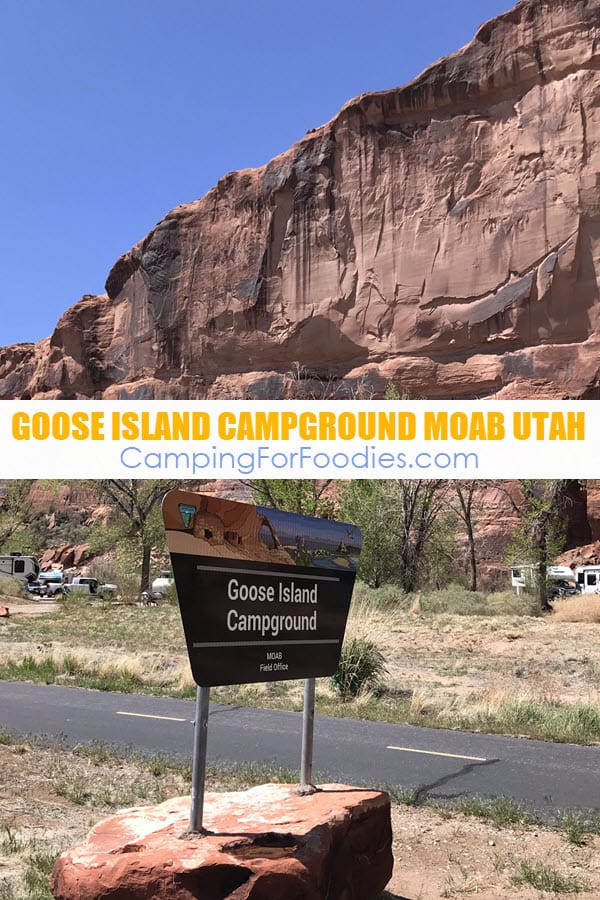 Psst we're compensated…see our disclosures.
About Goose Island Campground
Name Of Campground: Goose Island Campground
Location in Utah: Southeast
Address: The Goose Island Campground is located on banks of the Colorado River approximately 1.4 miles east of the Highway 128 & 191 junctions.
Directions: Public lands abound in the area of this BLM campground. If you are coming from the main street running through the Moab area, you will be on Highway 191. You'll drive approximately 4 miles on HWY 191 heading northbound until you get to the intersection of hwy 191 & 128 where you will turn right to head eastbound. There is a curve in the road that follows the path of the Colorado River. In about 1.6 miles you will turn left into the Goose Island Campground … this turn will sneak up on you so keep an eye out for the signs. Here is a Google Map Link: Map.
Lat/Longs: 38.60967, -109.55782
Type Of Land: Bureau of Land Management Area
Managed by the BLM Moab Field Office
82 East Dogwood
Moab, UT 84532
Phone: (435) 259-2100
Number of Sites: 22
20 Individual Sites: Non-reservable sites that are limited to 10 people and 2 vehicles/site. If you are unfamiliar, we've answered the question: What are walk-up only campsites? (and tips for getting the best ones!)
2 Group Sites: Reservable sites. Site A is limited to 25 occupants and 10 vehicles (30 ft. max. vehicle length) and accommodates small and large tents. Site B is limited to 40 occupants and 10 vehicles (30 ft. max. vehicle length) and accommodates RV/Motorhome, small and large tents. The reservable group sites are made available through recreation.gov.
Here is a link to the Bureau of Land Management river corridor map which includes the trail head locations for the area hiking trails, campgrounds, restrooms, boat launches, beaches (with the water being so cold, most don't use these spots as a swimming beach but lots of people wear wet suits to enjoy activities in the water.)
Pad Type: Gravel/dirt
Type Of Camping: RV and tenting sites
---
Access To Goose Island Campground Moab UT
Accessibility: Well above average (5/5)
The campground is located about 4 miles northeast of Moab Utah. You are on paved roads until you turn into the campground which has well-maintained gravel roads.
Parking at the campsite is excellent. The drive-in campsites are wide enough to accommodate RV trailers and tow vehicles. The walk-in campsites have a shared vehicle parking location that is convenient to the loop road and the sites.
BLM does not have published maximum vehicle lengths for the individual campsites but campers have reported RVs as large as 41 feet can fit in many of the spots.
Cell Phone Coverage: Average (3/5)
Verizon and AT&T users have reported average coverage at this location. Personally, we use Verizon and found the coverage to be adequate for normal camping activities but needed to turn on our booster for our higher streaming demands.
---
Prices & Reservations
Price To Camp:
$20/individual site in August 2023. Only cash and checks are accepted in the envelope pay system at the campground. Discounts are available with a Golden Age Passport, Access Passport, Interagency Senior Pass or Interagency Access Pass Number.
The Goose Island group sites have two different rates. In August 2023 Site A was $133/night (plus fees and taxes) and Site B was $183/night (plus fees and taxes). Pets are allowed in the group sites.
Reservations: Only the group campsites can be reserved at Recreation.gov. The individual sites are on a first come first serve basis. For the individual sites, you can extend your stay up to the 14 day limit. The check-out time is noon.
---
Amenities At GIC
These are some of the most popular sites in the area because of the fantastic canyon views and beautiful cottonwood trees along with the proximity to the other attractions in the area.
The massive red rock cliffs of Arches National Park are the backdrop for this campground. The Colorado River divides the park from the campground.
So, not only do you get spectacular views of the Colorado River, you also get the red cliffs of Arches National Park glowing in the afternoon light and phenomenal sunsets.
Vault toilets (NOTE: because there are no dump stations here, many RVers use the pit toilets that are typically very clean.)
Fire ring with fire grates
Picnic tables
Trash dumpsters
Family and pet-friendly
Shade shelters are available at the group sites
Camp host is on duty during the busy camping season
This campground does NOT have: running water, electric hook-ups, showers, laundry room, dump stations, fire wood or potable water … although drinking water is available at Lions Park which is a public park about 1.5 miles down the main road at the intersection of highway 191 & 128. There are plenty of private RV parks in Moab that offer full hookups if you need them.
---
Natural Features Of The Area
There is a desert-like feel to this campground that has scenic vistas framed by red rock canyons and the Colorado River.
From the campground, you have limited river access where you can take a swim or drop in small water toys like paddleboards, kayaks and canoes.
If you have a larger boat, you'll need to drive eastbound on highway 128 to find the boat launch sites that are available at Upper Big Bend, Takeout Beach, Sandy Beach, Rocky Rapid, Lower Onion Creek, Hittle Bottom and Dewey Bridge.
If you decide to take advantage of the water activities, you should follow the required life jackets recommendations because the water does have dangerous under currents.
---
Activities & Attractions Near Goose Island Campground Utah
Moab Utah is one of the premier mountain biking locations in the United States and when you get there, you'll see why. The Bar M Mountain Bike Trailhead is about 10 miles from the campground off of highway 191. From that single trailhead, mountain bikers of all skill levels can take a ride. The entire trail system has about 31 miles of bike trails.
Don't want to leave pavement but still want to pedal? In front of the campground there is one of the best options. The paved bicycle trail leads you almost anywhere you want to go! Head northbound on the bike path to get to Scenic Hwy. 279, Arches National Park, MOAB Brands Trails, Dead Horse Point State Park and Canyonlands National Park. Head southbound on the bike trail and you'll reach the town of Moab. In addition to typical restaurants and shops, you'll find tour companies that offer guided tours as well as four-wheel drive tours. Downtown Moab also has lots of sports rentals so you don't have to haul your own gear on you road trip if you don't want to!
If you are staying at the far end of the campground you will have more unobstructed views of the water and you'll see the local companies giving jet boat tours, stand-up paddleboard lessons and more.
Hiking is another popular activity in the area. The Grandstaff Canyon Trail is only about 1.5 miles down the road from the campground and the parking lot fills up quickly so if you have a bicycle, you may want to pedal to this trailhead. It is a 2 mile hike on a constructed trail with several stream crossings to arrive at Morning Glory Bridge.
Rock climbing and petroglyph viewing are super popular around the Moab area. Along Utah Highway 279, you'll find both! You'll drive southwest about 5 miles from the junction of state routes: SR 191 & SR 279 and you will see sandstone cliffs of Moab, beautiful scenery, popular campgrounds and outdoor enthusiasts hanging on the side of magnificent rock walls! They are climbers and if you focus too much on them, you just might pass up the rock art petroglyphs! Pass the climbers and pull off to the side of the road to see the amazing Potash Road Rock Art and other petroglyph sites.
Off-roading (OHV) and horseback riding are really popular activities in the Moab area. You can find equestrian trails and four-wheel drive roads just about anywhere but there is one open spot where every type of adventurer seems to congregate … the Onion Creek Trail. You can even camp there at the Upper Onion Creek Campground. Onion Creek Road is for motorized recreation in just about any type of vehicle. We were in our 4WD Ford F350 but we saw regular passenger vehicles taking the scenic drive and they did just fine.
The two points of interest that brought us to Goose Island, Arches National Park and the Island In The Sky District of Canyonlands National Park, did not have ample space in their campgrounds to accommodate us. But, we really didn't care after we determined their close proximity to Goose Island. It was only about a 15 minute drive to the visitor center of Arches and only about a half-hour drive to the entrance to the Island In The Sky District of Canyonlands (which was the district we wanted to see because of the scenic overlooks and hiking options).
NOTE: One of our tips for avoiding crowds in National Parks is to camp inside the park to avoid lines at the entrance gate. Arches National Park does have long lines at the gate during the busy season. So, go early in the day to avoid the long waits … entrance gates can be shut down completely when too many people are inside and the parking lots are full. That is the negative part about camping outside the Park. Personally, when we visited in April we arrived at the gate at 6 am and there was no staff member manning the gates which were left open so every car that arrived early in the morning just drove right through without paying. We actually did pay $55.00 for a Southeast Utah Parks Pass when we visited Canyonlands National Park earlier in the week. That pass is good for a year and gets you in to see Arches and Canyonlands national parks and Hovenweep and Natural Bridges national monuments.
The ANP website states: 'Between March and October, wait times at the park entrance may exceed 30 minutes, especially between 9 am and 2 pm. Parking lots at popular trailheads may be full for much of the day.'

If you are traveling through other portions of the area, you may want to stay a few nights in one of the free spots near Monument Valley. We loved the Valley of the Gods dispersed camping experience we had and recommend it if you are equipped to be fully self-contained without any services at all.
---
Elevation, Weather & Safety At Moab's Goose Island Campground
The campground is approximately 4,000 feet above sea level. The average temperatures throughout the year are:
JAN 44°F High / 20°F Low
FEB 52°F High / 26°F Low
MAR 64°F High / 35°F Low
APR 73°F High / 42°F Low
MAY 83°F High / 50°F Low
JUN 95°F High / 58°F Low
JUL 100°F High / 65°F Low
AUG 97°F High / 64°F Low
SEP 88°F High / 54°F Low
OCT 74°F High / 41°F Low
NOV 58°F High / 30°F Low
DEC 45°F High / 22°F Low
The best time of year to camp at Goose Island really depends on what you want to do when you are there.
If you are RV or tent camping between November-February, be prepared for below freezing overnight low temperatures.
Daytime high temperatures can get very hot from June-September so be prepared by drinking plenty of water and wearing sun block if you are in direct sunlight.
The peak season runs from March-October so you probably should have back-up plans in case you can't find a spot at Goose Island. Other friendly campgrounds in the area include Big Bend, Upper Big Bend, Hal Canyon, Granstaff, Drinks Canyon, Oak Grove and Devils Garden which happens to be the only campground in Arches National Park.
Safety tip: Even though the cell coverage is decent at Goose Island Campground, you don't have to go far before you have no service at all. If you are using mobile apps that require an internet connection, you should be prepared for loss of signal and it is a good option to have paper maps if you need them for navigation.
---
Moab Utah's Goose Island Campground Review
Our overall experience at this campground was great. We consider it to be one of the best Arches National Park camping alternatives. We tried reserving a camping spot at Arches NP and Canyonlands NP but were unsuccessful. Hindsight is 20/20 and we are SO GLAD we stayed at Goose Island! We had lots of breathing space, more than the RV parks in town … but not as much as we are used to when we are boondocking in dispersed sites and camping in National Forests.
We did like:
Location: The easy access to all of our must-see things on our list including Arches National Park, Canyonlands National Park, Utah Highway 279 Rock Art Site, Onion Creek Trail and the town of Moab made our Moab basecamp the perfect choice for our adventure retreat.
Cleanliness: The tent campers and RVers were all respectful and maintained their sites well … the large trash dumpster helped too. Although we didn't use the toilets, they were clean and did not smell.
Views: The stunning canyon was something we could not stop admiring. It was wonderful being on the water and watching the geese fly by a few times each day. It did not take us long to appreciate the campground's name!
Walkability: The paved bike path was filled with bicyclists, joggers, roller bladers and people who just wanted to take a quick stroll on a Sunday morning.
No reservations: We needed flexibility in our trip so we did not mind traveling without reservations. We were happy to get our spot the day we arrived and we paid for 7 nights. Then, we decided to extend our stay for an additional 3 nights to see a few extra sights and we were able to do that because Goose Island is a walk-up campground.
People-watching from our campsite: We didn't have to leave our campsite to be entertained. There was a vacation-like atmosphere surrounding us and we enjoyed the scenes. The jet boats were giving fast-paced tours during the day and slow tour boats cruised by after dark … then, the rock wall was lit up by a gigantic light coming from a tour truck driving passengers down highway 128. It was actually a beautiful thing to see … almost like sitting in an elegant concert at an outdoor venue among the red rocks and cliffs.
We didn't like:
Road noise: The convenient location does come with drawbacks … one of the worst … the loud traffic that is relatively constant along highway 128. It did not bother us to the point that we would not return but it was not as relaxing as quieter camp destinations.
Through traffic: Lots of people driving through to look for an open spot and asking campers when they were going to leave.
We would recommend this camping spot to others and we would come back to this campground.
---
FREE Camping Trip Planner
Make your next trip stress-free with a little pre-planning. Get your copy of our FREE printable camping trip planner template!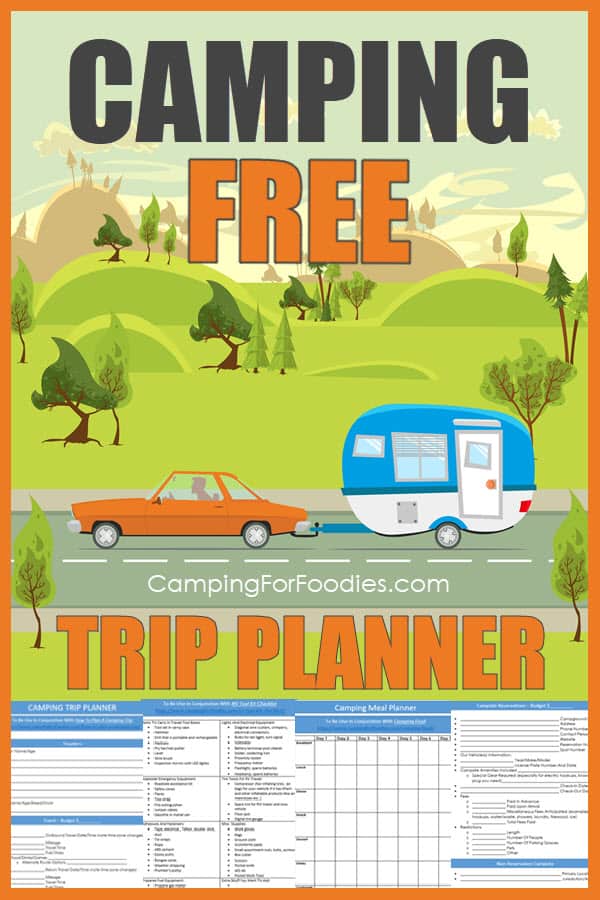 ---
Similar Camping Experiences
If you enjoy camping at Goose Island, you'll also like these awesome camping destinations…
Onion Creek Moab Utah
There are two campgrounds at Onion Creek Moab Utah that are operated by the Bureau of Land Management … Upper & Lower Onion Creek Campgrounds. While you are there, don't miss the breathtaking scenic drive down the Onion Creek Road trail. Normal passenger vehicles are able to experience this route when the weather is good … and … it is worth the trip!
---
Valley Of The Gods, Utah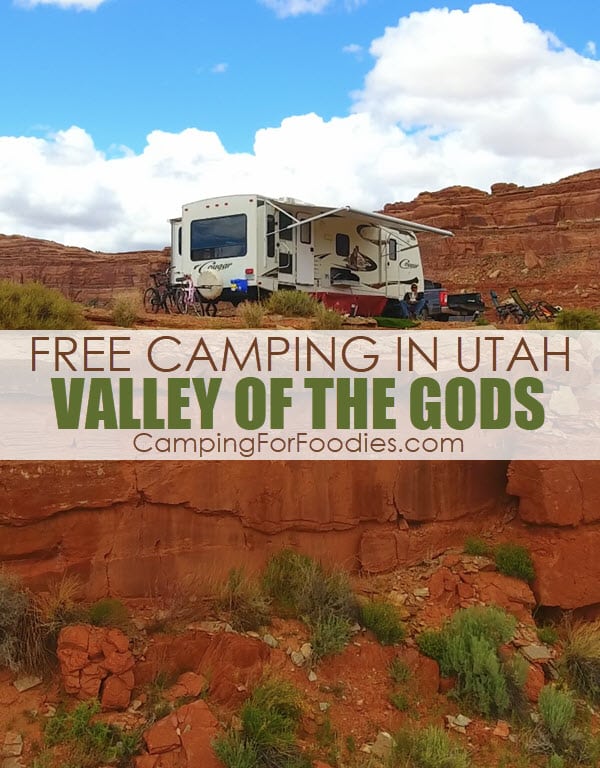 We completely enjoyed our Valley of the Gods dispersed camping experience. This BLM land offers FREE dispersed camping for up to 14 days. It is a short drive to Monument Valley and the Monument Valley Tribal Park which is operated by the Navajo Nation Parks & Rec office (this is not a U.S. National Park so your annual pass is not valid here but the scenery is worth the price of admission!)
---
Camping Sites Near Sedona Arizona
Sedona is known around the world for its majestic red rock formations. We frequent this FREE camping location that is within the Coconino National Forest because it is just hours from our home in Phoenix and we LOVE it there. On one of our trips to this dispersed camping Sedona location, we actually had a hot air balloon land next to our campsite. It was a little shocking and totally fun!
---
Food Ideas For Camping Trips
There are so many cool places to eat in Moab but you probably won't want to eat every meal in town. Here are some awesome recipes you'll be happy are on your camp menu!