Swedish Oven Pancake: Easy Oven-Baked Pancake Recipe
It's crazy that such simple ingredients can taste so good! If you haven't tried to make a Swedish Oven Pancake, you should. These pancakes are also called Pankannugen or Ugnspannkaka.
It's a custardy type of pancake that you bake in an oven. They are sort of like a combination of a popover and a crepe. If you're looking for new camping breakfast ideas that are simple and delicious, put this one on your list!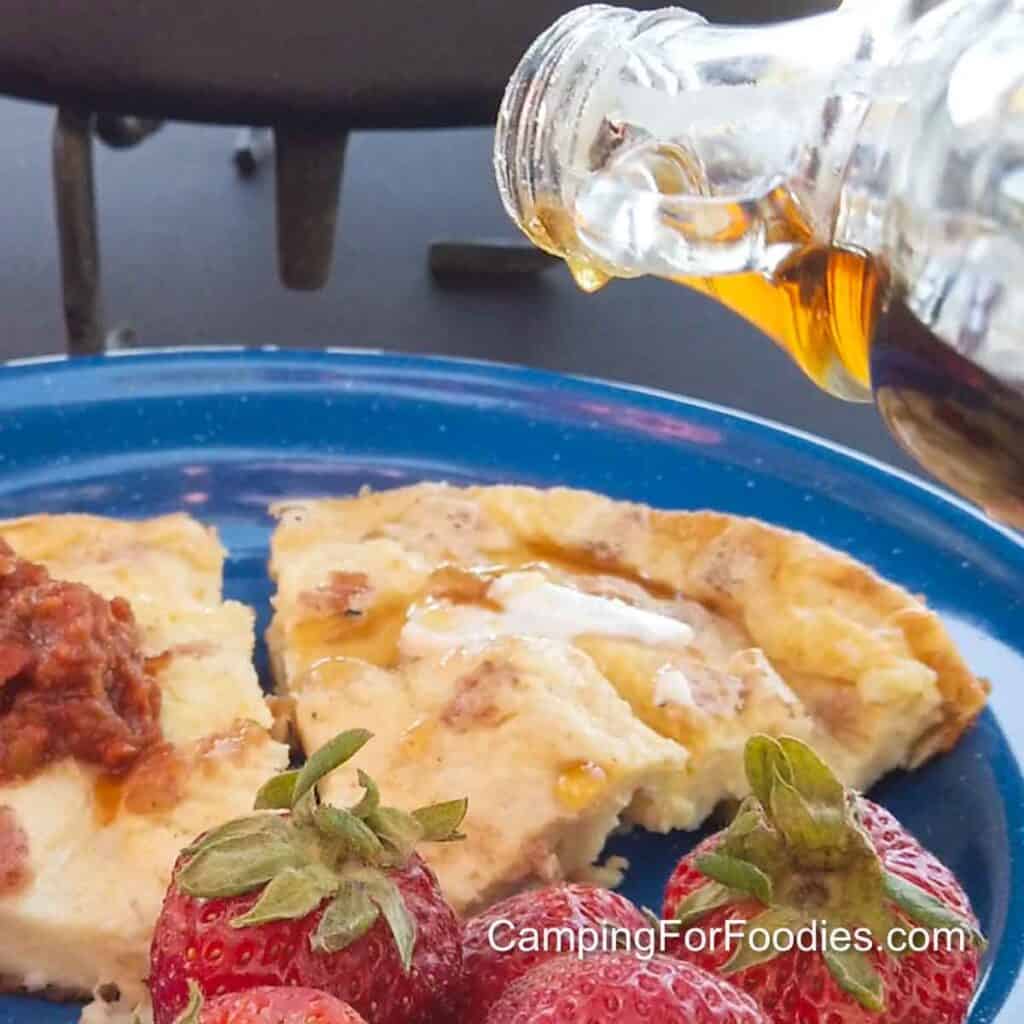 Psst we're compensated…see our disclosures.
How I've Made It Easy For Camping
A traditional Swedish oven baked pancake recipe will have you combining the ingredients in a blender to make a fluffy batter. Then you pour the blended ingredients into a ceramic dish and bake in the oven till the batter puffs up.
At the campsite, I don't use blenders (I'm guessing you don't either LOL), so my version is a bit more rustic but still tastes great!
You may be familiar with it's cousins.
If you're unfamiliar and wondering if you even want to try this Swedish pancake recipe, I want to ease your concerns. Lots of people like serving them as a busy weekend brunch meal. If you're familiar with a Finnish oven pancake, or in Germany they're called a German pancake, you may have already tried something similar.
I have several Dutch Baby recipes (sweet and savory, I'll put the links in the "similar recipes" section below) that are comparable to this one. If you're still hesitant, let the 5 minute prep time convince you to add this to your list of easy Dutch oven camping recipes for your trips.
---
Prepare In Advance
I like making one pot camping meals because they're fast and easy. If I have the opportunity to measure and mix dry ingredients at home, I do, because it makes the campsite cooking process even faster.
For this recipe I combine the flour, sugar and salt at home and transport to the campsite in a tightly-sealed food storage container.
---
Cooking Methods & Equipment
To make this as one of our easy campfire recipes, you'll need to get your fire going in order to cook with coals (not flames) … you can also use charcoal briquettes.
If fire restrictions prevent you from using an open flame (like our trip when we shot this VIDEO) … or you just prefer cooking with propane, you can also make this as one of our camp stove recipes so get your stove ready for cooking on a level surface and get your Dutch oven dome and heat diffuser plate ready for baking.
Dutch Oven Dome & Heat Diffuser Plate
---
Recipe Steps
Step 1. Prepare your ingredients, heat source and equipment as directed.
For baking at an oven temperature of 350 F degrees, you will need 25 total coals = 17 top / 8 bottom if you are using a 12-inch Dutch oven.
If you are using a different oven size, check our Dutch oven temperature chart to see how many coals you will need.
You can use an oven proof dish like a cast iron skillet or glass casserole dish to make this wonderful brunch pick in your conventional, camp oven or RV oven.
Step 2. Fry bacon until it's crisp.
Step 3. Whisk egg mixture. While you're waiting for the bacon to cook, use a whisk to blend the eggs, milk, flour, sugar and salt in a large bowl. You are whisking by hand rather than using an electric blender so plan on whisking for about 3-5 minutes to get the eggs fluffy.
Step 4. Pour batter into pot. After the bacon is crispy, you'll be ready to add the batter to the pot. Leave the bacon and the grease in the bottom of the pot and pour the batter over it.
Step 5. Bake the pancake at 350 F degrees. Place the lid on your Dutch oven and move 17 coals to the top of the lid. Leave 8 coals beneath the oven. Turn the oven and lid 1/4 turns in opposite directions every 10-15 minutes so the pancake bakes evenly. It will take about 30-40 minutes to reach a nice golden-brown color with a puffy soufflé-like texture.
Step 6. Rest and serve. Remove the pan from the heat and let it stand for about 5 minutes before slicing. Then top with butter, let it melt a bit before adding syrup for a traditional sweet flavor.
---
Variations
The traditional way of serving uses a sweet syrup. Other great options include lingonberry jam and powdered sugar, sour cream and brown sugar, strawberries or peaches tossed in a little sugar.
For a savory rendition of the Swedish pancake, I like topping with a prepared salsa and for my heat-lovers, I garnish with a few slices of spicy peppers. Looking for Dutch oven Mexican recipes? We've got them!
---
What To Serve With This Recipe
When I'm making easy camping meals, I like to keep the sides easy too so I'll usually just add some fresh fruit on the side.
If I want to get a little fancier, I'll serve this Fresh Summer Fruit Tossed In Honey Mint Syrup on the side.
Get your FREE printable camping trip & menu planner before you create your next meal plan!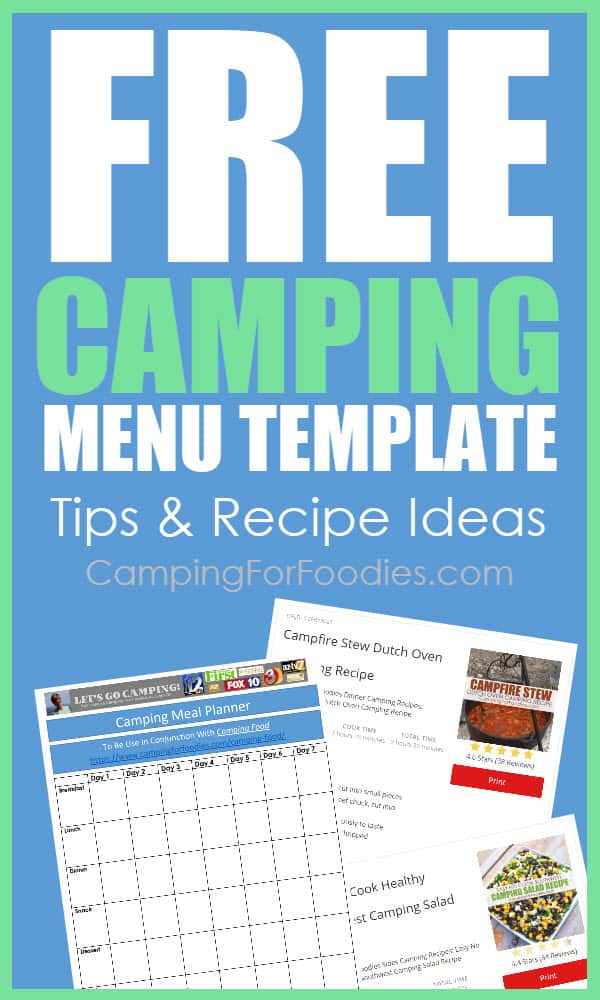 ---
Scaling Servings
If you want to serve more people, I don't recommend just increasing the ingredients and baking in a larger Dutch oven or pan because baked pancakes will tend to burn on the edges before the center gets done in really large pans. Instead, use two pans to make more servings.
---
Leftovers
This tasty oven meal can be easily reheated for another breakfast meal or a nice lunch. Just refrigerate any leftovers, then, wrap them in aluminum foil to reheat in a 325 degree F oven or over campfire coals till warmed through.
---
Print This Recipe
Swedish Oven Pancake Recipe
Camping For Foodies Breakfast Camping Recipes: This Swedish Oven Pancake Recipe is quick to prep and makes a great brunch meal.
Ingredients
1/2

pound

bacon

cut into 1/4 inch pieces (use thick, high quality bacon)

6

large eggs

beaten

2

cups

milk

1

cup

flour*

all purpose

2

tablespoons

sugar*

1/2

teaspoon

salt*

4

tablespoons

unsalted butter

1/2

cup

maple syrup

Alternative topping: Make savory by adding salsa and hot sauce
Instructions
Ingredients marked with * can be measured and mixed at home.

Prepare ingredients as directed.

Prepare campfire coals or charcoal briquettes for baking at 350 degrees F. (25 coals total = 17 top of lid / 8 bottom below oven). A conventional or RV oven may also be used with an oven proof dish like a cast iron skillet, pan or glass casserole dish.

Place all coals under the oven to create bottom-only heat, with a standard-depth 12-inch cast iron Dutch oven, fry the bacon until it is crisp, about 15 minutes.

While bacon is crisping, in a large bowl, using a whisk by hand, blend the eggs, milk, flour, sugar and salt until the eggs are fluffy, about 3-5 minutes. Set the egg mixture aside.

When the bacon is crispy, pour batter mixture into the pot over the bacon and grease. (Just before pouring, blend eggs again if the mixture separated.)

Place lid on the oven and arrange coals for baking at 350 F degrees, leave 8 coals under the bottom of the oven and transfer 17 coals to the top of the lid.

Bake until the pancake is puffed-up and a nice golden brown color, about 30-40 minutes. It will have a soufflé-like look and a creamy consistency. Use a Dutch oven lid lifter to turn the oven and lid 1/4 turns in opposite directions for even baking, every 10-15 minutes.

Remove from heat, let stand 5 minutes.

Slice and serve hot topped with butter and syrup for a traditional sweet flavor. Alternative topping: Serve with prepared salsa for a savory flavor.
Nutrition Information
Serving:
1
g
Calories:
726
kcal
Carbohydrates:
46
g
Protein:
12
g
Fat:
55
g
Saturated Fat:
24
g
Polyunsaturated Fat:
6
g
Monounsaturated Fat:
22
g
Trans Fat:
0.3
g
Cholesterol:
229
mg
Sodium:
638
mg
Potassium:
295
mg
Fiber:
1
g
Sugar:
26
g
Vitamin A:
603
IU
Calcium:
214
mg
Iron:
2
mg
---
Similar Recipes
I love Dutch baby pancakes so much I made a sweet version and a savory one!
I toss fresh blueberries with sugar, lemon juice and zest to top this Dutch baby pancake.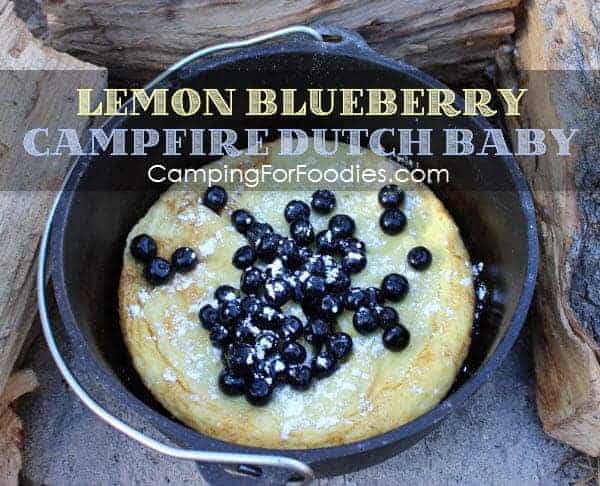 ---
When you top oven pancakes with savory ingredients, you get an entirely different flavor profile. Here, I use bacon, pepper jack cheese, green onions and a bit of fresh rosemary to create a salty version of this simple breakfast meal.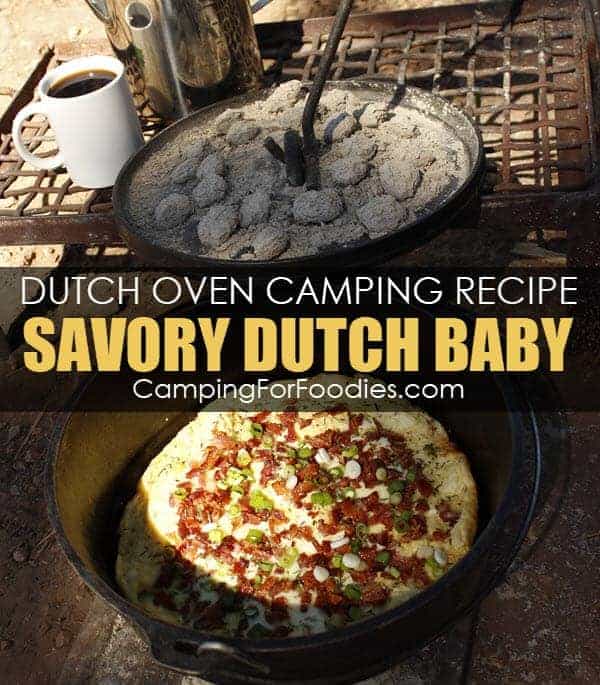 ---
By using a "just add water" pancake mix and simple macerated strawberry topping, this is one of the easiest & tastiest no-fuss breakfast meals … ever!
---
These are some of the fluffiest pancakes you'll ever eat! They're from-scratch, so, a little extra work but totally worth it!
---
Save up your overly ripe bananas to make this super-simple meal!
---
This hot casserole is one of my favorite winter camping recipes because it is hearty and filling. The meat, eggs, potatoes and cheese make it a satisfying savory morning dish.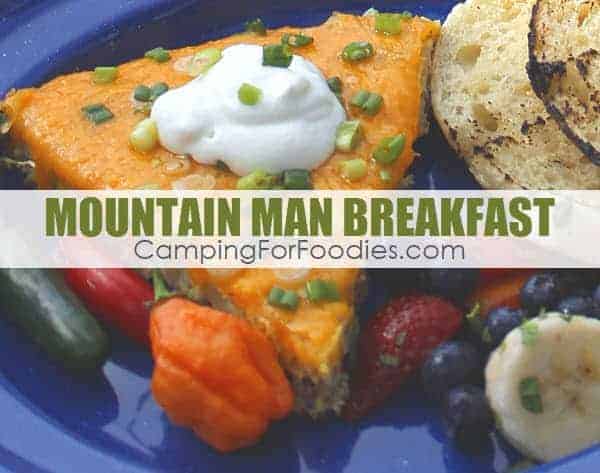 ---
More Yummy Meal Ideas
Try some new recipes on your next trip!