Trinidad Stew Chicken Recipe: Campsite Cooking Trini Style
You don't have to visit Trinidad and Tobago to enjoy delicious Caribbean cuisine in the great outdoors. This easy Trinidad Stew Chicken Recipe produces so much flavor from caramelized brown sugar with a deep brown color, the end result is comforting chicken stew that looks more like beef than chicken.
This is one of those camping dinner recipes you'll want to make over and over again.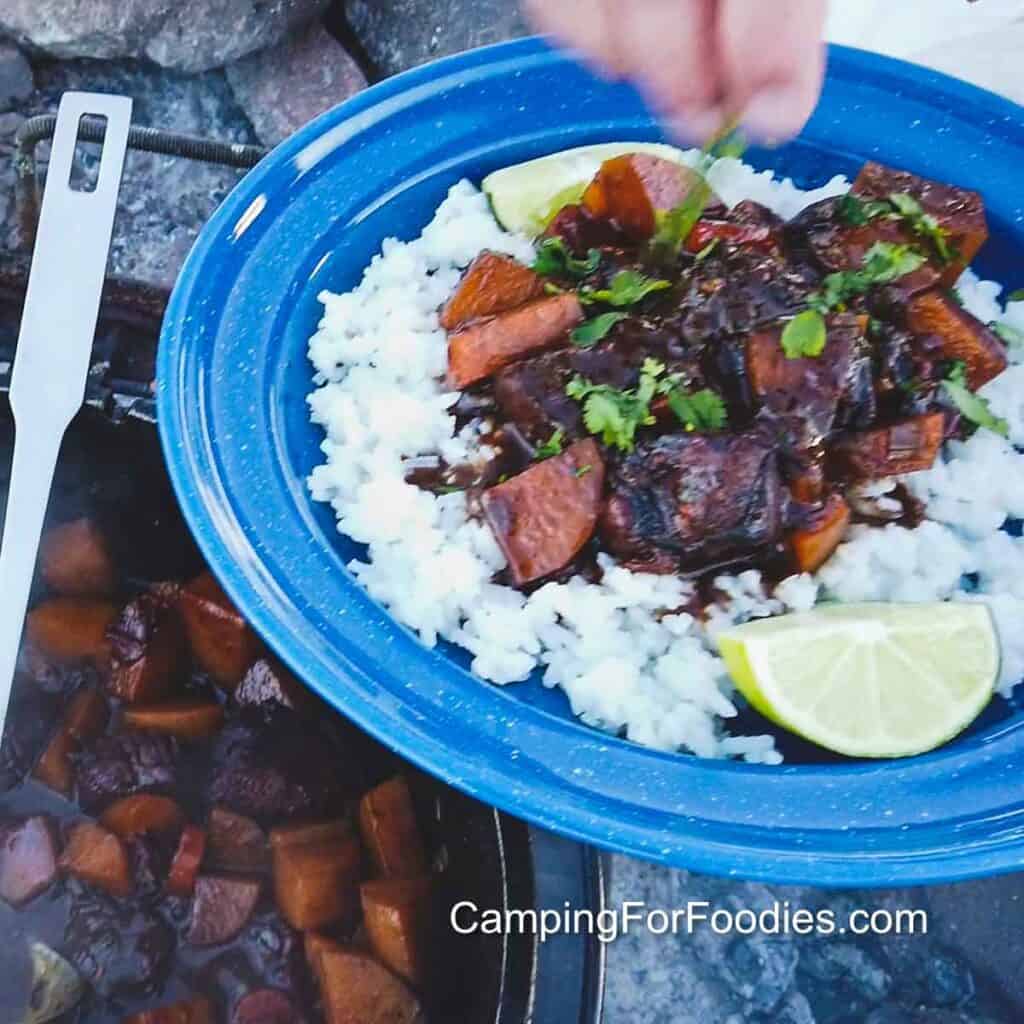 Psst we're compensated…see our disclosures.
Cooking Methods & Equipment
I created this meal to make it easy enough to prepare using traditional campsite cooking techniques. It's a stovetop method which only requires heat from the bottom.
If you're making this as one of our easy campfire recipes, you'll want to have a large enough fire ring to move coals around, or use a tripod, to change from high to medium heat during the cooking process.
You can also make this as one of our camp stove recipes. I always cook this meal outside because I don't like making this brown stew chicken recipe inside our RV because when you add the pieces of chicken to the browning sauce made from caramelised sugar, you'll have enough oil splattering to create a larger mess than a "cleaner" indoor stove top meal.
I use my 12-inch Dutch oven but any heavy pot with a tight-fitting lid will work for this recipe.
---
Recipe Steps
Step 1. Prepare your ingredients, heat source and equipment as directed.
You'll need to chop chicken into 2-inch small pieces. If you don't like dealing with the slimy texture of chicken at the campsite, you can just cube the meat at home and place in a freezer bag to keep frozen until your trip. Then, you'll just need to defrost and dump it into the pot at camp.
Fresh ingredients make a huge difference in this Jamaican brown stew chicken recipe, especially the fresh herbs. You'll need to chop some cilantro, a hot pepper, green onion, garlic, carrots and potatoes.
Step 2. Heat pot and oil. For best results, get your pot heated before adding the oil.
Step 3. Caramelize the sugar. This is a critical step, make sure you continually stir the sugar as soon as you add it to the oil. It will take about 2-3 minutes to reach a deep brown colour.
Step 4. Season and brown chicken. After you season the chicken pieces with salt and pepper, you'll add it to the pot with the sugar. Keep tossing the chicken so the outer edges turn a nice brown color. It should look like a dark meat that resembles cubes of beef rather than chicken.
Step 5. Add the spices, vegetables and milk to the pot. Make sure you reserve a little cilantro for serving.
Step 6. Cover and simmer. It will take about 40-45 minutes to fully cook the chicken and vegetables. The final product will be a thick gravy with a deep brown color.
Step 7. Serve hot. We enjoy this dish over rice. You'll probably need to add a little extra seasoning like salt, black pepper and maybe even hot sauce for those who like really spicy food. I like serving lime wedges on the side but you can also just add the juice of a whole lime to the pot just before serving.
---
Substitutions
The traditional recipe for Trini stew chicken uses Caribbean green seasoning that usually combines chadon beni, parsley, chives, garlic, thyme, pimento peppers and onions. When important ingredients, are not readily available in grocery stores, I mirror the flavors in the recipe substituting with similar-flavored ingredients that are easy to find like I did here.
If you have access to green seasoning, you can use it in lieu of the dried spices in the recipe.
---
What To Serve With This Recipe
It's nice to serve a cold salad as a side dish. My Refrigerator Cucumber Salad is so fresh, plus, you can make it in advance and keep refrigerated for up to a month. If you're looking for gluten free camping food ideas, serving this combination is a great option.
Get your FREE printable camping trip & menu planner before you create your next meal plan!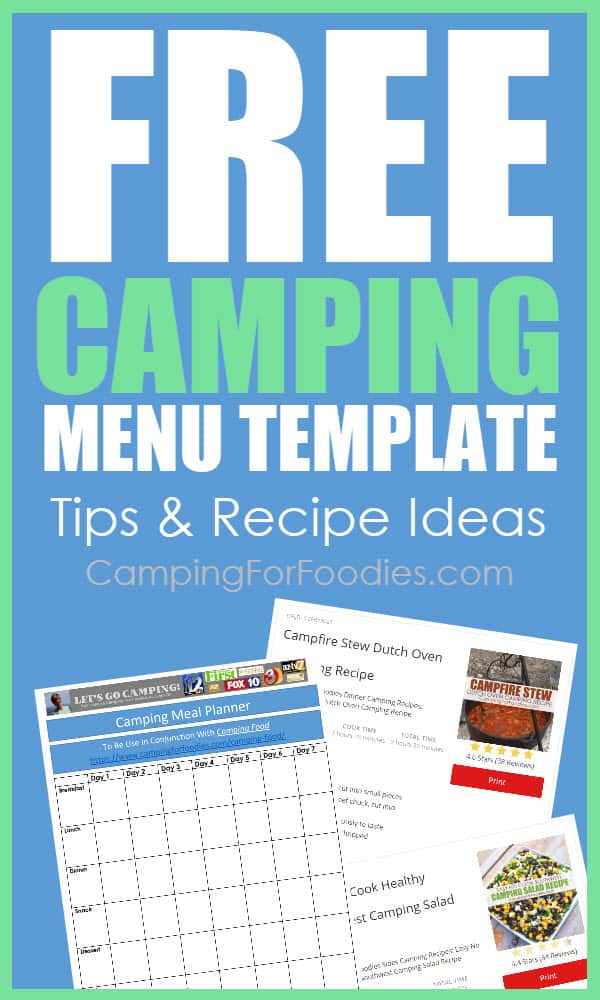 ---
Leftovers
Refrigerate leftovers in an air-tight container. They are just as good the second time around when reheated in a pot with a little water or in a microwave.
---
Similar Recipes
Stews make great winter camping recipes because they are warm and comforting.
Beef chuck roast gets fork-tender in this Campfire Stew. The meat simmers a couple of hours producing a rich tomato sauce for the meat, carrots and potatoes. It's one of my favorite Dutch oven camping recipes.
This Hobo Stew In Foil Packets combines beef chuck with Worcestershire sauce, baby carrots, fresh mushrooms, cherry tomatoes and baby potatoes that are topped off with fresh rosemary sprigs then cooked over a campfire in tin foil packs. If you're looking for very little cleanup after eating, foil packs are some of the most easy camping meals you can make.
Interested in a chicken dish that's on the lighter-flavored side? This Dutch Oven Lemon Chicken is a great option. Chicken thighs are seared until they are golden brown, lemon juice is used to scrape the flavorful brown bits from the bottom of the pan, the meat is cooked with potatoes, rosemary sprigs and lemon slices to create a refreshing, flavor-packed dish without using a marinade. It's just one of our awesome one pot camping meals.
These Smoked Honey Sriracha Chicken Drumsticks are so easy and delicious. The sriracha BBQ sauce uses honey and soy sauce to add amazing flavors. We use it on chicken legs and wings all the time.
---
Print This Recipe
Trinidad Stew Chicken Recipe
Camping For Foodies Dinner Camping Recipes: This Trinidad Stew Chicken Recipe is packed with fresh veggies and amazing flavors.
Ingredients
1/4

cup

vegetable oil

2

tablespoons

dark brown sugar

2

pounds

boneless skinless chicken breasts

cut into 2 inch pieces

2

teaspoons

salt

1/2

teaspoon

black pepper
Spices, Vegetables & Milk
1/4

teaspoon

dried ginger

2

teaspoons

dried thyme

1

(14.5 oz) can

diced tomatoes

undrained

1

bunch cilantro

chopped (reserve 2 tablespoons for garnish)

1

jalapeno pepper (see * Note)

minced

1

bunch

green onions

chopped

2

garlic cloves

minced

3

carrots

peeled and cut into 1/2-inch coins

3

medium

gold or red potatoes

about 1 pound, peeled and cut into 2-inch pieces

1

(13.5 oz)

can coconut milk
Optional Ingredients For Serving & Garnish
4

servings

of cooked white rice or Jamaican rice

1

lime

sliced into 4 wedges, optional for serving

2

tablespoons

reserved cilantro

for garnish
Instructions
In a 12-inch (standard depth 6 quart) Dutch oven or deep pot with tight-fitting lid, heat the oil over medium-high heat of a camp stove or over campfire coals.

Add the sugar to the hot oil and cook, stirring continually, until it reaches a dark brown color, about 2-3 minutes. The texture will look like you're making candy, it will get bubbly and begin to thicken. Don't stop stirring and don't let it burn. (Watch my VIDEO to see the correct consistency of the caramelized sugar.)

Season chicken pieces with salt and pepper, then, add the seasoned chicken to the pot with the caramelized sugar.

Cook, stirring frequently until the chicken is browned, about 5 minutes.

Add the spices, vegetables and milk to the pot. (Reserve a little cilantro for serving.)

Cover pot and simmer until the browned chicken pieces are cooked through and the vegetables are tender, about 40-45 minutes. (You may have to reduce to low or medium heat to maintain the proper temperature, you want it to simmer, not boil.)

You want to develop a rich brown stew gravy that will have a thick liquid texture with a reddish-brown color.

Serve over rice, top with reserved cilantro and season with additional salt and pepper, to taste. Spritz with juice of lime wedge, if desired.
Notes
*NOTE: Substitute a scotch bonnet pepper for a really spicy dish or bell peppers (red or green) for a milder flavor.
Nutrition Information
Serving:
1
g
Calories:
532
kcal
Carbohydrates:
36
g
Protein:
52
g
Fat:
20
g
Saturated Fat:
3
g
Polyunsaturated Fat:
9
g
Monounsaturated Fat:
5
g
Trans Fat:
0.1
g
Cholesterol:
145
mg
Sodium:
890
mg
Potassium:
1584
mg
Fiber:
5
g
Sugar:
10
g
Vitamin A:
7844
IU
Vitamin C:
41
mg
Calcium:
71
mg
Iron:
3
mg
---
More Yummy Meal Ideas
Get inspired to try something new.