Refrigerator Cucumber Salad: Fresh & Easy Quick Pickles
When you want a change from creamy cucumber salads, try this Refrigerator Cucumber Salad that goes well beyond the old fashioned cucumbers and onions in vinegar that your grandma used to make. Non-dairy based camping salads are perfect for traveling in coolers too.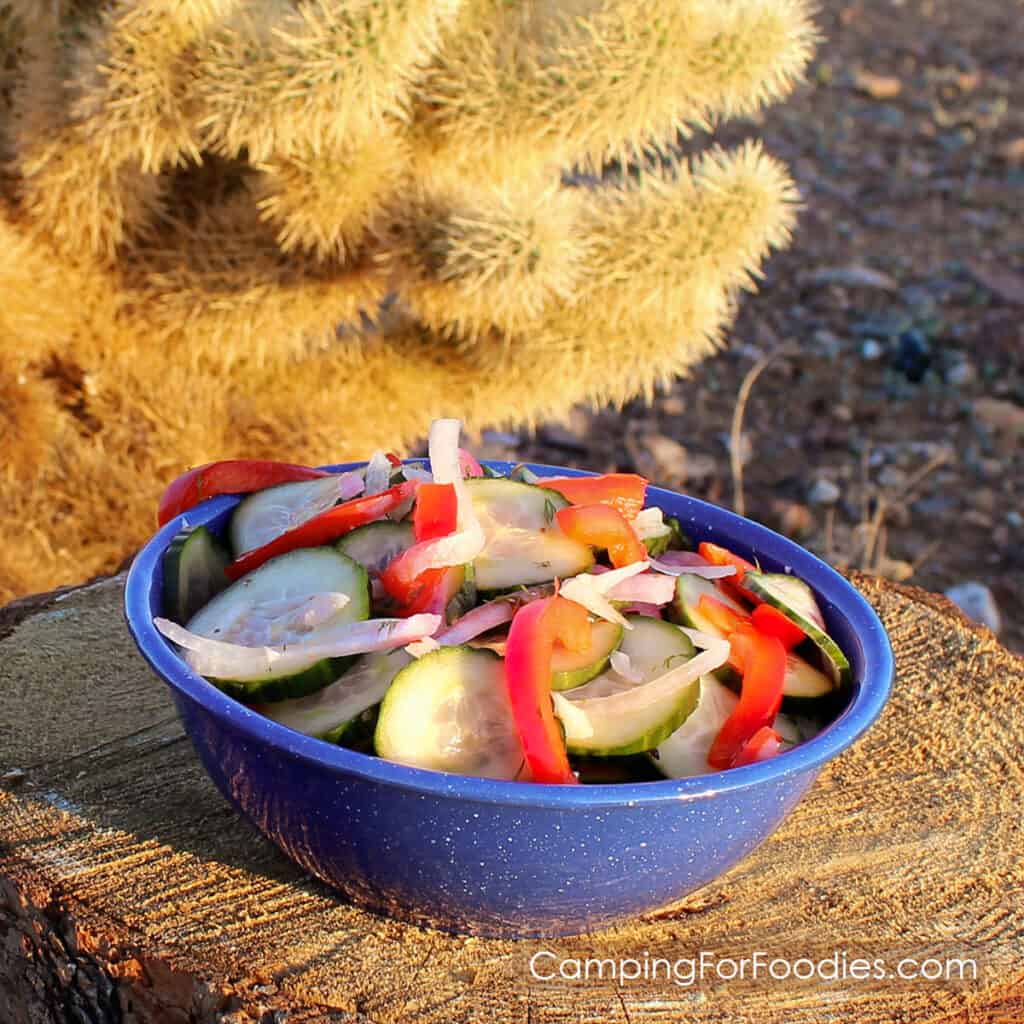 Psst we're compensated…see our disclosures.
What Are Quick Pickles?
"Refrigerator Pickles" also go by the name "Quick Pickles".
There are two basic ways to make pickles:
Quick Pickling: Cucumbers sit in a brine of vinegar, water, salt and possibly sugar. The raw vegetables are placed in the brining liquid and stored in the refrigerator for a few days to complete the pickling process. Keep refrigerated and use within a month or so.
Canning: Boil pickling liquid. Sanitize canning jars in boiling water. Add pickle ingredients to jars, pour in pickle brine, place vacuum lids on jars, seal them and place them in a pot submerged under water and boil for about 10-15 minutes. Let cool and store in a cool, dark place for up to 1 year.
You can see canning is a lot more work than quick pickling. With canning, you can do large batches of pickles that don't need to be refrigerated until after the jar is opened. With quick pickling, you need to refrigerate from the very beginning of the process and keep them refrigerated until you eat them. You'll want to eat them within a month or so.
---
How To Make Quick Pickled Cucumber Salad
Decide if you want to make this salad at home or at camp. Keep in mind 2 things:
It must be kept refrigerated until you eat it.
Fresh cucumbers need time for pickling in the vinegar solution so you'll keep the mixture in a refrigerator or cooler for 6 hours at the least. If you have a day or two for the brining process, that's even better to develop the flavor even more.
---
Recipe Prep
To Make At Home
You can actually let the salad sit for several days before serving it. So, it is a perfect addition to your make ahead camping meals. If that's what you want to do:
At home: Slice cucumbers, red onion and bell pepper. Chop garlic and dill, then, combine with dressing ingredients. Layer veggies in large half gallon jar, pour dressing over veggies and tightly close lid. Place in refrigerator until ready to serve.
At camp: Open the jar and enjoy.
To Make At Camp
Get tips on keeping camping vegetables fresh during your travels.
To make this cucumber salad recipe at camp you'll want to make sure you have plenty of room in a cooler or refrigerator to keep the jar cold for at least 6 hours before serving.
---
Recipe Steps
Step 1. Prepare your ingredients and refrigerator/cooler space as directed. Slice cucumbers, red onion and bell pepper. Chop dill and garlic.
Step 2. Prepare the dressing. You can either whisk or shake the dressing ingredients together. I find it easiest to just combine everything in my hiking water bottle, seal and shake. You'll be combining the sugar, salt, mustard seed, celery seed, red pepper flakes, fresh dill, vinegar and water.
Step 3. Add veggies and dressing to jar. Layer the vegetables into your storage container, pour in the dressing, tightly seal the lid and refrigerate. You'll get the best flavor if the salad stays refrigerated for a couple of days for maximum flavor but you can eat it in as little as 6 hours.
Ball 64 oz Wide Mouth Jars With Lids And Bands, Set of 2
Camp Cooking Tip: After several hours of being in a refrigerator or cooler, invert the jar upside down to ensure the vegetables at the top of the jar get submerged too. Just check the lid is tight before you flip!
Step 4. Serve cold and refrigerate leftovers. Some people keep cucumber onion salads in the fridge up to 2 months. We like our pickled vegetables to have a nice crunchy snap, so, I like to use them within a couple of weeks. The longer they sit, the less crispy they become.
---
Variations
You can use the same process and just swap out the veggies to quick pickle any type of vegetable. Try doing a cauliflower salad or use carrots for nice crisp camping side dishes.
---
What To Serve With This Recipe
This salad is a great option when you're making no cook camping meals.
If you're cooking your main dish, consider gluten free camping food with a simple grilled chicken or beef option.
Nothing tastes better than a cold salad with grilled sandwiches and burgers. Here are some of our favorites:
This Chuckwagon Sandwich is the perfect homemade deli sandwich!
Prepared pesto makes this Pesto And Turkey Grilled Cheese easy and provolone makes it cheesy!
This delicious Pastrami Reuben Sandwich will be on your table in minutes!
This Greek Tomato And Feta Camping Pasta Salad can be made in advance and is vegetarian too!
---
Print This Recipe
Refrigerator Cucumber Salad Recipe
Camping For Foodies Sides Camping Recipes: This Refrigerator Cucumber Salad Recipe can be made days in advance and pairs well with sandwiches and grilled main dishes.
Ingredients
Cucumber Onion Salad Ingredients
2

English cucumbers

thinly sliced about 1/4 inch thick (do not peel)

1

small red onion

thinly sliced

1/2

bell pepper

red, yellow or green bell pepper, sliced thin (any color of your choice is fine)

2

cloves

garlic

chopped
Vinegar Dressing Ingredients
1/4

cup

white sugar*

1

teaspoon

salt*

2

teaspoons

mustard seed*

1

teaspoon

celery seed*

1

teaspoon

red pepper flakes*

2

tablespoons

chopped fresh dill

or 2 teaspoons dried dill

1

cup

apple cider vinegar

if you don't have it, you can substitute white vinegar

1/2

cup

water
Instructions
Ingredients marked with * can be measured and mixed at home.

Prepare vegetables as directed.

Mix cucumbers, onion, bell pepper and garlic and layer into in a large sealable non-reactive container. You can use a non-reactive bowl with lid, a large 64 oz half gallon jar with a tight-fitting lid or large mouth canning jars.

Create the vinegar dressing in a large bowl or sealable water bottle. Whisk or shake the vinegar mixture containing the sugar, salt, mustard seed, celery seed, red pepper flakes, dill, vinegar and water. Make sure the sugar and salt are completely dissolved.

Pour vinegar mixture over the layered veggies. Cover with tight-fitting non-reactive lid and refrigerate at least 6 hours (or several days for maximum flavor) before serving. After several hours invert the jar upside down in the refrigerator (or cooler) to ensure the vegetables at the top of the jar get submerged too, make sure the lid is very tight so the jar doesn't leak while it's inverted.

Note: This cucumber onion salad can be made ahead and stored in a refrigerator or cooler. Some people say refrigerator pickles can stay in the fridge up to 2 months … but … the longer they sit, the less crispy they become. We like our pickled vegetables to have a nice crunchy snap when we bite into them, so, I like to use them within a couple of weeks.
Nutrition Information
Serving:
1
g
Calories:
45
kcal
Carbohydrates:
9
g
Protein:
1
g
Fat:
1
g
Saturated Fat:
1
g
Polyunsaturated Fat:
1
g
Monounsaturated Fat:
1
g
Sodium:
240
mg
Potassium:
149
mg
Fiber:
1
g
Sugar:
7
g
Vitamin A:
315
IU
Vitamin C:
10
mg
Calcium:
22
mg
Iron:
1
mg
---
Similar Recipes
This Southwest Camping Salad can be made days in advance and is packed with flavor!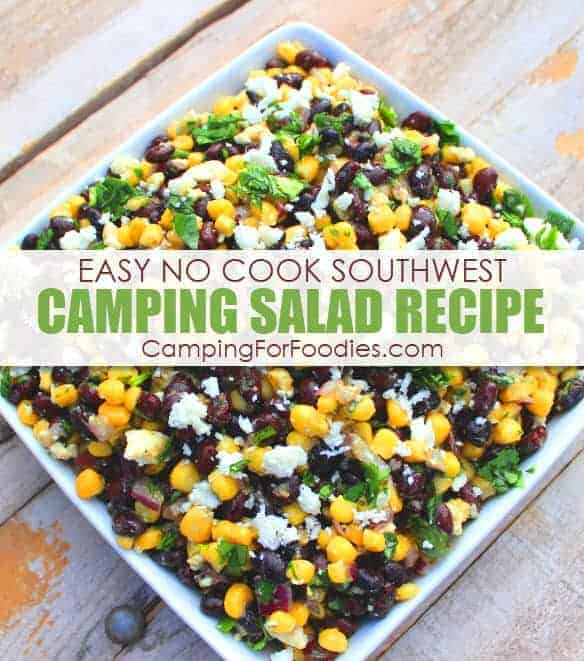 Try this Fresh Summer Fruit Tossed In Honey Mint Syrup when you're feeling for a sweet and tangy cold salad.
Like the idea of camping snacks made with fresh veggies that don't require cooking?
This Sweet Onion Salsa is so yummy and refreshing when served with crispy tortilla chips.
When you can't get enough cucumber, you've gotta try on of the best camping cocktails.
This Cucumber Lemonade Chiller is amazingly refreshing and can be made with or without alcohol.
---
More Yummy Meal Ideas
Make every meal memorable and satisfying.