What Is Cowboy Coffee And How To Make It
What Is Cowboy Coffee And How To Make It
Cowboy coffee isn't really a recipe, it's more of a method to make coffee that was popular with cowboys on the trail. It is basically boiling coffee grounds to "brew" coffee over a campfire. Over time, cowboy coffee has become popular with campers in the wilderness and some use the name "camp coffee" to refer to "cowboy coffee". Here's how to make it and other tips for making great camp coffee! Psst we're compensated…see our disclosures.
How To Make Traditional Cowboy Coffee
Add coffee grounds to a pot of water (about 1 Tablespoon per cup of coffee)
Bring it to a boil (usually over a campfire)
Continue boiling for a few minutes
Remove the cowboy coffee from the heat
Add some cold water (a few Tablespoons for a standard size pot) to the pot to make the coffee grounds settle to the bottom of the pot
Serve it; pour yourself a stiff cup of cowboy coffee
Why Cowboy Coffee Tastes Terrible
Boiling coffee grounds makes them bitter and the result is a less-than-desirable cup of joe. Here are a few tips to improve the traditional method of making cowboy coffee.
The Improved Method To Make Cowboy Coffee
Bring a pot of water to a boil (usually over a campfire)
Remove the pot from the heat and let cool slightly
Add your favorite coffee grounds (about 2 Tablespoons per 8 ounce cup of coffee) to the hot water and give it a quick stir
Let stand for 5 minutes
Stir a bit more and allow to sit for an additional 2 minutes
Gently pour the coffee into your mug being careful not pour the grounds into your mug. You can also pour the coffee through a straining device to avoid any grounds from making it into your coffee mug.
YETI Rambler 64oz Vacuum Insulated Stainless Steel Bottle
Note: If the grounds sit in the pot for a long time, the coffee will be over-extracted and begin to have an undesirable taste. So, if you are planning to sip your way through an entire morning, you may want to transfer the coffee into a thermos to keep if fresher for longer.
&
Tips For Making Great Camp Coffee
If you are less interested in the cowboy coffee method and you just want a really good cup of camp coffee out in the wilderness … here are a few other options for making great coffee that will rival your favorite coffeehouse while you are escaping city life and exploring the great outdoors!

Coleman QuikPot Propane Coffeemaker
If you are brewing camp coffee for the entire family, the Coleman QuikPot Propane Coffeemaker is great because it has push-button Instastart™ ignition for matchless lighting. You'll have your 10-cup glass carafe filled with fresh coffee in 18 minutes! It lasts up to 4.5 hours on high using a 16.4-oz. propane cylinder (which you have to buy separately), and it even has a Carry Case too!
&
Double Wall Stainless Steel French Press Coffee Maker

Another option for doing a whole pot of coffee is to use a Double Wall Stainless Steel French Press Coffee Maker. For this method you add your coffee to the french press and in a separate pot boil the water. Then let the water cool just a bit before pouring it into the press, stir vigorously then let it steep for about five minutes. Now, press the plunger all the way to the bottom of the press and pour yourself a fresh cup of java! Just like the cowboy coffee method, if you are not going to drink all of the coffee immediately, pour it into a thermos to keep it from turning bitter .
&
GSI Outdoors Enameled Steel Percolator Coffee Pot
The most traditional gadget for making an entire pot of camp coffee is to use an Enameled Steel Percolator Coffee Pot. It brews 8 cups and the clear top allows you to see how dark the coffee is during the percolation process. We like our coffee strong so we let it get pretty dark … just remember to reduce the heat as soon as the water starts boiling so your grounds don't overflow.
&
Single Serving Camp Coffee Gadgets
If you are the only coffee drinker in your group or you just prefer to brew each cup of camp coffee individually, drippers are the way to go! Here are a couple of options.

Collapsible Coffee Dripper
Whether you are RVing or backpacking, storage space can be a challenge so using a Collapsible Coffee Dripper might be perfect for your situation.
&
GSI Outdoors Javadrip Portable Drip Coffee System
The GSI Outdoors Javadrip Portable Drip Coffee System is a carafe with lid, has an insulating sleeve, #4 Drip Cone and #4 re-usable Java Filter.
&
Don't Forget Your Cool Camp Coffee Mug!
There are tons of fun mugs if you want to spruce up your coffee at the campsite. Here are a few options!
The Adventure Begins
The Adventure Begins
Hook Line & Sinker
Camp Casual
Camp Casual
Camp Casual
Camp Casual
Camping Is Intents
&
Cowboy Coffee Books
If you just can't get enough of cowboy coffee, you can get another dose with some interesting reading.

A Taste of Cowboy: Ranch Recipes and Tales from the Trail
A Taste of Cowboy: Ranch Recipes and Tales from the Trail. Kent Rollins is a real cowboy well known for his cooking, poetry and storytelling. He's been a TV contestant and even beat Bobby Flay on the Food Network with his version of chicken-fried steak! His book features secrets for Egg Bowls with Smoked Cream Sauce, Green Pepper Frito Pie, Sweet Heat Chopped Barbecue Sandwiches,  Roasted Bean-Stuffed Poblano Peppers and Bread Pudding with Whisky Cream Sauce!
&
Making Great Cowboy Coffee: A Guide to Brewing Cowboy Coffee at Home and on the Campfire
Making Great Cowboy Coffee: A Guide to Brewing Cowboy Coffee at Home and on the Campfire. Jack McCoy's book promises to show you how to brew a great pot of coffee any place you can boil water!
&
No time to look for recipes, create a menu and write a grocery list? No Problem! Get our 3-Day Dutch Oven Camp Menu Plan here!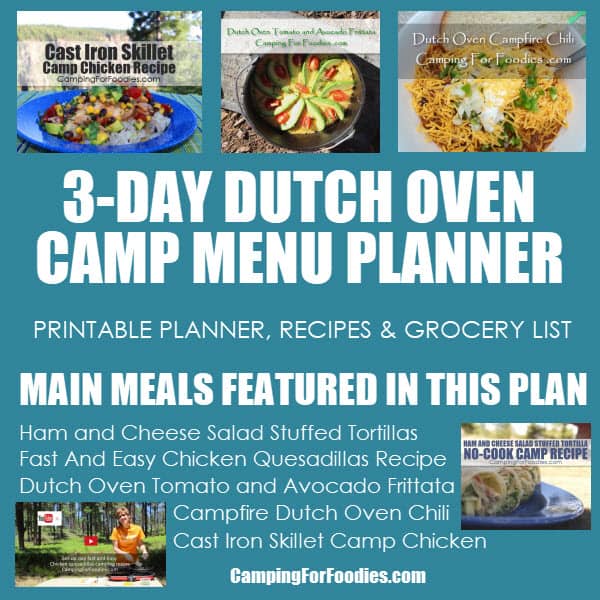 We've got great camp cooking tips in these other posts:
 Funny Apron
 Cutting Mat
 Mat Set
 Shaker Set
 Fun Hammock
&
If you need camping recipes and menu ideas, you can find them here at the Camping For Foodies Camping Recipes list.
Don't miss a thing…sign up for Camping For Foodies email updates!
Your purchase of our products will help support World Vision ® Building a better world for children.