Dutch Oven Campfire Chili Recipe: You're Gonna Want A Second Bowl!
One of our favorite winter Dutch oven camping recipes is chili (it's great in summer too!) This Dutch Oven Campfire Chili Recipe is thick and hearty with a rich spicy tomato sauce.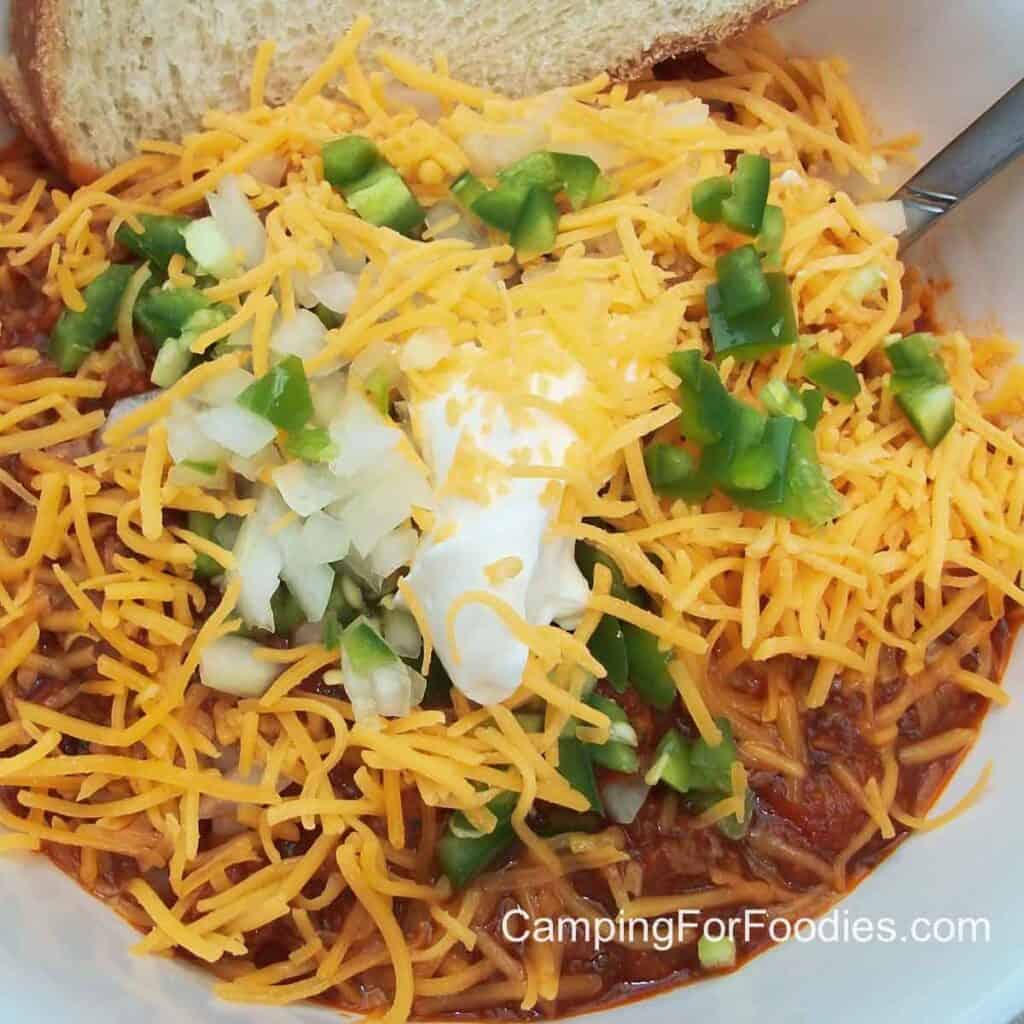 Psst we're compensated…see our disclosures.
Cooking Methods & Equipment
Soups, stews and chilis are perfect dinners to add to your favorite winter camping recipes list when the afternoons are on the cool side and you want to warm up by the campfire as well as cook over it!
Get your fire going to produce coals for cooking one of my favorite easy campfire recipes. If you prefer, you can use charcoal briquettes.
If open fires are prohibited, or you just prefer cooking with propane, it's also super easy to make this classic chili in a camp Dutch oven using an RV stove or as one of our camp stove recipes. Prepare your equipment so you're cooking on a level surface.
I only use cast iron Dutch ovens, skillets or griddles when cooking over a campfire. I prefer using my 6 Quart, 12-Inch large Dutch oven for this recipe, but, you can use a larger size if that's what you have. If cooking over a camp stove or RV stove, you can use any regular large pot. I also like using my lid lifter for handling hot equipment and hot coals.
---
Steps To Make This Dutch Oven Campfire Chili Recipe
Step 1. Start the campfire. Start your campfire and set up the Dutch oven for cooking over medium-high heat. This particular time, we set our oven on a campfire grate rather than using a hanging tripod.
If you need a little help getting your fire going … check out our post for tips: Fire Starters Camping Enthusiasts Must Have!
Step 2. Chop the veggies. There is just a little prep work when it comes to this delicious chili recipe. Just chop a few veggies … onions, garlic, bell and jalapeno peppers and you are cooking!
Step 3. Brown the meat. You will be browning ground beef and pork sausage in your camp Dutch oven over medium-high heat for this hearty chili. These high-fat meats are great for low carb diets, see all of our yummy keto camping food ideas.
Camp Cooking Tip: You won't need oil to brown the meat because the sausage has enough fat for the pan. If you decide to substitute white for red meat (like using ground chicken), you may need to add some olive oil or vegetable oil to the pan.
Camp Cooking Tip: When you are cooking over a campfire, you can quickly brown meat in your Dutch oven. That's why my Big Mac Sloppy Joes only take 20 minutes to cook!
You actually want to be cooking over the campfire coals while you maintain additional "fuel" with a campfire you are feeding with new firewood off to the side. Then you can move coals closer to … or … further away from your camp Dutch oven to control the heat.
If you are baking with your camp Dutch oven, it can be easier to maintain a precise temperature if you use charcoal briquettes as the heat source.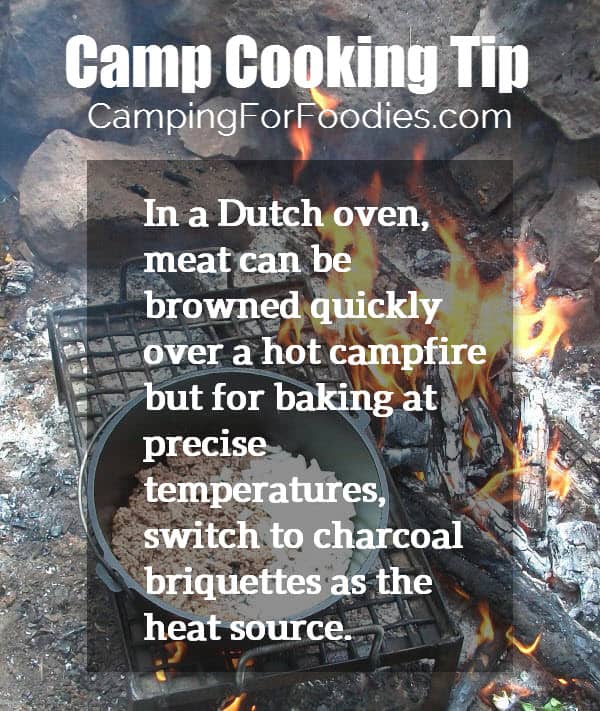 How to tone down the heat:
Camp Cooking Tip: I use hot Italian ground bulk pork sausage in this recipe but this traditional comfort food does not always have a super spicy flavor.
The best part of making easy recipes is the ability to control the heat so you're serving a delicious meal to all of the hungry campers at your table, no matter what their heat tolerance for spicy foods.
Make this a perfect camping meal by using sweet Italian sausage instead of a hot variety. If you're serving people who are extremely sensitive to spicy flavors, reduce or eliminate the cayenne pepper and chili powder too. Then, allow heat-lovers to add spicy ingredients to the top of the chili in their own bowl.
Great toppings to serve on the side:
Hot sauce
Diced chipotles
Diced green chiles
Red pepper flakes
Fresh green and red peppers (like jalapeño, serrano, cherry peppers, and for the crazy heat lovers on your camping trip, have a few habanero and ghost peppers too)
Step 4. Add the veggies. After the meat is browned, you need to add the onions, garlic, bell pepper and jalapeno peppers you have chopped for this easy chili. You will cook the veggies until they are softened then add the final ingredients.
Step 5. Add remaining ingredients. Now add the V-8 (the secret ingredient that adds tons of flavor without any work!), tomato sauce, kidney beans, pinto beans, cayenne pepper, sugar, oregano, ground black pepper, salt, cumin and chili powder.
Step 6. Simmer over the campfire. You will bring the pot of chili to a boil, then reduce the heat to low … cover … and simmer for a couple of hours, stir occasionally as the chili cooks.
Camp Cooking Tip: You will probably have to move some of the campfire coals away from the Dutch oven in order to reduce the heat from medium-high to low. 2 HOURS!
I know … simmering for 2 hours seems like an eternity but this Dutch oven campfire chili recipe is worth the wait! Just break out your favorite games to pass the time. If you need some new ideas, check out our favorite campfire games your entire family will enjoy!
Step 7. Serve with toppings. Everyone has their favorite toppings for chili. We recommend sour cream, onion, cheddar cheese and jalapenos.
---
Scaling Servings
Chili is one of the first recipes I think of when I need to make easy camping meals for large groups because you can simply scale the recipe up and make as many batches as you need.
Camp Cooking Tip: If you are making camping meals for two and don't need to feed a big crowd but you have a taste for chili … just "re-invent" the leftovers for another meal later in your trip like in these Campfire Chili Cheese Fries.
Some other ideas: Frito pie, chili-mac, chili dogs, chili burritos or chili-topped eggs for breakfast that can be served on plates or wrapped in tortillas for breakfast burritos.
---
Campfire Cornbread With Chili
Want to make the classic combination of cornbread and a bowl of campfire chili? Try our totally yummy Dutch Oven Jalapeño Campfire Cornbread!
If you'd like a more traditional flavor, try this Dutch Oven Cornbread that uses cornmeal in a homemade cornbread mix along with canned cream-style corn.
You can also do a pre-baked loaf of crusty bread or our easy Dutch oven biscuits to go along with this meal.
---
Similar Camping Chili Recipes
We have lots of one pot camping meals and currently have 7 different chili recipes on Camping For Foodies. You may want to try one or all of them!
---
Print This Recipe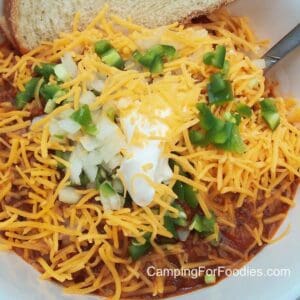 Campfire Dutch Oven Chili Recipe
Camping For Foodies Dinner Camping Recipes: This Campfire Dutch Oven Chili Recipe is a warm and hearty meal.
Ingredients
1

pound

lean ground beef

1

pound

hot Italian ground bulk pork sausage

(if you want to tone-down the spice, use mild or plain sausage)

1

(46 fluid oz)

can V8 vegetable juice

1

(29 oz)

can tomato sauce

1

(15 oz)

can kidney beans, drained and rinsed

1

(15 oz)

can pinto beans, drained and rinsed

1

large onion, chopped (about 1.5 cups)

2

cloves

garlic

finely minced

1/4

cup

chopped green bell pepper

1

jalapeno pepper

finely chopped
Spices That Can Be Measured & Mixed At Home
1/8

teaspoon

ground cayenne pepper

(see * Note)

1/2

teaspoon

white sugar

(see * Note)

1/2

teaspoon

dried oregano

(see * Note)

1/2

teaspoon

ground black pepper

(see * Note)

1

teaspoon

kosher salt

(see * Note)

1 1/2

teaspoon

ground cumin

(see * Note)

1/4

cup

chili powder

(see * Note)
Optional Toppings
Sour cream

Chopped onion

Shredded sharp cheddar cheese

Finely chopped jalapenos

Loaf crusty bread

Cornbread

Tortilla chips
Instructions
Start your campfire and set up a 12-inch DEEP cast iron Dutch oven for cooking.

Add ground beef and pork sausage. Cook over medium-high heat, stirring and breaking up the meat until evenly brown.

Add the onions, garlic, bell pepper and jalapeno pepper to the meat mixture and cook till softened.

Now add the V-8, tomato sauce, kidney beans, pinto beans, cayenne pepper, sugar, oregano, ground black pepper, salt, cumin and chili powder.

Bring to a boil, reduce heat to low and cover. Simmer for about 2 hours stirring occasionally until the chili has reached the desired thickness. (see ** Note & *** Note)
Notes
*NOTE: Ingredients can be measured and mixed at home. **NOTE: If chili is not thickening enough, remove the lid and continue to simmer to thicken to your likeness. ***NOTE: Camp Cooking Tip: Adjust the heat by positioning the camp Dutch oven closer to, or further away from the campfire coals to maintain the proper temperature.
Nutrition Information
Serving:
1
g
Calories:
355
kcal
Carbohydrates:
8
g
Protein:
20
g
Fat:
28
g
Saturated Fat:
10
g
Polyunsaturated Fat:
3
g
Monounsaturated Fat:
12
g
Trans Fat:
1
g
Cholesterol:
81
mg
Sodium:
814
mg
Potassium:
510
mg
Fiber:
3
g
Sugar:
2
g
Vitamin A:
2294
IU
Vitamin C:
9
mg
Calcium:
55
mg
Iron:
3
mg
---
Cooking Tips For Making Campfire Chili
Need help getting your fire started for cooking this Campfire Dutch Oven Chili Recipe? These Coghlan's fire sticks are non toxic, they leave no odor and burn completely. They even light after being submerged in water!
---
If you are cooking this campfire chili recipe in a large campfire ring, using a camp grill grate is the perfect way to organize your fire pit for cooking off to the side of the campfire area.
This is one piece of campfire cooking equipment we use on a regular basis when we are boondocking in remote camping locations.
Texsport Heavy Duty Over Fire Camp Grill
---
Using long "Tweezers" will help you stay a safe distance from the hot campfire while you are adjusting your firewood while cooking your camping chili.
The Perfect CampfireGrill Heavy-Duty Log Tweezers
---
After your Dutch oven is pre-heated, take extra precaution when handling the hot cooking utensils … the lid as well as the handle.
A cast iron lid lifter can keep you safely away from the hot campfire and coals as you lift this campfire Dutch oven chili off of the fire to serve it.
---
More Simple Camping Recipes