3 Ingredient Caesar Chicken: Easy Creamy One Pot Meal
When it comes to easy chicken recipes you can't get much more uncomplicated than this 3 Ingredient Caesar Chicken. This is one of my favorite camping dinner recipes when I want a really easy meal that requires no prep time and uses simple ingredients.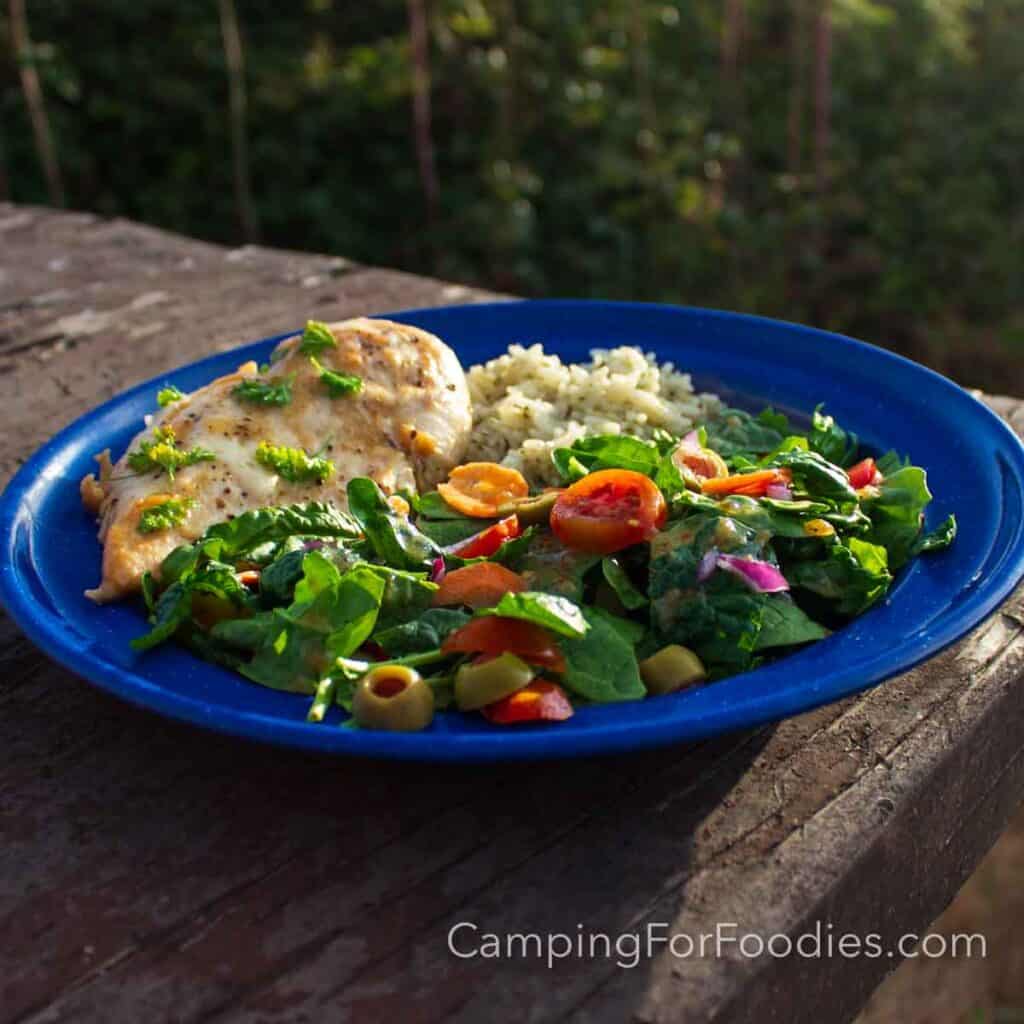 Psst we're compensated…see our disclosures.
Recipe Prep
This is one of my super-simple, easy camping meals that requires ZERO prep work!
---
Cooking Methods & Equipment
To make this as one of our easy campfire recipes: For traditional outdoor cooking, you'll need a 12-Inch, 6 Quart Cast Iron Dutch Oven using campfire coals or charcoal briquettes.
To make this as one of our camp stove recipes: To use a 12-inch Dutch oven with a propane camp stove, you'll need to use a dome for the baking process. I have an entire post with a VIDEO to show you how to cook with a Dutch oven dome & heat diffuser plate.
To make this in an RV kitchen: If you want to brown the chicken on a stove top then bake the meal in an RV oven, you can just use a cast iron skillet.

Otherwise, you can use any skillet to brown the chicken, then, transfer it to a casserole dish for baking in an oven.
You can also transfer it to a slow cooker to finish cooking, set your crock pot to a high setting and cook for about 5 hours.
---
Recipe Steps
Step 1. Prepare your ingredients, heat source and equipment as directed. For baking at an oven temperature of 375 F degrees you will need 27 total coals = 18 top / 9 bottom if you are using a 12-inch Dutch oven. If you are using a different oven size, check our Dutch oven temperature chart to see how many coals you will need.
Lightly season both sides of meat with salt and pepper, then, spray the pot with cooking spray.
Step 2. Brown the meat. Place chicken in pot, brown one side, flip and brown second side.
Step 3. Add dressing. Pour the salad dressing into the pan. Flip the meat to coat both sides and arrange in a single layer for best results and even baking. For special diets, check the label to ensure the dressing does not contain gluten if you're making gluten free camping food.
Step 4. Cover with lid and bake. Arrange coals placing 18 on top and 9 under the bottom and bake the Caesar chicken breasts until they are cooked through. The internal temperature of the thickest part of the meat should be 165 F degrees.
Step 5. Add cheese. Remove lid, sprinkle grated cheese over the dish, replace cover and move all the coals to the top of the lid to broil the cheese.
Step 6. Serve chicken topped with sauce and garnish, if desired.
---
Substitutions
This creamy Caesar chicken bake is one of my favorite boondocking recipes because it requires no prep, uses just a few simple ingredients and cooks quickly. For an even faster cook time, use chicken tenders instead of boneless chicken breasts. Reduce the baking time to about 20 minutes.
---
Pairings
To keep this easy dinner recipe as simple as possible, I just serve a side salad in small bowl. I toss leaf lettuce in a little vinegar and olive oil, or, I use just use a salad kit.
There is so much flavor in the Caesar sauce you may want to soak it up by serving the chicken over rice or with your favorite pasta. If you're preparing keto camping food, I recommend using cauliflower rice to keep it low-carb.
Get your FREE printable camping trip & menu planner before you create your next meal plan!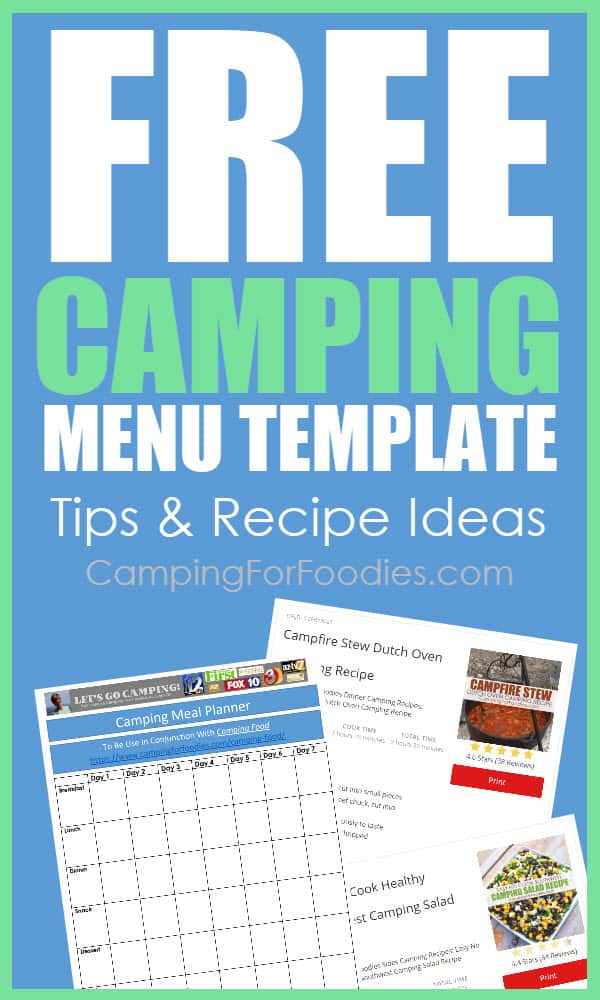 ---
Leftovers
Store leftovers in an airtight container in a refrigerator or cooler for a quick lunch.
Make chicken Caesar salads. Fill a big bowl with leaf lettuce, top it with cubed leftover chicken and toss with remaining bottle of Caesar dressing.
Make sandwiches or wraps. Slice the leftover chicken and pile it on your favorite bread or wrap with some lettuce, tomato and mayo.
---
Similar Recipes
My whole family loves this Campfire Chicken Pot Pie. It is an easy baked chicken recipe that is topped with refrigerated biscuit dough to make a top crust. If you're looking for warm and hearty comfort food for your winter camping recipes, you just found one!
Chicken and bacon are used to create this Dutch Oven Chicken And Potatoes meal. Carrots and potatoes are added to the dish which makes it one of my tastiest one pot camping meals.
The next time you want to prep everything at home so you can just "dump & cook" from a ziploc bag into your pot, try this almost-gourmet Thai Campfire Chicken. When I'm preparing freezer meals, I do a double batch so I have one for home and one for camp trips. Check out all of my make ahead camping meals.
We love Mexican flavored Dutch oven camping recipes. For this meal you'll use pre-cooked shredded chicken, canned enchilada sauce, onions and cheese. Roll the mixture in tortillas and bake. Then, top these Dutch Oven Enchiladas with sour cream and fresh cilantro just before serving.
Flavorful chicken thighs, potatoes, fresh herbs and aromatics create amazing flavors in this Dutch Oven Lemon Chicken.
---
Print This Recipe
3 Ingredient Caesar Chicken
Camping For Foodies Dinner Camping Recipes: This baked Caesar chicken recipe is such an easy dinner, you're gonna love it!
Ingredients
Salt and black pepper

to season

Cooking Spray
For Baked Caesar Chicken
1.5

pounds

boneless skinless chicken breasts

1

cup

creamy Caesar dressing

(this is 1/2 of a standard 16 oz. bottle)

1/2

cup

parmesan cheese

grated
Optional For Garnish
Fresh parsley leaves for garnish

optional
Instructions
In 12-inch Dutch oven, camp or RV oven, pre heat oven to 375 F degrees. (27 total coals = 18 on top of the lid and 9 below the bottom of the oven. (see * Note)

Lightly season both sides of chicken with salt and pepper.

Spray bottom and walls of Dutch oven with cooking spray.

Over medium-high heat, add chicken to the pot to brown one side, then flip to brown second side, about 5 minutes per side.

Pour the creamy Caesar dressing in pan.

Flip the meat to coat both sides with the dressing, arrange it in a single layer for even baking.

Cover with lid and bake (coals arranged with 18 on top/9 under the bottom) until the internal temperature of the thickest part of meat reaches 165 F degrees, about 30 minutes.

Remove lid, sprinkle grated cheese over the top of the chicken breasts, replace lid and move bottom coals to the top of the lid (create a broiler), cook until the cheese is golden brown, about 2 minutes.

Remove from heat, spoon dressing mixture sauce from bottom of pot over the meat and serve immediately. Sprinkle with chopped parsley, if using.
Nutrition Information
Serving:
1
g
Calories:
561
kcal
Carbohydrates:
2
g
Protein:
42
g
Fat:
42
g
Saturated Fat:
8
g
Polyunsaturated Fat:
20
g
Monounsaturated Fat:
10
g
Trans Fat:
0.02
g
Cholesterol:
140
mg
Sodium:
1108
mg
Potassium:
658
mg
Fiber:
0.3
g
Sugar:
2
g
Vitamin A:
169
IU
Vitamin C:
2
mg
Calcium:
185
mg
Iron:
1
mg
More Yummy Meal Ideas